What's the recipe for creating the world's best bar? In 2017, it's one part swanky hotel, two parts classic Art Deco and three parts hard work – all mixed up for more than 125 years.
It certainly worked for London's venerable American Bar at the Savoy, which was named as the planet's best cocktail joint at a glitzy awards ceremony in the UK capital.
There were raucous cheers and, inevitably, dozens of drinks spilled in excitement as the number one bar on the list of the World's 50 Best Bars 2017 was revealed as a hometown venue.
GALLERY: See photos of the world's best bars
Victory for the Savoy meant a return to form for London. A year after ceding the top spot to New York City's Dead Rabbit Irish bar, London's total of eight bars in 2017's top 50 is unrivaled.
"We really didn't see that coming," Savoy senior bartender Dominic Whisson told CNN, shortly after wiping a pour of fresh tears from his cheeks. "It's a victory for all of us, for all the late nights, early mornings and long days."
Va-va-voom
The Savoy, making its debut at number one, was joined in the top three by two more hotel bars: The London riverside Mondrian hotel's stylish Dandelyan and the regal NoMad in New York City.
With another London hotel venue, the redoubtable Connaught Bar, at number four, last year's victor fell to fifth place.
The top 10 was rounded out by Athens' intimate The Clumsies at six, Singapore's Manhattan at the Regent Hotel at seven, New York's Attaboy at eight, London's Bar Termini at nine and, lastly, Shanghai's secretive Speak Low.
Selected by a panel of 500 international judges, the Savoy was acclaimed for its winning combination of tradition and innovation – praise that Whisson reckons was well-earned.
"There's a good few bars that have the same va-va-voom as the Savoy," he says. "But I think ours is a very unique bar. We have a responsibility to the heritage of the place – the history is something you don't get anywhere else."
Other London bars on the list are Happiness Forgets at 12, Oriole at 17, The Gibson at 21 and Nightjar at 43.
While New York claimed the next highest number of bars – seven, including bright and cheerful Dante at 16, Dead Rabbit sequel BlackTail at 32, legendary Employees Only at 37 and spicy East Village venue Mace at 42 – Singapore emerged as a new powerhouse.
(Click through the above gallery to see images of the top 25 venues on this year's list.)
'Hungry scene'
The Asian city-state now counts six top 50 venues. In addition to Manhattan at number five, there's gin specialists Atlas at 15, Operation Dagger at 24, 28 Hongkong Street at 25, the Tippling Club at 31 and Native at 47.
"It's a new and very hungry scene," says Roman Foltan, head bartender at Atlas, which was named the highest new entry into the 50 Best Bars list. "People are very open to trying new things. Not just in Singapore, but in other Asian cities like Hong Kong and Bangkok."
William Drew, group editor for The World's 50 Best Bars, says while many bars work hard to promote themselves, particularly in the age of Twitter, success still comes down to quality of service, genuine atmosphere and, most importantly, satisfied customers.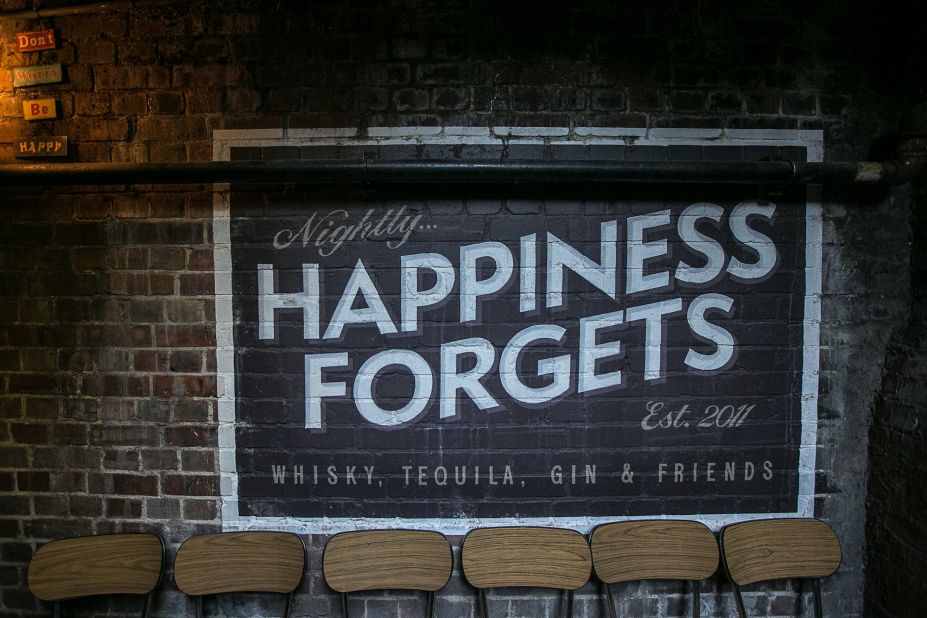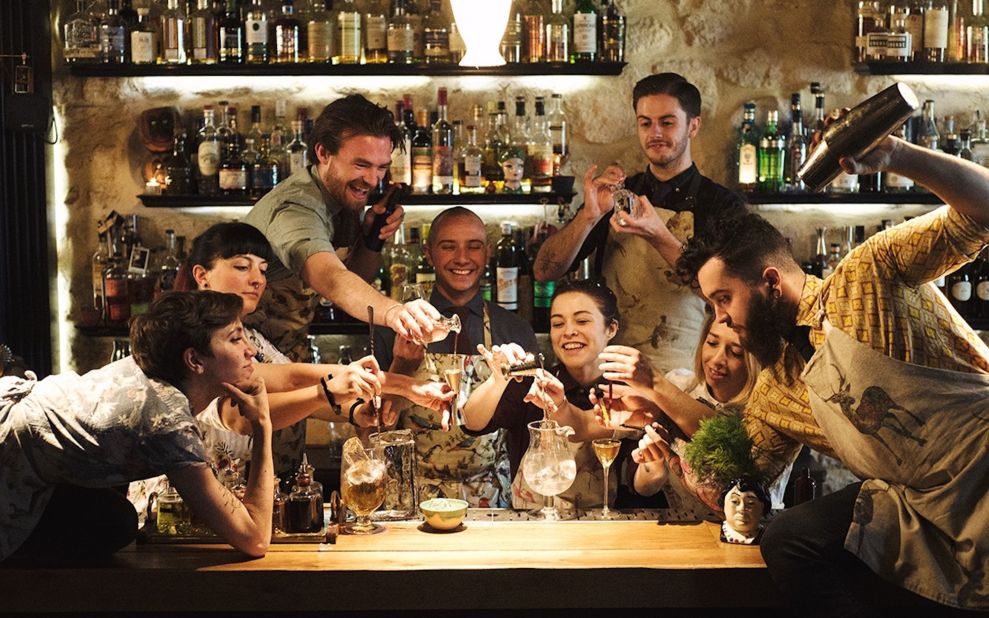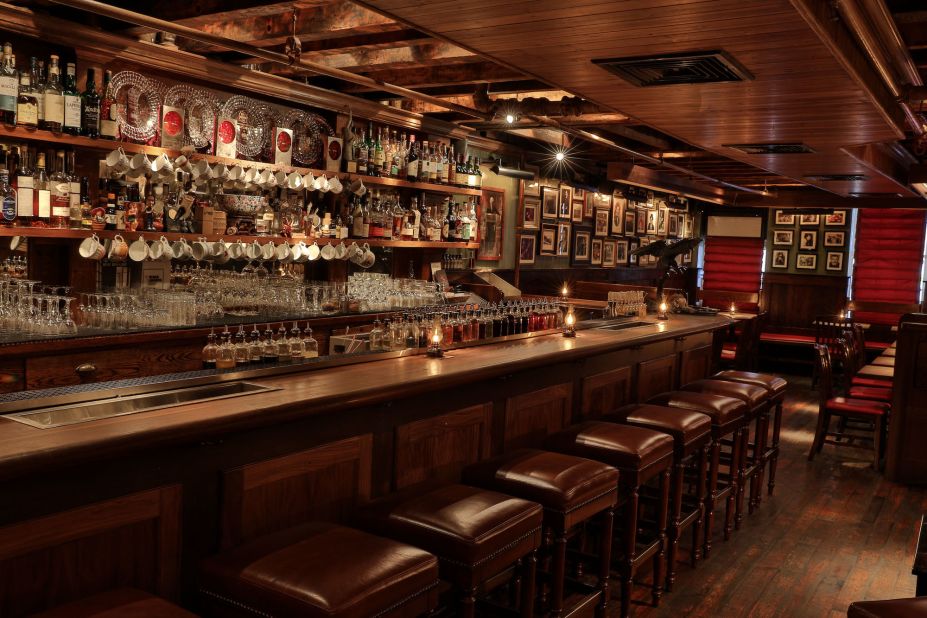 World's 50 best bars in 2017
"Much is made of how bars generate publicity using social media," he tells CNN. "But if there's a fantastic bar somewhere, even if it's underground and relatively unknown, people will find out about it and they will come."
And when they come to the Savoy Bar, Whisson and his fellow bartenders will be waiting.
"It's a glory to cherish," he says of his venue's victory in the nine-year-old contest. "But tomorrow, we'll be back behind the bar, doing what we do."
World's 50 Best Bars
1. American Bar, London
2. Dandelyan, London
3. NoMad Bar, New York City
4. Connaught Bar, London
5. The Dead Rabbit Grocery & Grog, New York City
6. The Clumsies, Athens
7. Manhattan, Singapore
8. Attaboy, New York
9. Bar Termini, London
10. Speak Low, Shanghai
11. Little Red Door, Paris
12. Happiness Forgets, London
13. High Five, Tokyo
14. Licoreria Limantour, Mexico City
15. Atlas, Singapore
16. Dante, New York City
17. Oriole, London
18. The Broken Shaker, Miami
19. Candelaria, Paris
20. Himkok, Oslo
21. The Gibson, London
22. Black Pearl, Melbourne, Australia
23. Floreria Atlantico, Buenos Aires
24. Operation Dagger, Singapore
25. 28 Hongkong Street, Singapore
26. Trick Dog, San Francisco
27. Sweet Liberty Drinks & Supply Company, Miami
28. Indulge Experimental Bistro, Taipei
29. Lost & Found, Nicosia
30. Baba Au Rum, Athens
31. Tippling Club, Singapore
32. BlackTail, New York City
33. The Jerry Thomas Project, Rome
34. Le Syndicat, Paris
35. Tales & Spirits, Amsterdam
36. Bar Benfiddich, Tokyo
37. Employees Only, New York City
38. Schumann's, Munich, Germany
39. La Factoria, Old San Juan, Puerto Rico
40. Quinary, Hong Kong
41. Aviary, Chicago
42. Mace, New York City
43. Nightjar, London
44. Linje Tio, Stockholm
45. The Baxter Inn, Sydney
46. ABV, San Francisco
47. Native, Singapore
48. Tommy's, San Francisco
49. Lobster Bar, Hong Kong
50. Imperial Craft, Tel Aviv