Suspension railways today seem like an anachronism – a 19th-century vision of what the future of transport would look like. By the year 2022, surely we would all be commuting to work on upside down railways!
Unlike boring ordinary train lines that stay determinedly fixed to terra firma, suspension railways dangle beneath a track suspended from pylons. Their carriages swoosh over roads, rivers and other obstructions, while passengers get to enjoy the view.
The idea, ironically, never really got off the ground despite a few successful if short-lived ventures like the Braniff Jetrail Fastpark System that whisked passengers from parking lot to terminal at Dallas Love Field for four years before the airport closed in 1974.
Today, the only suspension railways in operation are to be found in Japan and Germany. And it's in Germany that the original, and still very much the best, can still be found still going strong in all its steampunk glory – the Wuppertal Schwebebahn.
It all began in the 1880s, in the afterglow of imperial Germany's so-called Gründerzeit era of rapid industrial expansion. Entrepreneur and engineer Eugen Langen had been experimenting with a suspension railway for moving goods at his sugar factory in Cologne.
Meanwhile, the nearby city of Wuppertal had a problem. A booming local textile industry had seen the area grow from a small collection of settlements along the Wupper river to an urban sprawl of 40,000 inhabitants who now needed to get around.
Because the long and winding river valley made traditional rail or tramways impossible, city officials invited proposals to solve the problem – and up popped Langen.
In 1893, he offered his suspension railway system to the city, which leapt at the proposal. Construction began in 1898 and the line was ceremoniously opened in 1901, with Emperor Wilhelm II taking a test ride with wife Auguste Viktoria.
Wartime damage
Almost 20,000 tons of steel were used to create the elevated track which snakes through the city. Its 20 beautiful art nouveau stations complemented the glass and wood interiors of carriages that could carry 65 people each.
The network was extended to its final length of 13.3 kilometers (8.3 miles) in 1903, with journeys beginning and ending at turning loops connected to the line's Vohwinkel and Oberbarmen stations.
The new railway proved to be a hit with the locals. Over the next few years, train lengths were increased from two to six carriages, running every five minutes.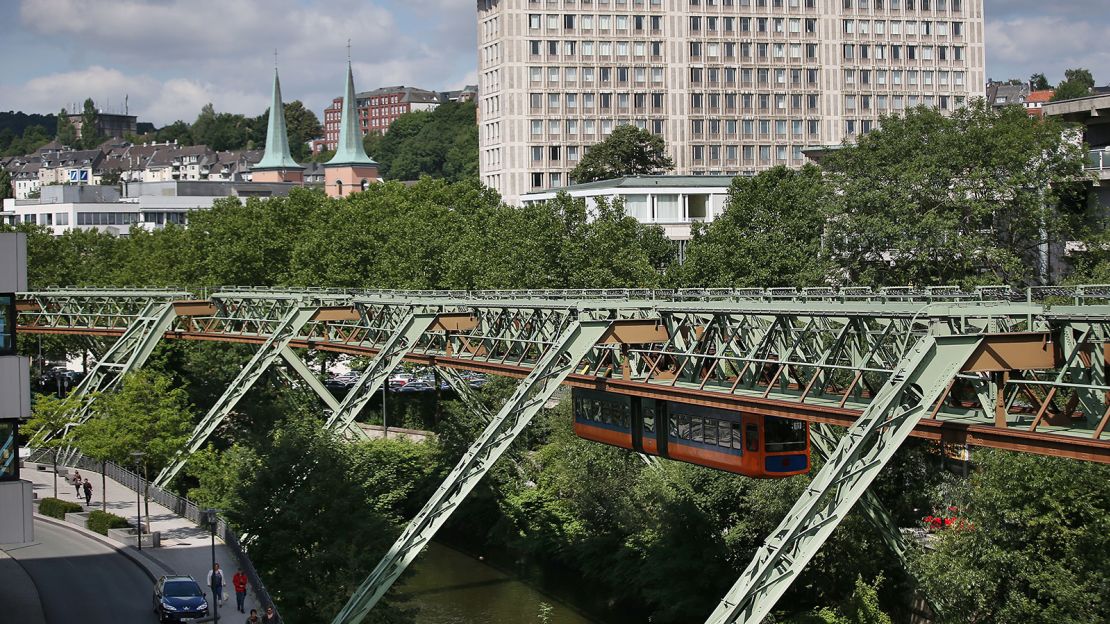 Passenger numbers dropped during World War I, when many of the workers of Wuppertal were serving in the armies of the Kaiser, but by 1925 the network had already carried 20 million passengers over the gentle Wupper river.
In World War II, the network was badly hit by Allied bombs in heavy air raids on Wuppertal in May and June 1943, and again in January 1945, but by Easter 1946, not even a full year after fighting ended in Europe, the whole route was already back in action.
For Rosemarie Weingarten, who was born in Wuppertal's Barmen district in 1933, the Schwebebahn remains the cultural flagship of the city because of its endurance.
"I don't think there's a more iconic symbol representing both Wuppertal and Barmen than the Schwebebahn. It has always been there for me and I'm proud that it is still running," she told CNN.
The elephant in the carriage