Story highlights
China's northwestern Xinjiang province was once a vital Silk Road connection
Mountainous and remote, it borders eight other countries
"Bosh bosh!" vendors yell as they yank sheep along by their tails, shoving them from trucks into the pens where they'll be sold to their death.
We're in the riotous Sunday livestock market on the outskirts of Kashgar, in the remote Xinjiang province in northwest China.
Yaks, camels and Xinjiang's famously fat-bottomed lambs have all been delivered to the market – the biggest of its kind in Central Asia – by bearded men from miles around, to be sold by the day's end.
The air is thick with cries of "bosh bosh!" – meaning "coming through," in the local Uyghur language.
At a nearby food shack, we order a couple of samsa – a crispy, stone oven-baked bread parcel filled with seasoned diced lamb, purchased and slaughtered in halal fashion that morning. Here, the phrase "farm to table" is literal. Blood from the remaining flesh of the animal drips from its bones by the shack's entrance.
Xinjiang might be one of China's best-kept secrets.
Once a vital stretch of the ancient Silk Road network of trade routes, today the province is notorious for violent ethnic tensions between the indigenous Turkic Uyghurs and swelling Han population, which have choked tourism in recent years.
Many of its people's faces bear the hallmark of Central Asia, its food has clear Turkish influences and the landscape is arid, fiery, and punctuated by Islamic, Turkic and Kyrgyz architecture.
Kashgar Old Town
Anyone who saw the 2007 film "The Kite Runner" might recognize Kashgar's Old Town. It doubled onscreen as Kabul, in Afghanistan – the only time Kashgar has appeared in a Western film.
Perhaps the last time such a global spotlight fell on the oasis city was when Marco Polo passed through in 1273, and called it "the largest and most important" city in Xinjiang, before allegedly taking the local laghman noodles back to Italy, and rebranding them spaghetti.
We try a plate of these noodles served with cooked tomatoes, onions and shredded beef, and can't deny it's not unlike a certain Italian dish.
Those ancient streets captured on film are today mostly vanished. The city's Old Town, deemed unsafe to live in, has been demolished. All that remains is a small neighborhood located a 15-minute walk from the Kashgar Bazaar.
Nearby lies the new Old Town: an ambitious re-imagining of its predecessor which recaptures its elegant Islamic architecture but without the disorganized charm.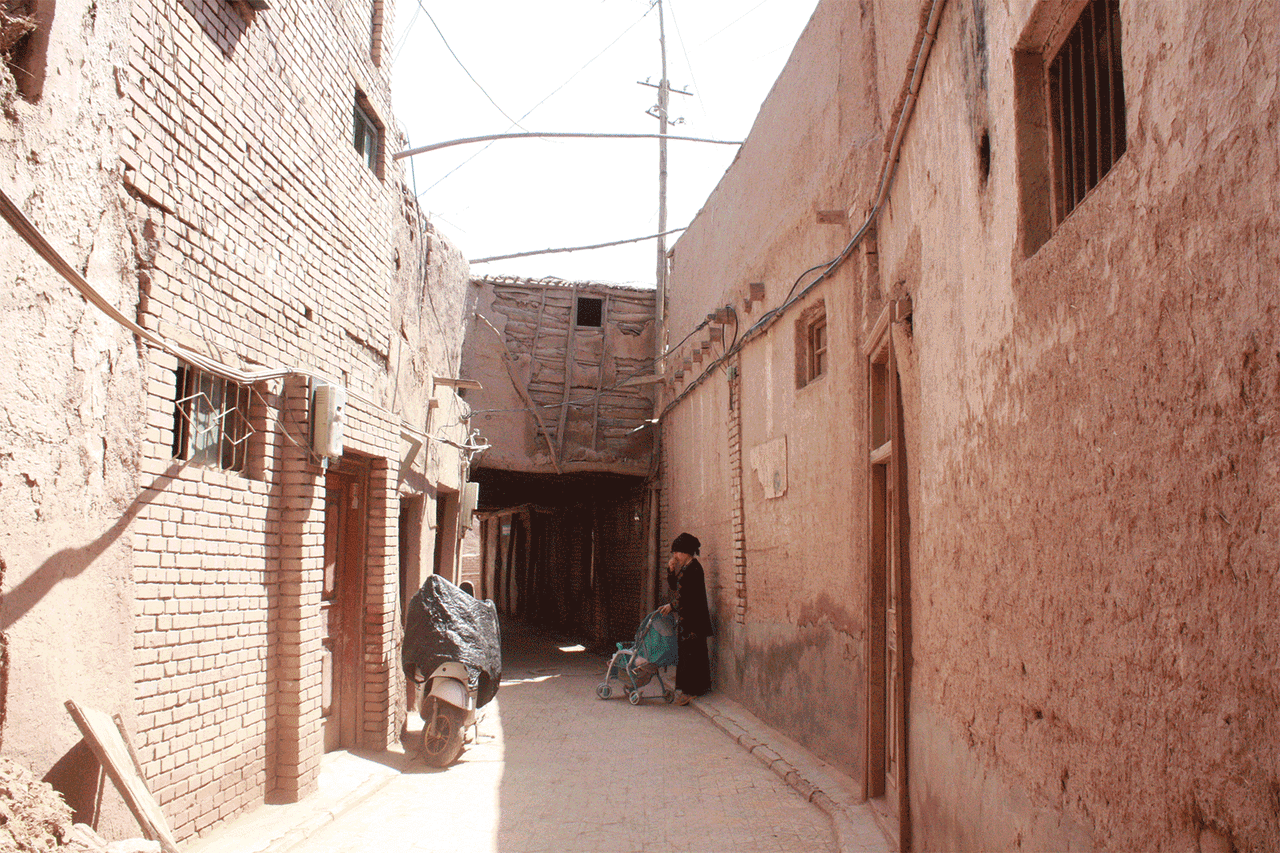 The old Silk Road
Leaving Kashgar, we head out further west on a trip along the Karakoram Highway (KKH), the road that connects China with Pakistan via winding mountain passes.
Overnight rain has left the road more treacherous than usual. Rocks have fallen which soldiers have been tasked with clearing.
The 9,000-mile (14,484 km) highway from Kashgar to Abbottabad, in Pakistan, is currently being resurfaced on both sides of the border by Beijing, in a bid to improve the China-Pakistan Economic Corridor.
The China stretch is mostly finished, but the fresh tarmac needs to set, so we make a bumpy journey on rubble tracks beside the empty, pristine road.
Every 10 minutes the landscape reinvents itself. Flaming red mountains are replaced by huge gorges. Ethnic Kyrgyz children living in stone houses with solar panels atop appear on the left, Tajik yurts to the right.
They're followed by grasslands populated by grazing yak and roaming herds of camels that peer into the car windows.
Karakul Lake is the jewel in this bonanza of Instagram-worthy scenes. Stepping out of the car here, it's hard to breathe.
At its peak, the KKH is 15,397 feet above sea level, making it the highest paved international highway in the world. My lungs briefly brace at the altitude.
Karakul means "black lake," but the name is misleading. Its waters are a majestic jade green. They're backdropped by eery, soft grey sand dunes.
As we drive higher, towards the snowcapped Tian Shan mountains, it gets colder. By the time we arrive in Tashkurgan, a town almost upon the border with Pakistan, it's raining.
Police with sniffer dogs patrol the streets – China's northwest frontier is a hotbed for heroin smuggling. This is where we must stop. The Khunjerab Pass that leads to Pakistan has been closed to foreigners, according to our driver, although no one will say why.
He delivers us to a Byzantine-looking BBQ restaurant decorated with disco balls and and soundtracked by techno music.
Customers wearing elaborate, bejeweled doppas (square skull caps) are served juicy lamb skewers and a Uyghur dish called manper soman – it resembles farfelle with vegetables and shredded meat – by Tajik owners.
Spectacular, rarely seen images of China's railways
Swallowed by the sand
We only have nine days in Xinjiang. It's a huge province, bordering eight countries – Mongolia, Russia, Kazakhstan, Kyrgyzstan, Tajikistan, Afghanistan, Pakistan and India – and is impossible to fully explore in such a short time.
Our next stop, via the provincial capital Urumqi, is Turpan – one of the world's lowest depressions.
The fast train from Uruqmi takes 1.5 hours to reach Turpan. It whizzes past vast wind turbine farms in the red desert, but also oil and gas fields, a reminder of why Xinjiang is so vital to China.
In Turpan, we check into a boutique hotel, The Vines, which is part of a working vineyard.
Here, an amazing karez irrigation system of vertical wells and underground canals has channeled water from the mountains for hundreds of years, keeping this desert oasis almost impossibly fertile.
Tourism hasn't exactly caught on yet. When I ask to buy a bottle of the red wine produced here, our host directs us to the local supermarket.
The scorching Taklamakan desert outside of Turpan is home to the remains of ancient towns long ago swallowed and preserved by the sand, unearthed in the past century.
As the temperature climbs to an arid 38 degrees Celsius, we find Tuyoq, one of the few inhabited ancient Uyghur villages, where mud-built homes appear camouflaged against the sandy landscape.
Only the green dome of the Mazar, an Islamic shrine, stands out. Outside one of the mud homes stands a sign: "Former residence of Albert Von Le Coq."
Beneath, a scathing description outlines how in the early 20th century the German explorer, along with a band of rival Europeans, raided Taklamakan sites of historical treasures belonging to China, and deposited them to museums in their home nations.
The Bezeklik caves, from the walls of which Von le Coq ripped scores of ancient paintings after he discovered the site in 1905, lie just outside the village.
Jam session
Back in Urumqi, we find a rarity in largely alcohol-free Xinjiang: a strip of bars. Gong Yuan Bei Lu is lined with overpriced cocktail joints and coffee shops serving beer.
It's a contrast to the rest of the province, where refreshment comes in the form of circular flat breads stamped with swirling patterns, shredded pumpkin and lamb steamed dumplings, salty Uyghur ice cream and lamb kebabs gently spitting on street grills.
Around midnight we roll into Fusion Bar.
Styled like a British pub, albeit one with two Christmas trees and a giant Super Mario model, it presents local jazz and rock acts. We're the only Westerners in sight and, as complimentary Jack Daniels keep arriving at our table, we're told the night rounds off with a jam session.
And so, our time in Xinjiang is brought to a close with my traveling companion, a part-time musician, joining the electronic jazz band on stage to sing "Autumn Leaves."
Xinjiang knows how to make an impression.