Editor's Note: Sign up for Unlocking the World, CNN Travel's weekly newsletter. Get the latest news in aviation, food and drink, where to stay and other travel developments.
The path of totality. That's where you'll want to be on April 8, 2024, to take advantage of the last opportunity for decades to see a total solar eclipse over the contiguous United States.
The path, which will be about 115 miles (185 kilometers) wide, will make its way across northern Mexico, cross 13 US states and eastern Canada. The celestial event is bound to inspire an influx of travelers to points falling within that zone.
Just under seven years after the American eclipse in August 2017, next year's total solar eclipse will provide the last easy access to such an event for most US residents until August 23, 2044.
And while it's still 10 months away, it's definitely time to make plans.
Study the path of totality
April is unlikely to yield the kind of weather that most US viewers enjoyed for the 2017 eclipse in August. The best bet, climate-wise, isn't in the United States at all.
Mexico, where the eclipse track reaches landfall near Mazatlán on the Pacific Coast, offers the best odds of favorable weather, according to Jay Anderson, a retired meteorologist with Canada's weather service and an amateur astronomer who created the website Eclipsophile.com.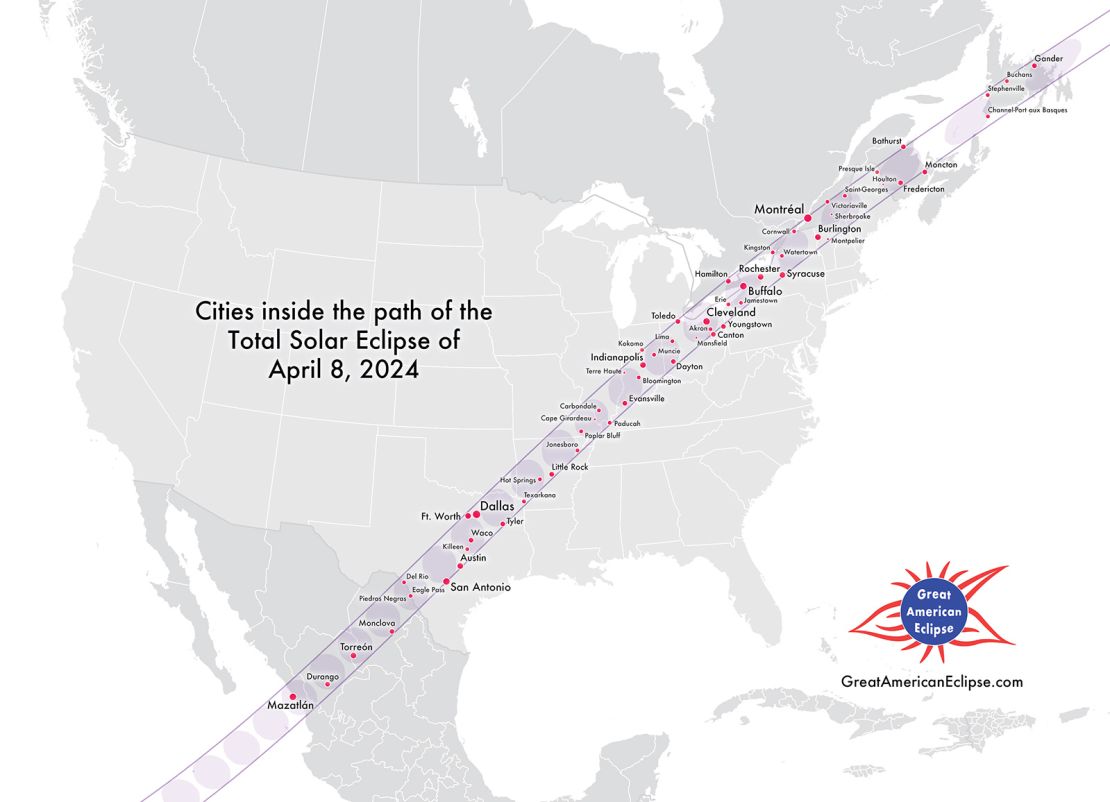 Parts of Texas look pretty good as well, although not as favorable as spots in Mexico. See Eclipsophile and this analysis from Space.com for more details.
The path enters the US in Texas, traverses that state and travels through Oklahoma, Arkansas, Missouri, Illinois, Kentucky, Indiana, Ohio, Pennsylvania, New York, Vermont, New Hampshire and Maine. Farther north near the Canadian border, there's a lot of potential for cloudiness, Anderson said.
"The city I sort of identified as the most likely to have good skies [in the United States] is a place called Junction, Texas, which is a little bit toward the edge of the eclipse track in the Texas Hill Country," said Anderson. "But they statistically are in one of the areas most likely to have clear skies, but having said that, it still means that they only have about a 55% chance of clear skies on that day. So, you know, it's no guarantee anywhere."
Some parts of Mexico in the path historically see 30% average cloud cover, Anderson said, whereas Junction is in the 40% range and San Antonio about 60%.
"Climate is the average of everything, but what actually happens on eclipse day will be something different," Anderson said.
Decide how determined you are to see the eclipse
Are you willing to drive eight hours and take a day or two off work? The eclipse is on a Monday, but traffic late in the day could be fierce. Are you ready to change your plans days before if the weather looks better elsewhere?
Some eclipse viewers will go to great lengths.
Anderson said most of the people from Europe who participate in an eclipse message group he's part of are heading to Texas to see the 2024 event.
And he knows of a number of travelers who have made motel bookings in several places along the path so that they have options just before the eclipse to seek out the best weather conditions and cancel the extra rooms.
"But you're dealing with a hard-core eclipse chaser when you start making three or four motel bookings to have a number of different places to go," Anderson said.
Iffy April weather certainly could present visibility problems.
"So somebody who really was determined to see that eclipse should be flexible and be prepared to move," Anderson said.
It's time to book lodging
Now is the time to reserve rooms, says Dave Clark, who runs the website NationalEclipse.com.
"Rooms are still available along the path of totality but are going fast. The longer people wait, the harder it will be to find accommodations inside the eclipse path. And the higher the rates will be as the hotels and property owners get wise to what's happening," Clark told CNN Travel.
In some places along the path, hotels are already booking up and rates for remaining rooms in those spots are high.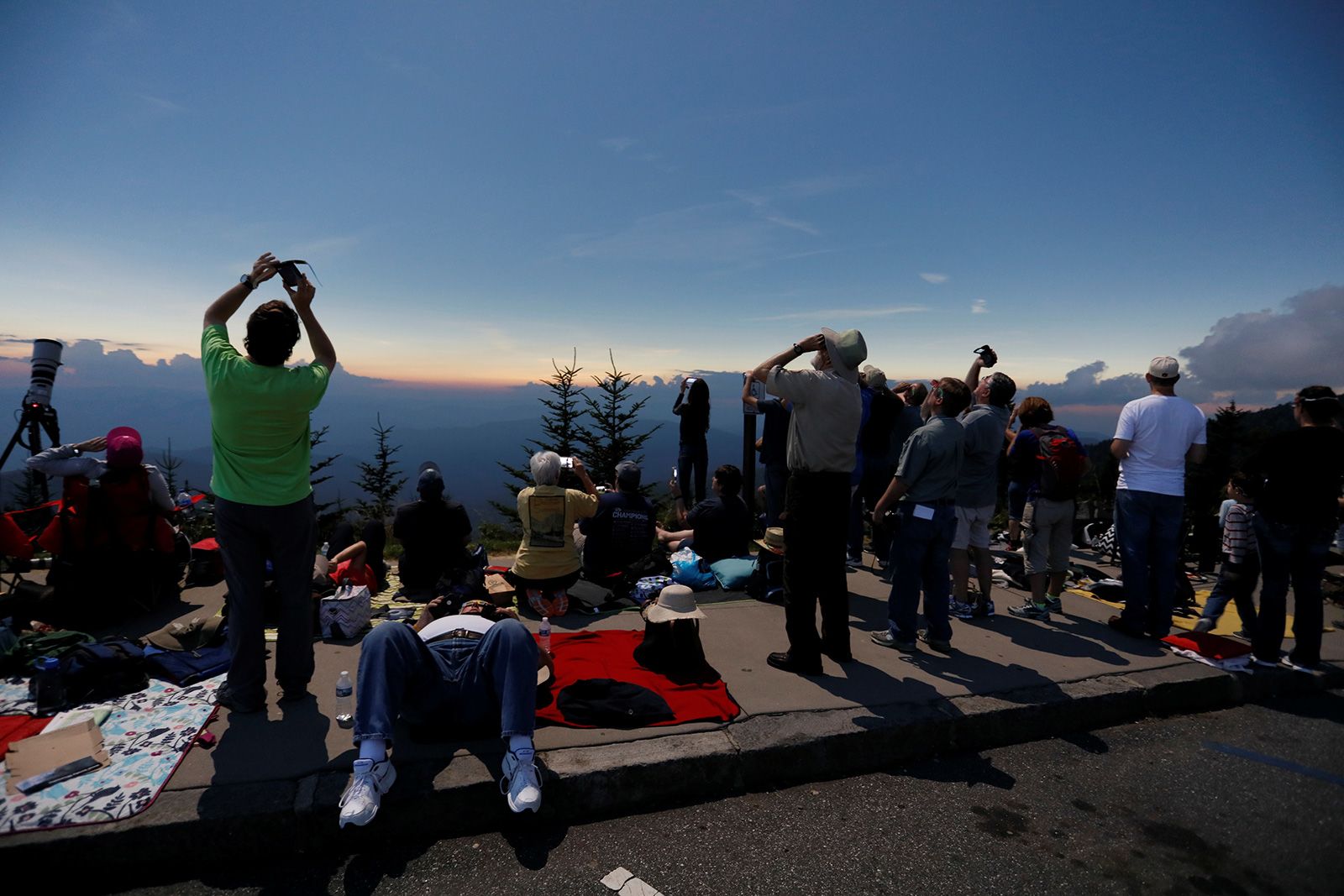 Take Russellville, Arkansas. This week, a search on Booking.com showed 87% of places to stay were unavailable on April 7-9, 2024, in the city of about 30,000. Two hotels that had available rooms, Motel 6 and American Inn & Suites, had rates for that period of $500 and $699 per night, respectively.
But many larger cities have more rooms to work with and more availability.
Vacation rentals are another option. A look at Airbnb pricing in several locations along the eclipse's path suggests that while some property owners are well aware ($1,000-plus a night aware) of the significance of April 8, 2024, others haven't hiked up their rates for the coveted dates. At least not yet.
Waco, Texas, is hosting a ticketed festival with astronomers on hand to mark the eclipse. Tourism officials there say they've sold more than 1,500 tickets to the event that will be held in Touchdown Alley at McLane Stadium, where capacity is 20,000. The event is being organized in collaboration with Baylor University, Lowell Observatory (in Arizona) and Discovery (CNN's parent company).
Carla Pendergraft, assistant director of tourism at the Waco Convention Center & Visitors Bureau, said that very few hotels show availability right now. "However, some hotels may not have opened up their reservation system as of yet, so additional rooms may come onto the market."
Airline tickets can wait
While you'll want to lock in your lodging sooner rather than later, that's not the case for airline tickets, says Scott Keyes, founder of airfare tracking site Going.com.
There's such a thing as too early for airline tickets, and we're still in that window. "The early bird gets the worm but not the earliest bird," he said.
And because the path of totality stretches across 13 states as well as parts of Mexico and Canada, there are plenty of places to fly into.
"Because it's really spread out, I think that's going to limit the amount of airfare inflation that you might otherwise see," if it was only going through a small area, Keyes said.
What he calls the "Goldilocks window" –  the just-right time – is generally one to three months in advance for domestic flights at an off-peak time such as April.
"That would be booking somewhere between January and March. You know, maybe if there's a lot of media attention and excitement coming up, just maybe you could start to find some good deals in December, a little bit earlier."
And the good news about post-pandemic ai