Editor's Note: Sign up for Unlocking the World, CNN Travel's weekly newsletter. Get the latest news in aviation, food and drink, where to stay and other travel developments.
In travel news this week: The family of seven hiking America's longest trails, a Portuguese wine flood and California's bid for cannabis cafes, plus airplane transport woes from Atlanta to Bilbao.
AWOL at the airport
A Swiss International Air Lines plane took off from Zurich this past weekend filled with passengers but without a single checked suitcase on board because of a lack of ground staff. After an initial delay, Flight WK226, operated by SWISS on behalf of Edelweiss Air, set off for Bilbao on Saturday without checked baggage so the plane would be able to make its return flight to Zurich before the night-time flight ban kicked in.
"It was possible to deliver most of the luggage to Bilbao the following day," a SWISS spokesperson told CNN, while the rest arrived on Monday. He added, "We deeply understand the frustration and anger of the passengers" and "are currently reviewing our processes."
Air traffic controller shortages also continue to be a problem globally: US airline execs are warning that years of flight disruption lie ahead.
In happier news, a Delta passenger's dog that went missing at Hartsfield-Jackson Atlanta International, the world's busiest airport, has been found safe after three weeks.
And Japan Airlines has started a yearlong trial of a service that lets you rent a set of clothes and receive it at your hotel on arrival, which could be handy if your bags go on tour without you.
Take a hike
Aim to cover 12-15 miles a day and don't carry a rucksack that's more than 10% of your body weight: That's two of many lessons our writer learned while hiking Spain's Camino de Santiago. Read his advice for tackling the celebrated pilgrimage route.
A newborn baby was the most precious item of cargo transported on hikes by the Netteburgs, a family of seven who together have been tackling America's longest trails, including the Pacific Crest Trail and the Continental Divide. They now say they're eyeing the Tongariro Alpine Crossing in New Zealand. (And stay tuned for next week's roundup where we'll bring you a family twice this size hiking the Appalachian Trail).
Blisters are, of course, the hiker's most feared enemy, and you can avoid them by choosing a quality pair of hiking socks. Our partners at CNN Underscored, a product reviews and recommendations guide owned by CNN, have rounded up 16 of the best, according to experts.
From high to dry
Amsterdam-style cannabis cafes might be coming to California, with a bill now awaiting the governor's signature that would allow venues to offer food, coffee and even live music alongside cannabis.
If alcohol is your chosen vice, though, you may be interested in our guide to the legal drinking age in destinations around the world. Cambodia and Burkina Faso might surprise you.
You'll be too late to enjoy last weekend's Portuguese wine flood, though. A river of red gushed through the streets of the town of Anadia after storage containers holding enough vino for three million bottles burst. Luckily, no one was hurt in the incident. Watch here.
For those who prefer a clear head, however, sober travel is an increasingly hot trend. It's definitely the best route to enjoying crystal-clear memories and prime traveling health for years to come.
Amanpour's 40 years at CNN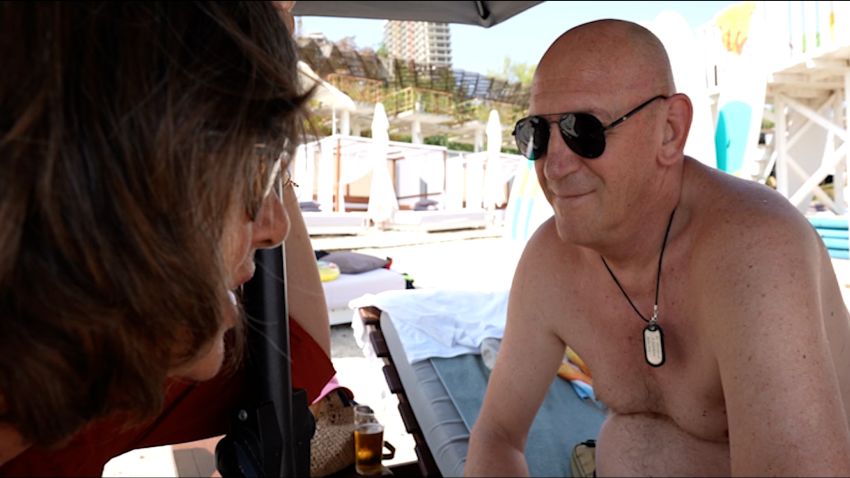 A day at the beach ... in a war zone
This week, veteran correspondent Christiane Amanpour celebrated 40 years working at CNN. Last month, she visited the beaches of Odesa in Ukraine, where life goes on despite the ongoing war.
Farther east and inland, a war-traumatized bear that was found at an abandoned zoo in Donetsk is set to be adopted by Five Sisters Zoo in Scotland. The 12-year-old Asiatic black bear has been named Yampil, after the village where he was rescued.
In case you missed it
Is this new plane design the future of aviation?
Why a blended wing could be the thing.
She bought an airplane ticket she thought was a scam.
Then her future husband was on board.
Finding a vacation rental in New York City just got harder. 
And the Italian city of Florence is also cracking down on Airbnb.
The site for the first atomic blast is opening for one day in October.
You've seen "Oppenheimer." Now experience the history first-hand.