Editor's Note: Sign up for Unlocking the World, CNN Travel's weekly newsletter. Get the latest news in aviation, food and drink, where to stay and other travel developments.
In travel news this week, devastation from the fires on the Hawaiian island of Maui continues to grow, with most of the tourist town of Lahaina destroyed. As wildfires become more common, this is what to do if you're caught in an affected area and here's how to help the victims of the disaster in Hawaii.
Here's what else is happening in the world of travel.
Famous hiking route set for full comeback in 2024
Love is in the air - or at least, it's really high up a cliff.
Italy's Via dell'Amore ("Path of Love") bills itself as "the most romantic walk in the world." It's long been the most popular hiking path in the roughly 75 miles (121 kilometers) of trails that wind around the five villages that make up the Cinque Terre UNESCO World Heritage Site.
It closed after a landslide in 2012, but now – after a lengthy refurbishment – the first section has reopened for a summer preview until September 30. The full trail will reopen in July 2024.
To combat overtourism in what is one of the most visited regions in one of the world's most visited countries, access is now only by guided tour (tickets are just over $5) to protect the landscape for future generations. Tourists are reminded to be respectful of local culture and heritage, lest the "path of love" turn into a "walk of shame." 
Escaped bear delays flight
A lot can happen in the course of getting a plane from point A to point B.
In Dubai, a flight was delayed after a bear escaped from the hold (see this video of the cub safely back in its crate).
Elsewhere: On British Airways, there was a cock-up on the catering front recently that led to passengers being served Kentucky Fried Chicken on an international flight.
And in the United States, a woman flew from Denver to Chicago to collect her daughter's lost lacrosse kit when her luggage tracker found it before her airline could.
There are some exciting new developments on the fancy side of aviation, however.
A private luxury terminal is coming to the world's busiest airport this September, the second to be opened by operator PS after a similar experience opened at Los Angeles' LAX in 2017.
Also this fall, new airline Beond will start flying all-premium cabin flights to Maldives, with lie-flat seats that share components with Ferrari cars. Dubai and Delhi are the first two cities from which it'll offer direct flights.
Lifestyles of the rich and famous
Opportunities may be coming up to experience life as lived by humanity's most gilded individuals, in the form of a night's lodging.
Actor and entrepreneur Gwyneth Paltrow's California guesthouse will open for booking on Airbnb on August 15, for an overnight stay on September 9. The Goop guru will be there herself to welcome guests to the one-bedroom, one-bath abode, and the lucky visitors will be invited to indulge in a spa day and participate in a transcendental meditation session.
And in Llwynywermod, on the edge of Brecon Beacons National Park in Wales, a home formerly belonging to King Charles might soon become available to rent. The three-bedroom royal lodging is set in the grounds of a ruined mansion, and Charles added his own touch to the place by planting jasmine and honeysuckle to climb the walls.
If neither of those options work out, you can of course stay in your own bed and dream of more gracious living. Our partners at CNN Underscored, a product reviews and recommendations guide owned by CNN, have selected 13 hotel pillows so you can recreate your best vacation sleep.
Riding an iconic 1940s train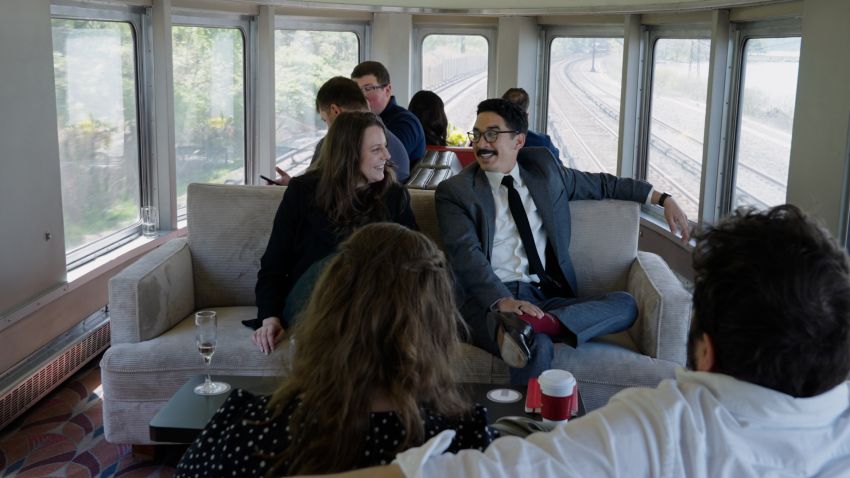 This 1940s train was the most famous in the world. Here's how you can ride it
"Red-carpet treatment" started with the crimson rug that greeted guests on the 20th Century Limited passenger train, known as "the most famous train in the world" in the 1940s. Now that it's been restored, train lovers can ride this US icon once again.
In case you missed it
This viral photo of the world's largest cruise ship is polarizing opinion. 
Twenty decks of fun or nine circles of hell?
They plan destination weddings for the world's highest earners. 
Here are their secrets.
These 10 concepts could change the way we experience the world. 
This might just be the future of travel.
They were strangers in Bolivia. 
Six months later, they fell in love in Paris.