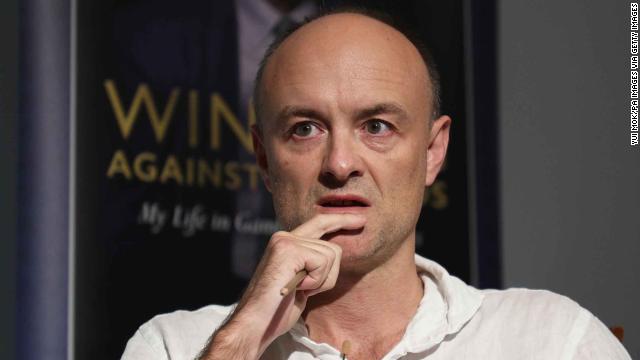 Boris Johnson has been planning an election campaign for months. Ever since taking over from Theresa May as Prime Minister and leader of the Conservative party, Johnson has been setting himself up as the man fighting to get Brexit done, while opposition lawmakers were hellbent on thwarting him at every opportunity.
The man driving this "People versus Parliament" narrative was Johnson's most senior advisor, Dominic Cummings.
Cummings masterminded the victorious Vote Leave campaign in 2016, most famously coming up with the campaign slogan, "Take Back Control" and the widely-debunked claim that being an EU member state cost the UK £350 million a week.
He is a deeply divisive and controversial figure. His aggressive and unorthodox way of doing politics has left many in Westminster questioning Johnson's judgment. Cummings is a man, after all, currently held in contempt of Parliament for refusing to give evidence to a Parliamentary select committee.
He claims to have never been a member of any political party, including the Conservative party, over which he has such a tight grip. His brutal style goes against the gentle sensibilities of many Conservative members (think village greens and warm beer rather than accusing your opponents of "surrender" and "betrayal" at every turn).
However, Cummings will not be officially running the election campaign, CNN has been told. Soon after taking office, Johnson appointed Isaac Levido, formerly an advisor to the Australian Liberal Party, to run the Conservatives' political operations – including elections. Downing Street sources say that had always been Johnson's plan and that Cummings was never going to run an election campaign.
Shortly after Cummings took his job, he told government advisors that he would stand down after Brexit was done. He was due to have an operation, he told aides, which he had already postponed in order to "get Brexit done" by the original October 31 deadline.
Even though that deadline has been broken, Downing Street sources have told CNN that Cummings has not indicated any intention of leaving, and will continue to work closely with them. "That was in the context of Brexit being done by then," one government advisor told CNN.
While he might not officially be in charge of the Conservative's campaign, it's pretty clear that the most controversial man in Westminster will be working very closely with Johnson over the next few weeks. "He's Dom, still around, and will be involved in (the) campaign," a Downing Street source told CNN.
All of which means team Johnson will continue to be as tight-knit as it has been for months. He might not be running the show, but the Conservatives' election campaign will clearly be created in his image. And in the words of one former Conservative party advisor, "His political judgment is brilliant... everyone who is on the opposing side should be astonishingly frightened."
That might be true. But the opponents of Cummings and Johnson can take heart in one thing: This election is only happening because of the failure of the Prime Minister – and that of his most senior aide – to get Brexit done by October 31. It could yet be that the decision to run an aggressive election campaign will blow up in their faces and result in them being booted out of Downing Street.