UK heads for general election in bid to break Brexit deadlock
12:47 p.m. ET, October 30, 2019
There's been a surge of young people registering to vote in the past 24 hours
Interesting nugget from today: according to the government's own website, registration among younger voters has surged in the past 24 hours.
While it's hard to read too much into this, the consensus among most political scientists is that this group of people is more likely to vote for pro-European parties. Take a look for yourself.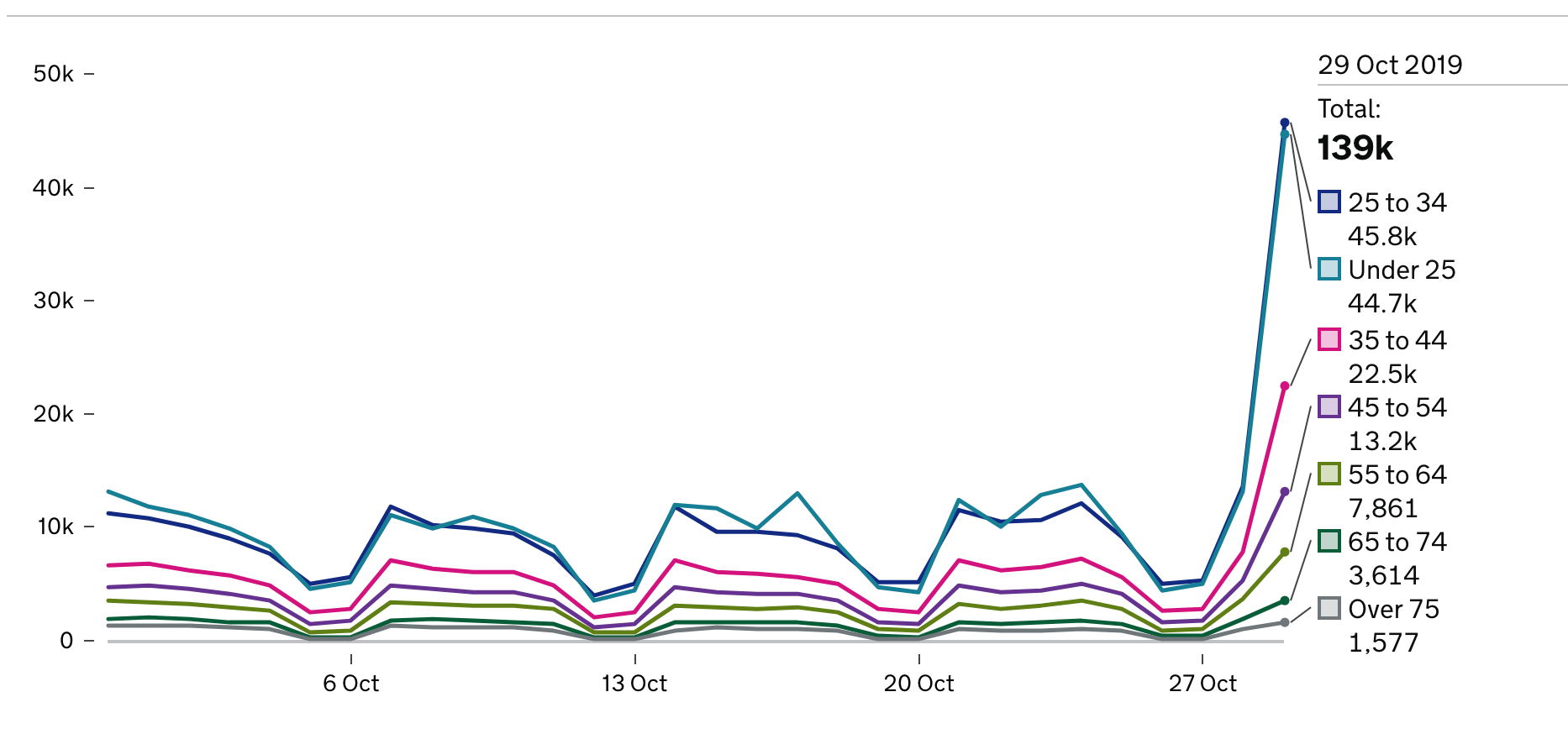 11:30 a.m. ET, October 30, 2019
State of the parties
Brexit has made a hell of a mess. British politics is less predictable than ever and, if you have followed this madness for the past three years, quite a lot of the blame lies with the governing Conservative party – who have been in power for 10 years.
Logic dictates that the Conservative Brexit mess should lead to fighting a successful election campaign being next to impossible.
But nothing is normal. The opposition parties have for three years failed to properly capitalize on Conservative weakness. The main opposition Labour party has failed to make its position on Brexit clear until very recently.
So where does this leave everyone? Election polls show the Conservatives with a healthy lead over Labour at the moment, but British politics is weird and vote share doesn't reflect how many seats a party wins in Parliament. For example, in 2015, David Cameron secured a small majority with 36.9% of the vote, but in 2017, Theresa May lost that majority with 42.4%.
10:27 a.m. ET, October 30, 2019
Elsewhere in Brexitland...
The dawning reality of a general election has created a problem for the man who Brexit might never have happened without.
Nigel Farage's Brexit Party finished in first place in what was effectively the UK's last national elections -- the European parliamentary elections. The conditions were perfect, as the vote took place back in May, two months after the UK had missed its first Brexit deadline.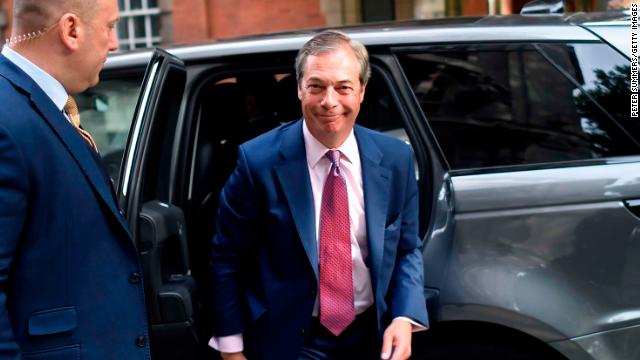 When he launched the Brexit Party, Farage said he wanted to "change politics for good," and that his party would stand on a single issue: to take the UK out of the EU without a deal. Labour and the rest of the opposition were blocking Brexit, and the Conservatives, then run by Theresa May, were hopeless.
In the wake of Farage's huge victory in the European elections, he almost immediately announced plans to contest near enough every seat at the next UK general election. Candidates were regularly announced as the Brexit Party repeatedly told the public, "We are ready for a Brexit general election."
Things have changed since May. Boris Johnson, the man who led the successful Vote Leave campaign in 2016, is now the Prime Minister. He has taken a hard line on Brexit that ultimately forced the EU to renegotiate May's doomed withdrawal deal. If polls are to be believed, he is riding high and in a very strong position.
The UK's political system structurally punishes smaller parties. It is not uncommon for parties to pick up a decent chunk of the national vote but end up with no seats in Parliament.
Rumors are now circulating that the Brexit Party will switch its focus from standing in every seat to concentrating on a handful of seats that they have a decent chance on winning.
On Wednesday morning, party campaigners were sent the following message, which has been seen by CNN. "Message from HQ... IMPORTANT. Please go DARK on social media. DO NOT respond to any questions about where we are standing, what the strategy or plan is from now. Things will be made clear to all PPCs very soon. #changepoliticsforgood."
Focusing on a small selection of seats might be a sensible strategy, but it could look to be a humiliating turnaround for a party that has talked a huge game since the spring.
9:05 a.m. ET, October 30, 2019
Tributes to John Bercow at his last PMQs
John Bercow is presiding over his final weekly session of Prime Minister's Questions, during which both Jeremy Corbyn and Boris Johnson paid tribute to the Speaker of the House.
Johnson said that Bercow had "peppered every part of the chamber" with his "own thoughts and opinions like some tennis ball machine," delivering "unreturnable" vollies and rallies.
Corbyn praised how Bercow stood up for Parliament and changed some of its "strange customs" while promoting diversity.
Bercow's tenure as speaker has been controversial. Brexiteers believe that he has acted in cahoots with Remainers and aided their attempts to thwart Brexit at any cost. Bercow himself defends his impartiality, but his behavior has won him fans among the Europhile community.
There has also been a darker side to Bercow's time in the chair. He has been accused of bullying and having a clear bias on Brexit. This wasn't helped when British media found pictures of his car with a sticker saying "Bollocks to Brexit." Bercow claims the sticker was his wife's.
Bercow has been a divisive figure across the political spectrum, and many in Westminster believe he has abused his position in the Speaker's chair to build his own profile. As Robert Colvile, Director of the Centre for Policy Studies think tank, recently pointed out on Twitter, Bercow has spoken in the House far more times than any other recent Speaker.
8:33 a.m. ET, October 30, 2019
A "Trump Trade deal"?
The US President has already entered the UK's election campaign. During Prime Minister's Questions, Labour leader Jeremy Corbyn accused Boris Johnson of putting the UK's National Health Service at risk by pushing to strike a "Trump trade deal" which would allow US firms to win NHS contracts.
Gearing up for what will no doubt be a feature of his many stump speeches, Corbyn said: "Isn't the truth that this government is preparing to sell out our NHS?"
The NHS, it's often said, is the closest thing the UK has to a religion. Painting Johnson as a man willing to sell it out to a US President that is widely disliked in the UK could be a very effective campaign strategy. Especially when you consider that Trump will be in London shortly before the election takes place.
8:21 a.m. ET, October 30, 2019
Prime Minister's Questions underway
The weekly session of Prime Minister's Questions is underway in the House of Commons.
Parliament is expected to dissolve just after midnight next Wednesday, meaning that this is the final PMQs before the election campaign officially gets underway.
However, the worst-kept secret in Westminster has been that both main parties are on election footing. Which might explain why leaders Boris Johnson and Jeremy Corbyn are for once now arguing about domestic policy more than Brexit.
7:59 a.m. ET, October 30, 2019
What role will Boris Johnson's top aide, Dominic Cummings, play in the election?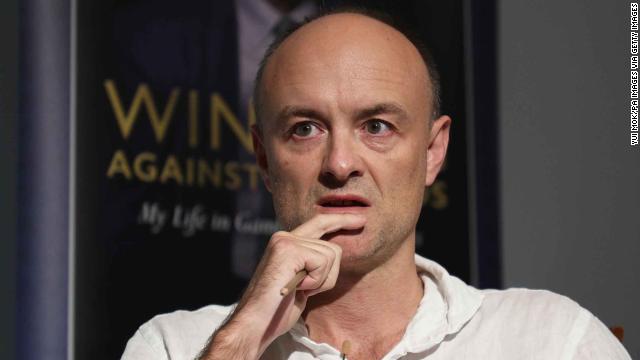 Boris Johnson has been planning an election campaign for months. Ever since taking over from Theresa May as Prime Minister and leader of the Conservative party, Johnson has been setting himself up as the man fighting to get Brexit done, while opposition lawmakers were hellbent on thwarting him at every opportunity.
The man driving this "People versus Parliament" narrative was Johnson's most senior advisor, Dominic Cummings.
Cummings masterminded the victorious Vote Leave campaign in 2016, most famously coming up with the campaign slogan, "Take Back Control" and the widely-debunked claim that being an EU member state cost the UK £350 million a week.
He is a deeply divisive and controversial figure. His aggressive and unorthodox way of doing politics has left many in Westminster questioning Johnson's judgment. Cummings is a man, after all, currently held in contempt of Parliament for refusing to give evidence to a Parliamentary select committee.
He claims to have never been a member of any political party, including the Conservative party, over which he has such a tight grip. His brutal style goes against the gentle sensibilities of many Conservative members (think village greens and warm beer rather than accusing your opponents of "surrender" and "betrayal" at every turn).
However, Cummings will not be officially running the election campaign, CNN has been told. Soon after taking office, Johnson appointed Isaac Levido, formerly an advisor to the Australian Liberal Party, to run the Conservatives' political operations – including elections. Downing Street sources say that had always been Johnson's plan and that Cummings was never going to run an election campaign.
Shortly after Cummings took his job, he told government advisors that he would stand down after Brexit was done. He was due to have an operation, he told aides, which he had already postponed in order to "get Brexit done" by the original October 31 deadline.
Even though that deadline has been broken, Downing Street sources have told CNN that Cummings has not indicated any intention of leaving, and will continue to work closely with them. "That was in the context of Brexit being done by then," one government advisor told CNN.
While he might not officially be in charge of the Conservative's campaign, it's pretty clear that the most controversial man in Westminster will be working very closely with Johnson over the next few weeks. "He's Dom, still around, and will be involved in (the) campaign," a Downing Street source told CNN.
All of which means team Johnson will continue to be as tight-knit as it has been for months. He might not be running the show, but the Conservatives' election campaign will clearly be created in his image. And in the words of one former Conservative party advisor, "His political judgment is brilliant... everyone who is on the opposing side should be astonishingly frightened."
That might be true. But the opponents of Cummings and Johnson can take heart in one thing: This election is only happening because of the failure of the Prime Minister – and that of his most senior aide – to get Brexit done by October 31. It could yet be that the decision to run an aggressive election campaign will blow up in their faces and result in them being booted out of Downing Street.
7:17 a.m. ET, October 30, 2019
UK $90bn worse off under Boris Johnson's Brexit deal, says independent research institute
The British economy will be £70bn ($90bn) worse off under Prime Minister Boris Johnson's Brexit deal, according to an economic forecast published on Wednesday by the National Institute of Economic and Social Research (NIESR).
NIESR is the UK's oldest independent economic research institute.
The report says that the UK economy would be 3.5% smaller over the next 10 years under Johnson's withdrawal agreement, compared to if the UK stayed in the European Union.
And the British economy has already been hit hard by Brexit -- it is an estimated 2.5% smaller now than it would have been because of the 2016 referendum, according to NIESR. 
The report cites "significant economic and political uncertainty" and "slowing global demand" as factors fueling the UK's economic weakness.
A spokesman for the United Kingdom Treasury (finance ministry) told CNN that the government plans on a "more ambitious" agreement with the EU than the "standard free trade deal that NIESR has based its findings on."
6:47 a.m. ET, October 30, 2019
Here's what's on the agenda for today
Parliament will start sitting at 11:30 a.m. GMT (7:30 a.m. ET), kicking off with questions on Northern Ireland.
Prime Minister Boris Johnson will take questions from MPs at 12:00 p.m. GMT (8:00 a.m. ET).
What happens next?
The Early Parliamentary General Election Bill, which prompted the election, will be debated in the House of Lords on Wednesday.
If peers in the upper house make any amendments, the bill will go back to the Commons for MPs to vote on the changes.
Once the bill is passed, it will receive Royal Assent -- when the Queen formally agrees to make the bill law.
On Monday, November 4, MPs will vote for a new Speaker of the House to replace John Bercow.
Just after midnight on Wednesday, November 6, Parliament will be "dissolved," or shut down, officially kicking off the election.
Five weeks later, on December 12, Britain will vote in the first December general election the country has had since 1923.