Theresa May ordered to renegotiate Brexit deal
8:43 a.m. ET, January 29, 2019
Meanwhile, in Brussels ... 
Everyone is getting a little frustrated. Guy Verhofstadt, the European Parliament's Brexit coordinator, told CNN that the Parliament would "not give its consent to a watered-down Withdrawal Agreement."
"The deal we have is fair and cannot be renegotiated. The backstop is needed because of UK red lines and the EU to secure the Good Friday Agreement," Verhofstadt added.
The anger with the UK's perceived inability to present a coherent position and continue to talk to itself is starting to show. Diplomatic sources are being, well, diplomatic, saying that the UK's position is confused.
Others are less kind: an EU source familiar with the negotiation process told me "today is going to be peak moon-howling." 
8:35 a.m. ET, January 29, 2019
Fatigue over Brexit? You're not the only one...
In case you forgot, the UK voted to leave the European Union back in 2016. Then-Prime Minister David Cameron resigned and Theresa May took his job. Several months later, May asked Parliament to trigger Article 50 and the two-year countdown to Brexit day began. That day is now two months away: March 29, 2019.
Since then, there has been seemingly endless parliamentary in-fighting, perpetual debates, negotiations and proposals, dire economic warnings and travel advisories and apocalyptic headlines warning "You will have no food!" and "Medicines will run out."
The entire saga has left people's heads spinning and deeply worried about what the future will bring.
Enter the Queen...
In a rare break from the centuries-old tradition that dictates she keeps her political opinions to herself, Queen Elizabeth II sent a coded message last week, urging Britons to find "common ground."
"As we look for new answers in the modern age, I for one prefer the tried and tested recipes, like speaking well of each other and respecting different points of view; coming together to seek out the common ground; and never losing sight of the bigger picture," the monarch said in a speech to a women's group last Thursday.
It was an unusual move for the British sovereign, who has no political role and refrains from expressing her personal views.
Sure, she didn't specifically use the word "Brexit" but as Jane Merrick points out, she didn't need to.
Couched in very careful language, these comments were as far as her strictly politically neutral role as head of state allows her to go -- although some would say she took a small step over that invisible line. The way the remarks were highlighted by Buckingham Palace made it clear they were meant to be interpreted as an intervention on the biggest challenge facing the UK right now: How to break the Brexit deadlock.
As March 29 inches ever closer the Queen, in her subtle way, is looking to nudge the country back in the right direction.
8:19 a.m. ET, January 29, 2019
EU keeps its cards close to the chest
While much of the discussion over Brexit on Tuesday will come from the UK side, all eyes will be on Europe later, to see how leaders there react to events in Westminster.
Margaritis Schinas, chief spokesperson of the European Commission, declined to weigh in on the tabled amendments during the commission's daily lunchtime press briefing.
He told reporters: "We are following the parliamentary procedure. We are not going to comment on all possibilities. This is not a Brussels day, this is a London day. We will watch what happens with the vote tonight." 
Schinas was also asked if European Commission President Jean-Claude Juncker was available to talk to May or in contact with her already, to which he replied: "Yes, he is permanently available and permanently in contact."
Refusing to be pressed further on Brexit, he kept repeating the same answer for all related questions: "We are hours away from the vote, let's have the vote and we will see."
8:14 a.m. ET, January 29, 2019
Opposition party to back amendment playing for time
Labour will support an amendment to Theresa May's Brexit agreement which aims to prevent a "no deal" Brexit by instructing the government to allow more time for talks, a party source told CNN.
The amendment, put forward by former Labour minister Yvette Cooper, is one of a series of proposals that are up for discussion on Tuesday.
A final decision on whether the Cooper amendment will be debated by MPs in Parliament rests with the Speaker, John Bercow.
"We're backing the Cooper amendment to reduce the threat of the chaos of a no deal exit. The Cooper Bill could give MPs a temporary window to agree a deal that can bring the country together," the source told CNN.
"We will aim to amend the Cooper Bill to shorten the possible Article 50 extension," they added.
8:07 a.m. ET, January 29, 2019
UK PM will seek to re-open EU talks
British Prime Minister Theresa May has told senior ministers she will ask to re-open negotiations with the European Union over the Withdrawal Agreement in an attempt to resolve the Northern Ireland backstop issue, a Downing Street spokesperson confirmed to CNN.
May told her Cabinet she would commence proceedings in Parliament Tuesday with an explanation of the government's support of the Brady Amendment.
(Reminder: The Brady Amendment is basically the deal May struck with the European Union, but with an alternative Northern Irish backstop.)
May's weekly Cabinet meeting was held shortly before Parliament is due to debate several amendments to her proposed Brexit deal.
The Downing Street spokesman said May was aiming to return to the Commons "as soon as possible" with a revised deal which will be subject to another "meaningful vote" by MPs. If this is rejected by MPs, she will table a further motion for debate the next day.
If no new deal has been reached with the EU by February 13, May will make a statement to the House that day, and table a motion for debate the following day.
7:41 a.m. ET, January 29, 2019
The Northern Ireland backstop dilemma
It is often cited as key reason lawmakers will not support the British Prime Minister's agreement with the European Union, so what is the Northern Ireland backstop? Here's a handy breakdown: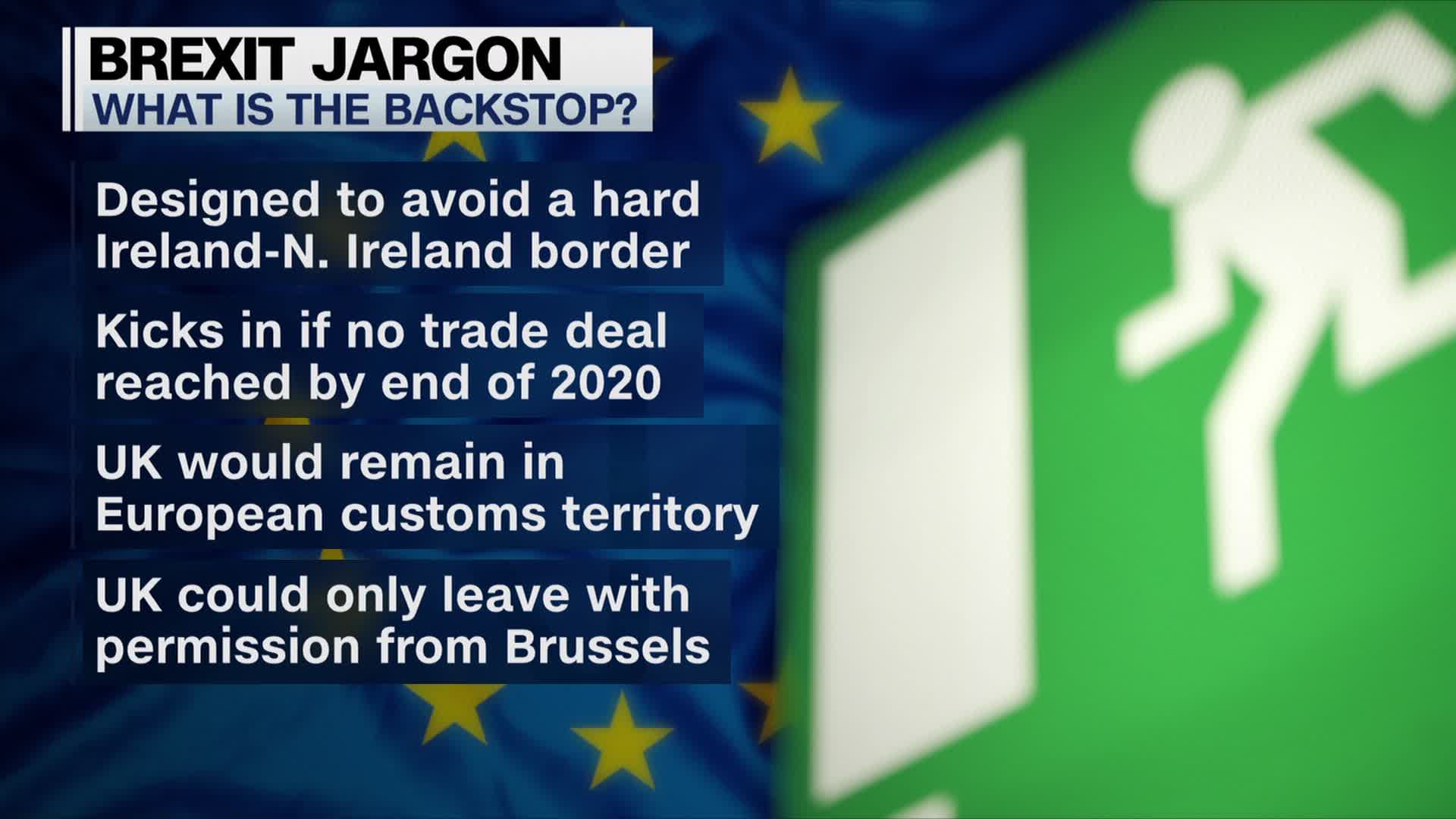 8:22 a.m. ET, January 29, 2019
What outcome will the UK PM be rooting for?
Competing voices go head to head in the UK Parliament Tuesday. The outcome of voting could redirect the course of Brexit with MPs tabling amendments to May's motion to carve it into a shape that could command a majority.
By themselves, none of today's events will impact the Withdrawal Agreement with the EU whatsoever.
But the Prime Minister is hoping Parliament will support the Brady Amendment, giving her a mandate to return to Brussels and seek further concessions from European negotiators over the Northern Ireland backstop, the insurance policy designed to prevent a hard border with Ireland after Brexit.
7:14 a.m. ET, January 29, 2019
It's the final showdown (maybe, probably not)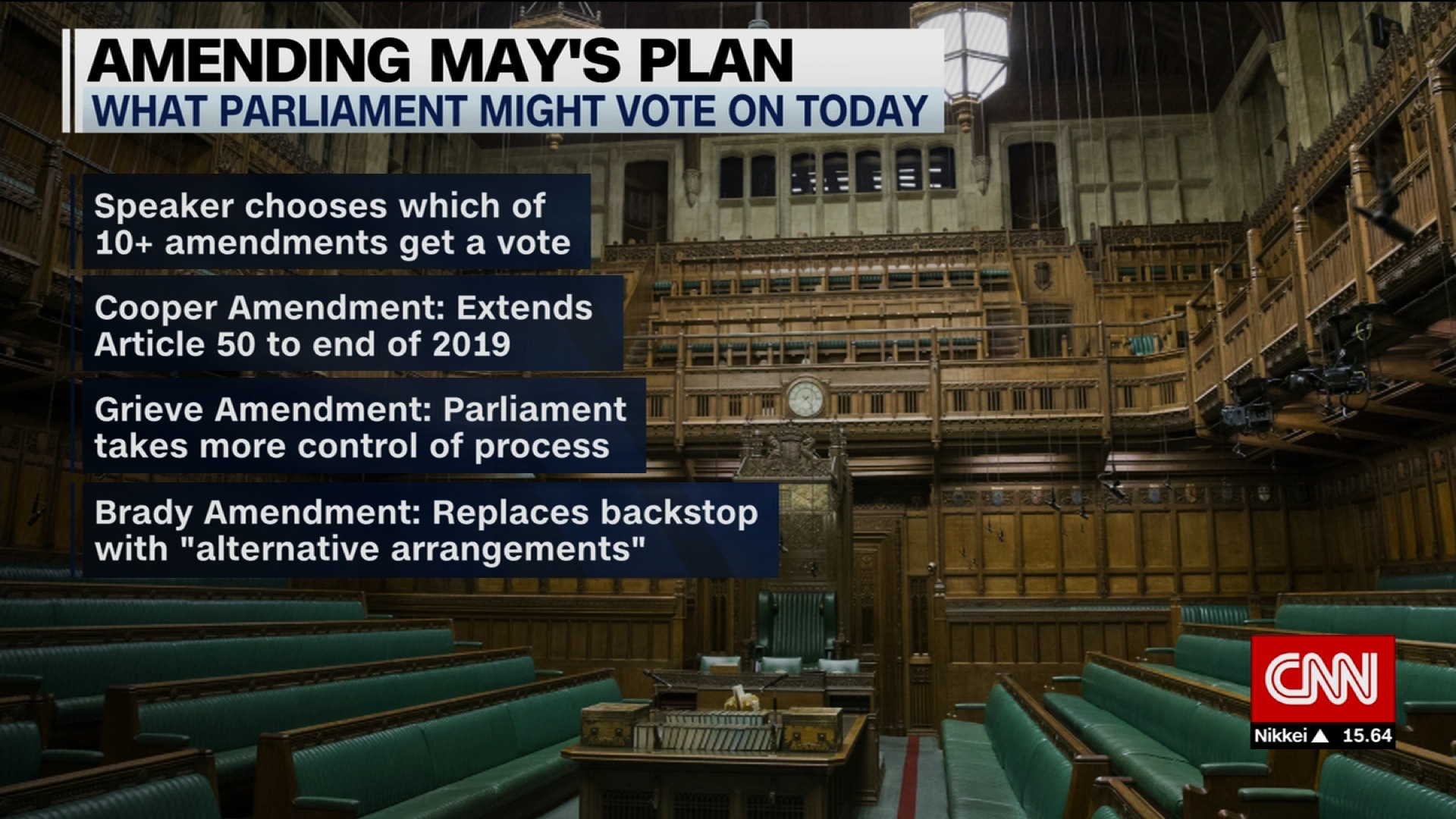 Welcome to Tuesday in the UK -- where it is exactly two months to go until the UK leaves the European Union.
As if the clock counting down amid continued Brexit uncertainty weren't enough... British Prime Minister Theresa May will head back to the Palace of Westminster for a day of debates that could see the Brexit process swing out of her control.
So what's happening? Lawmakers will debate and then vote on a number of potential amendments to the deal May struck with the bloc. That deal itself was resoundingly defeated exactly two weeks ago.
In essence, are they quibbling about wording? Well, sort of. The amendments -- of which there are over a dozen at this point -- cover a lot of the crunch points MPs are dissatisfied with in May's first attempt at an agreement.
One key proposal is the Brady Amendment. Seen as something of a lifeline for the prime minister, it seeks to salvage May's deal without that nagging Northern Irish backstop that so many in her party oppose.
Brexiteers despise the open-ended backstop, which means the UK could stay tied to a customs union with the EU forever. If this amendment is passed, the government could go back to Brussels to ask for a legally binding measure giving the UK the right to opt out of the backstop after a certain period of time.
(It's worth noting, though, that there is little sign removing the backstop is remotely workable with European negotiators.)
Another popular proposal with support on both sides of the House is one to extend Article 50, tabled by former Labour minister Yvette Cooper. This is essentially a play for time. Under the current schedule, the UK is set to break with the EU on March 29.
Then, out of nowhere, a surprise proposal emerged overnight -- the so-called Malthouse Compromise. In this scenario, the transition period would be extended until the end of 2021 and a new, alternative Northern Irish backstop would be negotiated with the EU -- one that would be acceptable indefinitely.
(Another word of caution: European diplomatic sources and EU officials working closely on the negotiations have told CNN the compromise doesn't adequately address the Irish border issue, and are skeptical that talks can be reopened.)
Is that it? No. There are a few other amendments that have been tabled, though that doesn't mean they will all be voted on tonight. That decision is at the discretion of House Speaker John Bercow, who will choose which proposals lawmakers will consider shortly.