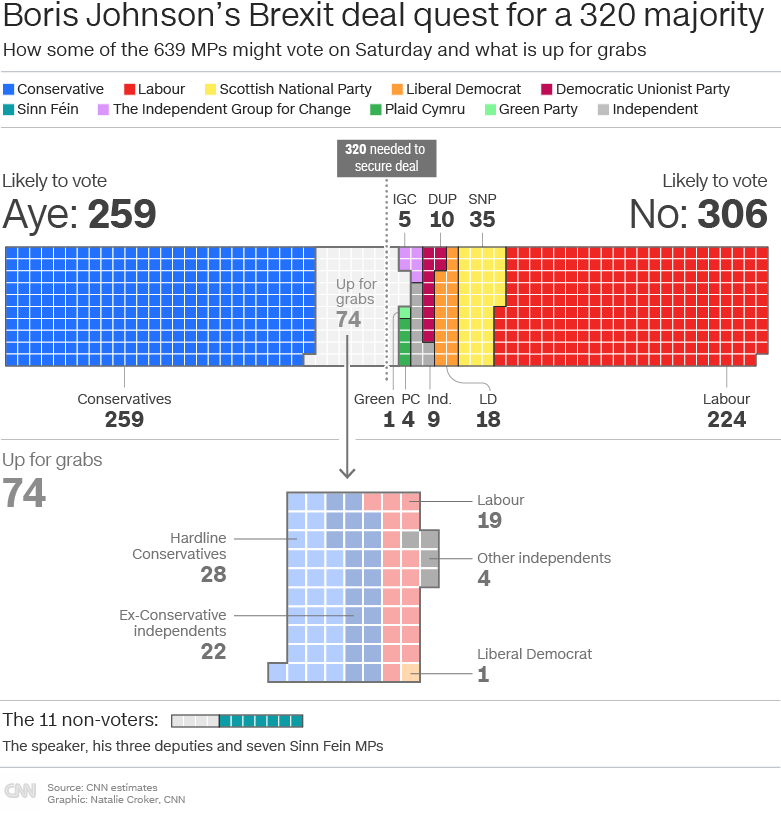 Boris Johnson's battle to pass his Brexit deal is certain to come down to just a few votes. There are three crucial blocs of lawmakers in play:
Hardline Conservatives: There are 28 self-styled "Spartans" -- hardline Conservative MPs who voted down Theresa May's deal all three times, and back a hard Brexit. A handful of those are now on the government's payroll, so are almost certain to back the deal. And some, including European Research Group (ERG) head Steve Baker, have signaled a willingness to back the plan once they've picked through it in more detail. But they're not a totally homogeneous block, and even a couple of holdouts could spell doom for Johnson.
Ex-Conservative independents: Johnson took the whip away from 21 Conservative MPs last month, after they voted to block a no-deal Brexit. Many of them are expected to back the deal now, while a handful who support a second referendum are likely noes. But some, including former Cabinet members Amber Rudd, Philip Hammond and Ken Clarke, haven't said which way they'll vote yet.
Labour rebels: Five Labour MPs backed Theresa May's deal, but as many as 20 could be up for grabs this time. With an election looming and several of these lawmakers representing Leave-voting regions, they could make the calculation that backing a Brexit deal is vital to electoral success. What's more, there's been no sign that Jeremy Corbyn will expel those who support the government.
Johnson appears to have won over most of the hardliners, and a number of independents also seem to have been swayed. It could all come down to how many Labour MPs he can convince; around 10 could be enough.