Theresa May and EU agree Brexit delay
10:31 a.m. ET, March 21, 2019
Why the EU can't say what everyone is thinking
Here in Brussels, outside of the European Council building where EU leaders are meeting, all the talk is about what happens when – not if – Theresa May loses the third vote on her withdrawal agreement next week.
But you won't hear any of that in public when, as expected, the EU grants Theresa May a short extension to the Brexit process later today. That's because the EU cannot be seen to be interfering in the internal politics of nation – especially one about to leave the Union.
The EU could, of course, suggest a longer extension. But that would almost certainly mean the UK taking part in elections to the European Parliament, something neither side wants. And a longer extension would only be offered on the proviso that the UK is able to present a credible alternative plan to May's.
Considering the current deadlock in Westminster, the only way out of this seems something drastic: A change of leadership, a change of government, a second referendum. But the optics of the EU even suggesting that could be toxic.
Rumors are swirling that certain Members of Parliament – some of whom are not members of the leadership of either main party – could be invited to Brussels for crunch talks with EU negotiators the day after the vote, should it fail.
But the optics of this would have to be managed carefully – the EU seizing control over Brexit from a sitting Prime Minister and handing it to lawmakers is not a great look, either.
So, while everything that is said and done at this summit is important, the expectation here is that the fallout from it could be a descent into the next circle of Brexit hell.
10:29 a.m. ET, March 21, 2019
Tusk meets May in Brussels
EU Council President Donald Tusk has tweeted a picture of him meeting with Theresa May in Brussels.
10:29 a.m. ET, March 21, 2019
Macron: Britain is heading for no-deal Brexit if vote fails
A third defeat for Theresa May's Brexit divorce deal in British Parliament next week would send the country hurtling towards a no-deal exit, French President Emmanuel Macron has warned.
This is what Macron told reporters as he arrived at the EU summit in Brussels.
"In case of no vote -- or no -- I mean directly it will guide everybody to a no deal for sure. This is it."
The EU might agree to a "technical extension" of Article 50 if UK parliamentarians approve Theresa May's Brexit deal, he added.
"We can agree if it's a technical extension in case of a yes vote on the agreement we negotiated over two years," Macron said, but added that there would be no extension to the withdrawal process if there is no clear majority in the UK parliament for the deal.
Macron acknowledged that it would be disrespectful to ignore the fact that the British people voted for Brexit three years ago. 
"We do respect the vote of British people. We do respect what the Prime Minister and parliament are [doing]."
10:38 a.m. ET, March 21, 2019
Europe has little hope for May's deal, diplomat tells CNN
There's frustration and exasperation in Brussels, an EU diplomat tells CNN, with ambassadors holding little hope that a third meaningful vote on Theresa May's Brexit deal will pass parliament next week.
The general view among EU ambassadors, who met on Wednesday evening, leans towards some kind of conditional, short extension. There's no unanimous view on how long that extension would be, but things on the European side – as we reported earlier – appear to be more or less coalescing around May 22, the day before European elections are due to begin. Some member states have signaled that they'd be open to a longer extension, the diplomat adds.
Nonetheless, European leaders want to see what Theresa May is going to say at today's summit. They'd like to hear a strategy or how she's going to get this vote through.
The diplomat questions whether May is in control and points to yesterday's formal request for a delay by the UK as an example.
This is what the diplomat said:
"You could see that the letter was rewritten several times. It was not as fluid as you'd expect."
Leaders will likely spend some time at this EU summit discussing what happens if May fails to get her deal through parliament a third time next week. But don't expect a decision on what the EU will do in that scenario. The diplomat notes that it's a decision that can only be made once the circumstances are known. 
It's clear the EU doesn't want to be seen as the facilitator of a hard Brexit, fearing chaos in Britain and Ireland and a negative economic impact on other member states. It's easy to see why an extension is preferred, the diplomat noted.
9:37 a.m. ET, March 21, 2019
The ball's in parliament's court, says Dutch PM
A no-deal Brexit would be "catastrophic" for Britain's economy, Dutch Prime Minister Mark Rutte warned as he arrived at the EU summit in Brussels.
But the UK Parliament must make the first move to break the Brexit impasse and secure an extension, Rutte told reporters.
"Now the ball has to be in the court of the British Parliament, they first have to say yes" to May's Withdrawal Agreement, Rutte said. "If the British Parliament might say yes, lock stock and barrel to everything on the table, then Europe understands that technically you need time to implement everything in laws and other legal stuff."
"My assumption is today we will nod "yes," in principle, then put this fairly and squarely at the door of the British Parliament to make that call -- to say 'yes' to the whole thing in the what-if scenario."
"If they say no again, I'm not going to speculate," Rutte added.
9:03 a.m. ET, March 21, 2019
Theresa May arrives at EU summit
Theresa May has arrived in Brussels for the crucial summit of European leaders, where she will make the case for her requested extension until June 30.
She refused to rule out taking Britain out of the European Union without a deal in eight days' time, but continued to pressure MPs into supporting her Withdrawal Agreement next week.
Here's what she told reporters about Brexit:
"I'm here today to discuss with fellow leaders our request for a short extension of Article 50 to the end of June. As I said yesterday, this delay is a matter of personal regret to me. But a short extension would give Parliament time to make a final choice that delivers on the result of the referendum.
What is important is that parliament delivers on the result of the referendum and we deliver Brexit for the British people. I hope we can do that with a deal. I am still working on ensuring that Parliament can agree on a deal so we can leave in an orderly way. What matters is that we deliver on the vote of the British people.
What matters is that we deliver on the vote of the British people. What matters is that we recognize that Brexit is the decision of the British people. We are nearly three years on from the original vote, it is now the time for parliament to decide."
9:01 a.m. ET, March 21, 2019
Speaker tells MPs: "None of you is a traitor"
A fiery exchange has just taken place back in the House of Commons, where several lawmakers criticized Theresa May for pinning the blame over the chaotic Brexit situation on MPs in a speech last night.
It prompted Speaker John Bercow to make a passionate intervention defending MPs.
"None of you is a traitor. All of you are doing your best. This should not be and I'm sure will not prove to be a matter of any controversy whatsoever."
He went on: "From the Chair, let me say that I believe passionately in the institution of parliament, in the rights of members of this House, and in their commitment to their duty," he said. "The sole duty of every member of parliament is to do what he or she thinks is right."
May had attacked MPs for refusing to support her Brexit deal yesterday, saying "Parliament has done everything possible to avoid making a choice."
Labour MP Jon Cryer then rose to heap further criticism on May, who said last night that "Parliament has done everything possible to avoid making a choice."
MPs have a principle "to observe your own conscience and your own judgment," Cryer said. "Those principles were seriously undermined last night by the Prime Minister in one of the most contemptuous statements that I've ever heard."
A testy back-and-forth then followed when Leader of the House and member of May's Cabinet, Andrea Leadsom rose to respond to Cryer's comments. Bercow called a point of order, telling Conservative backbenchers to "grow up." He added: "For goodness sake, this is not a matter of party political hackery. Let's have some seriousness of purpose and mutual respect … for goodness sake, let's raise the level."
"Mr. Speaker, may I just say that your response does not raise the level, but I'll leave it there," Leadsom shot back -- to which Bercow told Leadsom to sit down. He couldn't "for the life of me" see what was controversial about his remarks, he said.
The exchanges reflect the tense mood among lawmakers today, many of whom have admonished the Prime Minister for slinging blame over Brexit towards the Commons.
"Pitting Parliament against the people in the current environment is dangerous and reckless," Labour's Lisa Nandy said on Twitter.
8:44 a.m. ET, March 21, 2019
Merkel drops hint about emergency summit
German Chancellor Angela Merkel has suggested that another EU council meeting could be convened before Britain's departure from the union if Prime Minister Theresa May loses a third vote on her Brexit withdrawal agreement next week.
Any new meeting would likely take place on Thursday, a day before Britain's exit date on March 29.
Speaking about May's requested Brexit extension, Merkel told German parliament that European leaders would "comply in principle" around a short delay "if we receive a positive vote by the British Parliament to the withdrawal agreement."
Merkel's remarks echoed EU Council President Donald Tusk's comments from yesterday.
The Chancellor also noted that Europe "must have the EU election in May," and that it could pose a problem for May's desire to extend Brexit until the end of June. "But we can certainly talk positively about a short extension," she said.
"There is no easy solution. But if you want an orderly solution, in the remaining days, we must put all our strength together to make this possible."
8:45 a.m. ET, March 21, 2019
Protesters call for second referendum in Brussels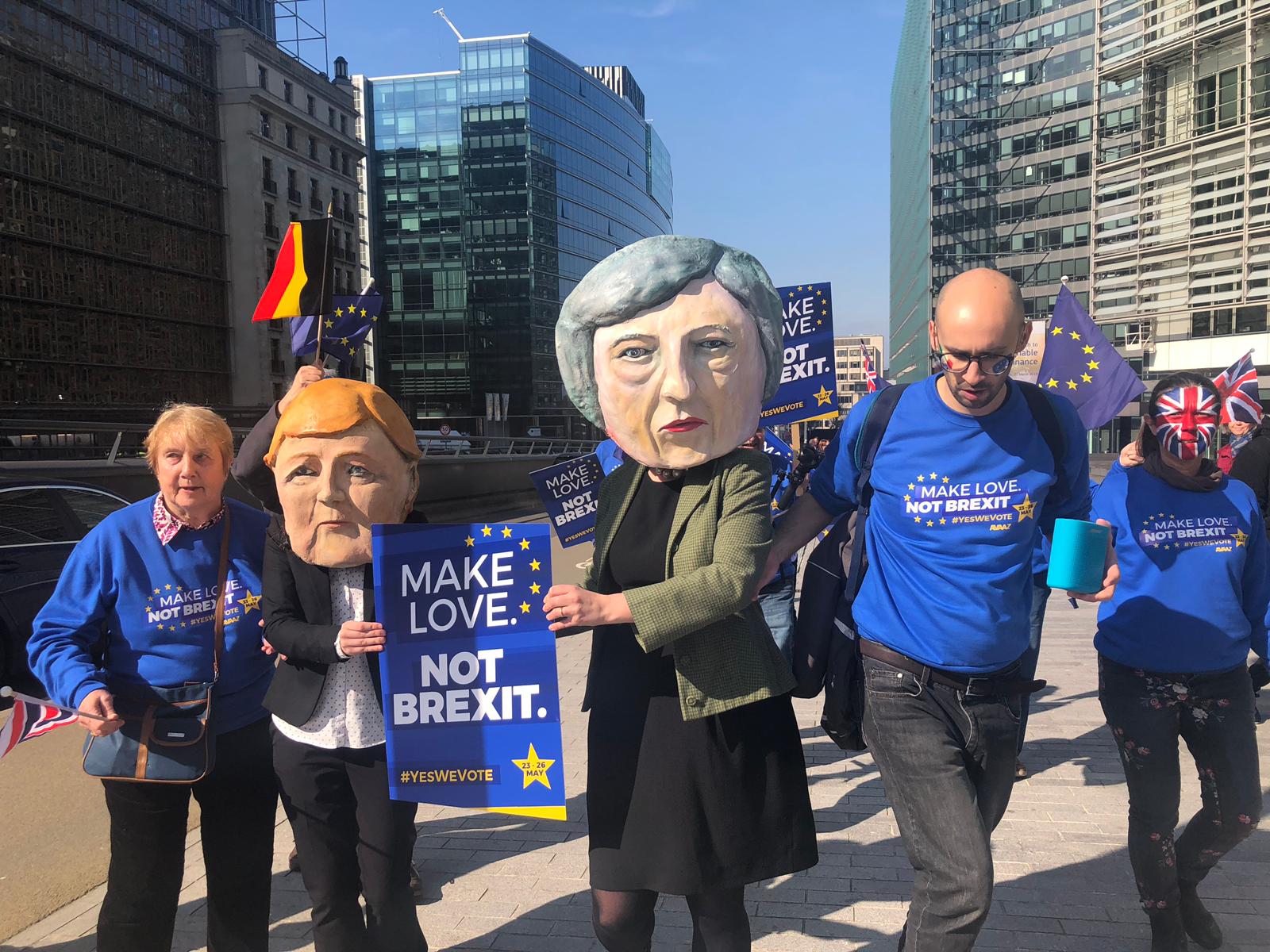 Theresa May and Angela Merkel have agreed to hold a second Brexit referendum.
Or at least, that's how it might appear at first glance. In reality, two protesters have donned masks depicting the two leaders in a small protest outside the European Commission building, calling on their counterparts inside to "Make Love, Not Brexit" when they meet as part of today's EU summit.
"For me it's important to be here today because I'm French, I live in Belgium, and Europe means something to me and we shouldn't break it up," Veronique Guichard told CNN from the protest.
"We won't better the situation if we do that. We need to vote in the European elections. We need to try to find leaders who represent us. And no more Brexit mess! We need to be informed of the consequences. Those who voted Brexit were not well informed," she adds.
The activists are calling for a People's Vote, or second Brexit referendum, which would give British voters the chance to reverse the decision taken in the 2016 poll.