Theresa May and EU agree Brexit delay
8:10 p.m. ET, March 21, 2019
That's it from us
After an exhausting and dramatic day in Brussels, we're wrapping up our live coverage.
We'll be back tomorrow, when the Brexit drama will move back to London as Theresa May makes frantic pleas to lawmakers, in an attempt to push her deal over the line.
7:38 p.m. ET, March 21, 2019
Does Theresa May blame herself for the Brexit mess?
The final question to May came from a reporter with the German public broadcaster Deutsche Welle. He noted that May pinned the blame over the Brexit impasse on British lawmakers yesterday and asked if she took any blame herself – and would she have done anything differently in her negotiations with the EU?
This reporter is clearly not familiar with the famously stubborn British Prime Minister.
Predictably enough, May doesn't give a direct answer.
"Throughout these negotiations, of course they've been tough ... I believe any negotiation involves a degree of compromise," she says. But she says she has reached a good deal with the EU.
"I believe we have got a good deal on the table," she says, adding that the EU's decision today provides "a very clear framework" for MPs to consider when they vote on her deal next week.
In short: No.
7:25 p.m. ET, March 21, 2019
Will Britain ever leave the EU? Yes, Theresa May says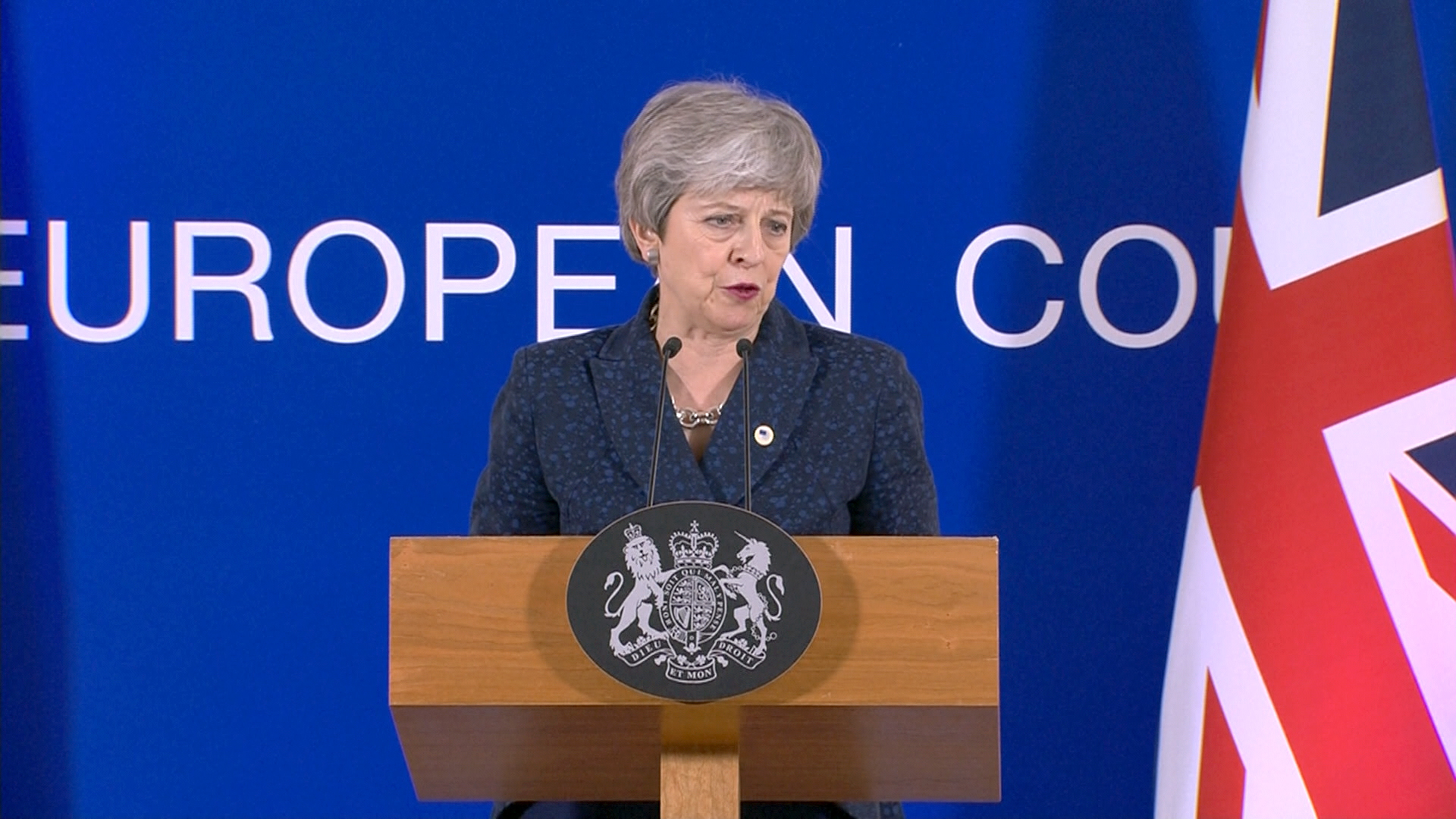 May is asked about the petition to revoke Article 50 – the legal process by which the UK is leaving the EU – that has now amassed over 2 million signatures, and whether she accepts that the mood of the public may have shifted in three years.
She does not. "We didn't say 'tell us what you think and we'll think about it,'" she says.
A Daily Mail reporter asks her bluntly if Brexit will ever happen. Her reply:
"Yes, we will be leaving the European Union."
The unanswered question: Whether she will still be Prime Minister when it happens.
7:30 p.m. ET, March 21, 2019
May strikes note of regret for much-criticized speech
May explains the agreement on the Brexit delay to reporters. If Parliament once again fails to approve her overall Withdrawal Agreement next week, Britain would either leave the EU with no deal on April 12 "or put forward an alternative plan."
If that alternative plan involved a further extension, it would mean taking part in elections to the European Parliament. She reiterated her opposition to that idea.
She plans to return to London on Friday and begin the process of persuading Members of Parliament to back her deal. "Tomorrow morning I will be returning to the UK and working hard" to push her deal over the line, May says.
She expressed a hint of contrition for the tone of her remarks in Downing Street yesterday, which came in for wide criticism.
"Last night I expressed my frustration, and I know that MPs are frustrated too. They have difficult jobs to do."
7:11 p.m. ET, March 21, 2019
HAPPENING NOW: Theresa May gives news conference
British Prime Minister Theresa May is speaking now.
7:11 p.m. ET, March 21, 2019
Juncker: "Don't go to hell"
Donald Tusk once said there was a "special place in hell" for those who promoted Brexit "without even a sketch of a plan how to carry it out safely."
At the press conference in Brussels, he was asked whether hell should be extended to include British MPs, if they vote down May's Brexit deal next week.
"Hell is still empty and it means there are a lot of spaces."
"Don't go to hell," Juncker adds.
And with that, the two Presidents leave the stage. Eyes are now on Theresa May's news conference, which will start soon.
7:00 p.m. ET, March 21, 2019
Tusk "satisfied" after day of talks
Juncker and Tusk took a few questions from reporters.
Asked how long a long delay would be, Juncker replied simply: "Until the end."
There had been reports that May's 90-minute presentation had not gone down well. But Tusk then said that the atmosphere of the talks "was much better than I expected, and better than for example in December – not only because of the weather but also because of the mood. But frankly speaking, our mood is not the most important thing here."
Tusk acknowledged the gravity of the situation:
"All of us are aware objectively how difficult the situation is … I am very satisfied, especially because we still have open so many options. Frankly speaking I was very sad before our meeting and now I'm much more optimistic.
Juncker said the EU's patience had been tested but had not run out. "The atmosphere was good and frankly we are yet to see what the limits of our patience are," he said,