Boris Johnson faces Brexit challenges as he steps up talks with EU
11:51 a.m. ET, August 30, 2019
France rejects Gordon Brown claim that Macron has changed course on Brexit
The French government rejects claims that President Emmanuel Macron has changed course on Brexit, the Elysée Palace said on Friday.
Manon Hirtz, press attaché to the French presidency, told CNN that France's position on Brexit is "clear, known and constant."
Hirtz was responding to a CNN question about former British prime minister Gordon Brown reportedly saying in a speech that Macron "is no longer in favor of a fixed deadline for Brexit."
Brown also said: "I have been speaking to EU leaders and I believe next week the EU will withdraw the 31 October deadline, so removing Johnson's excuse for no deal," according to Andrew Adonis, a Labour peer.
Brown's office did not respond to repeated CNN questions about the speech. The European Union does not have the power to withdraw the October 31 Brexit deadline without UK agreement, according to Article 50.
Macron spokeswoman Hirtz added that the French president had reiterated his position last week during Boris Johnson's visit to Paris.
In a joint statement, Macron had said it was "up to the UK to decide its destiny" after a "long negotiated deal." He added it is "not up to any European country alone to negotiate or renegotiate that deal."
Late on Thursday, the British government announced it was intensifying talks with Brussels in the hope of negotiating a new deal and a way out of the impasse on the Irish backstop.
However, in his joint statement last week, Macron said the backstop was "not simply technical constraints but vital guarantees for the preservation of stability in Ireland and the integrity of the single market which is the basis of the European project."
11:39 a.m. ET, August 30, 2019
What senior Conservatives said about suspending Parliament -- and what they're saying now
The issue of proroguing Parliament before the Brexit deadline was first raised during the Conservative leadership contest, when Dominic Raab -- now Foreign Secretary -- refused to rule out the idea.
It was roundly criticized as undemocratic by a number of his colleagues, many of whom have not been so vocal since Johnson announced he would suspend Parliament on Wednesday.
A reminder -- Johnson is not suspending Parliament during the Brexit period, as many Remainers claimed during the contest that he would do, and his plans to close the chamber before a Queen's Speech are not unusual.
But there is also little doubt that the timing of the move is intended, in large part, to limit the amount of time lawmakers have to legislate against a no-deal Brexit -- so it's worth a refresher on what some of Johnson's ministers said on the issue of suspending Parliament, as the clock ticks down to Brexit.
Amber Rudd: The former home secretary, and current Work and Pensions Secretary, was once an outspoken opponent of a no-deal Brexit, but she seems to have eased that stance more recently.
Then: In June, Rudd called the suggestion of proroguing Parliament "absolutely outrageous," "extraordinary" and "ridiculous."
Now: Rudd ducked questions about Johnson's decision on Thursday, telling the Press Association: "I'm going to continue to do my job as Secretary of State for Work and Pensions."
Matt Hancock: A rival of Johnson's in the Conservative leadership election, Hancock was kept in his role as Health Secretary by Johnson.
Then: Hancock said proroguing Parliament "undermines parliamentary democracy." He added that doing so in order to explicitly pursue a no-deal Brexit "is not a serious policy," and asked "what kind of message would this send around the world about our values?"
Now: Hancock has been quiet on Twitter and hasn't made any public statements.
Sajid Javid: Another contender in the Tory leadership race, Javid is now Johnson's Chancellor.
Then: "You don't deliver democracy by trashing democracy -- you can't just shut down Parliament," Javid said during the leadership contest. "We are not selecting a dictator of our country, we are selecting a prime minister of our country."
Now: Javid hasn't spoken to the media since Johnson suspended Parliament.
Michael Gove: The man who famously scuppered Johnson's leadership bid in 2016 was appointed Chancellor of the Duchy of Lancaster by the Prime Minister last month.
Then: "It would not be true to the best traditions of British democracy."
Now: "Parliamentarians will have plenty of time when we come back next week to debate Brexit."
11:22 a.m. ET, August 30, 2019
What to expect next week in the Brexit drama
Quite a lot. Lawmakers and campaigners will be scrambling to bolster or block UK Prime Minister Boris Johnson's plan to suspend Parliament for five weeks from mid-September.
Tuesday, September 3
Parliament resumes after summer recess, and the showdown against Johnson's power move begins. Lawmakers opposed to no-deal Brexit will have several days to legislate on the issue before Parliament is suspended on or after September 9.
A legal challenge to the suspension will be heard in Scotland.
A Northern Ireland court will decide whether a challenge to the suspension can go ahead.
Wednesday, September 4
Chancellor Sajid Javid is scheduled to lay out his Spending Round, which will set departmental budgets for 2020-21. He is expected to announce an increase in public spending on education, health and police -- leading to speculation that it will the lay groundwork for a general election in the autumn.  
Thursday, September 5
Gina Miller's legal challenge over the suspension of Parliament will be heard in a court in London.
11:18 a.m. ET, August 30, 2019
Liberal Democrats leader Jo Swinson joins Miller-Major-Watson legal action
Liberal Democrats leader Jo Swinson has also joined the legal action launched by businesswoman Gina Miller, and supported by former Prime Minister John Major and deputy leader of the Labour Party Tom Watson.
"We cannot allow the PM to silence the people and their representatives," she tweeted.
10:33 a.m. ET, August 30, 2019
Labour's Tom Watson joins Miller-Major legal action
The legal action launched by businesswoman Gina Miller, and supported by former Prime Minister John Major, has gained another high-profile figure.
The deputy leader of the opposition Labour Party, Tom Watson, called Boris Johnson's planned suspension of Parliament "an unprecedented affront to democracy" as he announced his decision to join the duo in a statement posted on Twitter.
"I will be joining the judicial review launched in the High Court by Gina Miller and supported by John Major as a claimant."
"The rights and freedoms of our citizens have been vandalised. This is an abuse of power that can and should be stopped," he added.
9:26 a.m. ET, August 30, 2019
A former UK prime minister wants to sue the current one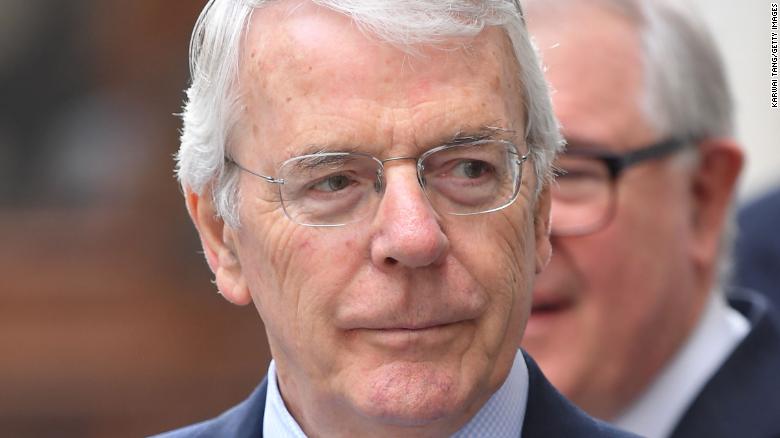 In an extraordinary move, a former British prime minister has joined a legal battle to stop current leader Boris Johnson from suspending Parliament in the runup to Brexit.
Anti-Brexit campaigner Gina Miller on Thursday launched a legal challenge to stop Johnson from closing Parliament for five weeks in the run-up to Brexit.
John Major, who led the country from 1990 to 1997, announced Friday he would be joining the legal effort.
Major, who is from the same Conservative Party as Johnson, said he had decided to join Miller rather than launch his own claim because of the "imminence" of the suspension and to "avoid duplication of effort, and taking up the court's time through repetition."
9:02 a.m. ET, August 30, 2019
Widespread protests against Johnson expected on Saturday
Demonstrations are expected across the country on Saturday over Boris Johnson's proroguing of Parliament.
Tens of thousands of people have expressed interest on social media for "Stop the coup, defend democracy" protests across the UK on Saturday.
"We we can't just rely on the courts or parliamentary process to save the day. We all have a duty to stand up and be counted," Anti-Brexit campaign group Another Europe wrote online.
The group has organized over 30 demonstrations to take place in England, Scotland, Wales and Northern Ireland.
Meanwhile, left-wing campaign group Momentum -- which has also backed the nation-wide protests -- has called on people to block roads and bridges in 10 major cities.
"This is an establishment coup by a tiny, privileged elite who have been eroding our democracy for decades. Real power doesn't sit with the Queen or in Parliament. It's with us, the people -- and that's why we need to take action," Momentum's National Coordinator, Laura Parker said in a statement.
"We're expecting tens of thousands of us people to come against Johnson closing the doors on democracy. Our message to Johnson is this: if you steal our democracy, we'll shut down the streets."
8:08 a.m. ET, August 30, 2019
If you try to stop me now, we won't get a better deal from Europe, Johnson says
Boris Johnson said his decision to prorogue Parliament was part of his negotiating stance with the European Union in an interview with Sky News, warning critics that they risked ruining Britain's chances of getting a better deal.
"What I want to do now, what most people in this country want this government to do, is get on and try and get an agreement," he said. "But if we can't get an agreement, get ready to come out anyway."
He added that this do-or-die stance helps strengthen the UK's negotiating position with the EU, but warned critics they were getting in way.
I'm afraid that the more our friends and partners think, at the back of their mind, that Brexit could be stopped, that the UK could be kept in by Parliament, the less likely they are to give us the deal that we need."
And in spite of suspending Parliament for five weeks, Johnson insisted that Members of Parliament would have enough time to debate Brexit, and pointed out that they had repeatedly failed to reach a consensus in the past.
"Still ... they've [MPs] spent three years debating Brexit without actually getting it over the line -- they're going to have a lot of time for further consideration."
He added that cancelling the referendum would be the "worst thing to do now" after "all the promises made."
The interview comes after he called for an increased tempo to Brexit talks.
7:57 a.m. ET, August 30, 2019
For the umpteenth time, EU official asks UK to provide "concrete proposals"
Provide Brussels with "concrete proposals" if you want a new deal, European Commission spokeswoman Mina Andreeva told reporters Friday following UK Prime Minister Boris Johnson's call to increase the tempo of talks.
"Our position remains that we will first need to see proposals, concrete proposals from the UK government that are compatible with the Withdrawal Agreement before we can take these discussions further," she said.
European leaders are reluctant to re-open the Brexit agreement. Boris Johnson has demanded that the so-called Irish backstop be removed from the deal.
The backstop is an insurance policy that is designed to prevent the return of a hard border between Northern Ireland, which is part of the UK, and the Republic of Ireland, which is part of the EU.
"We have always said on our side that our doors remain open and we have demonstrated in fact our willingness to work 24/7 throughout this long process," Andreeva added
"We expect the UK to come forward with concrete proposals as President [Jean-Claude] Juncker made clear to Prime Minister Johnson earlier this week."