Theresa May faces growing calls to quit amid renewed Brexit revolt
7:32 a.m. ET, May 22, 2019
Potential leadership rivals absent from PMQs
Eagle-eyed fans of British parliamentary sessions will have noticed that a few key members of May's Cabinet aren't sitting on the Conservative front bench during PMQs.
Michael Gove, Andrea Leadsom and Liz Truss are all absent, according to several political journalists following events from the parliamentary lobby.
What do those three have in common? They've all been linked with a bid to replace May as prime minister. Gove and Leadsom are longtime Brexiteers, and Truss now backs leaving the EU.
7:25 a.m. ET, May 22, 2019
May: Lawmakers will have chance to make decision on second referendum
Ian Blackford, the Westminster leader of the Scottish National Party, has said the customs compromise in Theresa May's new Brexit plan has already been rejected by the EU.
"Isn't this new deal just a fantasy?" he asks the Prime Minister.
May admits that "there is a difference of opinion in this house on the future customs arrangement with the European Union." Her new plan has proposed a temporary customs relationship with the bloc.
That's why it's important, she says, that the House "actually comes to a decision" on the issue. She says her bill will give it the chance to do that -- as well as have a say on a second referendum. But May reiterated her own opposition to that route. 
7:16 a.m. ET, May 22, 2019
Corbyn swerves Brexit as he questions May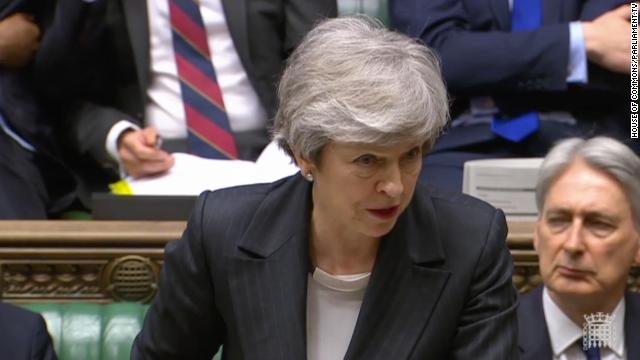 Labour leader Jeremy Corbyn has avoided Brexit in PMQs, opting to grill the Prime Minister on the collapse of British Steel and on school funding.
May will undoubtedly face criticism over her Brexit policy as other party leaders and backbenchers get their opportunity to put a question to her. But she and Corbyn might enjoy being able to talk about anything else -- both their parties are struggling in polls ahead of this week's European elections, as voters look set to send a message over the ongoing Brexit impasse.
May stood up to a relatively quiet House of Commons, with the customary cheering from her backbenchers sounding slightly muted. Perhaps that's no surprise, given that plenty of her colleagues are prepping their own bids at her job.
7:02 a.m. ET, May 22, 2019
HAPPENING NOW: Theresa May starts PMQs
Theresa May is taking questions from lawmakers. Labour leader Jeremy Corbyn will kick things off during Prime Minister's Questions, and May will stick around for an extra grilling over her new Brexit deal.
Follow it all here.
6:58 a.m. ET, May 22, 2019
What's happening with Brexit today?
Enjoyed your holiday from Brexit?
Everyone's favorite political soap opera has returned this week, after British Prime Minister Theresa May unveiled the fourth iteration of her massively unpopular Brexit deal.
She'll put it to a vote in Parliament at the start of June -- after lawmakers crushed the first three versions of the bill, forcing May to twice delay the date of Brexit. It's hard to see any other scenario this time around, with MPs on both sides still opposed to the plan.
And this will certainly be her last try. May has confirmed that she'll set out a timetable for her departure after the vote, regardless of whether she wins it or not.
That adds another layer of intrigue to her attempts to win over lawmakers, as rivals in her own party prepare their leadership campaigns.
Today, May is taking on Labour leader Jeremy Corbyn in Prime Minister's Questions at noon UK time (7 p.m. ET). After that, she'll take questions from lawmakers on the substance of her bill -- and she's certain to face calls to clarify her own exit strategy.
It could be another dramatic day in Westminster.
6:53 a.m. ET, May 22, 2019
What does May's new plan say?
May used a speech in London to outline what she claimed was a "new Brexit deal," which in reality looked a lot like her old Brexit deal with some added sweeteners designed to attract the support of dubious Members of Parliament.
"If MPs vote against ... this bill, they are voting to stop Brexit," May said.
In an attempt to repackage the plan, which has already been rejected three times by the House of Commons, May rolled it up into a wider set of legislation dealing with Britain's departure from the European Union. As well as the offer of a second referendum, it also contains pledges on workers' rights, environmental provisions, as well as a temporary customs relationship with the European Union.
Failure to agree the deal would lead to a "nightmare future of permanently polarized politics," she said.
But the central provisions of the deal remain the same, and May had barely finished speaking before her plan ran into significant opposition. "The Prime Minister's proposals are worse than before and would leave us bound deeply into the EU," said Jacob Rees-Mogg, a Conservative MP and leader of a pro-Brexit bloc in the Prime Minister's party.