Theresa May's Brexit deal rejected overwhelmingly by UK lawmakers
By Bianca Britton and Eliza Mackintosh, CNN
Updated
5:12 a.m. ET, March 13, 2019
4:58 a.m. ET, March 13, 2019
You can continue following our live coverage on Brexit here.
5:21 p.m. ET, March 12, 2019
We'll be back tomorrow
Like Theresa May, who we suspect is already tucked up in bed with some hot cocoa and cough syrup after battling with a hoarse voice all day, we're calling it a night here in London.
In case you missed all the action, here's our coverage of this evening's vote, which saw the PM suffer a second humiliating defeat over Brexit -- the rejection of her withdrawal agreement by a massive 149 votes.
We'll be back in the morning, London time, for another Brexit-filled day, as MPs debate, and then vote on whether to back leaving the EU without a deal.
In the meantime, Luke McGee has answers to all those Brexit questions swirling around in everyone's brains.
5:01 p.m. ET, March 12, 2019
EU leaders react to tonight's vote
Several European leaders have tweeted their disappointment at parliament's decision to reject Theresa May's Brexit plan, even after additional assurances from the EU.
Spanish Prime Minister Pedro Sanchez tweeted that he "regrets" how tonight unfolded "despite the EU's effort to achieve the best agreement."
He added: "We need pro-European governments. Let's protect Europe so that Europe can protect us."
Dutch Prime Minister Mark Rutte also tweeted, saying the only way forward is for London to find a solution and that like other EU nations, the Netherlands is stepping up preparations for a no-deal Brexit.
While Denmark's Prime Minister, Lars Rasmussen, simply wrote: "Very sad."
5:13 p.m. ET, March 12, 2019
What happens next?
Lawmakers have soundly rejected Theresa May's Brexit deal for a second time, so what happens next?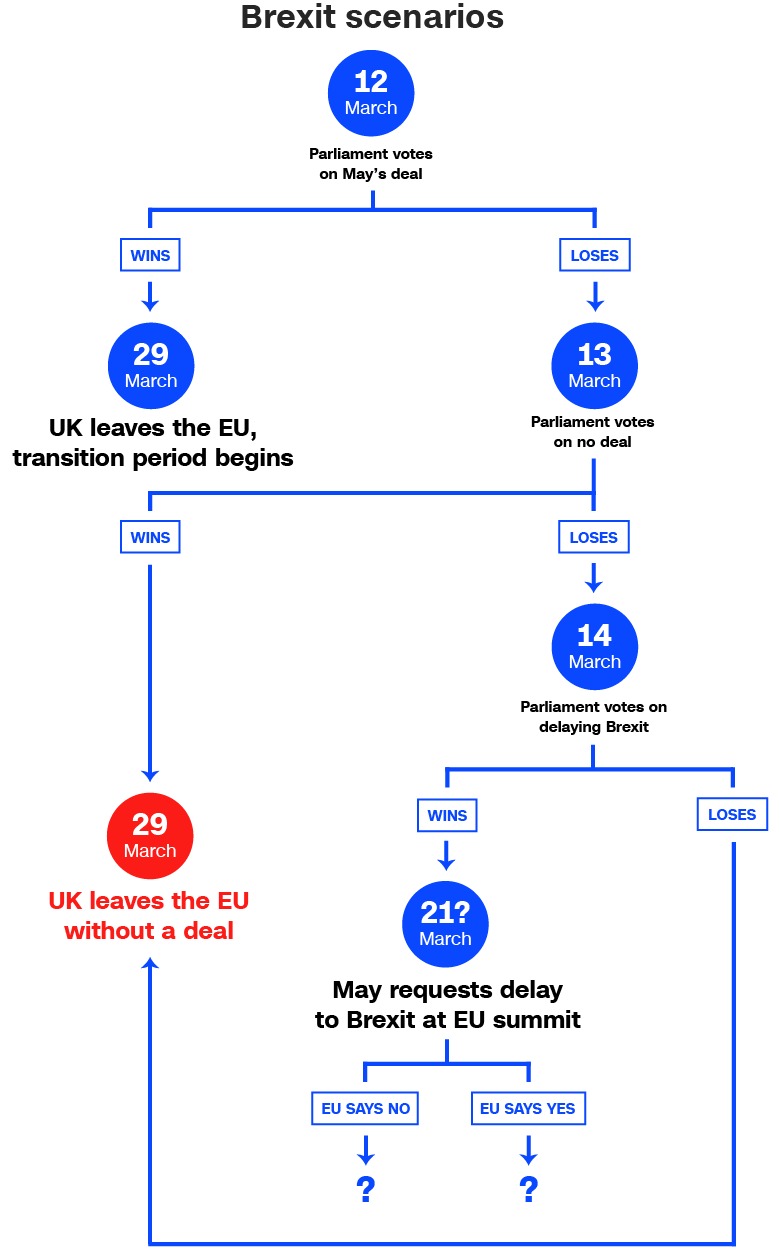 In line with a promise set out by the Prime Minister last month, MPs will vote Wednesday on whether they support the UK crashing out of the EU without a deal on March 29.
But a vote against a no-deal Brexit would not actually prevent the UK leaving the EU in 17 days, since Article 50, which mandates the UK's departure, has already been triggered.
So if lawmakers reject "no deal," a third vote is expected on Thursday, in which MPs will vote on whether they support delaying the divorce process entirely.
If they back that, the PM will have to put in an Article 50 extension request to the EU.
The heads of all 27 remaining EU countries would have to approve any such request.
4:36 p.m. ET, March 12, 2019
UK Government "should be hanging their heads in shame," says Nicola Sturgeon
Scotland's First Minister Nicola Sturgeon has issued a seething statement, saying tonight's vote was "entirely predictable" and something that could have been avoided if the UK government "had been prepared to listen ... and engage constructively."
"Instead, we have a government that has effectively ceased to function and a country that remains poised on a cliff edge," Sturgeon said in a statement.
"Scotland's needs and voice have been ignored by the UK government throughout the Brexit process," she said, adding that the case for Scotland to become an independent country has "never been stronger."
4:13 p.m. ET, March 12, 2019
Theresa May's statement in full
"I profoundly regret the decision that this House has taken tonight.
I continue to believe that by far the best outcome is that the UK leaves the EU in an orderly fashion with a deal, and that the deal we have negotiated is the best and indeed the only deal available.
Mr Speaker, I would like to set out briefly how the Government means to proceed.
Two weeks ago, I made a series of commitments from this despatch box regarding the steps we would take in the event that this House rejected the deal on offer. I stand by those commitments in full.
Therefore, tonight we will table a motion for debate tomorrow to test whether the House supports leaving the European Union without a deal on 29th March.
The Leader of the House will shortly make an emergency business statement confirming the change to tomorrow's business.
This is an issue of grave importance for the future of our country. Just like the referendum, there are strongly held and equally legitimate views on both sides.
For that reason, I can confirm that this will be a free vote on this side of the House.
I have personally struggled with this choice as I am sure many other Honourable Members will. I am passionate about delivering the result of the referendum. But I equally passionately believe that the best way to do that is to leave in an orderly way with a deal and I still believe there is a majority in the House for that course of action. And I am conscious also of my duties as Prime Minister of the United Kingdom of Great Britain and Northern Ireland and of the potential damage to the Union that leaving without a deal could do when one part of our country is without devolved governance.
I can therefore confirm that the motion will read:
"That this House declines to approve leaving the European Union without a Withdrawal Agreement and a Framework on the Future Relationship on 29 March 2019; and notes that leaving without a deal remains the default in UK and EU law unless this House and the EU ratify an agreement."
I will return to the House to open the debate tomorrow and to take interventions from Honourable Members. And to ensure the House is fully informed in making this historic decision, the Government will tomorrow publish information on essential policies which would need to be put in place if we were to leave without a deal. These will cover our approach to tariffs and the Northern Ireland border, among other matters.
If the House votes to leave without a deal on 29 March, it will be the policy of the Government to implement that decision.
If the House declines to approve leaving without a deal on 29 March, the Government will, following that vote, bring forward a motion on Thursday on whether Parliament wants to seek an extension to article 50.
If the House votes for an extension, the Government will seek to agree that extension with the EU and bring forward the necessary legislation to change the exit date commensurate with that extension.
But let me be clear. Voting against leaving without a deal and for an extension does not solve the problems we face.
The EU will want to know what use we mean to make of such an extension.
This House will have to answer that question. Does it wish to revoke Article 50? Does it want to hold a second referendum? Or does it want to leave with a deal but not this deal?
These are unenviable choices, but thanks to the decision the House has made this evening they must now be faced."
4:02 p.m. ET, March 12, 2019
Who voted for what?
A total of 75 Conservative lawmakers from Theresa May's party rebelled to reject her Brexit deal, according to figures published on the UK's parliamentary website.
Here's the full breakdown of how MPs voted tonight:
For:
Conservatives: 235
Labour: 3
Independent: 4
Against:
Conservative: 75
Labour: 238
Scottish National Party: 35
Liberal Democrats: 11
Democratic Unionist Party: 10
Plaid Cymru: 4
Independent: 17
Green Party: 1
3:56 p.m. ET, March 12, 2019
Markets react to vote: Pound trims losses
From Ivana Kottasová, CNN Business
The pound trimmed its losses after UK lawmakers voted against the latest version of Prime Minister Theresa May's Brexit deal.
The currency, which had been volatile ahead of the vote, was trading down 0.4% against the US dollar.
Investors are hopeful that lawmakers will follow up the major defeat for May with a vote on Wednesday to rule out a disorderly Brexit.
3:49 p.m. ET, March 12, 2019
The key Brexit questions you've wanted to ask, answered
Analysis by Luke McGee, CNN
Is Brexit going away
Nice try! No. Brexit is happening on March 29 unless the UK applies for an extension to article 50. That vote is probably going to take place on Thursday. The EU Council meets next week (March 21) which would likely be May's nearest chance to apply for such an extension. 
Could the EU kick the UK out of the EU?
Short answer yes, but why would they? If the EU wanted a no deal crash out, they only need to wait another 17 days. 
Can the EU laugh and say no, when/if the UK asks for more time?
I doubt they would laugh – Eurocrats are not famed for their sense of humor (apart from Donald Tusk) – but with a heavy heart, the leaders of the EU 27 members states could decline the UK's request for an extension to article 50. It only takes one member state to veto the extension and many of them have good reason for doing so. The EU has been consistent that if the UK asks for an extension with sensible suggestions as to how they can get out of this trench, it would be carefully considered. But EU diplomats have also made clear for months that they see no point is delaying only to end up back where we are now. 
Is Theresa May going to resign?
History says no, at least in the immediate future. May has an extraordinary ability to cling on to power. With an EU summit days away and Brexit far from sorted, May is, whatever you think of her, a dedicated public servant. It's hard to see how she would see it's in the best interests of the UK to suddenly create uncertainty around the leadership of the country, on top of everything else. 
What about another referendum?
Right now, the clearest path to a second Brexit vote is if the opposition Labour Party puts forward an amendment that a majority of the House of Commons backs. Labour recently adopted a formal policy of backing a second public vote on Brexit, should their alternative plan to May's be defeated in a commons vote, which it was last month. But people hoping to see Brexit cancelled should keep the champagne corked for the time being. Labour hasn't tabled any such amendment to date, and there's a pretty good reason for that: they don't think it will pass. The risk of losing that vote is too great to play around with and would both undermine the authority of the opposition and exacerbate divisions within the party. Yes, it's not just May's Conservatives that have problems... 
The other reason Remainers should hold off the celebrations is this: it's not clear that even if a second public vote were to be held, Remain would be on the ballot. Jeremy Corbyn, the leader of the Labour Party, has been careful not to endorse the so-called "People's Vote" campaign and instead always words his second referendum plan as a second public vote.
What about another election?
Now you're talking. Some think that Labour only backed a second vote because of its ultimate desire to force an early general election – something the party believes it could win. Labour saw success in the 2017 snap election by having a Schrodinger's Brexit policy – appearing more Europhile that the Conservatives while officially supporting leaving the EU. Formally backing a second referendum has a similar affect, especially if the government continually blocks the possibility of it happening. 
And if you think this sounds far-fetched, today, Labour aides were celebrating the fact that the Commons speaker John Bercow didn't accept any amendments.
Is the threat that Brexit can be lost real?
The sight of May and President of the European Commission Jean Claude Juncker sat side-by-side Monday night, claiming it was this deal or no Brexit, was nothing short of extraordinary. Both know that this isn't really true. The only way Brexit can be lost is if the UK revokes Article 50. It would need to pass an act of parliament to do so, which without a public vote instructing parliament to do so is a total non-starter. It could happen, but it would require first a Brexit delay, then a national vote with a huge majority.