Tour company Thomas Cook collapses, stranding travelers
3:48 a.m. ET, September 23, 2019
It's business as usual at Thomas Cook India
The collapse of UK tour operator Thomas Cook has left hundreds of thousands of travelers stranded, but customers who made bookings through Thomas Cook India can rest easy. 
Thomas Cook India said Monday it was a separate business so won't be affected by the collapse of the venerable British brand. The company is owned by Canada's Fairfax Financial Holdings, which bought a 77% stake in 2012. 
"Please be reassured that all your bookings and transactions will continue to be smooth," Thomas Cook India said on Twitter, adding that it only shares the Thomas Cook brand name through a licensing agreement.
"Thomas Cook India… is financially strong, profitable and maintains a positive outlook in the travel and tourism sector," the company's chairman Madhavan Menon tweeted.
3:46 a.m. ET, September 23, 2019
Travelers stuck in Menorca, Spain "not going anywhere soon"
Michael Welham was supposed to fly back to London's Stansted Airport after his week-long holiday in Menorca, Spain.
He's been at the airport since 7 a.m. -- for more than two hours now.
"They asked us to sit in a corner of the airport and wait for more news, which we are currently still doing," he told CNN.
A video he posted on Twitter shows the airport full of passengers all waiting with their suitcases. "Not going anywhere soon," he wrote in the post.
3:39 a.m. ET, September 23, 2019
Thomas Cook's German airline Condor will continue flight operations
Condor, a German airline owned by Thomas Cook, will continue flight operations, it said in a press release.
"Condor continues to operate as a German company. In order to prevent liquidity constraints Condor has applied for a state-guaranteed bridging loan, which is currently under review by the Federal Government," said the release.
Condor's CEO Ralf Teckentrup said the airline would "continue to concentrate on what we do best: flying our customers to their holidays safely and on time."
3:38 a.m. ET, September 23, 2019
She found out her honeymoon was canceled the morning after the wedding
Laura Schofield was supposed to be flying to Lanzarote from Manchester today for her honeymoon with her husband, following their marriage yesterday in the city of Hull.
"We found out on Saturday morning when my mom rang me after she had watched the news and asked who we were flying with and of course we said Thomas Cook," she told CNN. "We're not going to the airport as all the information we've been given is basically saying not to bother as our flight won't be leaving."
The couple had been together for eight years and had never traveled abroad together, and were "gutted" to find out their big trip had been canceled.
"We have a one-year-old and wanted to have a nice relaxing break for our honeymoon. To find out the morning after our wedding was so upsetting," Schofield said.
They haven't received any information about alternate flights, but having a toddler complicates rebooking dates.
"We want a refund at this point just so we can try and make the most of this week together before we go back to work," she said.
3:29 a.m. ET, September 23, 2019
Thomas Cook offered trips to more than 60 destinations worldwide
One of the world's most well-known tour operators, Thomas Cook is famous for offering low-cost package holidays to more than 60 destinations worldwide, making it a popular option for families in search of an affordable getaway. 
But the collapse of this UK brand marks the end for a company that's credited with changing the global travel landscape. 
Thomas Cook served more than 19 million customers last year, according to the company.
Here's a look at Thomas Cook's top travel destinations as listed on the company's website: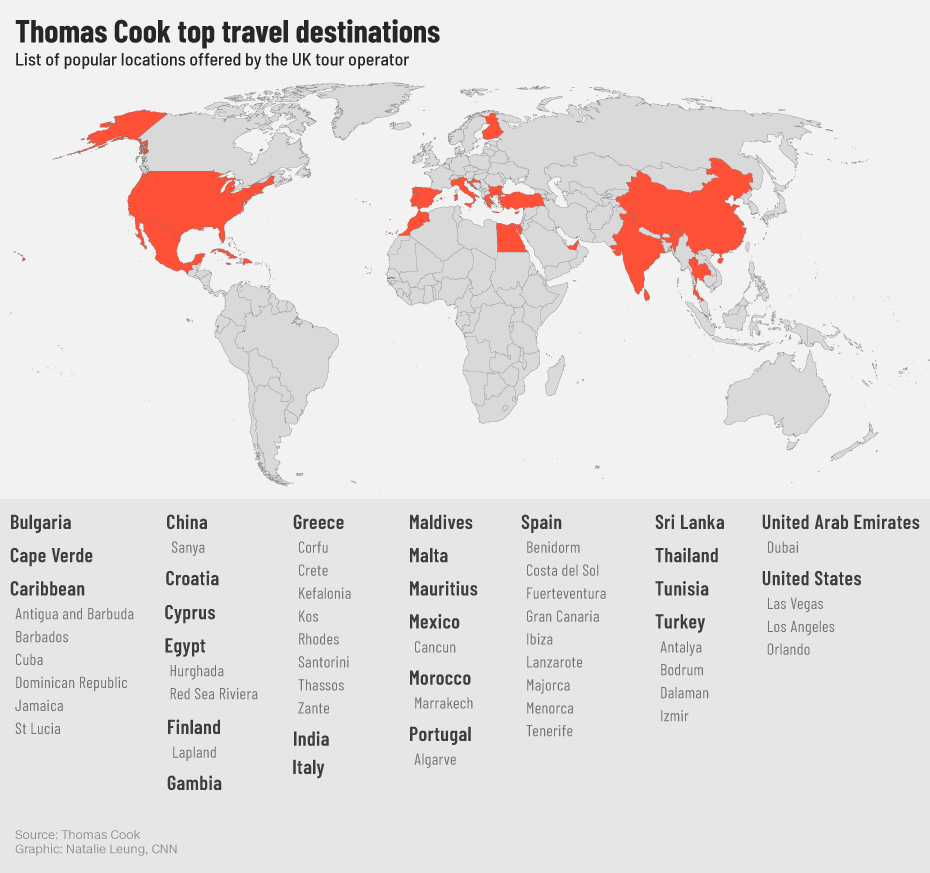 3:23 a.m. ET, September 23, 2019
Thomas Cook lost 1.4 billion pounds in six months
Thomas Cook posted a 1.4 billion pounds ($1.7 billion) first half-loss earlier this year.
In a press release from May, CEO Peter Fankhauser blamed the bad news on a number of factors:
"The prolonged heatwave last summer and high prices in the Canaries reduced customer demand for winter sun, particularly in the Nordic region, while there is now little doubt that the Brexit process has led many UK customers to delay their holiday plans for this summer," he said in the release.
The company did try to mitigate the damage, closing 21 retail stores and taking other cost efficiency measures. In other aspects, it was also continuing to expand -- in March and April, it opened 12 new hotels and was pressing forward in a joint venture to buy a Russian tour operator.
Thomas Cook had been scrambling over the weekend after the Royal Bank of Scotland and a range of other banks demanded that Thomas Cook Group PLC find £200 million ($250 million) in funding by this upcoming week.
3:13 a.m. ET, September 23, 2019
Pilots' union says Thomas Cook employees have been "stabbed in the back"
Brian Strutton, general secretary of the union British Airline Pilots' Association, took to Twitter to criticize the company collapse and thousands of lost jobs as "despicable."
"The hopes of all Thomas Cook employees that their airline could survive has been brutally quashed this morning as they wake up to find they have no job," said Strutton.
"While detailed plans to repatriate passengers have been carefully put together and ministers have and will continue to claim the credit for that, the staff have been stabbed in the back without a second's thought. Despite continuing to keep Thomas Cook going in recent weeks with dignity & integrity while their own futures were being secretly decided, we don't even know if staff will get a pay cheque this month. It's despicable."
He added that the staff "deserve better than this," and that the union would support the affected pilots through the liquidation and job-hunting process.
2:52 a.m. ET, September 23, 2019
Boris Johnson promises to help stranded travelers
British Prime Minister Boris Johnson has pledged to help travelers stranded by Thomas Cook's closure.
"It's a very difficult situation and obviously our thoughts are very much with the customers with Thomas Cook, the holiday makers, who may now face difficulties getting home," Johnson told reporters en route to New York for the United Nations General Assembly.
"One way or the other, the state will have to step in quite rightly to help stranded holidaymakers."
2:34 a.m. ET, September 23, 2019
Flights are scheduled to bring UK travelers home from multiple airports in Spain and Greece
The UK Civil Aviation Authority is now arranging repatriation flights for travelers stranded abroad, with the first homebound flights leaving today.
Spain and Greece seem to have many flights leaving back to the UK over the next week -- there are flights leaving out of 13 Greek airports and 11 Spanish airports, according to the Thomas Cook site.
The flights are bringing travelers back to a range of UK cities, including Glasgow, London, Bristol, and Newcastle.
There are also flights listed to bring travelers back from Tunisia, the US, Turkey, Italy, Mexico, and more.
See the full list here.