Tour company Thomas Cook collapses, stranding travelers
12:47 p.m. ET, September 23, 2019
We're wrapping up our coverage for now
12:38 p.m. ET, September 23, 2019
Brexit added to Thomas Cook's woes, say experts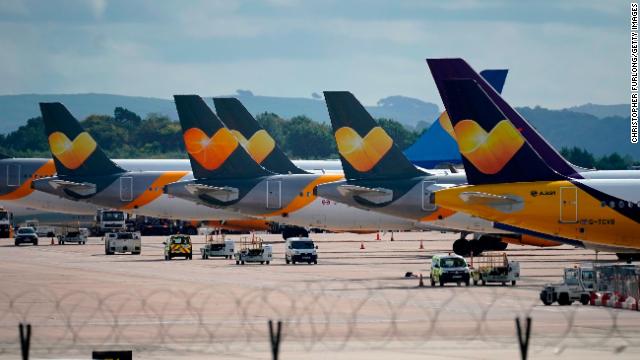 Thomas Cook's issues went beyond Brexit. But Britain's complicated departure from the European Union, and its impact on the pound, may have been the final nail in the troubled company's coffin.
The travel operator's dramatic collapse follows years of mismanagement and a failure to keep pace with online rivals, writes Hanna Ziady from CNN Business. And Brexit didn't help.
Analysts say it was one of several factors that led to the 178-year old travel company's demise, which has left 150,000 UK holidaymakers stranded abroad and cost thousands of employees their jobs.
Read more here
10:54 a.m. ET, September 23, 2019
46 flights cancelled in Spain on Monday
A total of 46 flights in and out of Spain were cancelled Monday as a result of the collapse of Thomas Cook, a spokesman for Spain's airports operator AENA told CNN.
The airports affected are: Fuerteventura, Gran Canaria, Lanzarote, Menorca, Palma de Mallorca and Tenerife.
Spain's Aviation Safety and Security Agency (AESA) said Thomas Cook and its subsidiary Thomas Cook Scandinavia had 525 scheduled flights in Spain over the next 15 days, with 70% heading to the UK, 12% to Norway, 10% to Sweden, 6% to Denmark and 2% to Finland
Meanwhile, the acting minister for Industry, Trade and Tourism, Reyes Maroto, said "those who are in Spanish hotels can be calm," because of guarantees from the UK Government.
10:49 a.m. ET, September 23, 2019
Richard Branson blames Thomas Cook's demise on a drop in the British pound
Virgin Group founder Richard Branson has written on Virgin's site that he is "saddened" to see the collapse of Thomas Cook.
"It's upsetting to see so many people lose their jobs and thousands of holidaymakers affected by disrupted travel," Branson wrote.
"The drop in the pound following the referendum has put even more pressure on the struggling business, which has been saddled with large debt for a number of years. All of the travel industry costs are in dollars – for example fuel maintenance and airplane leasing. With the weaker pound, the cost of everything has skyrocketed. For Thomas Cook, this has proved terminal."
He said the tour operator "was the pioneer of organized travel and has been such a strong force in the travel industry," adding that Virgin Atlantic "are doing all they can to find people jobs and bring stranded people home."
10:01 a.m. ET, September 23, 2019
Groom named Thomas Cook has wedding ruined by Thomas Cook collapse
A groom who shares the same name as the travel operator Thomas Cook has had his wedding plans ruined by the company's collapse.
Cook and his partner, Amelia Binch, were due to get married on the Greek island of Rhodes on Friday.
Now they are stranded, and aren't sure if the wedding can go ahead.
If it does, they don't yet know whether any of their friends will make it to Greece in time for the ceremony.
"We found out today in the early hours," Binch told CNN. "We were devastated and still are!"
The couple booked their wedding package with Thomas Cook last year. Binch said the operator promised a "special surprise" since the groom shares the company's name.
They haven't received anything, she said, explaining that the wedding package the couple bought included not only the ceremony, but also the flowers, wedding cake and entertainment. It's not clear if any part of the wedding can go ahead as planned.
"We have some family out here but our friends are due to be flew out Wednesday (including best man) which won't be able to come," Binch said.
"We have no plans but to wait and find out when our flight home is."
8:56 a.m. ET, September 23, 2019
Thomas Cook collapse equal to "a 7-magnitude earthquake" for Crete, island's tourism boss says
News of Thomas Cook's collapse is the equivalent to a "7-magnitude earthquake," for the island, Michalis Vlatakis, president of the Association of Cretan Travel and Tourism Agencies has told CNN.
"The size of the Thomas Cook collapse can be compared to a 7-magnitude earthquake -- but sometimes the tsunami is even worse, and in this occasion what we're bracing for is the tsunami," Vlatakis said.
He added that the loss of Thomas Cook's business could have a major impact on tourism on the Greek Island, where large numbers of hotels have contracts with the company.
Meanwhile, the Greek Tourism Association says the operator's collapse will need "quick and effective responses."
"Concrete measures should be planned and announced, as to how the problems that arise for tourism businesses as a result of the collapse will be absorbed," it said in a statement, adding that the private sector "needs to remain calm and offer assistance to the thousands of Thomas Cook tourists currently in the country."
"Our behavior and the treatment provided towards these people will shape the image of our country as a welcoming and responsible destination, on an international level."
8:36 a.m. ET, September 23, 2019
Stranded by Thomas Cook's collapse? Here's what you need to know
Around 600,000 travelers are affected by the collapse of tour operator Thomas Cook.
The countries where the largest numbers of tourists are stranded are Spain, Turkey, Tunisia and Greece.
Here's what affected travelers need to know:
I'm currently on a Thomas Cook holiday. How do I get home?
The Civil Aviation Authority (CAA) will arrange return flights for ATOL-protected travelers currently abroad who were planning to fly back to the UK with Thomas Cook.
What is ATOL? It stands for "Air Travel Organiser's Licence" -- it's a UK financial protection scheme that safeguards most package holidays sold by travel businesses based in the UK.
Basically, it prevents travelers from being left without assistance or facing a financial loss if their travel company stops trading. Which is exactly what happened in the UK on Sunday.
For those currently abroad and due to fly back to the UK with Thomas Cook, the CAA is providing new flights to get them home.
What about hotels?
Now for the bad news: Travelers who only booked hotels through Thomas Cook and not flight-inclusive packages will have to foot the hotel bill themselves.
But if your Thomas Cook holiday included flights, there is specific advice about accommodation.
The CAA says that if you are currently abroad on an ATOL-protected package holiday with Thomas Cook -- or any company which is part of the Thomas Cook Group -- the authority "will seek to guarantee your stay directly with your hotel."
The CAA says it may take a few days to secure these arrangements. In the meantime, do not make a payment to your hotel, unless instructed otherwise by the CAA team.
If you are not ATOL-protected, the CAA says you can't make a claim for out-of-pocket expenses and additional nights of hotel accommodation -- but you may be able to claim from your travel insurer, bank or credit card issuer.
I haven't traveled yet. How do I get a refund?
Don't bother going to the airport. All Thomas Cook flights were immediately canceled following the announcement of the company's shutdown.
As for getting a refund, again, in the UK it all comes down to ATOL. If your holiday was protected, you should be able to file a claim via the ATOL scheme.
Now here's where things get a bit tricky.
The CAA says if you booked a holiday with Thomas Cook but your flights are with an airline unrelated to the Thomas Cook Group, your flights may still be available.
"You are advised to check with the airline if you are still able to travel," says the authority's advice.
"If you wish to travel, you can do so and make a claim to ATOL for the cost of replacing your other travel services. You are not obliged to use your flights and can instead claim a refund under the ATOL scheme."
8:26 a.m. ET, September 23, 2019
Thomas Cook employees have been "stabbed in the back," pilots' union says
The British Airline Pilots' Association (BALPA) says it is "despicable" how Thomas Cook employees have been treated amid the travel company's collapse.
Read the full statement here:
The hope of all Thomas Cook employees that their airline could survive has been brutally quashed this morning as they wake up to find they have no job. 
While detailed plans to repatriate passengers have been carefully put together and ministers have and will continue to claim the credit for that, the staff have been stabbed in the back without a second's thought. 
Despite continuing to keep Thomas Cook going in recent weeks with dignity and integrity while their own futures were being secretly decided, we don't even know if staff will get a pay cheque this month. It is despicable. Thomas Cook pilots and all staff deserve better than this. 
For pilots, BALPA will be supporting our members through the legal complexities of what [the] Thomas Cook liquidation means for them, and doing everything we can to help them find alternative jobs in other airlines
8:21 a.m. ET, September 23, 2019
UK union calls Thomas Cook collapse "an act of economic vandalism"
The collapse of Thomas Cook, which has left 600,000 passengers stranded and tens of thousands of employees without a job, is an act of "economic vandalism," according to Britain's Unite union.
Speaking to CNN at the Labour Party's conference in Brighton, the union's Assistant General Secretary for Transport, Diana Holland, said: "It is absolutely devastating for people, and our first priority -- in addition to obviously extending our message of support to every single person -- is to make sure they get paid."
"On top of that we need to make sure they get legal representation and [compensation] they are entitled to, but above all we are doing all we can to see if there are other opportunities with other airlines.
"It is absolutely shocking and an act of economic vandalism that this could have been allowed to happen."
Holland says Unite represents about 3,000 of the company's 9,000 UK-based employees.