UK Prime Minister Boris Johnson's resignation announcement on Thursday has triggered the search for a new Conservative Party leader.
Under the UK political system, between elections, only Conservative members of Parliament have the power to remove a sitting Conservative Prime Minister.
Johnson indicated in his resignation speech that he plans to stay in office until a successor is chosen.
But it's not clear that the Conservative Party will stand for that in Johnson's case.
Take a look at who might replace Johnson as UK Prime Minister.
So, how will a new leader be selected and what can we expect?
How is the new Conservative Party leader chosen?
Leadership candidates need the support of at least eight lawmakers.
If there are more than two candidates, Conservative Party lawmakers hold round after round of votes to whittle the number of leadership candidates down to two.
Then Conservative Party members nationwide vote — by mail — between the two finalists.
The winner becomes leader of the party — and Prime Minister.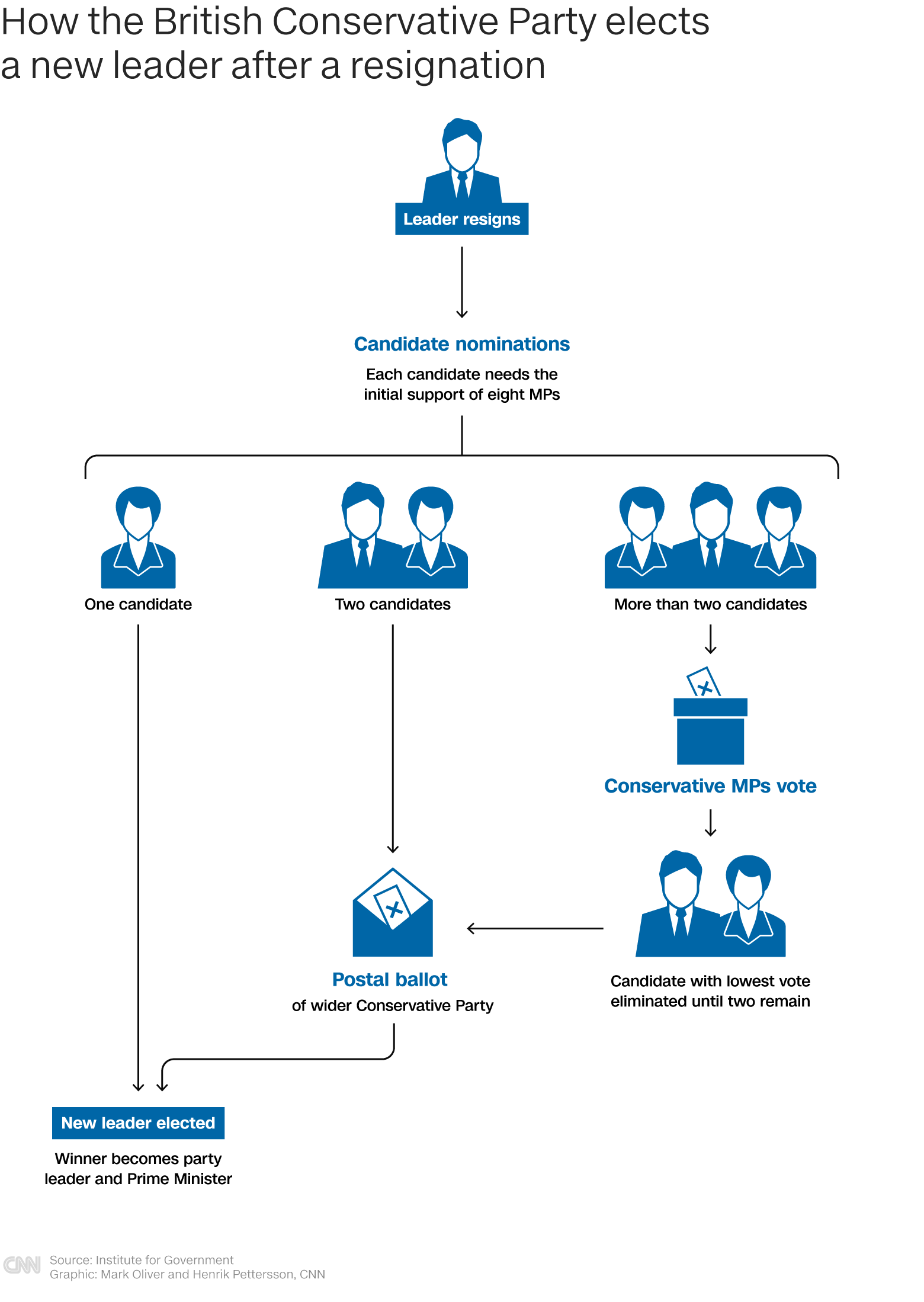 Is there any way to force Johnson to leave before a new Conservative Party leader is chosen?
Conservative lawmakers could, in theory, try to force him out themselves by calling a vote of confidence among Tory MPs. But Johnson survived a vote like that just a month ago.
Under current party rules, that means there can't be another party confidence vote in him for 12 months.
The rules could be changed, but it's not clear the Conservative Party wants to start that kind of infighting when Johnson has already said he's going, and when a leadership contest is under way.
Can't the opposition do anything to force Johnson out?
Labour leader Keir Starmer said Thursday that if the Conservatives didn't push Johnson out immediately, the opposition would call a confidence vote in the government among the entire House of Commons.
If the opposition won, it could theoretically lead to a general election — but even with all the chaos in the Conservative Party at the moment, they still have a big majority in the House of Commons, and they're not likely to want a general election at the same time as a leadership election. So the chances of the opposition bringing the government down now are slim.