UK election results 2019: Boris Johnson storms to victory
8:16 p.m. ET, December 12, 2019
The knives are out for Jeremy Corbyn as Labour fights over its future
Only a few results are in, but they're painting a dire picture for Jeremy Corbyn and the Labour Party -- and the recriminations are well underway.
Corbyn, the socialist leader who dragged the party to the left after his upset win in the 2015 leadership contest, has now led the party to one of its worst ever electoral results, if the exit poll is correct.
His ally John McDonnell told the BBC that Brexit dominated the campaign, with Boris Johnson's message resonating. But plenty of Labour candidates, MPs and insiders have blasted his leadership -- and called for his allies to follow him out of the door.
It's increasingly unlikely Corbyn will survive this result. What's up in the air is the role Momentum, the left-wing campaigning group that has remodeled the Labour Party since his 2015 victory, will play in the party going forward.
Corbyn was a disaster on the doorstep," longtime Labour politician Alan Johnson told Momentum founder Jon Lansman on ITV. "Everyone knew that he couldn't lead the working class out of a paper bag. Now Jon's developed this Momentum group ... I want them out of the party. I want Momentum gone. Go back to your student politics."
Meanwhile, Phil Wilson -- the incumbent Labour party candidate in Tony Blair's old seat of Sedgefield -- vented his fury at party leader Jeremy Corbyn in the wake of the exit poll predicting a big Conservative win.
"For @UKLabour leadership to blame Brexit for the result is mendacious nonsense. Jeremy Corbyn's leadership was a bigger problem. To say otherwise is delusional. The Party's leadership went down like a lead balloon on the doorstep. Labour's leadership needs to take responsibility," he tweeted. 
His anger followed similar verdicts from other Labour figures, including Ian Murray, who wrote: "Every door I knocked on, and my team and I spoke to 11,000 people, mentioned Corbyn. Not Brexit but Corbyn. I've been saying this for years. The outcome is that we've let the country down and we must change course and fast."
7:43 p.m. ET, December 12, 2019
How accurate are these exit polls?
We're repeatedly told that you can't trust the polls these days -- but the UK's exit polls are usually fairly accurate.
In 2017, they underestimated the Conservatives' vote share by three seats. In 2015, they undershot it by 14.
But in the two elections before, they predicted the winning parties' seat tally exactly right.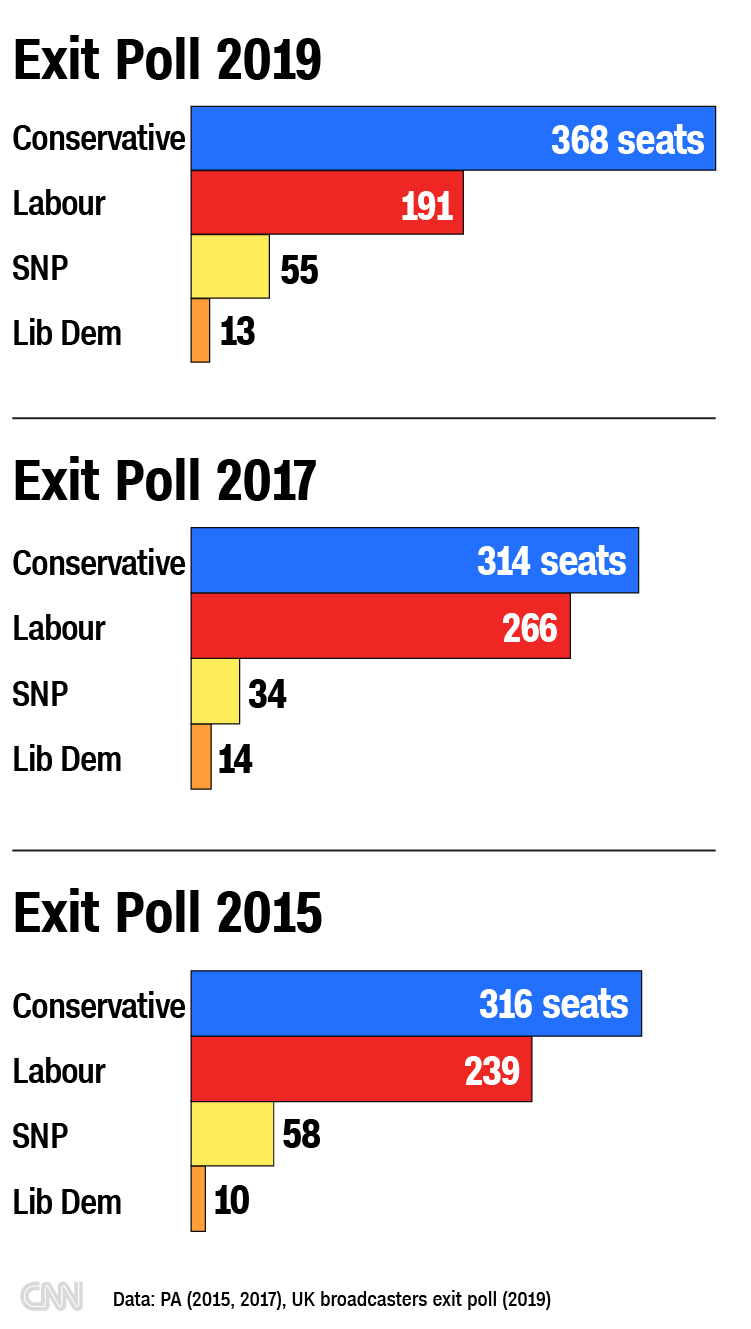 7:12 p.m. ET, December 12, 2019
What the papers are saying
Here's a look at the first papers' front pages from tomorrow. Unsurprisingly, depending on their political stance they've reacted differently to the news that Boris Johnson is on course for a majority.
7:00 p.m. ET, December 12, 2019
Jo Swinson might be feeling nervous
Liberal Democrat leader Jo Swinson could be anxious as ballots are counted in her seat, in the wake of an exit poll that predicted gains for the Scottish National Party across Scotland.
Swinson survived the previous SNP sweep in Scotland in 2015, but the party ran her close -- and the results tonight could see a similar outcome.
7:22 p.m. ET, December 12, 2019
Conservative win is the "right thing" for the UK -- says former Labour MP
Ian Austin, a former Labour lawmaker representing the constituency of Dudley North, said Thursday night that a Conservative Party victory would be the "right thing" for the United Kingdom, after exit polls projected a significant win for the Conservatives. 
"Heartbreaking for Labour, but the right thing for the country," the former Labour lawmaker told CNN on Thursday. 
Austin resigned from the Labour Party in February 2019, and has since called for constituents to vote for the Conservative Party. 
In an interview with CNN's Matthew Chance ahead of the election, Austin said that he too would vote for the Conservative Party. 
"For the first time in my life I have decided to vote for the Conservatives, and I have done that because I think that Jeremy Corbyn is not fit to run our country," Austin said. 
6:50 p.m. ET, December 12, 2019
The view from Europe
Meanwhile in Brussels, diplomats and officials are breathing a sigh of relief. 
Contrary to the view of many remain voters in the UK, this is not going down badly with the people on the other side of Brexit. 
While at a push, most EU leaders would prefer that the Brexit vote hadn't happened, further uncertainty was by far the worst outcome as far as they were concerned. They wanted clarity, and now they might have it. 
Officials are already talking about a big majority meaning that Johnson can push for a closer relationship between Europe and the UK, even if his Euroskeptic backbenchers hate the idea.
France's European affairs minister, Amelie de Montchalin, said that "what France has asked for for a long time is clarity. This result brings that," and that the most important thing with Brexit is "not the way we divorce, it's what we build afterwards."
7:51 p.m. ET, December 12, 2019
Inquest begins among Labour figures
A few Labour MPs have discussed their disappointment at the night so far, with a devastating loss for the party on the cards.
Jess Phillips, who some have tipped for a leadership run if Jeremy Corbyn stands down, says she is "heartbroken."
She added: "We will all be thinking of the harm that can be done to those we care for. I understand, I feel pain, take that anger you feel and know it has to be fuel. Maybe not tonight but tomorrow."
David Lammy, a Labour MP in London who won't be in any trouble tonight, adds that the results look "abysmal."
Labour MEP Seb Dance, meanwhile, has said voters were unable to accept Corbyn's position as leader.
Ian Murray, a Labour MP in Scotland, had a similarly damning verdict of Corbyn's leadership -- and you can be sure that there will be plenty more calls for him to step down when the sun comes up.
There's been no word from Corbyn yet, but many within Labour appear to be looking toward the next leader.
Caroline Flint, the Labour candidate in Don Valley who may find herself in deep trouble tonight, tweeted: "We're going to hear the Corbynistas blaming it on Brexit and the Labour Uber Remainers blaming Corbyn. Both are to blame for what looks like a terrible night for Labour. Both have taking for granted Labour's heartlands. Sorry we couldn't give you a Labour Party you could trust." The tweet was later deleted, but was caught by Britain's PA news agency.
6:45 p.m. ET, December 12, 2019
Labour could be facing a wipe-out in its historically safe seats
The first few seats are being announced, and they're awful news for Labour.
The Conservatives have just taken Blyth Valley -- a previously unthinkable result that shows just how dramatically Brexit has torn up Britain's electoral map.
The seat is a historic mining community that has never been held by another party. Labour lost 15% of their vote there, while the Conservatives picked up 5%.
Moments earlier, the first two seats were announced. Houghton and Sunderland South was held by Labour, but Jeremy Corbyn's party lost more than 18% of its vote share. The party also held Newcastle upon Tyne Central, and also lost votes there, though their share held up slightly better.
6:28 p.m. ET, December 12, 2019
Here's what we learned from the exit poll and what it means for the big parties
Conservatives
If the exit poll is correct, Boris Johnson and his Conservative party are on course for a thumping parliamentary majority which vindicates the electoral strategy of focusing on Brexit. The Prime Minister will now have a mandate for his withdrawal agreement -- but that will only signal the start of complex negotiations with the European Union.
Labour
While it is predicted to remain the second-largest party in parliament, Labour could be set for major upheaval as the exit poll suggests that Jeremy Corbyn has failed to unite a voter base divided on the Brexit question.
Questions are being asked as to whether Corbyn and Shadow Chancellor John McDonnell can continue in their posts. "These are things that will be discussed by the leadership of the party in the next few days," said Shadow International Trade Secretary Barry Gardiner, according to the PA news agency.
Liberal Democrats
The party failed to make a significant breakthrough, gaining just one seat according to the exit poll. Leader Jo Swinson gambled on an initial promise to revoke Brexit, which appeared to turn off voters, who were apparently keen to honor the result of the referendum and leave the EU -- or at least hold another vote on Brexit, rather than cancel it outright.
Scottish National Party
Projected to win 55 of a total 59 seats in Scotland, the SNP is set for a period of total domination north of the border. This could embolden calls for a second independence referendum in a country that voted overwhelmingly to remain in the EU.