Jeremy Corbyn launches Labour's election manifesto
9:50 a.m. ET, November 21, 2019
All but one of the 16 biggest donations made during the election have gone to the Conservatives
15 of the 16 highest financial donations made to political parties last week have gone to the Conservative Party, according to data just released by the Electoral Commission.
The biggest single donation appears to have been made by theatre producer John Gore, a regular contributor to the party, who sent £1 million ($1.3 million) to the group.
The other donations in the top 16 all amounted to £100,000 or more, with one £250,000 donation going to the Brexit Party.
This was the first weekly pre-election release of donation data by the Commission, and covers the period between November 6 and November 12. Only donations of more than £7,500 are included.
Jeremy Corbyn has sought to make the funding disparity between the Labour and Conservative parties a central plank of his campaign.
During his manifesto speech earlier, Corbyn said billionaires and the super-rich "own the Conservative Party."
"I accept the opposition of the billionaires because we will make those at the top pay their fair share of tax to help fund world class public services for you," Corbyn said at the event.
8:43 a.m. ET, November 21, 2019
Labour's headline pledges
Jeremy Corbyn's Brexit policy has dominated much of the election campaign so far. As well as promising a second referendum on the issue, here's the main pledges in Labour's plan.
A 'Green Industrial Revolution': The party is promising to tackle the climate crisis by moving towards renewable energy, promoting rail and electric cars, and making housing energy efficient, alongside creating one million climate jobs.
Free broadband: Already unveiled earlier in the campaign, Labour says it can provide free broadband to every home and business in the UK. It's an ambitious plan that you can read more about here.
£10 per hour living wage: Dubbed the 'Real Living Wage,' Labour will rise the minimum wage in Britain to £10 ($13) an hour. It currently stands at £8.21.
A National Education Service: Corbyn says his government would provide education services for people throughout their lives, including retraining programs for adults.
Increased NHS funding: Always a central tenant of a Labour manifesto, the party is promising to increase health funding and end privatization of the NHS -- alongside free dentistry and free prescriptions.
Reversing police cuts: Corbyn writes in the manifesto that he is "really worried" by the rise in violent crime in Britain, which he says he will stem by boosting police numbers and improving funding for public services.
Foreign policy: Corbyn implied he would follow a less interventionist foreign policy, pledging to "end the 'bomb first, talk later' approach" and focus its plan on "peace, justice and human rights."
8:17 a.m. ET, November 21, 2019
What's in Labour's manifesto?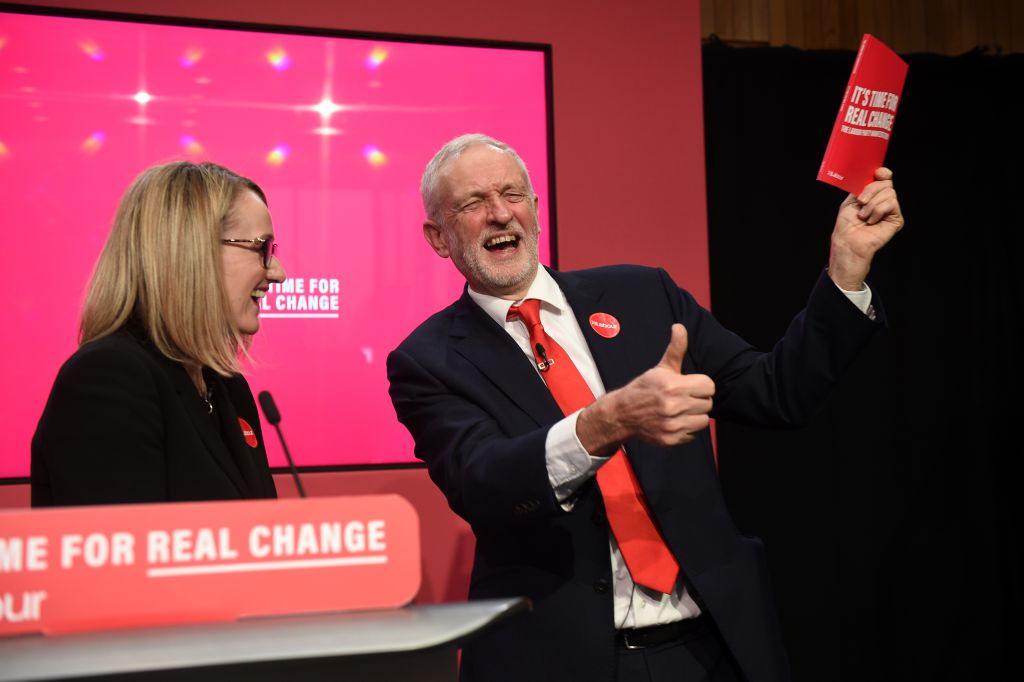 If you're looking for a spot of light reading to do today, Labour's 107-page manifesto is available in full online. It features a number of funding pledges and proposed policies; we've pulled out a selected few below.
Climate: The first section of Labour's manifesto tackles the climate crisis. It pledges a rule change that would delist companies from the London Stock Exchange if they do not contribute to the fight against climate change. A windfall tax on oil companies headlines their climate policies. Elsewhere, 9,000 wind turbines would be built around Britain, and Labour would "immediately" ban fracking.
Healthcare: The manifesto says Labour's "immediate task is to repair our health services." It pledges increased investment across the health sector by an average of 4.3% a year, as well as £2 billion to modernize mental health provisions. It also promises an end to prescription charges, fully funded sexual health services and a free rollout of the PrEP HIV prevention pill -- but does not include the legalization of cannabis.
Nuclear weapons: Jeremy Corbyn has been repeatedly pressed on whether he would use a nuclear weapon as prime minister, but Labour's manifesto supports renewing the UK's Trident nuclear deterrent. It adds that the party will also "actively lead multilateral efforts" to "create a nuclear-free world."
Education: There's no plan to abolish private schools, which won some support at Labour's conference this year. Instead, the party will "close the tax loopholes enjoyed" by the institutions. Alongside funding promises, the party says it will review school curricula to prominently feature black history and issues including the Holocaust. They'll also ban fast food restaurants near schools.
7:56 a.m. ET, November 21, 2019
Will Labour's "manifesto of hope" spark a turnaround for the party?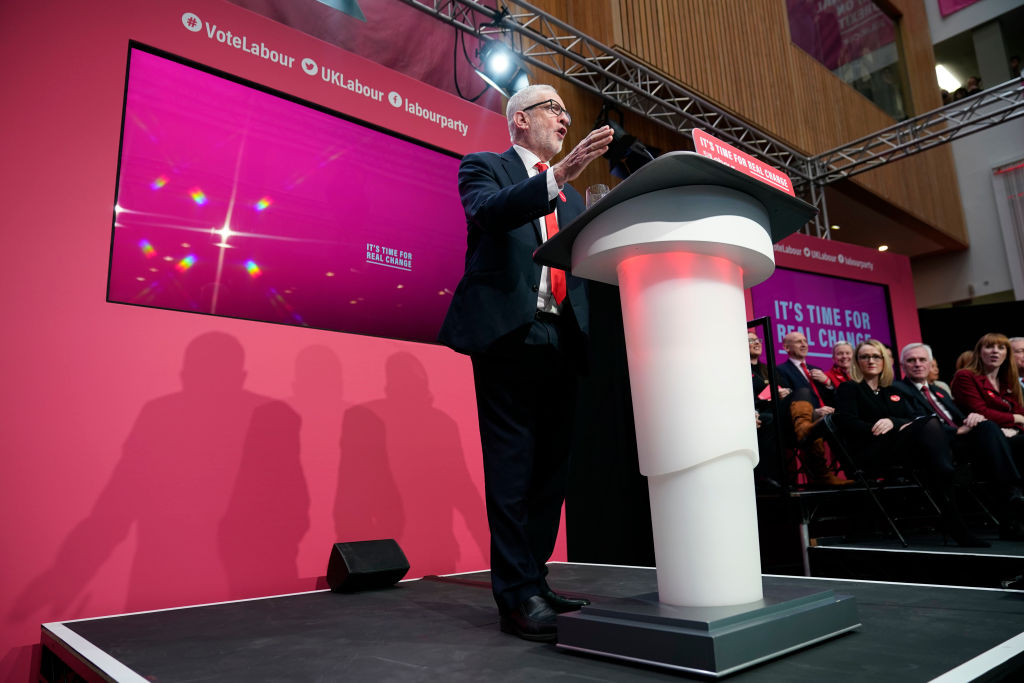 Few set-piece events fall more squarely on a politician's home turf than a manifesto launch, so standing ovations and hearty cheers from the audience are par for the course.
But this was still a confident launch from Corbyn, buoyed by a raucous crowd in perhaps one of his strongest performances of the campaign to date. 
"This is a manifesto of hope. A manifesto that will bring real change," Corbyn said at the outset of a speech that included broadside and confrontational attacks against Britain's rich and powerful — groups from which he said he welcomed hostility.
Corbyn's praise of Franklin D. Roosevelt, the US President whose New Deal programs brought the US out of the Great Depression, sought to elevate his plans from charges that they hark back to failed projects of the 1970s.
His domestic agenda, unveiled in full over the 107-page document, is one of the most radical manifestos unveiled by a major party at an election in recent memory. And the Labour leader was on surer footing than is often the case when discussion turned to Brexit, taking direct aim at Johnson's promises to "get Brexit done." 
Corbyn achieved his short-term goal, giving news programs plenty of soundbites and clips that show him passionately announcing Labour's plans to an adoring group of supporters. 
But he will need his manifesto to do far more than that. In 2017, his pledges helped turn around a fledgling campaign and saw him skyrocket up opinion polls in the last two weeks of campaigning. If he is to repeat the surge, Corbyn will need a similar uptick this time, too, with Johnson enjoying a healthy polling lead and his Conservative Party promising increases in spending that go further than Theresa May and David Cameron's campaigns ever did.
"You really can have this plan for real change because you don't need money to buy it," Corbyn told the audience. "You just need a vote – and your vote can be more powerful than all their wealth."
Whether he will get enough to prevent a majority Conservative government is the crucial question of this election, and it won't be answered yet. But the hope from Labour is that this week is the start of a turnaround. 
7:37 a.m. ET, November 21, 2019
My Brexit plan would heal the country, Corbyn says -- after some supporters boo journalist
Jeremy Corbyn is taking questions -- the first of which comes from the BBC's Laura Kuenssberg, who is met by a smattering of boos from some supporters in the crowd.
"No, no, no, we don't do that," Corbyn quickly says, seeking to diffuse the outburst.
He's asked how a radical manifesto will win over enough of the electorate. "When you travel around the country," Corbyn says, you realize that "radical answers are necessary."
"Yes, this radical manifesto is about unleashing all that potential for the future ... that's why I"m so proud of the whole investment strategy we've put forward," Corbyn says.
Turning to Brexit, he tells reporters that he will negotiate a deal with the EU in three months and hold a referendum on it soon after. "My government would accept and carry out the result of that."
The only cheer Corbyn ever got at a shadow Cabinet meeting was when he said Brexit wasn't on the agenda that day, he jokes. Splits within the Labour front bench over the party's approach to the issue have plagued Corbyn for years.
"Let's get together on this," he says, suggesting his Brexit plan would help heal divides in the country.
7:32 a.m. ET, November 21, 2019
Nobody is above the law, says Corbyn after Prince Andrew question
Jeremy Corbyn is asked to comment about the controversy surrounding Prince Andrew and the BBC interview about his relationship with convicted sex offender Jeffrey Epstein. The Labour leader says: "We should start from the principle that there are victims here."
He adds that "nobody is above the law," and anybody associated with questions of alleged wrongdoing should volunteer to help investigations.
In the interview, which was recorded last Thursday, the Duke of York also answered questions about allegations made by Virginia Roberts Giuffre, one of Epstein's victims, who claims that she was forced to perform sex acts on several men, including Prince Andrew. All the men deny the allegations.
6:44 a.m. ET, November 21, 2019
Standing ovation as Corbyn says Labour will scrap university tuition fees
"This will be investment on a scale you've never known before," Jeremy Corbyn promises, as he switches gear to focus on his domestic agenda.
"We can no longer deny" the climate emergency, he says, adding that events like the floods in Yorkshire this month show the need for quick action.
"If you're a student, Labour is on your side," Corbyn says, to predictable cheers from the university venue. He touts his plan to scrap university tuition fees, causing some in the audience to rise to their feet. The fees were raised by the Conservative-Liberal Democrat coalition and currently are capped at £9,250 ($12,000) a year.
"If you are reaching old age, Labour is on your side," he adds, joking: "you see, we're inclusive."
Another big cheer erupts for Corbyn's promise to scrap Universal Credit.
While he continues his speech, Labour's 107-page manifesto has just dropped online.
6:34 a.m. ET, November 21, 2019
Corbyn attacks Johnson's Brexit plan
Corbyn turns to Brexit, saying Boris Johnson is trying to "hijack" the project to sell out the NHS.
"The Conservatives want to use Brexit to unleash Thatcherism on steroids," Corbyn says.
It's one of the first times he has linked his populist program directly to Brexit, a topic he generally appears reluctant to discuss.
The crowd breaks out in a "Not for sale!" chant, which Corbyn briefly joins in with. "Let's be clear about it: our NHS is not for sale," he tells the crowd.
If you watched the debate, Corbyn adds, you'll have seen Boris Johnson claim to get Brexit done -- "over and over and over and over again ... he might still be saying it," Corbyn jokes. Johnson's repeated Brexit mantra appeared to wear on the audience in that event, eliciting groans from some.
But Johnson's promise to get Brexit done is misleading, he adds, because trade deals will take years to secure.
Labour, by contrasting, are promising a confirmatory referendum on a softer Brexit deal, which Corbyn says can be achieved in a few months.
6:45 a.m. ET, November 21, 2019
Corbyn says he welcomes hostility from the rich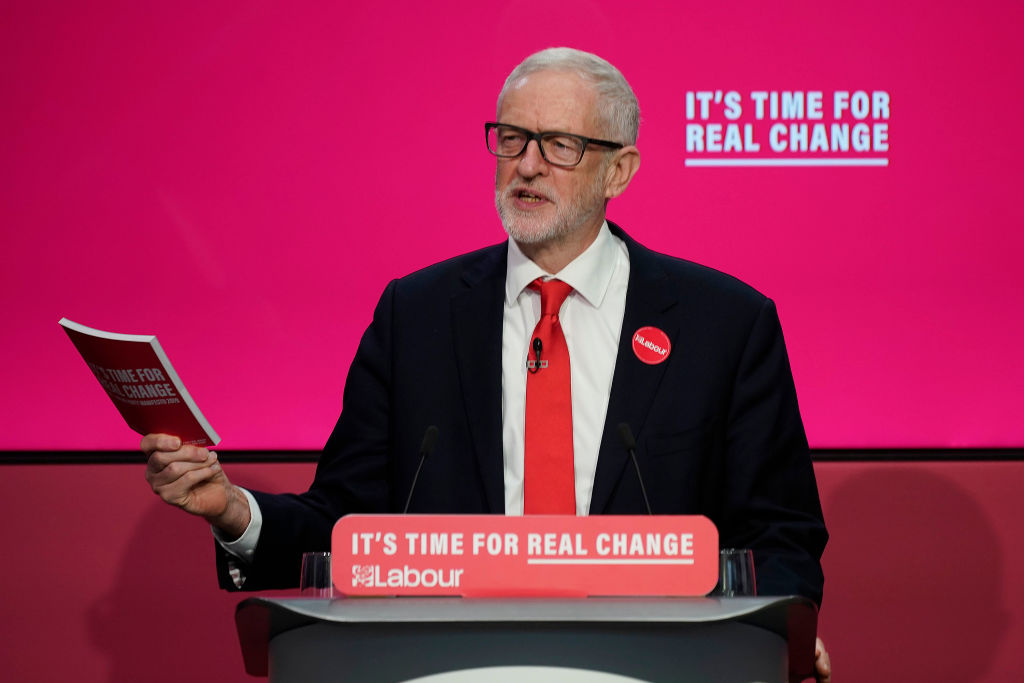 Corbyn says he "accepts the hostility" of a whole group of people, including billionaires, bad bosses, dodgy landlords and big polluters.
"I accept the fierce opposition of the giant healthcare corporations because we will stop them sucking out profits from our NHS. That's real change," he says.
"And here's a brand new one: I accept the implacable opposition of the private internet providers because we're going to give you the very fastest full fibre broadband for free. That's real change."
Corbyn adds that the policies in the plan are fully costed, and do not include any tax increases for 95% of British taxpayers.
He makes a pitch to people to register to vote, and urges people to encourage their friends to do the same. A high turnout, particularly from young people, was generally seen to help Labour in 2017, but there are concerns a winter election could diminish people's enthusiasm to go to the polls.