Editor's Note: Call to Earth is a CNN editorial series committed to reporting on the environmental challenges facing our planet, together with the solutions. Rolex's Perpetual Planet initiative has partnered with CNN to drive awareness and education around key sustainability issues and to inspire positive action.
Dotted across rolling green fields at Bramham Park, a rainbow of plastic sheets flapped in the wind. The country estate, which had hosted around 100,000 revelers at the Leeds Festival in late August, stood empty — except for the remnants of their tents.
It's a scene that, every summer, is repeated across the UK when hundreds of thousands of people attend music festivals across the country.
While clean-up volunteers help to scan the camping grounds for salvageable tents, most of the estimated 250,000 left behind at UK festivals annually end up in landfills, according to the Association of Independent Festivals.
Tayla Evans decided she wanted to change that.
Her startup, EnviroTent, is creating camping gear that's recyclable and biodegradable – because it's made from cardboard.
"I think a lot of people were a bit unsure about it," says Evans. Made with thick, corrugated cardboard, the two-person tent is sturdier than people think, she adds — and more than up to the task of a three-day festival weekend, come rain or shine.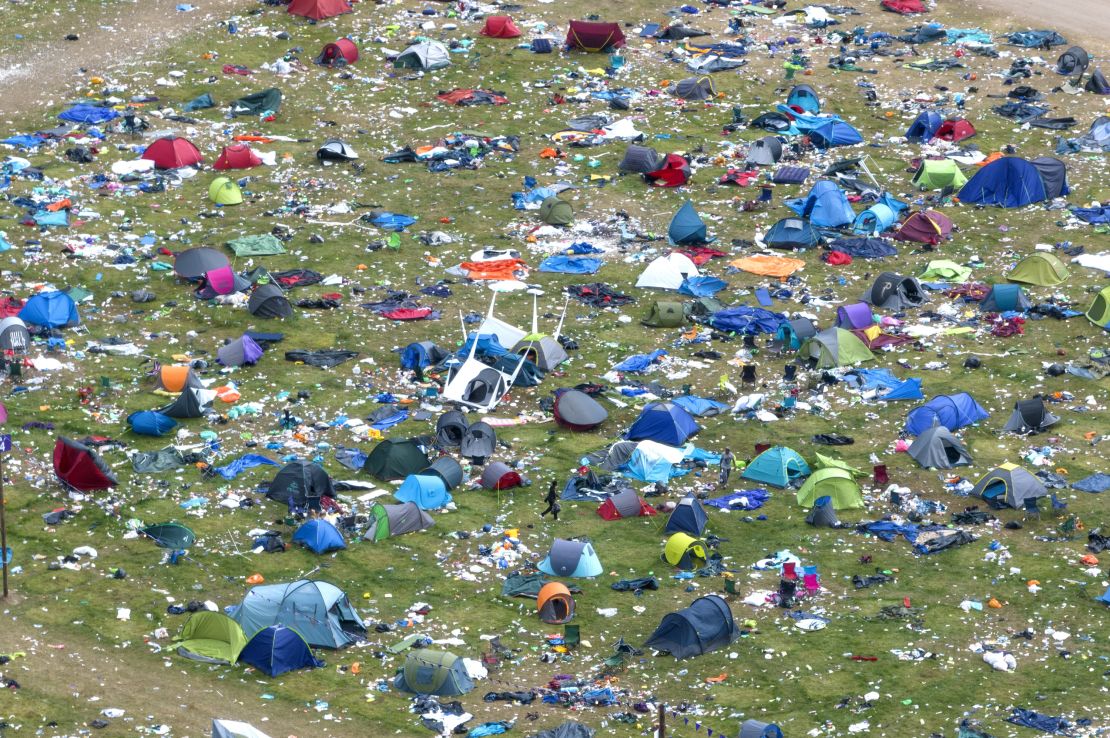 The 21-year-old hopes she can offer a greener solution to campers, and cut plastic pollution at festivals.
"One in three people leave their tents behind, and the majority of these go to landfill — for us, it's about making a positive impact on this figure so that even when people do leave their tents behind, we just recycle or reuse it," says Evans.
Cardboard camping capsules
EnviroTent started as a school project in 2019, as part of the Young Enterprise competition. Evans and her team won the UK finals in 2020 – but Evans was inspired to start the business for real.
Enlisting the help of seasoned mentors, including designer Carsten Astheimer, Evans began taking the cardboard tent from concept to reality.
Opting for a seven-sided log-shaped structure instead of the typical triangle tent shape, Evans says her tent optimizes space and avoids feeling claustrophobic.
"We tried to widen it out as much as we can, while still using the smallest amount of cardboard possible to cut down on materials," Evans adds.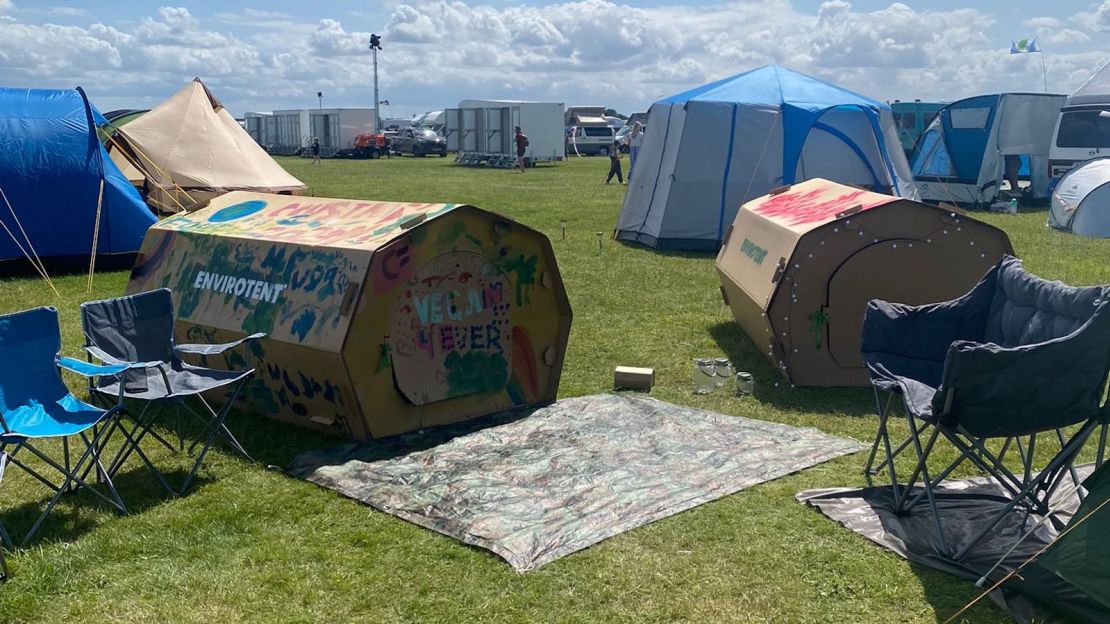 So far, Evans has made several prototypes — including one that sat outside for four weeks in March ("It only collapsed when it snowed, which obviously in the summer, you're not going to have snow — hopefully," she adds). And in July, Evans attended the Vegan Camp Out festival in Oxfordshire to test out the tents with the public.
"We let people go inside them: adults, kids, even a dog," says Evans. "I think a lot of people were amazed at how sturdy they were."
The cardboard tents trap heat more easily, which makes them warmer — good on a cold morning, but perhaps less appealing in a summer heatwave. They also keep out the light, which Evans says is popular with festivalgoers looking for a morning lie-in. And the plain cardboard exterior is customizable, which is helpful to amuse kids at family-friendly festivals as well as making your tent more easily identifiable in a sea of similar-looking shelters.
Based on feedback from the festival, Evans is now adjusting her design. She's already found a manufacturer to make the tents when the company is ready to scale. While still at the very early stages, Evans ultimately plans to set up the tents at festival sites for the occupants for £125 ($156) per tent, which she says will make it more convenient for travelers — and potentially provide a bonus benefit.
"The fewer things that people have to bring with them to a festival, the more likely they are to use public transport to get there, and that also helps cut down on the CO2 emissions of the festival," she adds.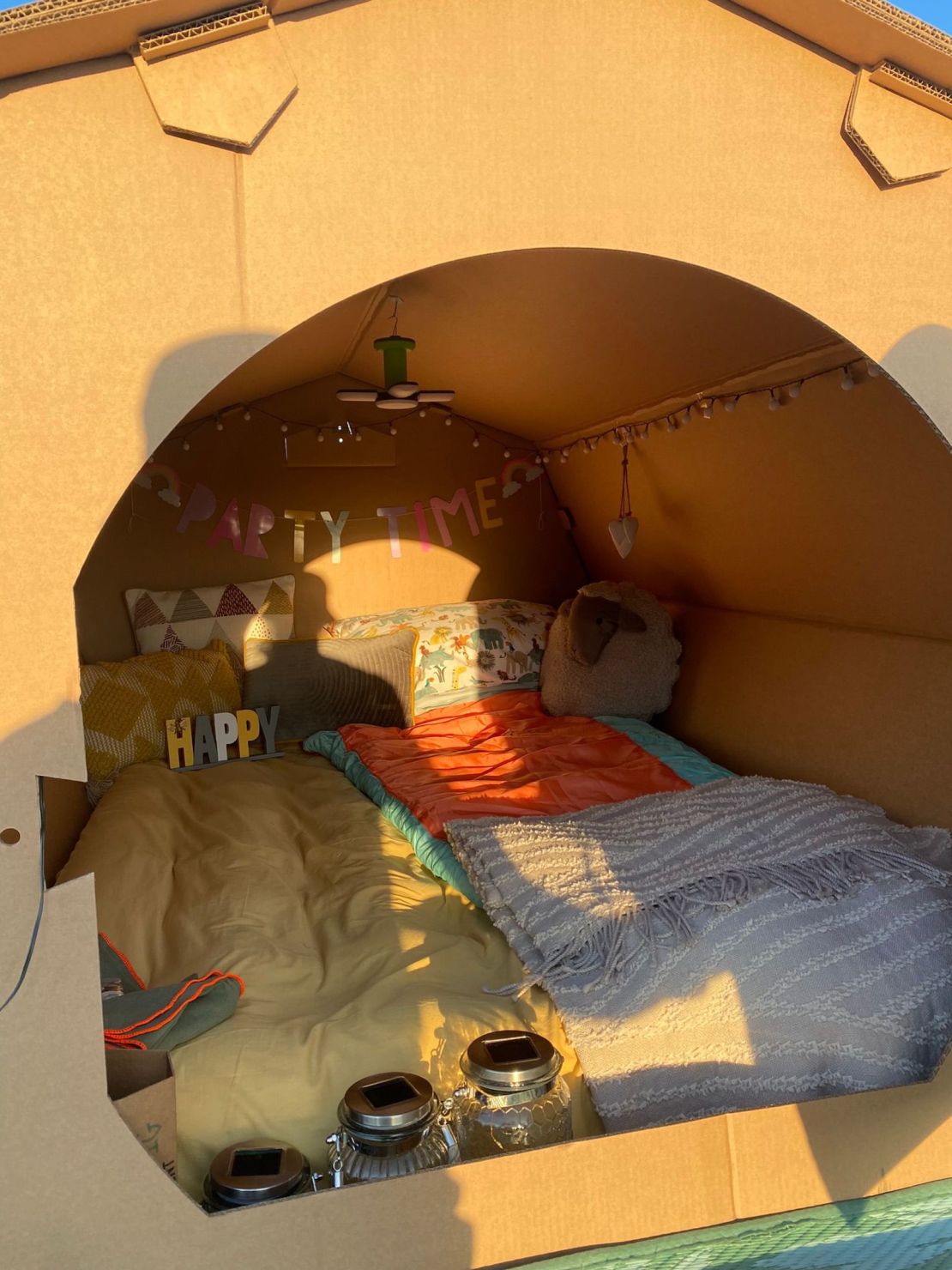 'It's not something you need to last forever'
EnviroTent isn't the first to pitch cardboard tents as a solution to festival waste.
Dutch company KarTent began producing cardboard tents in 2015, in response to the growing problem of single-use tents.
KarTent's two-person pitched-roof tent, which retails for €68 ($73), is made from 73% recycled cardboard and, like EnviroTent, says it is waterproof (they even put it through a carwash to test it). The used tents are recycled after the festival, and turned into other cardboard products, including recycling bins for future events.
Its cardboard tents quickly grew in popularity across mainland Europe, Australia and New Zealand, and in 2019, the company provided nearly 20,000 tents to festivals across Europe, says Timo Krenn, founder of KarTent.
But during the Covid-19 pandemic, festivals were canceled, and the company quickly pivoted to create temporary furniture for homes and exhibitions, including Covid safety screens.
Now that festivals have returned, the company is focused on larger orders for 500-plus tents, rather than the boutique events it catered to before, says Krenn.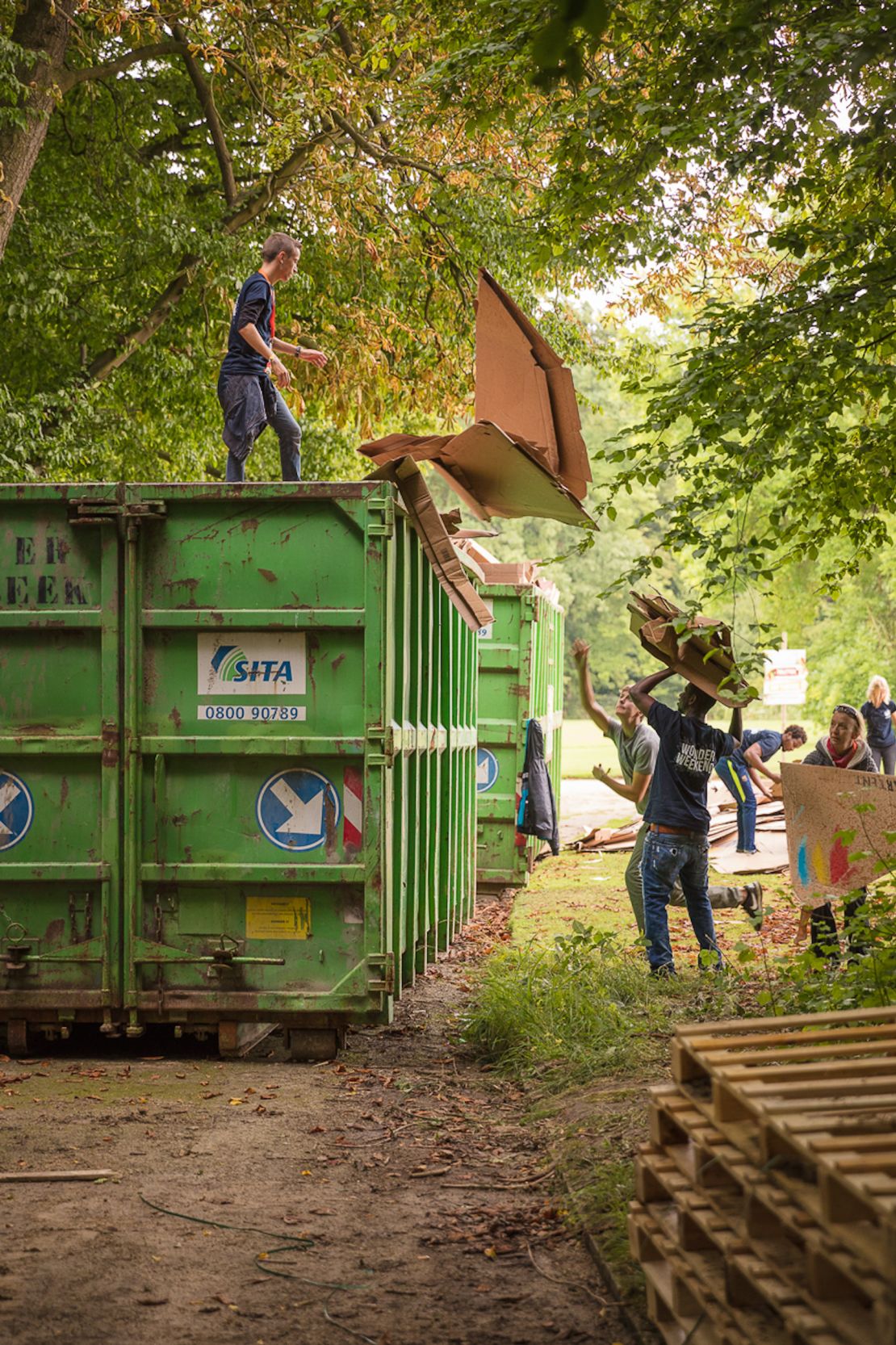 "The concept of all our products is highly similar. With the festivals, the waste is super obvious because everybody comes and goes at pretty much the same time, so the amount of tents left behind is just insane," says Krenn.
But with other temporary lifestyle products, like kids' toys and beds, people dispose of them at different stages, which makes the waste less obvious, he says, adding, "there's a lot of products that people should realize, it's not something you need to last forever."
Reduce, reuse, recycle
But even biodegradable tents use resources and energy to manufacture.
Shambala Festival – a four-day arts and music event in Northamptonshire, England – says that for the third year running, it had no tents left behind.
"Personally, we feel audience education and nudging towards behavior change is preferable than a pivot towards biodegradable tents, as we feel the message should be to re-use and pick up after yourselves - and to pivot away from single-use items," a spokesperson from Shambala told CNN in an email.
However, the festival acknowledges that its audience — with an average age of early 30s, rather than other festivals' predominantly teenage and early 20s attendees — are more likely to own high-quality camping kit that they reuse and maintain, and that the festival's other strict green policies attract people that tend to be more conscious of and engaged in these environmental issues.
The festival is also relatively small, with around 15,000 attendees, compared to Leeds and Reading's respective 100,000-strong crowd, and Glastonbury with over 200,000 festivalgoers. (Reading, Leeds, and Glastonbury Festivals did not respond to requests for comment on this story.)
Outdoor gear retailer Decathlon is also trying to encourage reuse of its camping equipment. This summer, its UK stores launched the "No Tent Left Behind" initiative, which offered customers the chance to return its most popular two-man festival tent during specified periods and receive a full refund in the form of a gift card. Decathlon then resells the tent under its "second life" range to ensure the tent gets additional use.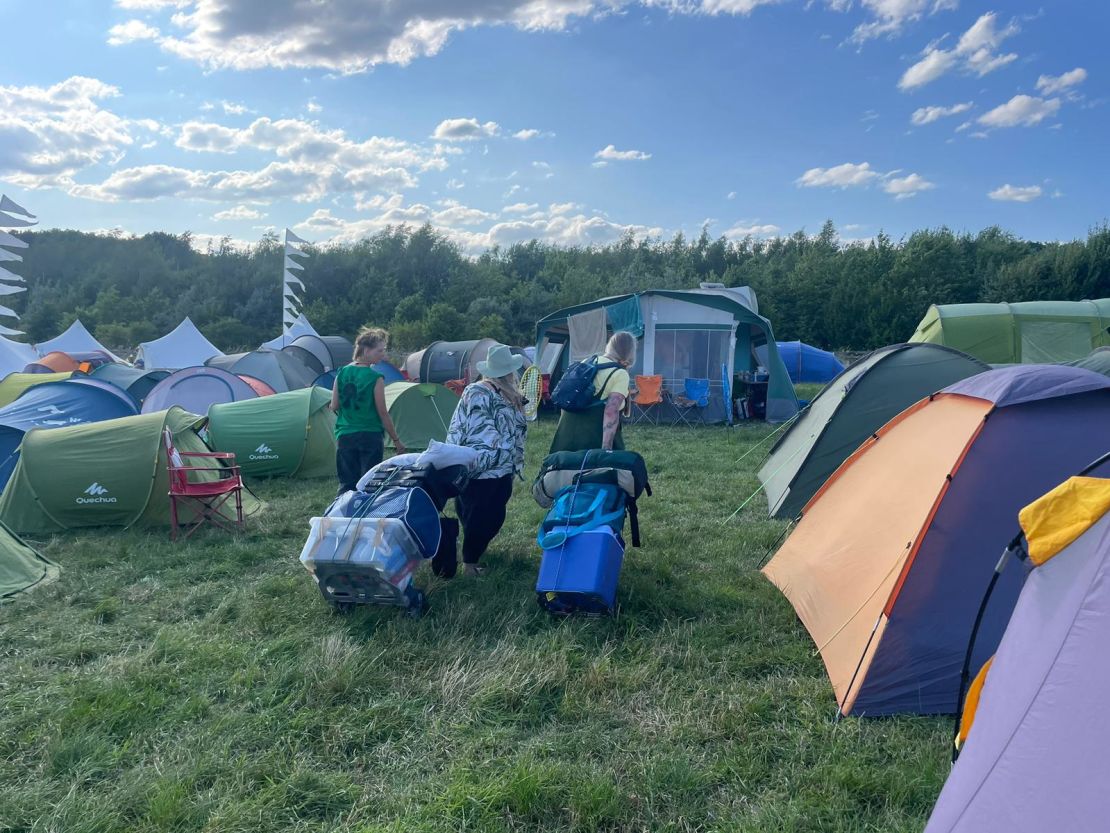 And Tentshare, founded by Rebecca Heaps in 2021, is a peer-to-peer platform in the UK for renting camping gear, including tents, sleeping bags and folding chairs, from other users.
Heaps works alongside Camplight, a cooperative that salvages tents left behind at festivals and repairs and cleans them for rental, while tents that can't be repaired are repurposed as bags, bunting and flags, says Heaps.
"We have noticed this year in particular that discarded tents are cheaper and less fit for purpose," Heaps told CNN in an email. She estimates that the average festival tent has a carbon footprint of about 3.2kg of carbon — the equivalent of charging 1,400 smartphones.
"They are a huge waste of our planet's resources," she adds.
While Heaps prefers people to rent and reuse tents ("The most sustainable items are the items we already own!" she adds), cardboard tents could be a great alternative to plastic tents that only get used once, "especially as the cardboard gets recycled and then reused," she says.
"We are all working towards the same purpose of reducing the terrible waste that is left behind at large festivals," Heaps adds.