Earthquake rattles Alaska
5:00 p.m. ET, November 30, 2018
4:43 p.m. ET, November 30, 2018
USGS forecast model predicts up to 1,000 aftershocks in the next 24 hours
Like forecast models that predict the weather, USGS has a forecast model for the likely hood of aftershocks.
It says that there is a 78% chance of 0-23 aftershocks of a magnitude 5 or greater in the next week.
Over the next 24 hours, there could be anywhere between 10-1,000 aftershocks magnitude 3 or greater.
Here is the complete forecast:
They also have forecast for estimate economic losses. 
Right now they are estimating there is a 35% chance of 100 million to a billion in economic losses. There is a 25% chance that economic losses will be over a billion. 
4:21 p.m. ET, November 30, 2018
Alaska Airlines resumes service to Anchorage Airport
From the Alaska Airlines website:
The temporary suspension of Alaska Airlines operations at the Anchorage airport has been lifted. Flights are starting to arrive and depart to and from Ted Stevens International Airport in Anchorage, Alaska.
Guests may experience delays as our operations fully resume throughout the day. We appreciate your patience during this time.
For guests traveling in and out of Anchorage, we will be issuing a Travel Waiver this afternoon to help you make other travel arrangements if needed.
4:16 p.m. ET, November 30, 2018
She had never felt an earthquake: "It felt like the ground was gonna open up"
Before Friday, Melissa Lohr had never felt an earthquake before.
A southerner living in Anchorage, she was on her way to work when the street lights went dark and the car began rocking.
Since she had never felt an earthquake before, "It felt like it took several minutes to register what was going on," she told CNN.
To make matters worse, the Alaskan roads are snowy and slippery.
"It felt like my car was uncontrollably sliding left and right and I just didn't understand because it was going perfectly fine up until then. It felt like the ground was gonna open up underneath you," Lohr said.
Now, she has no choice but to wait it out at home; she can't get out the gate, and the bridge beyond is shut down due to a sinkhole beneath it. While taking shelter and sitting on her couch, she felt several aftershocks rumble through.
There have now been 30 aftershocks from the original 7.0 earthquake.
4:03 p.m. ET, November 30, 2018
Trump tweets to Alaska: "Federal Government will spare no expense"
President Trump, who is currently attending the G20 summit in Buenos Aires, tweeted that Alaskans were "hit hard by a 'big one.'"
It will be taken care of by the federal government, which will "spare no expense," he added.
3:54 p.m. ET, November 30, 2018
Up to 10,000 customers without power, energy company says
Alaska's Municipal Light and Power said there are approximately 7,000 to 10,000 ML&P customers without power, and that their crews were responding now.
"No damage to generation infrastructure. Crews are assessing substation and other distribution infrastructure issues," ML&P tweeted.
They warned residents to watch out for downed power lines, and to stay away from any they see.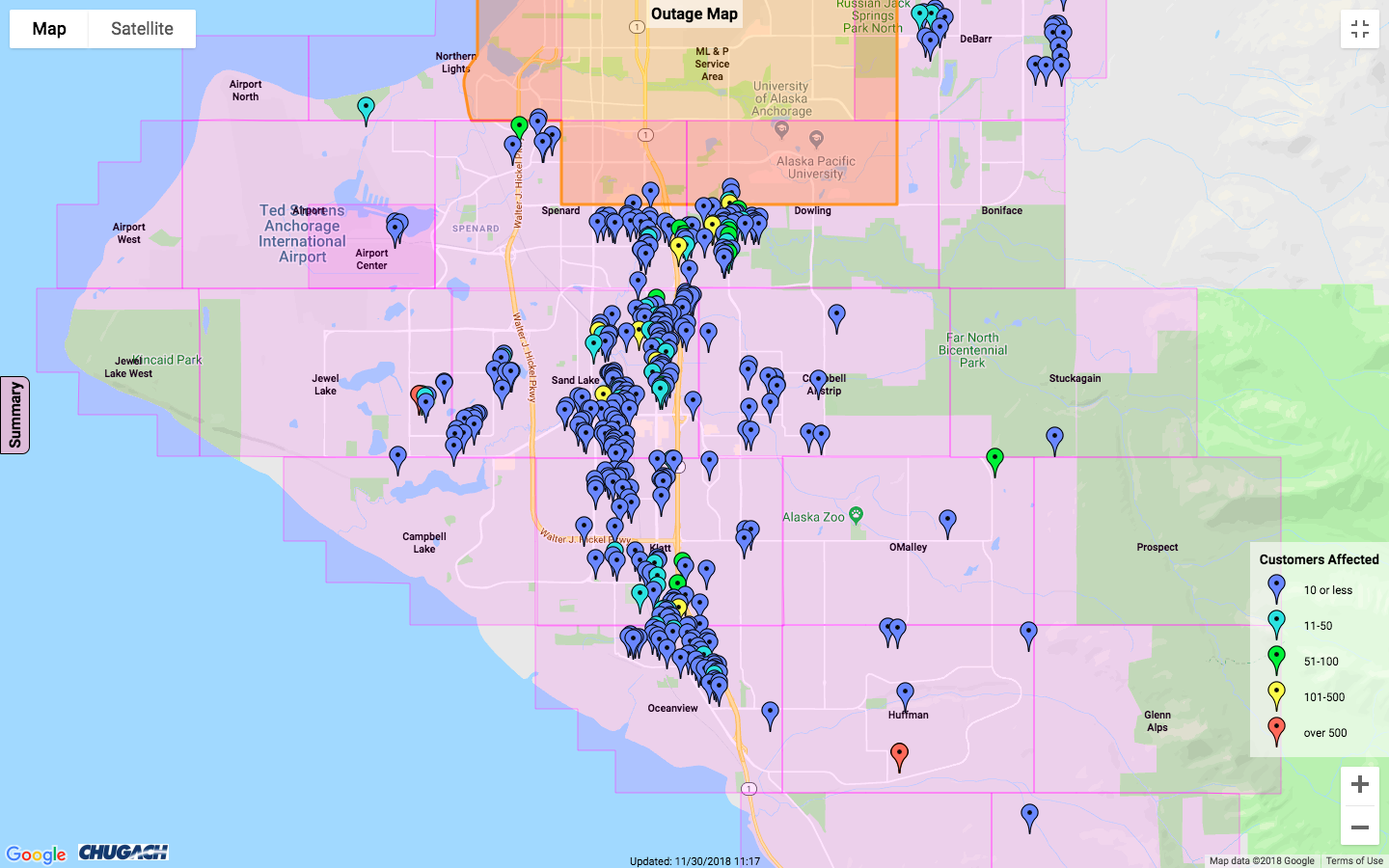 3:46 p.m. ET, November 30, 2018
High school students evacuate after earthquake
Gabe Martinez took this photo after evacuating from Dimond High School in Anchorage, Alaska, on Friday.
He was in his second hour orchestra class when the earthquake hit.
"Since I was in orchestra class we had no desks or tables," he said. "All we had were music stands and small chairs. I had to get under a small chair to protect myself."
Kids were screaming and crying and there was a lot of debris, Martinez told CNN. "That light had shut off and the first quake shook really hard and it stayed for a few seconds. Then a big aftershock came and they had kids evacuate."
Martinez said he was picked up from school and is safe now.