Amtrak train stranded in Oregon
4:08 p.m. ET, February 26, 2019
Our live coverage of the stranded Amtrak train has concluded. Scroll through the posts below to see how it unfolded or read more about it here.
4:07 p.m. ET, February 26, 2019
Amtrak suspends train service between Portland and Eugene until Friday
Amtrak suspended service between Portland and Eugene until Friday.
The Cascades service is a different train service than the Coast Starlight, the train stranded for more than 36 hours, but runs on the same tracks, Amtrak spokeswoman Olivia Irvin said.
Severe weather conditions along the route triggered track closures and forced them to suspend the Cascade service, Amtrak said in a statement.
"Amtrak Cascades trains between Portland and points north are operating," the railroad service said. "Customers with reservations on trains that are being modified will typically be accommodated on trains with similar departure times or another day."
3:03 p.m. ET, February 26, 2019
The Seattle-LA Amtrak route usually takes 35 hours
The Amtrak train that was stranded in Oregon from Sunday to Tuesday is part of the Coastal Starlight route that runs from Seattle all the way to Los Angeles.
The route, which takes passengers through Portland, Sacramento and Oakland, stretches for 1,377 miles and takes about 35 hours from end to end during normal conditions, Amtrak says.
On its website, Amtrak promotes the route not for its practicality but for its beautiful views:
"The scenery along the Coast Starlight route is unsurpassed. The dramatic snow-covered peaks of the Cascade Range and Mount Shasta, lush forests, fertile valleys and long stretches of Pacific Ocean shoreline provide a stunning backdrop for your journey."
In 2017, about 439,000 passengers took a trip along the route, traveling for an average of 465 miles. The Portland-Seattle route was the most traveled, followed by the Los Angeles-Oakland trek.
2:57 p.m. ET, February 26, 2019
The stranded train has finally arrived in Eugene
The Amtrak train that was stranded in Oakridge since late Sunday finally arrived in Eugene, according to CNN affiliate KOIN.
Amtrak spokesperson Olivia Irvin told CNN that the train will stop in Eugene for servicing before continuing to Portland and Seattle.
The train, originally bound for Los Angeles, left Seattle Sunday afternoon at 8:25 p.m. ET, Irvin said.
A Union Pacific locomotive towed the train back to Eugene after crews cleared the tracks overnight, Union Pacific spokesman Tim McMahan told CNN in an email. 
1:08 p.m. ET, February 26, 2019
Video shows miles of downed trees
Emilie Wyrick, a passenger stuck on a stranded Amtrak train, shared a video showing miles of downed trees along a snowy rail line in Oregon.
Crews have been working for hours to clear debris from the tracks, so it's passable.
"Bit by bit they're getting those trees off the road, which then will clear it for the plows," she said. "Look at all of those trees."
Check it out:
11:32 a.m. ET, February 26, 2019
This is what breakfast looks like after 40 hours stuck on a train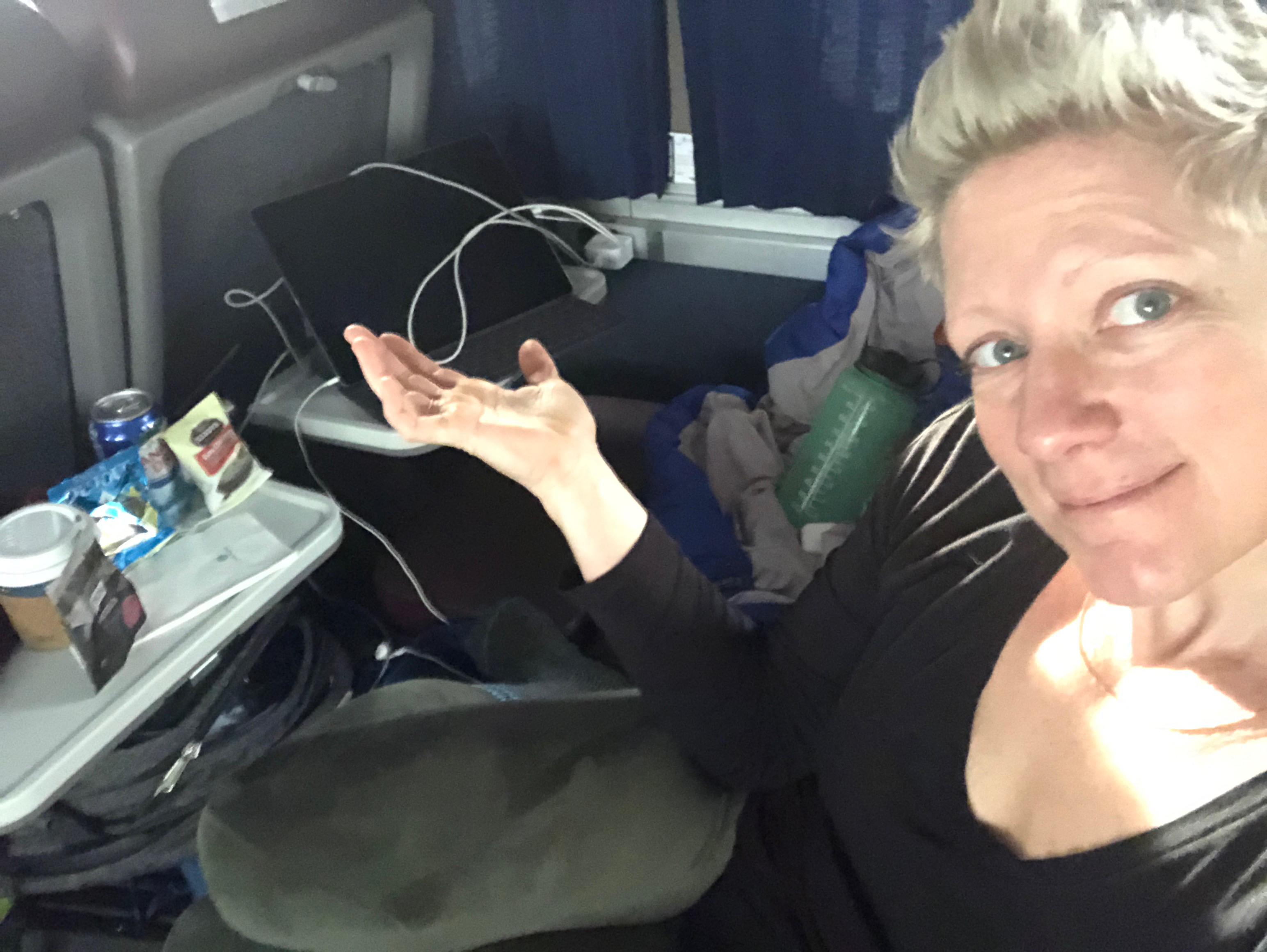 It's breakfast time in Oregon, where passengers on a stranded Amtrak train have been on board for about 40 hours.
Emilie Wyrick is having a feast of train snacks for her first meal of the day: Cookies, pretzels and club soda.
Here's a look at the breakfast of champions:
11:39 a.m. ET, February 26, 2019
Amtrak says keeping passengers on train was safest option during "unfortunate sequence of events"
Amtrak Executive Vice President and Chief Operating Officer Scot Naparstek said the company regrets that nearly 200 passengers were stranded for more than a day aboard an Amtrak train in Oregon, blaming the issue on extreme weather.
"With more than a foot of heavy snow and numerous trees blocking the track, we made every decision in the best interest of the safety of our customers during the unfortunate sequence of events," Naparstek said.
He continued: "With local power outages and blocked roads, it was decided the safest place for our customers was to remain on the train where we were able to provide food, heat, electricity and toilets."
The train, which left Seattle for Los Angeles on Sunday, is now heading back north toward Eugene, Oregon. One passenger, Emilie Wyrick, told CNN that the plan was to get off at Eugene and figure out what to do from there.
"We will be contacting customers to provide refunds and other compensation as appropriate," Naparstek added.
11:22 a.m. ET, February 26, 2019
The train is "hobbling along" and stops every few hundred yards, passenger says
Emilie Wyrick, who is on board the train stranded in Oregon, said it is now making its way back to Eugene — but so far, it's a slow process.
"We're hobbling along VERY slowly," she told CNN. "We'll move for a few hundred yards, then we stop. It's going to be like this for hours."
Wyrick said that because of power outages, "They have to manually switch every signal we come across to ensure the train and any cars that may be crossing are all safe."
Earlier today, Wyrick sent CNN a photo of passengers on board the stalled train:
10:54 a.m. ET, February 26, 2019
A Union Pacific locomotive is pulling the stranded Amtrak train back to Eugene
The Amtrak train that was stranded in Oakridge, Oregon, is now being pulled by a Union Pacific locomotive back toward Eugene, Union Pacific spokesman Tim McMahan told CNN in an email.
Union Pacific owns the Oregon rail lines where the train had been stranded since Sunday night, according to McMahan.
"The train had been inoperable due to weather conditions and downed trees. UP crews worked overnight to clear the tracks," McMahan said in an email to CNN.
Amtrak said in an earlier tweet that the train will return to Seattle, rather than continue its scheduled route to Los Angeles. Eugene is northwest on Oakridge and on the route to Seattle.