Bill Cosby sentenced to 3 to 10 years
5:41 p.m. ET, September 25, 2018
Our live coverage of Bill Cosby's sentencing has concluded. For more, see our report.
5:40 p.m. ET, September 25, 2018
Bill Cosby's mugshot released, moved to state prison
On Tuesday afternoon, Bill Cosby was processed at the Montgomery Correctional Facility in Eagleville, Pennsylvania after being sentenced to 3-10 years in a state prison. He was also fined $25,000 plus the costs of prosecution.
Not long after, Cosby was then moved to State Correctional Institution at Phoenix, a state prison, for diagnostic and intake. There, his needs and health issues will be evaluated as officials decide which prison best suits him overall.
This process, which every inmate in the state prison system goes through, could take anywhere from weeks to months, Amy Worden of the Pennsylvania Department of Corrections told CNN last week. Several factors go into this overall evaluation, including the prisoner's age and Sexually Violent Predator assessment.
"The department of corrections has had high profile inmates before, and I'm sure we'll have them again, so it's not that much out of the ordinary," Worden said. 
"He'll be treated like other inmates."
See video of Cosby's arrival at the Eagleville facility:
This post was updated.
4:03 p.m. ET, September 25, 2018
Cosby accuser on verdict: "It's a hallelujah moment"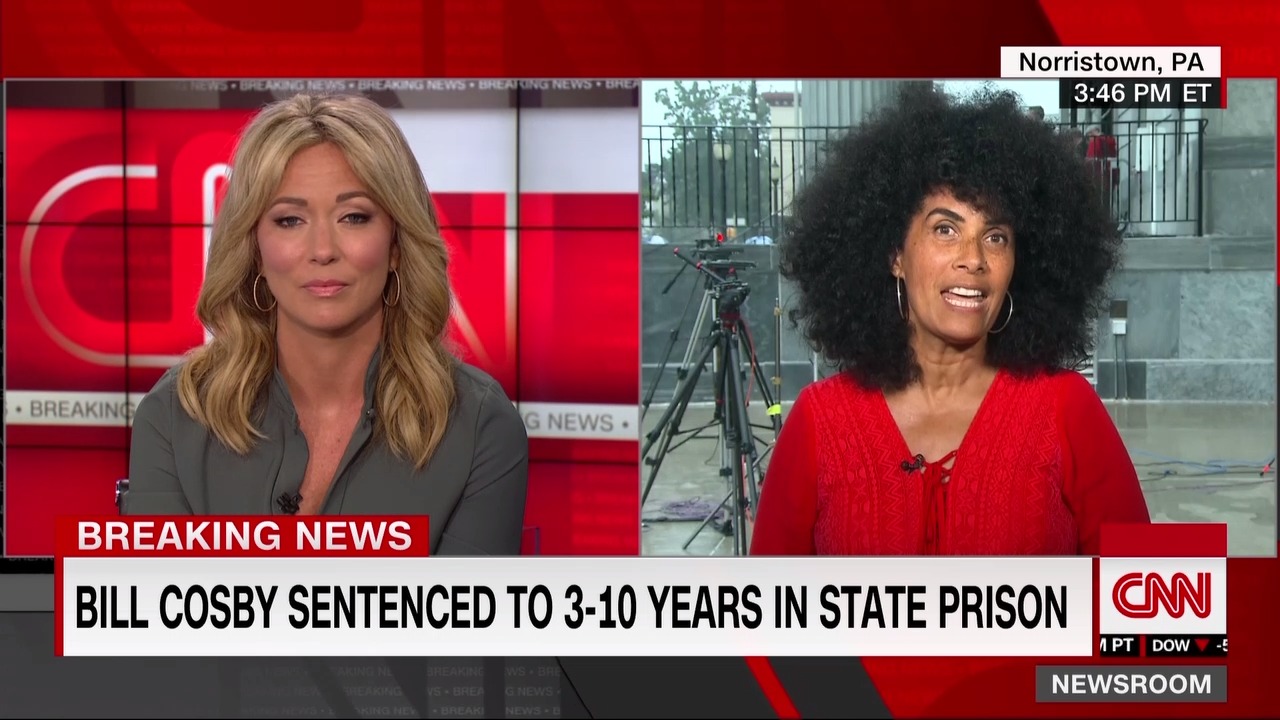 Cosby accuser Lili Bernard, an actress who said Cosby drugged and raped her, told CNN that today's verdict was a "hallelujah moment" for her despite feeling "mixed emotions" over its length.
"This is a momentous decision in the me-too era," Bernard said. She added:
"It's incredibly important. I do have mixed emotions. On the one hand I feel absolutely elated that justice was served. On the other hand I also feel disappointed because clearly the three-year minimum sentence does not adequately reflect the havoc this man, this rapist, has inflicted on so many women including myself."
"It does indicate there is now a shift in the legal system that is now going to reflect modern culture and that now women's voices are being believed and women's lives are being valued."
Watch more:
3:55 p.m. ET, September 25, 2018
Cosby representatives claim trial was "most racist and sexist" in US history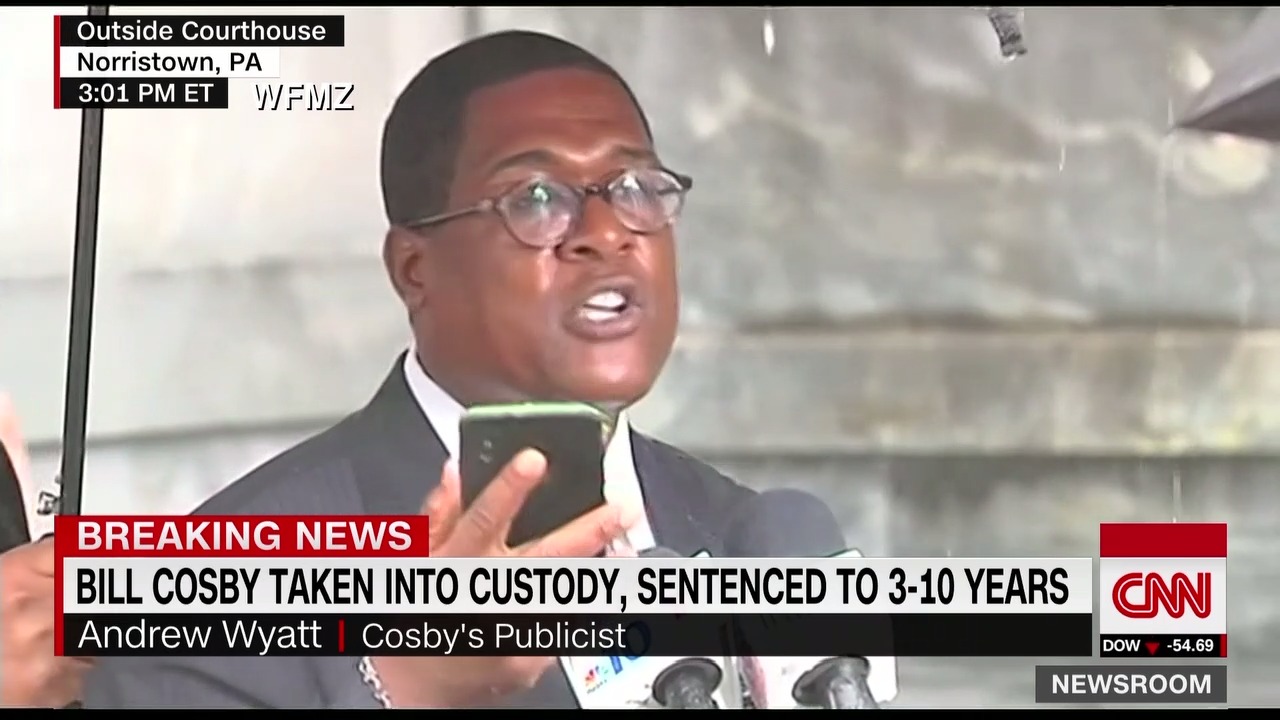 Bill Cosby's PR representatives read out statements following the sentencing, decrying a "sex war" and referencing Jesus.
"I believe and think it is important to point out that this has been the most racist and sexist trial in the history of the United States," said Andrew Wyatt, Cosby's publicist. He claimed that some of those who testified against Cosby were "white women who make money off of accusing black men of being sexual predators."
Wyatt also tied Cosby's verdict to the accusations leveled against Supreme Court nominee Brett Kavanaugh, claiming both were victims in a "sex war." He did not elaborate.
Wyatt later referenced the persecution of Jesus, saying, Cosby "knows that these are lies. They persecuted Jesus and look what happened. Not saying Mr. Cosby's Jesus, but we know what this country has done to black men for centuries."
Ebonee Benson, another PR representative, read a statement on behalf of Cosby's wife, Camille Cosby. Camille was not in court for the sentencing.
Camille's statement decried "falsified evidence," claiming that Cosby had not been granted his right to a fair trial.
3:43 p.m. ET, September 25, 2018
Prosecutor: Bill Cosby hid behind his character, Cliff Huxtable. But that was fiction.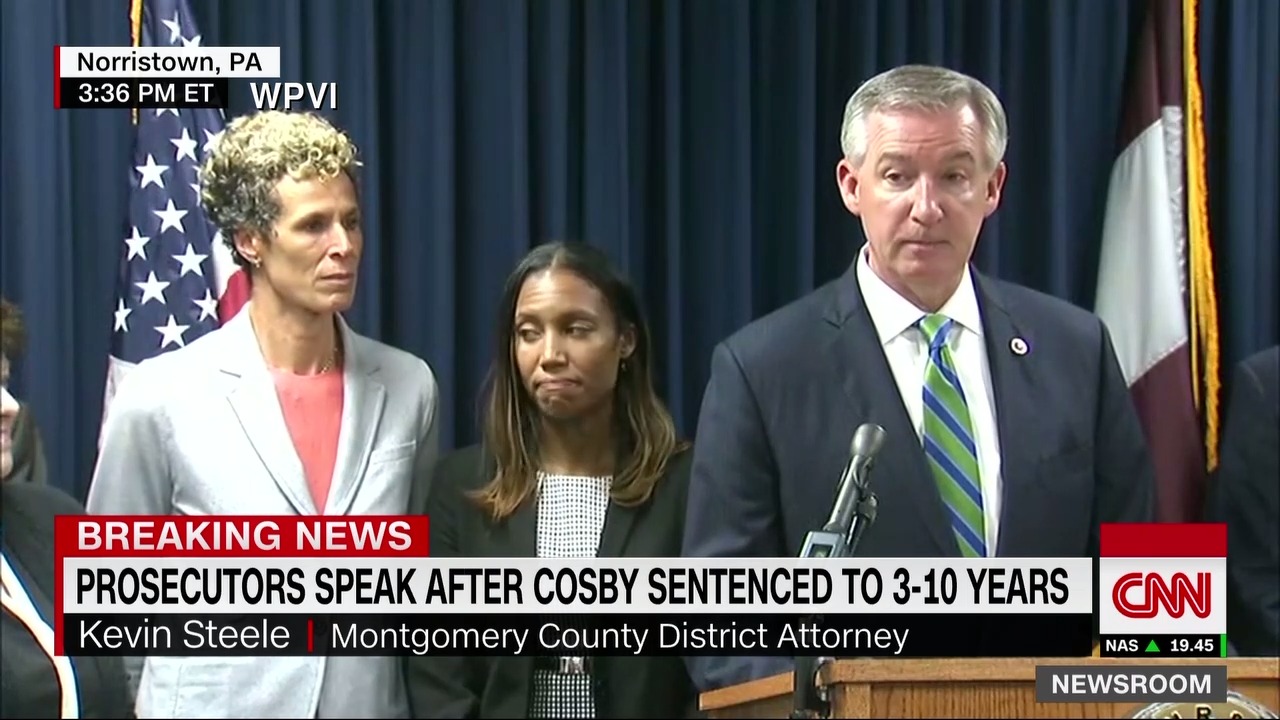 Bill Cosby was able to hide his crimes for decades behind his fame and fortune, Montgomery County District Attorney Kevin Steele said at a press conference following the sentencing.
The comedian once known as America's Dad was especially able to hide behind wholesome character on "The Cosby Show," Dr. Cliff Huxtable, Steele said.
"It was a seminal character on TV, and so was the family, but it was fiction," Steele said.
He continued:
"Before Bill Cosby became a convicted felon taken away in handcuffs and began paying for his crimes, a lot of people believed that's who he was ... He used his acting skills that endearing TV personal to win over his victims and then keep them silent about what he did to them."
Steele said the "real" Bill Cosby has finally been revealed.
"Finally, Bill Cosby has been unmasked, and we saw the real man as he is headed off to prison," he said.
Watch more:
3:17 p.m. ET, September 25, 2018
Gloria Allred on Cosby verdict: "Judgment day has come"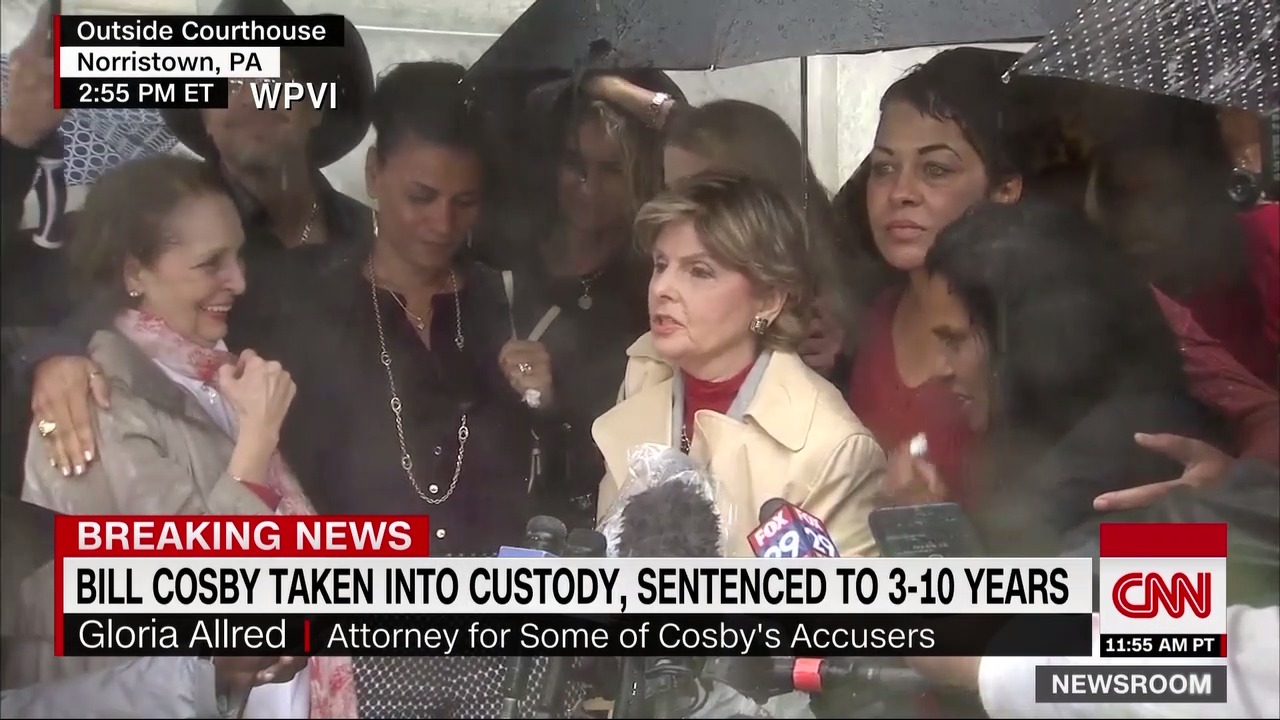 Gloria Allred, an attorney who represented some of Cosby's accusers, applauded the "just outcome" in a statement after the sentencing.
"This has been a long journey to justice for all of the accusers, particularly for Andrea Constand and for her family. And we respect the fact that they have undergone and endured this journey to justice," Allred said, speaking to reporters.
"This is a very important day. Judgment day has come."
"Mr. Cosby has shown no remorse, and there has been no justice for many of the accusers who were barred from a court by the arbitrary time limits imposed by the statute of limitations," she added, praising the accusers who were "brave enough to speak to law enforcement."
Watch more:
3:04 p.m. ET, September 25, 2018
Bill Cosby leaves court in handcuffs
From CNN's Aaron Cooper
Bill Cosby was just escorted out of the courtroom after being sentenced. He was seen leaving in handcuffs after Judge Steven O'Neill denied him bail.
"This is a serious crime he was convicted for. This is a sexual assault crime," the judge said. The courtroom has been cleared. 
Watch the moment:
2:57 p.m. ET, September 25, 2018
Andrea Constand leaves the courthouse
Andrea Constand, the woman Bill Cosby was convicted of sexually assaulting, smiled as she left the courtroom today.
She stopped to hug another woman on her way out.
Watch more:
2:53 p.m. ET, September 25, 2018
Judge denies bail to Bill Cosby
Judge O'Neill has denied bail to Bill Cosby, according to a tweet from the Montgomery County District Attorney's office.