At least 8 dead in boat fire off California coast
By Mike Hayes, Fernando Alfonso III and Amanda Wills, CNN
Updated
8:19 a.m. ET, September 3, 2019
8:19 a.m. ET, September 3, 2019
2:36 a.m. ET, September 3, 2019
LA Times: 15 bodies recovered
The Los Angeles Times is reporting 15 bodies have been found so far since the Conception caught fire, citing a US Coast Guard official.
Santa Barbara County officials told CNN additional victims are being recovered, but could not verify the total number.
CNN previously reported eight bodies had been recovered.
12:06 a.m. ET, September 3, 2019
Actor Rob Lowe: "I've been on Conception many times"
Actor Rob Lowe called the fire that broke out on board the Conception an "unspeakable horror" on Twitter on Monday, adding that he has sailed on the boat many times.
"My prayers and thoughts are with the families," he said.
9:59 p.m. ET, September 2, 2019
Authorities say search and rescue mission will only last until dawn
California authorities will spend the night continuing to search for survivors, but plan to "make the unfortunate transition to recovery" in the morning.
"It's going to be maintained a search and rescue effort until dawn tomorrow," said Mike Eliason, a public information officer with the Santa Barbara County Fire Department.
9:08 p.m. ET, September 2, 2019
Mayday call released in dive boat fire
From CNN's Rachael Scott
A portion of the mayday call from the Conception has been released, and a person can be heard on the recording saying "I can't breathe."
The dispatcher also asked the person the following questions:
"Can you get back on board and unlock the boat?"
"There's no escape hatch for any of the people on board?"
"You don't have any firefighter gear at all? No fire extinguishers or anything?"
8:52 p.m. ET, September 2, 2019
26 people are still missing from the Conception
From CNN's Alexandra Meeks
According to US Coast Guard Lt. Commander Stephen Brickey, these are the latest numbers on the boat fire investigation:
39 total people were on board, 33 were passengers and 6 were crew members
5 of the 6 crew members were rescued
4 bodies have been recovered
An additional 4 bodies are visible on the ocean floor near the sunken vessel
26 people are still unaccounted for 
"Our hearts go out to the families of the victims of this terrible tragedy," Santa Barbara County Sheriff Bill Brown said at a press conference Monday.
USCG confirms search and rescue efforts will continue through the night and at least into Tuesday morning.
Sheriff Brown says it is unclear whether there was a black box on the vessel. The boat has sank and is inverted on the ocean floor in approximately 60 feet of water, according to USCG officials. 
8:04 p.m. ET, September 2, 2019
US Coast Guard releases new photo of response to boat fire
From CNN's Chris Boyette
The Coast Guard released a new photo showing a rescue boat dousing the Conception with water.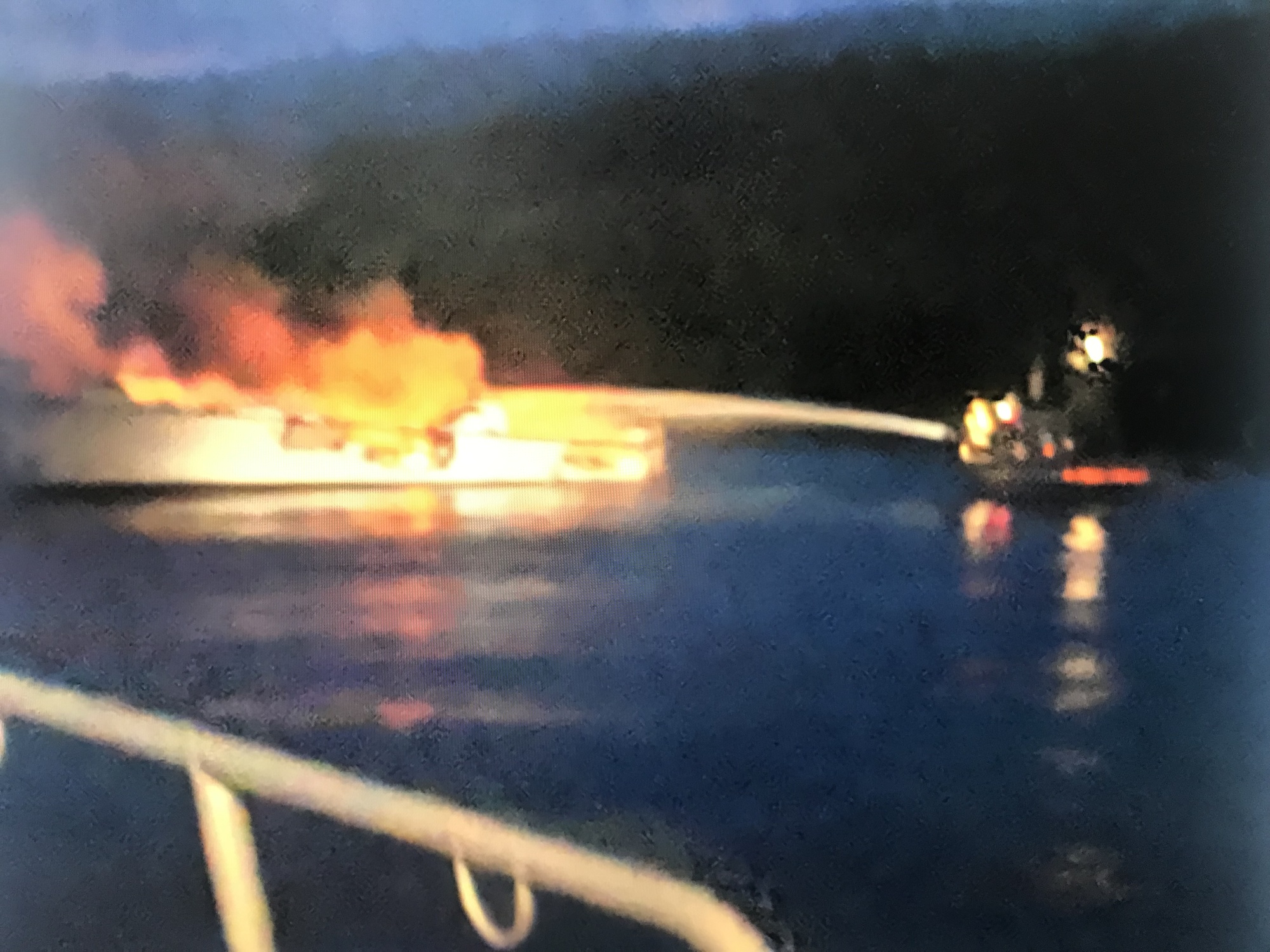 7:37 p.m. ET, September 2, 2019
Rescue crews locate 4 more bodies near dive boat
From CNN's Alexandra Meeks
The bodies of four additional victims have been located on the ocean floor in close proximity to the vessel, said Santa Barbara County Sheriff Bill Brown.
Four other victims who had been previously recovered were identified as two adult males and two adult females, Brown added.
Dive teams were still attempting to locate and recover additional remains on Monday, officials said.
7:05 p.m. ET, September 2, 2019
Tributes are emerging at Santa Barbara Harbor
From CNN's Stephanie Elam
As crews continue searching for the Conception's missing passengers, flowers and other memorials are being set up at the Santa Barbara Harbor.
Earlier, Ventura County spokesman Bill Nash confirmed there were multiple fatalities aboard the boat but he did not have the exact number of casualties.