Deadly shooting at California synagogue
6:59 p.m. ET, April 28, 2019
Our live coverage has ended. Scroll through the posts below to read more or follow CNN.com
6:56 p.m. ET, April 28, 2019
Synagogue shooting suspect booked on one count of murder in the first degree
From Artemis Moshtaghian
The San Diego County Sheriff's Department released the following:
Sheriff Bill Gore would like to update the public with the following information.
Detectives from the San Diego County Sheriff's Department along with members of several local, state and federal agencies have been working throughout the night, interviewing approximately 100 people who were victims and witnesses to the shooting that occurred at the Chabad of Poway.
Detectives also served several search warrants and processed the crime scene at the synagogue, as well as the suspect's residence in San Diego and his vehicle. The investigation is continuing as detectives process evidence and interview additional witnesses.
The suspect, 19-year-old John T. Earnest, was booked into custody on one count of murder in the first degree and three counts of attempted murder in the first degree. There is no indication at this point in the investigation that Earnest was part of an organized group. We believe he acted alone and without outside support in carrying out the attack. We are continuing to explore every investigative avenue to bring out all the facts in the case.
The Sheriff's Department would like to acknowledge another act of courage that occurred at the synagogue yesterday. Oscar Stewart, who is fifty-one-years-old and resides in Rancho Bernardo, rushed at the shooting suspect, chasing after the suspect as he fled the synagogue to a vehicle parked nearby. Mr. Stewart caught up to the vehicle as the suspect was about to drive away. While Mr. Stewart was near the vehicle, an off-duty Border Patrol Agent caught up to the vehicle and yelled for Mr. Stewart to get out of the way. The Border Patrol Agent then fired a weapon in the suspect's direction striking the vehicle as it drove away. Mr. Stewart risked his life to stop the shooter and saved lives in the process.
The Sheriff's Department continues to express its sincerest condolences to those affected by yesterday's crime. Our hearts go out to those going through this difficult time.
6:52 p.m. ET, April 28, 2019
Injured rabbi chokes up as he recounts the moment of the shooting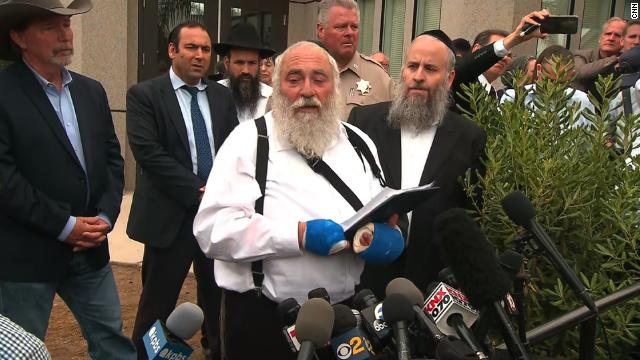 Rabbi Yisroel Goldstein, leader of Congregation Chabad, gave an emotional account of his encounter with the shooter.
Speaking at a press conference on Sunday, Goldstein said he came face-to-face with the shooter in the lobby of his synagogue, saying he saw "a young man standing with a rifle, pointing right at me."
"I couldn't see his eyes, I couldn't see his soul. I froze," Goldstein said.
Goldstein was shot in the hands, losing an index finger in the attack.
Goldstein said off-duty Border Patrol agent Jonathan Morales, as well as former soldier Oscar Stewart, tried to tackle the gunman when his gun jammed.
The gunman was able to run away, got into his car and fled the scene.
Goldstein said Morales had recently discovered his Jewish roots and traveled 3 ½ hours from El Centro, California, to pray with the congregation on Passover. The rabbi had previously told Morales to arm himself when he comes to their congregation, saying he told Morales, "we never know when we will need it."
Goldstein choked up as he talked about his friend Lori Kaye, who died in Saturday's shooting. "She died to protect all of us," he said. "She didn't deserve to die right in front of my eyes."
Goldstein recalled grabbing a prayer shawl to wrap his arm and bleeding fingers. He said he saw his congregation outside and felt compelled to do something, so he stood on a chair and declared:
"We are a Jewish nation that will stand tall, we will not let anyone or anything take us down. Terrorism like this will not take us down."
Watch the emotional press conference here.
Artemis Moshtaghian contributed to this report
5:06 p.m. ET, April 28, 2019
A GoFundMe campaign is raising money for the shooting victims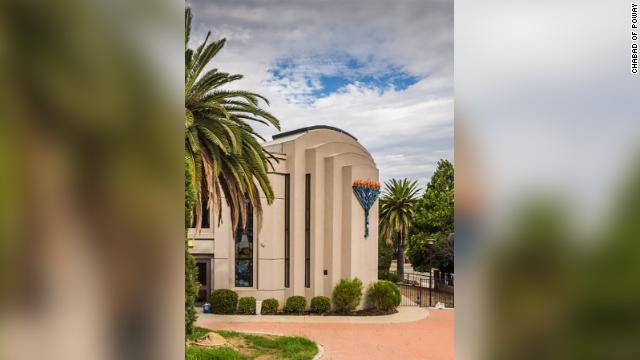 A person by the username Cam N has started a GoFundMe campaign to collect donations for victims of the synagogue shooting.
According to the description on the page, the funds will go directly to the Chabad of Poway.
"These donations would be used to pay for for any necessary medical operations for the victims, funeral services, synagogue reparations or anything else the synagogue would need assistance with," the description reads. "With your help, we can get the victims the help they need. Thank you."
The person who started the campaign wrote on the page that while they don't worship at the synagogue in Poway, seeing an attack on a place of worship horrified them and motivated them to start the campaign.
The page for the campaign can be found here.
4:16 p.m. ET, April 28, 2019
His kids left Israel to escape violence. Then gunfire erupted at their synagogue in the US.
From CNN's Oren Liebermann and Michael Schwartz
The father of Almog Peretz, who was wounded in the synagogue shooting, said he never believed something like this could happen to his family in the United States.
Aharon Peretz, who lives in Israel, heard about the shooting on Saturday evening after the end of Sabbath. He tried to call his son, Almog, and his daughter, Eden Dahan, who attend the Chabad synagogue, but he says their phones were off because it was still the Sabbath in the US.
"My wife and I were very afraid," Peretz told CNN's Oren Liebermann. "We started to run to figure out how to get ahold of them."
Peretz was eventually able to get in touch with a neighbor in California, who told him his son and granddaughter had been lightly injured in the shooting.
He said his children left Israel to escape regional violence.
"The children always said, 'Let's leave, Let's leave.' But my wife and I stayed here, and they left for the United States," Peretz explained. 
"The fact that violence still found them in the US is "unbelievable," he added.
Still, Peretz was happy to hear about how his son rushed children out of an emergency exit to safety during the shooting.
"My son is a hero — truly a hero. I know him — he's a serious man. He saved the kids. All the best to him," said Peretz. "It's good that he saved young children when someone came to kill them. He cared for them and saved them and put them in a place where they can be safe."
3:10 p.m. ET, April 28, 2019
One woman says the shooting has made her afraid to attend synagogue
Irena Slovskayah, who was at an anti-hate rally in Long Beach on Sunday, told CNN's Paul Vercammen she was horrified by the synagogue shooting in Poway and by anti-Semitic rhetoric in the US.
"I just feel unsafe," she said. "I feel unsafe with the rhetoric and people keep asking me if I'm Jewish, and I don't understand why that's even relevant."
Slovskayah added that the shooting has made her afraid to attend synagogue.
"I go to synagogues. What if there's another attack? So I just fear, maybe I should stop going to synagogues. Maybe I should keep my Jewish heritage quiet. I just think I have to protect myself. Maybe I should carry a weapon because I am fearful for my life," she said.
2:43 p.m. ET, April 28, 2019
All shooting victims have been discharged from the hospital
All the victims from the shooting at Congregation Chabad synagogue on Saturday have been discharged from Palomar Health in San Diego County, a hospital spokesperson says.
Rabbi Yisroel Goldstein will be holding a press conference at the synagogue today at 5 p.m. EST.
2:41 p.m. ET, April 28, 2019
A grandfather shielded his grandson from bullets during the attack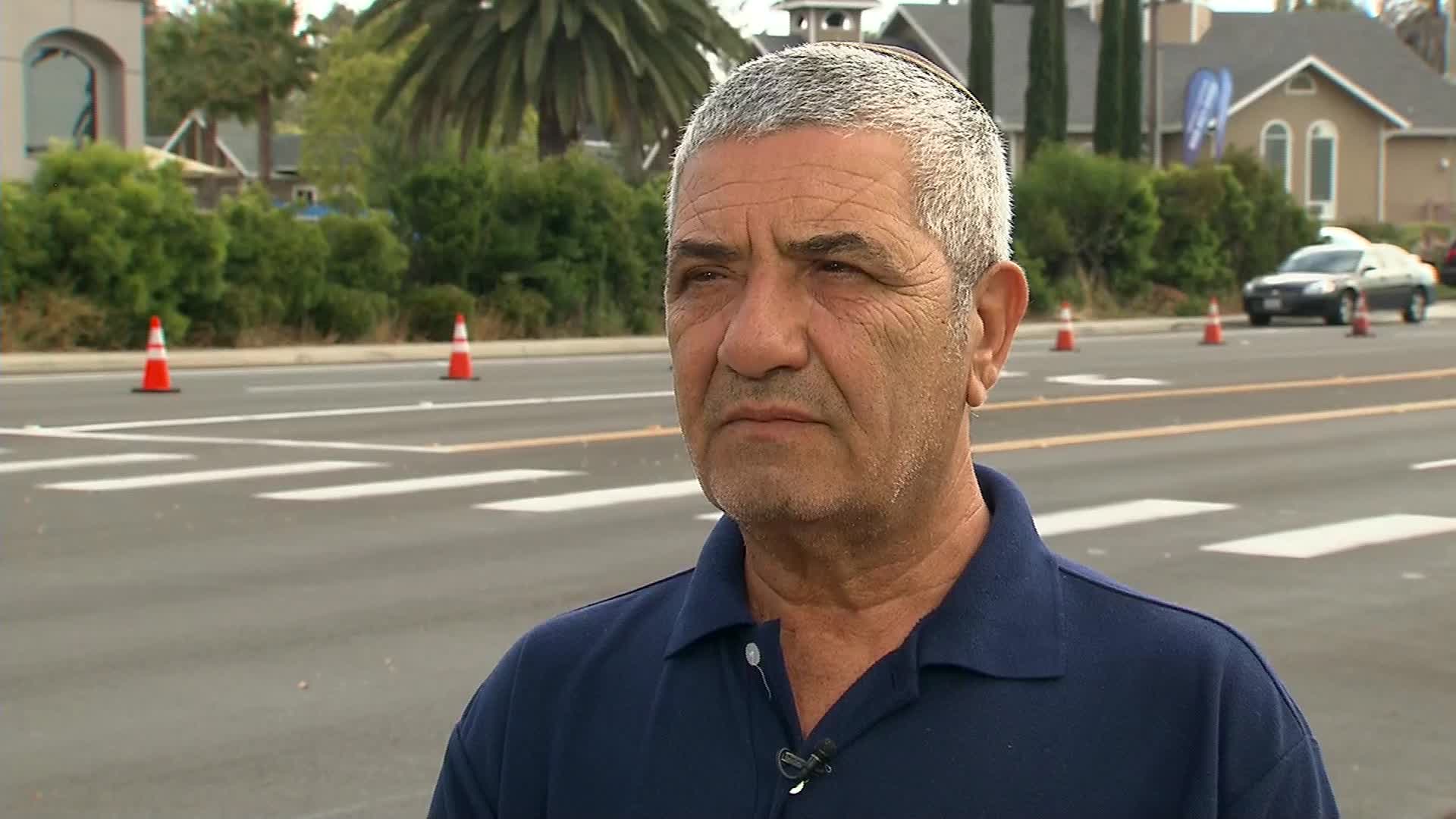 Shimon Abitbul is visiting the US from Israel and was at Congregation Chabad in Poway during Saturday's shooting. He talked to CNN's Nick Watt about the experience.
Abitbul said he first tried to protect his grandson from the shooter by lying on top of the child. Once he heard a pause in the gunfire, he took his grandson and ran away from the synagogue and into the neighborhood. Abitbul's granddaughter was being led to safety by Almog Peretz, who then got shot in the leg.
According to Abitbul, his grandchildren didn't understand what was going on. They thought they were playing, and there wasn't a real shooting.
Abitbul also described the heart-wrenching moments when Lori Kaye's husband, who is a doctor, tried to save her life. Abitdul, who is a paramedic in Israel, said they saw a hole in her chest and tried to perform CPR on her. Kaye ultimately died.
2:02 p.m. ET, April 28, 2019
Pastor of the church the suspect attended speaks out
CNN spoke with Zach Keele, the pastor at Escondido Orthodox Presbyterian Church, where the 19-year-old synagogue shooting suspect John Earnest attended.
Keele said that Earnest was a member of the church for most of his life, but he didn't participate in any youth or Sunday school activities. The pastor condemned the shooting.
"We completely deplore what he did," Keele said. "It is not part of our beliefs, our practices, our teachings in any way. Our hearts, our prayers, our tears go out to the victims. To all those wonderful neighbors at the synagogue, we pray for them.
"And it just saddens us that this horrible act of evil could come from someone we know," he added.
Keele said the shooting came as surprise to the community.
"We believe in lifting high the love of Christ to all people -- men, women, old and young from every tribe and denomination," he said. "This is a complete surprise. He was quiet, kept to himself, sweet guy. We had no idea. This a surprise to all of us."