NYPD officer in Eric Garner case fired
1:02 p.m. ET, August 19, 2019
Daniel Pantaleo wasn't told of his firing ahead of time, NYPD commissioner says
Daniel Pantaleo was not informed of his dismissal ahead of time, NYPD Commissioner James O'Neill said. 
O'Neill said that he has no plans to speak with Pantaleo.
12:56 p.m. ET, August 19, 2019
NYPD commissioner: There are "absolutely no victors here today"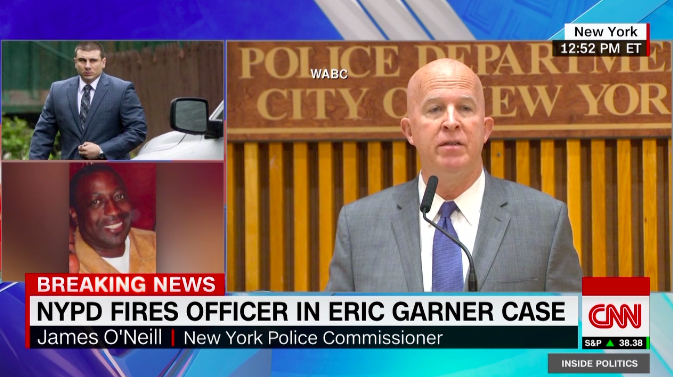 NYPD Commissioner James O'Neill said he "examined the totality of the circumstances and relied on the facts," noting he believes he reached the right decision.
"In this case the unintended consequence of Mr. Garner's death must have a consequence of its own. Therefore I agree with the Deputy Commissioner of Trial's legal findings and recommendations. It is clear that Daniel Pantaleo can no longer effectively serve as a New York City Police Officer," O'Neill said.
"In carrying out the court's verdict in this case, I take no pleasure. I know that many will disagree with this decision, and that is their right. There are absolutely no victors here today. Not the Garner family, not the community at large, and certainly not the courageous men and women of the Police Department who put their own lives on the line every single day in service to the people of this great city. Today is a day of reckoning, but can also be a day of reconciliation," O'Neill said.
12:53 p.m. ET, August 19, 2019
NYPD commissioner: "Make no mistake about it, this is a tragedy for the Garner family"
NYPD Commissioner James O'Neill was just asked what he'd say to the family of Eric Garner.
Here's how he responded:
"From day one, we said that there was going to be a fair and impartial trial. This is the result. Make no mistake about it, this is a tragedy for the Garner family. I fully understand that. Mr. Garner was somebody's son, somebody's dad. Everybody in the NYPD understands that."
12:46 p.m. ET, August 19, 2019
Pantaleo will not receive his NYPD pension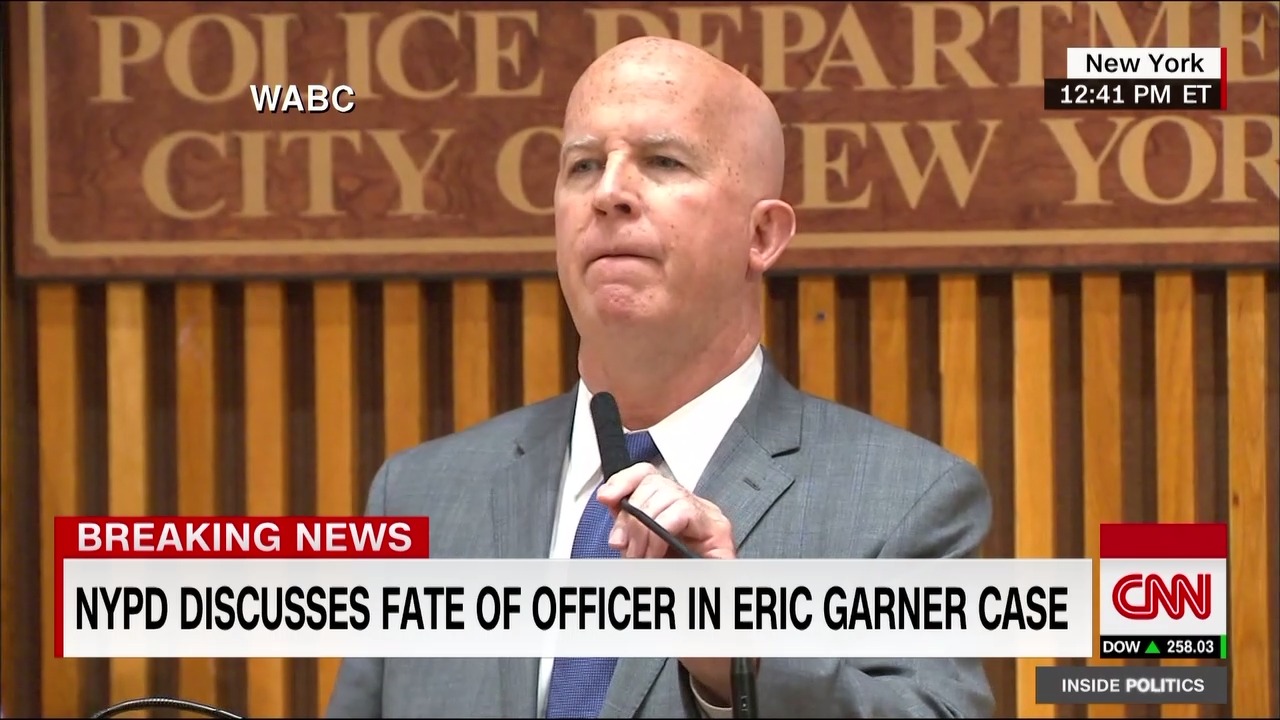 Daniel Pantaleo will not receive his New York Police Department pension, NYPD Commissioner James O'Neill just said.
O'Neill said whatever contributions Pantaleo has already made towards his pension will be returned to him.  
12:56 p.m. ET, August 19, 2019
Here's what the NYPD chief said before announcing Pantaleo's firing
Before announcing Daniel Pantaleo's firing, NYPD Commissioner James O'Neill had a lengthy introduction describing the tough decisions police must often make.
"Every day in New York, people receive summons or arrested by officers without any physical force being used. But some people choose to verbally and/or physically resist the enforcement action lawfully being taken against them," he said
"Those situations are unpredictable and dangerous to everyone involved. The street is never the right place to argue the appropriateness of an arrest. That is what our courts are for. Being a police officer is one of the hardest jobs in the world."
O'Neill went on to explain the series of events that led to his decision today.
"No one believes that officer Pantaleo got out of bed on July 17, 2014, thinking he would make choices and take actions during an otherwise routine arrest that lead to another person's death. But officer's choices and actions even made under extreme pressure matter. It is unlikely that Mr. Garner thought he was in such poor help health that a brief struggle with the police would lead to his death. He should have decided against resisting arrest, but a man with a family lost his life. And that is an irreversible tragedy. And a hard-working police officer with a family and a man that took this job to do good, to make a difference in his home community has now lost his chosen career. And that is different kind of tragedy."
12:55 p.m. ET, August 19, 2019
BREAKING: NYPD fires officer accused of fatally choking Eric Garner
NYPD Commissioner James O'Neill just announced that officer Daniel Pantaleo has been fired.
"Trials Commissioner Maldonado ruled that officer Pantaleo's use of a prohibited chokehold was reckless and constituted a gross deviation from the standard of conduct established for a New York City police officer," O'Neill said.
"I agree with the Deputy Commissioner of Trials legal findings and recommendations and it is clear that Daniel Pantaleo can no longer serve as a New York City police officer," O'Neill said.
12:21 p.m. ET, August 19, 2019
The NYPD commissioner has the final say on all officer discipline
About two weeks ago, an NYPD administrative judge officially recommended that Daniel Pantaleo be fired from the force. However, the final decision in this matter was always going to lie with Commissioner James O'Neill.
NYPD policy says that the final decision on department disciplinary matters lies with the police commissioner.
In his position as commissioner, O'Neill has the option of following the judge's recommendation or making a different determination on what — if any — discipline Pantaleo should face.
After an internal trial, Judge Rosemarie Maldonado found Pantaleo guilty of using a banned chokehold that led to a cascade of events that ended with Eric Garner's death, according to a source.
Despite her ruling on the use of a chokehold, Maldonado found that he was not guilty of restricting Garner's breathing. The second charge had more to do with intent, meaning there needed to be clear intent to prevent someone from breathing in order for the charge to stick. But since Pantaleo made other attempts to subdue Garner with NYPD-approved tactics before the chokehold, such as an arm bar, Maldonado ruled that it wasn't Pantaleo's goal to cut Garner's breathing, according to the source.
Pantaleo was suspended from the department pending O'Neill's decision, per department policy.
12:05 p.m. ET, August 19, 2019
What you need to know about Eric Garner's death
Confronted by police trying to arrest him for allegedly selling illegal cigarettes, Eric Garner raised both hands in the air and, with passive defiance, told the New York police officers not to touch him.
Seconds later, a video shows the officer behind him grab the 350-pound man in a chokehold and pull him to the sidewalk, rolling him onto his stomach.
Here's what you need to know about the incident:
What happened: As police were trying to arrest Garner, officer Daniel Pantaleo is accused of using a chokehold –– a tactic prohibited by NYPD. "I can't breathe! I can't breathe!" Garner said repeatedly. The video shows Garner lying on the ground motionless after the incident. He was later declared dead at a nearby hospital. Police said he suffered a heart attack and died en route to the hospital. The medical examiner ruled his death a homicide.
The officer: Pantaleo, who is seen on video choking Garner, was put on modified assignment and stripped of his shield and gun while the NYPD investigated the incident.
A federal investigation: The Justice Department announced in July that it would not be pursuing federal charges against Pantaleo. The decision was apparently made by Attorney General William Barr himself, after the DOJ's Civil Rights Division favored an indictment while a competing faction in the New York office felt otherwise. This announcement came five years after Garner's death. The decision stemmed from concerns that prosecutors could not successfully prove the officer acted willfully, a senior Justice Department official said.
An internal investigation: Pantaleo faced two charges: one for using a chokehold and the other for restricting the man's breathing. Earlier this month, an internal NYPD judge recommended he be fired.
Five years of unrest: Garner's last words "I can't breathe," became a rallying cry in Black Lives Matter protests demanding police accountability for the deaths of unarmed black men. Most recently, protesters interrupted the democratic presidential debates –– yelling at New York Mayor Bill de Blasio who is a candidate.
Mayor Bill de Blasio: The day after Garner died, de Blasio said, "This is a terrible tragedy that occurred yesterday. A terrible tragedy that no family should have to experience," said de Blasio, calling the video of the incident "very troubling." Since then, Garner's widow told CNN she met with him several times, but is disappointed he didn't do more.
11:57 a.m. ET, August 19, 2019
NYPD Commissioner expected to announce decision in Pantaleo case
New York Police Commissioner James O'Neill is holding a 12:30 p.m. press conference where it is expected he will announce his final decision regarding officer Daniel Pantaleo's future with the NYPD, according to multiple law enforcement officials.
Earlier this month, NYPD Deputy Commissioner of Trials Rosemarie Maldonado recommended Pantaleo should be terminated following his controversial involvement in the death of Eric Garner. The final decision is made by the police commissioner.