Earthquake rattles Southern California
5:50 p.m. ET, July 4, 2019
What you need to know about Southern California's strongest earthquake in 20 years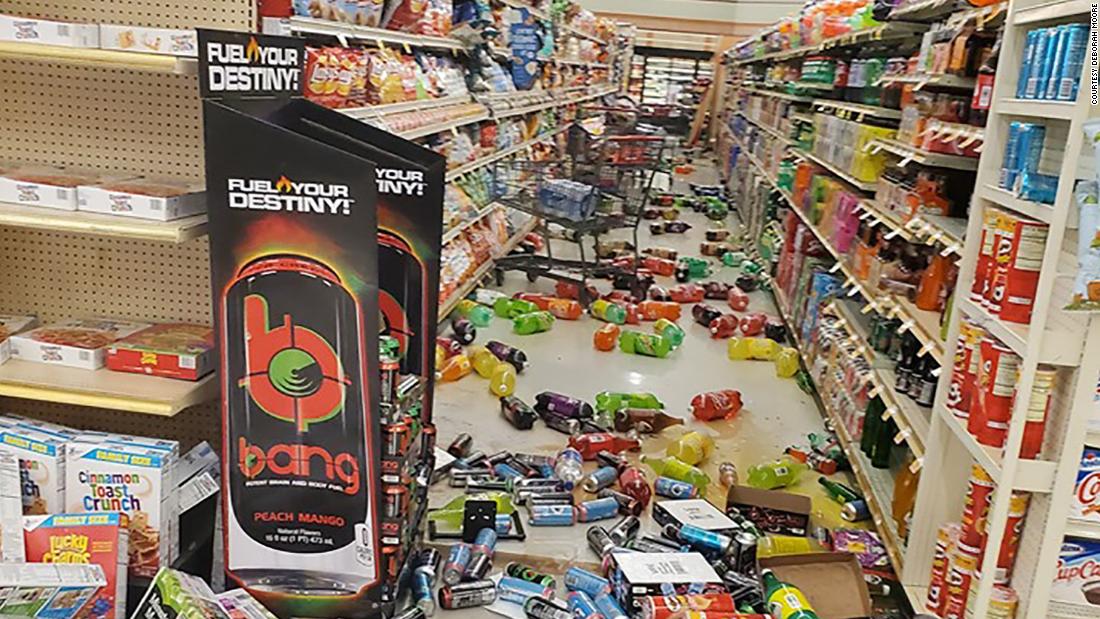 A 6.4 magnitude earthquake hit Southern California this morning.
We're wrapping up our live coverage, but here's what we know so far about the quake:
Where it hit: The earthquake was centered near Ridgecrest, California, a community west of the Mojave Desert and about 150 miles north of Los Angeles. It was felt in both Los Angeles and Las Vegas.
It was the worst in decades: The quake was the largest quake to hit the area since 1999, when a 7.1 earthquake struck in a remote part of the Mojave desert.
There were a lot of aftershocks: At least 159 aftershocks have been recorded today.
About the damage: The earthquake left scattered damage throughout the region. Footage from Ridgecrest showed firefighters hosing down flames rising from homes, and there were also power outages in the city of 28,000 residents.
There's still a risk: Dr. Lucy Jones, a seismologist, said there is a 50% chance of another large quake in the next week. She added that there is a 1 in 20 chance that a bigger earthquake will hit within the next few days. 
5:42 p.m. ET, July 4, 2019
At least 159 aftershocks reported after today's earthquake
So far, there has been at least 159 recorded aftershocks above magnitude 2.5 following today's 6.4 magnitude earthquake.
Experts say that while this is higher than usual, it is not unprecedented.
In the coming weeks, seismologist Robert Graves said there is a 9% chance of another earthquake greater than 6.4, and a 20% chance of one greater than five. As time passes, these probabilities will drop significantly.
Geologists went to where there were reports of ground cracks and faulting this afternoon. Experts have said they think there are two active faults, but have not identified them yet.
The quake has a name: Seismologists are calling this morning's 6.4 quake the "Searles Valley Quake."
5:19 p.m. ET, July 4, 2019
The number of aftershocks continues to rise after California quake
More than 85 aftershocks of magnitude 2.5 or greater have been recorded after an earthquake rocked Southern California today.
The number of aftershocks has been rising all day and is expected to cross 100 in the next one to two hours.
"When there are more earthquakes, the chance of a large earthquake is greater, which means the chance of damage is greater. Over the next week, there is a 9% chance of one or more aftershocks larger than 6.4. Fifty to 700 magnitude 3 or higher are also possible. The number of aftershocks will drop off over time," the US Geological Survey said.
The largest aftershock so far has been 4.6. 
We we know about the quake: The earthquake, with an early magnitude of 6.4, was centered near Ridgecrest, a community west of the Mojave Desert and about 150 miles north of Los Angeles.
This is the largest earthquake in Southern California since 1999 when a 7.1 occurred near Ludlow.
5:04 p.m. ET, July 4, 2019
Ridgecrest, California, is under a state of emergency
A state of emergency has been declared in Ridgecrest, California, following today's earthquake, the city's mayor, Peggy Breeden, told CNN's Dana Bash.  
Earlier today, the Ridgecrest Police Department announced that a temporary cooling center opened up. Meanwhile, parts of Ridgecrest Regional Hospital have been evacuated.
5:04 p.m. ET, July 4, 2019
Multiple minor injuries have been reported in Kern County
There were multiple injuries following today's quake, but so far all have been minor, Kern County Fire Chief David Witt told reporters this afternoon.  
Most injuries were the result of broken glass and falling shelves.
"We have more calls than we have people," Witt said at a news conference today.
The fire department responded to two house fires and small vegetation fires along with gas leaks. 
Witt said additional assistance was on its way to Ridgecrest.
4:49 p.m. ET, July 4, 2019
A hospital is being evacuated because it's "so close to the epicenter," congressman says
One area of concern following today's earthquake is Ridgecrest Regional Hospital, which fire officials said is being evacuated.
House Minority Leader Kevin McCarthy, a Republican from California, told CNN patients are being evacuated because firefighters need to assess the hospital.
"In this community, this is the hospital," he said, describing the importance of the medical building to the area.
McCarthy said it was necessary to move patients out despite the desert heat.
"This is so close to the epicenter and such a large quake, we do have to evaluate that before patients are allowed back in. If not, we're going to have to move people more than an hour away," he said.
Watch for more:
4:14 p.m. ET, July 4, 2019
Kern County supervisor: Situation is "not real good, not real bad"
The situation in Kern County, California is "not real good, not real bad," the county's supervisor Michael Gleason said after an earthquake shook the southern part of the state today.
Gleason told CNN there are several reports of small fires and a "sizable amount of damage."
He said at least one hotel in the town has major damage, but the local dam and reservoir at Lake Isabella and the Naval Air Weapons Station China Lake don't have any issues.
4:07 p.m. ET, July 4, 2019
This is what a cracked road near Ridgecrest looks like
Karaleigh Roe took photos of cracks in a road near Ridgecrest, California, following today's earthquake.
Meanwhile, there are reports of cracks up to four inches on a major highway and rockslides on the roads going into Trona, Jeremy Kern, spokesperson for the San Bernardino Fire Department, told CNN.       
4:12 p.m. ET, July 4, 2019
The earthquake shook food off of shelves at this California grocery store
A California grocery store is cleaning up after today's earthquake shook wine, sports drinks, pudding and other items off the shelves.
Deborah Moore took these photos of the damage inside the grocery store in Ridgecrest: