At least 31 killed in US weekend mass shootings
8:04 p.m. ET, August 6, 2019
Here's what we know about the Dayton and El Paso shootings
Dayton, Ohio, and El Paso, Texas, are reeling after a pair of mass shootings left at least 31 people dead across the two cities.
President Trump and first lady Melania Trump plan to visit both cities on Wednesday.
We're wrapping up our live coverage, but here's what we know so far about the two attacks:
El Paso:
What happened: A gunman shot and killed at least 22 people in an El Paso Walmart on Saturday. The suspect, identified as 21-year-old Patrick Crusius, has been charged with capital murder.
Possible hate crime: The Justice Department is also "seriously considering" bringing federal hate crime and federal firearm charges, which carry a possible death penalty, US Attorney John Bash said in a news conference.
The white nationalist document: Police say a racist, anti-immigrant document they believe was written by the suspect has a "nexus to a potential hate crime." The four-page document posted online espouses white nationalist and racist views.
Dayton:
What happened: Another nine people were killed in a shooting in the Oregon District of Dayton, Ohio. The suspect in that shooting is also dead.
Possible motive: At a news conference on Tuesday, Dayton Police Chief Richard Biehl said the gunman had "expressed the desire to commit a mass shooting." The FBI said the gunman was "exploring violent ideologies," but added that it had not made a final determination on his motive.
About the shooter: A Twitter account that appears to belong to Dayton mass shooter Connor Betts retweeted extreme left-wing and anti-police posts, as well as tweets supporting Antifa, or anti-fascist, protesters.
7:52 p.m. ET, August 6, 2019
She was out for the first time Sunday since having her baby
Dayton shooting victim Lois Oglesby was out for the first time with some friends after having a baby when she was shot and killed Sunday, a spokesperson for the family told CNN. 
Cherish Cronmiller, president and CEO of Miami Valley Community Action Partnership (MVCAP), said Oglesby, who also went by Lola, was going back to work at a daycare. She leaves behind two children, 7-year-old Hannah and 2-month-old Reigh, Cronmiller added. 
Oglesby's mother LaSandra James has worked at MVCAP for nearly 23 years.
The company set up a Facebook fundraiser that has already raised $20,000 for the family and children, Cronmiller said.
"I think Lola would've loved to know how many people care and are trying to help take care of her babies," she added.
7:29 p.m. ET, August 6, 2019
Texas congresswoman: "I refuse to be an accessory" to Trump's visit
Democratic Rep. Veronica Escobar of Texas on Tuesday said she declined an invitation to join President Donald Trump on his upcoming visit to El Paso, Texas, as the city recovers from a mass shooting.
"I declined the invitation because I refuse to be an accessory to his visit," said Escobar, who represents El Paso. "I refuse to join without a dialogue about the pain his racist and hateful words & actions have caused our community and country."
Trump's visit to El Paso Wednesday comes after a man opened fire at a shopping center, killing 22 people. A 21-year-old white supremacist is in custody in the domestic terrorism case. In a televised address Monday, Trump called on the nation to "condemn racism, bigotry and white supremacy" but stopped short of acknowledging his own divisive and racist rhetoric.
Escobar, who told MSNBC Monday that Trump wasn't welcome in her community, said she requested a phone call with the President to "share what I have now heard from many constituents" but was told he was "too busy."
6:52 p.m. ET, August 6, 2019
Dayton shooter's ex-girlfriend says he was fascinated by mass shootings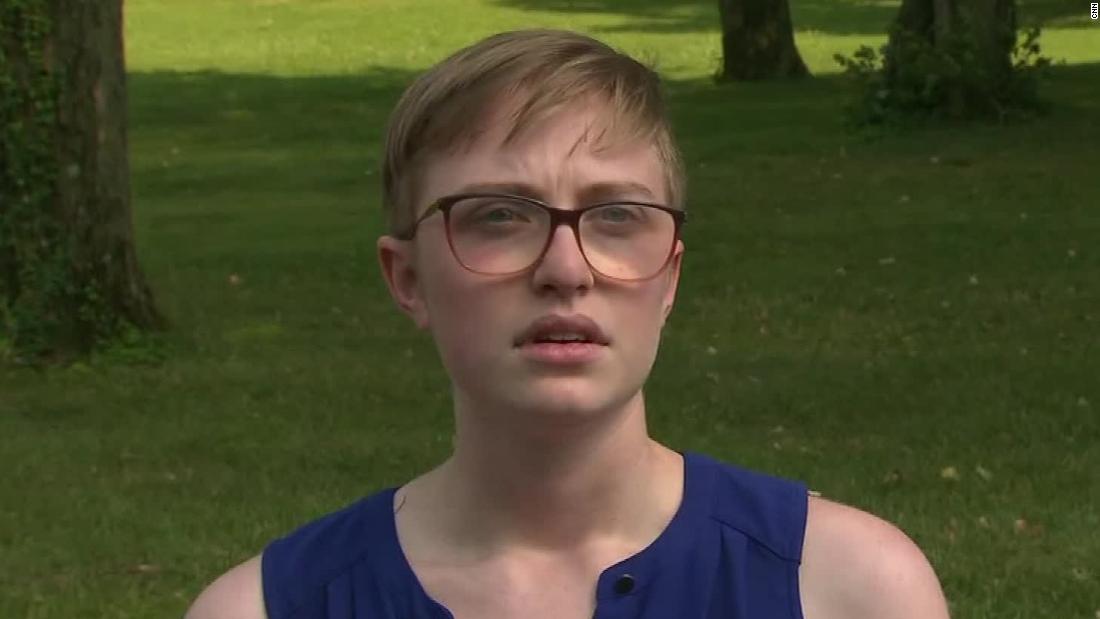 The ex-girlfriend of Dayton shooter Connor Betts told CNN that he was fascinated by mass shootings.
"He talked about it a lot," Adelia Johnson said. "It was his main focus as a psychology person. He was interested in what makes terrible people do terrible things."
Johnson said that she and Betts bonded over mental illness.
In a long statement, Johnson said she met Betts in college and they bonded over depression humor.
She said on their first date, Betts showed her video of a mass shooting and gave her a play-by-play of what was happening. Johnson said she felt it was not abnormal for a psychology student to be fascinated by the horrors of humans.
Their relationship, she said, consisted mostly of going out drinking and talking about mental illness.
6:13 p.m. ET, August 6, 2019
4 patients remain hospitalized in Ohio
Four patients remain hospitalized in Ohio after Sunday's shooting in Dayton, according to hospital officials.
Three patients remain at Miami Valley Hospital, according to spokesperson Ben Sutherly. One patient is in serious condition, one is in fair condition and one is in stable condition, he said.
All patients at Grandview Medical Center have been released, according to Elizabeth Long, spokesperson for the Kettering Health Network.
One patient remains in fair condition at the Kettering Medical Center, she said.
6:08 p.m. ET, August 6, 2019
Why this mural is reminding El Paso of its strength
A new powerful mural in El Paso is reminding the community of its strength.
Gabe Vasquez painted the art piece that reads "El Paso Strong." He told CNN affiliate KFOX that he started working on it Monday night as a way to show the community to stand together.
Inside the letters, the Franklin Mountains, a range that extends from El Paso to New Mexico.
"You have a timeless piece like this where people can come and take pictures of and embrace it and it empowers the city," he said. "There's also another part of me that wants someone to see this and be like, 'Heck yeah, brother, that's my city.' We are El Paso strong."
5:52 p.m. ET, August 6, 2019
He was a devoted father and cared for his ailing mother
Ivan Filiberto Manzano, one of the 22 people killed in Saturday's shooting in El Paso, was a caring friend and devoted father, his coworkers told CNN today.
Manzano worked in marketing at a Juarez radio station about five miles from Walmart, where a gunman allegedly targeted Mexicans and immigrants on Saturday.
His colleagues said Manzano adored his young son and daughter and cared for his ailing mother.
"He was a family man. Aside from work, his priority was his mother, his wife and his children — his little one most of all," Manzano's coworker Araceli Vallejo said.
They said they expect his body will be returned this week to Mexico for burial.
5:13 p.m. ET, August 6, 2019
Family of El Paso shooter: He was influenced by beliefs that "we do not accept or condone"
The family of the man who authorities say killed 22 people in El Paso, Texas, are speaking out.
Patrick Crusius' family said in a statement they have been focused on the "countless families and friends of those affected by this atrocity." They went on to say that their son's actions were influenced in ways they didn't know or condone.
"Patrick's actions were apparently influenced and informed by people we do not know, and from ideas and beliefs that we do not accept or condone, in any way. He was raised in a family that taught love, kindness, respect, and tolerance — rejecting all forms of racism, prejudice, hatred, and violence. There will never be a moment for the rest of our lives when we will forget each and every victim of this senseless tragedy," the statement said.
The family's statement also praised law enforcement and first responders who came to the scene. 
"The selflessness and devotion to total strangers in the face of indescribable suffering is something that we deeply respect and admire," the statement said.
Some background: Police said the suspected shooter had a ''stone cold look'' when he surrendered. He has been charged with capital murder in the mass shooting that left 22 people dead and more than two dozen wounded, according to court records and is being held without bond.
4:59 p.m. ET, August 6, 2019
Here's what to expect from Trump's visits to El Paso and Dayton
President Trump and first lady Melania Trump will visit El Paso, Texas, and Dayton, Ohio, on Wednesday –– two cities reeling from mass shootings that left dozens dead.
The White House has not finalized or announced his activities on the ground, but here's what you can expect during the visits:
Trump is expected to meet with some members of the grieving communities and first responders, according to White House spokesman Hogan Gidley, who spoke with reporters today. "What he wants to do is go to these communities and grieve with them, pray with them, offer condolences and quite frankly, offer thank you and appreciation to those who are first responders and put their lives on the line and are able to take out the shooter so quickly," Gidley said.
The President also wants to talk about potential solutions "on how we keep this from ever happening again," he said.
Trump wants talk about unity. "He wants to have a conversation with them that it's time to unity. That we can do something impactful and important working to prevent this from every happening again if we come together," Gidley said.
Some members of each community have expressed concern at the President's visit. But the White House has downplayed those concerns.
"The President's the president of all the people," Gidley said.