Carolinas flood after Florence
9:25 a.m. ET, September 18, 2018
This is not a river. It's a highway.
This drone video from the North Carolina Division of Aviation shows how flooding from Florence has transformed I-40 from a highway into a waterway.
The footage, taken near mile marker 387 in Pender County, "illustrates our message that travel towards this area is impassable and unsafe," the North Carolina Department of Transportation said.
Check out the footage:
8:28 a.m. ET, September 18, 2018
Florence has moved, but its flooding remains
Florence's rains are moving out of the Carolinas and Virginia, where the forecast calls for only a few scattered showers and storms and little to no tornado threat.
Still, over 9 million remain under flood warnings, including Wilmington, Myrtle Beach, Greensboro, Winston-Salem, Durham, and Chapel Hill.
Widespread flooding is reported in the region, and many roads are still impassable because of flood waters. Many rivers remain in major flood stage, and at least 10 locations are or will set historic record crests with the storm.
A few rivers are still rising and won't even crest until the weekend, and many locations will remain in major flood stage all the way into next week.
This map below shows the broad extent of flooding at various rivers in North and South Carolina. Purple represents major flooding, red is moderate flooding, and orange is minor flooding.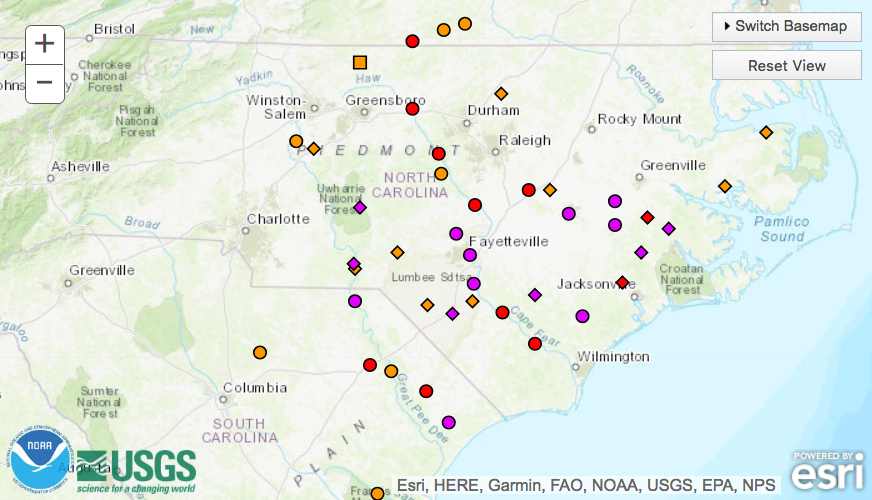 8:08 a.m. ET, September 18, 2018
And now, Florence heads northward
In its final act before moving offshore, post-tropical cyclone Florence is expected to bring heavy rain to parts of New England and the mid-Atlantic on Tuesday.
As Florence leaves flooded towns in the Carolinas and the aftermath of tornadoes in Virginia, the remnants of the storm are expected to affect eastern Pennsylvania, Washington, New York and Massachusetts, said CNN meteorologist Pedram Javaheri.
Flash flood watches are in effect from Maryland and northern Virginia northward into southern New York and eastward across portions of southern New England, according to the National Weather Service.
Over 20 million people live in areas under flash flood watches, including Baltimore, Washington and Boston.
But the end is near. Most of Florence's rain will fall today. The storm system will finally move offshore tomorrow, ending its effects on the US.
Here's the latest rainfall forecast from the National Hurricane Center: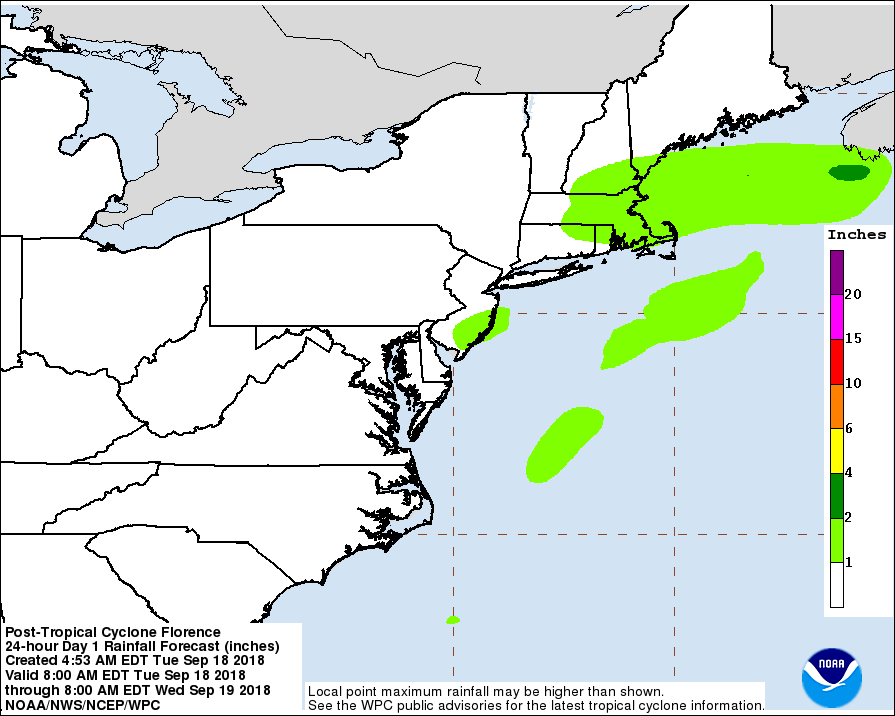 4:37 p.m. ET, September 17, 2018
This is what residents of New Bern, NC, are returning to after the storm
Today was the first day evacuees, specifically residents and business owners, were allowed to return to New Bern, North Carolina, to survey the damage left behind from Florence.
More importantly, it was a day to strategize over what is set to be a long and complicated recovery process. 
These photos pictures are some of what they came back to (for those who left), and for those who stayed it's what they began working on. 
One woman, Rachel Smith, who owns an ice cream shop here called Bear City Fudge Company and chose to ride the storm out, told us, "I'm never doing that again."
She went to check on her business today and says that it's okay, but she's got a lot of clean up to do.
The National Guard is also here posted at checkpoints across the city helping with the response. Police officers on patrol this morning told us they're helping control entry to some of the restricted zones in the city.
City Manager Mark Stephens, speaking at a press conference earlier today, said that more than 4,300 homes were damaged or destroyed and over 300 businesses suffered the same fate.
"Our city has suffered one of the worst storms ever in its 308-year history," he said.
3:31 p.m. ET, September 17, 2018
His North Carolina house flooded twice in 2 years
Bill Kozak's father-in-law has been living in Lumberton, North Carolina, for 30 years.
During the first 28, he never experienced a flood — but in the last two his house has flooded twice.
In 2016, Hurricane Matthew ravaged the small North Carolina town of Lumberton, leaving many residents troubled with flood damage. For Kozak and his family, Florence feels like deja vu.
Kozak's wife, 5-year-old son, his mother, his sister, his 9-year-old niece and his father-in-law all live on the same street in Lumberton. According to Kozak, they are prepared to fix the damage Florence has brought — but after they finish, Kozak his family is planning on moving from Lumberton. 
Here's a look at the house:
2:34 p.m. ET, September 17, 2018
Death toll in South Carolina rises to 6
Rhonda Rebecca Hartley, 30, died in a car accident in South Carolina's Lexington County on Sunday morning, according to Lexington County Coroner Margaret Fisher.
Hartley's vehicle crossed the center line, left the roadway to the left, and struck a tree. She was not wearing a seatbelt when the incident occurred.
This brings the Florence death toll in South Carolina to six. The others were... 
Jeffrey Youngren died early Sunday morning in Kershaw County when his truck an overpass support beam on Interstate 20.
A man and woman died in Horry County due to carbon monoxide poisoning, according to the South Carolina Department of Public Safety.
Michael Dalton Prince, 23, drowned in an overturned vehicle in Georgetown County according to County Coroner Kenny Johnson. 
Amber Dawn Lee from Union County, 61, died when her car struck a tree that fell during the aftermath of Hurricane Florence, according to South Carolina Office of Emergency Management spokesman Antonio Diggs.
1:39 p.m. ET, September 17, 2018
Yesterday, Durham residents thought they dodged a bullet. Today may be a different story.
Durham resident Kate Medley woke up to a series of tornado warnings and flooding, as she snapped this picture just outside of Duke University's campus.
Luckily for Medley, her house was not affected.
"My house is about five blocks away from there and we haven't received any flooding so far," Medley told CNN.
Although a lot of Durham residents thought they avoided a direct blow from Florence, Medley said today's flooding feels like a different story.
"The general sense in Durham as of yesterday was that we had dodged a bullet with Florence. Then today, we woke to heavy rains and tornado warnings. The creeks and rivers rose quickly and with no warning," said Medley.
Here's what the flooding looks like:
1:11 p.m. ET, September 17, 2018
Get a bird's-eye view of a flooded North Carolina highway
Brian Lindsay shot drone video Monday of a flooded section of I-95 in Lumberton, North Carolina. He says a 3-mile section of the road is flooded.
He shot the video at about 9 a.m. ET. Check it out:
1:01 p.m. ET, September 17, 2018
What to expect from Florence now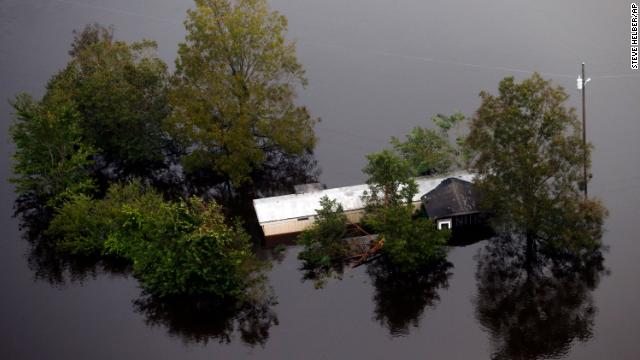 After days of nearly continuous rain in parts of the Carolinas, the rainfall is becoming more scattered in nature. 
What to expect now: The heaviest rain will now begin to move from the Carolinas and Virginia into the Northeast. In total over 25 million are under flash flood watches for the potential of more flooding, and dozens of counties in the Carolinas and Virginia remain under flood and flash flood warnings.
But note: Even with the heavy rain shifting north, the Carolinas are by no means out of the woods. Rivers will continue to crest into tomorrow and into Wednesday and remain in major flood through the week, with many rivers shattering previous record crests.
As the rain begins to taper off to more scattered storms today, the flash flooding will begin to recede, but by no means is the flooding over.
The devastating flooding could last well this week and into the weekend, with rivers remaining in major flood