Carolinas flood after Florence
5:47 p.m. ET, September 18, 2018
Our live coverage of the flooding in the Carolinas after Florence is concluding for the evening, but you can see our latest report here. We'll be back first thing tomorrow.
4:18 p.m. ET, September 18, 2018
Over 200 roads closed in South Carolina
Over 200 roads across South Carolina are closed, including 40 major roads, said Department of Transportation Secretary Christy Hall.
Hall said DOT is preparing for more closures as the flooding makes its way south, especially at bridges, which are expected to be covered by water well before the rivers crest.
Transportation has also been hit hard in North Carolina, where about 1,000 roads have been closed and major highways flooded.
3:18 p.m. ET, September 18, 2018
Flooded I-95 cuts off Wilmington, threatens water supply in Lumberton
Flooded highways have cut off the city of Wilmington and are threatening water supplies in Lumberton, officials say.
According to the North Carolina Department of Transportation, there are about 1,000 road closures, and no safe way in or out of Wilmington.
Portions of the I-95 could remain closed all week, said Corey Walters, deputy director of public works. It won't reopen until the Lumber River, which crested to 25 feet yesterday, begins to drop.
The North Carolina city of Lumberton, through which the I-95 runs, is working to pump out floodwater. If the water level is allowed to rise, it could flood the water treatment plant and cut off the entire city's water supply, Walters said.
Officials are recommending that residents conserve water to prepare for a worst case scenario.
3:01 p.m. ET, September 18, 2018
Trump hails tremendous effort and bravery among recovery workers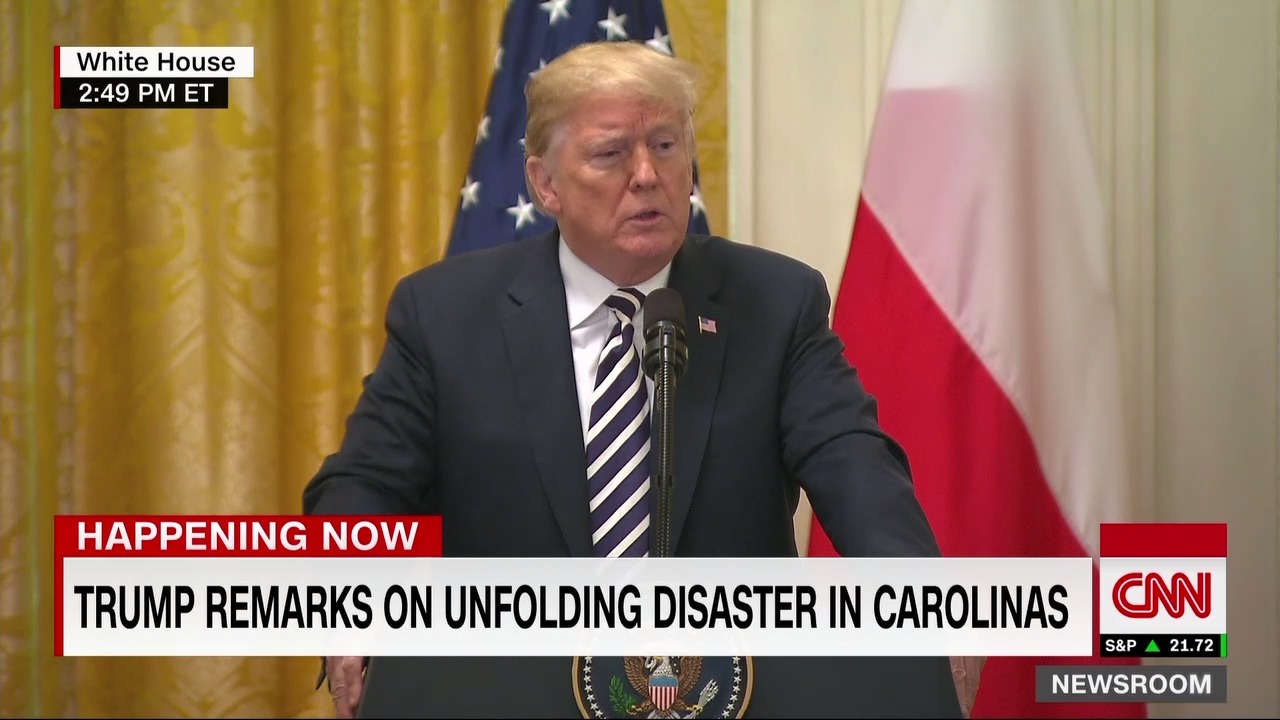 Speaking at a press conference alongside the Polish president, Trump addressed the ongoing recovery efforts in areas hit by the storm.
"I do want to say that while we're together, tremendous effort and bravery is being shown in North Carolina, South Carolina, Virginia and the area that was so horribly hit by Hurricane Florence," Trump said.
He added, "I just got some clips of some of the things that the Coast Guard is doing and getting people to safety in horrible conditions. And I want to salute the first responders, law enforcement, the military, FEMA -- the job they are doing is incredible. It is incredible. So I just want to thank them very much."
Watch more:
2:52 p.m. ET, September 18, 2018
12,000 residents are in harm's way of the Cape Fear River
12,000 residents are "in harm's way" as the Cape Fear River continues to rise, according to Fayetteville City Manager Doug Hewett.
82 water rescues have already been performed in the area and more continue, Hewett said.
The river, currently at over 60 feet, is expected to crest at 61 to 62 feet at about noon Wednesday. That timing is later than initially anticipated due to rainfall the area received Monday night and water from tributaries continuing to drain into the Cape Fear River according to Hewett.
The city of Fayetteville has approved $2.3 million in flood recovery funding, Hewett said.
Check out the National Weather Service's graph showing the river's rise into major flood stage over the past few days: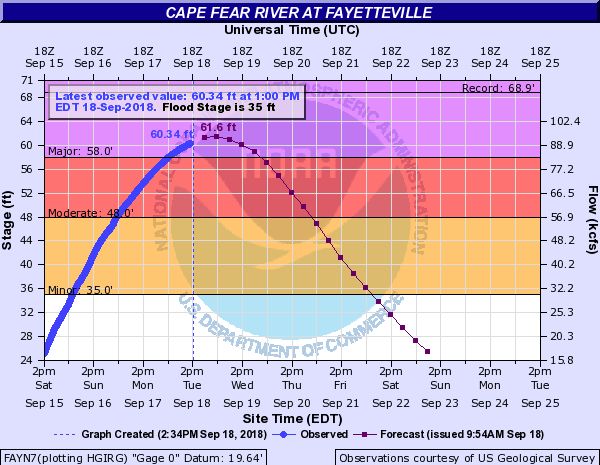 2:44 p.m. ET, September 18, 2018
Trump says the Democrats will attack him over Florence response. (They haven't yet.)
President Trump touted in two tweets what a "great job" his administration was doing in its response to Hurricane Florence and said Democrats would soon "start ranting" about the response as a "disaster."
"This will be a total lie, but that's what they do, and everybody knows it!" Trump tweeted.
There has been no notable criticism from Democrats of the federal response to Hurricane Florence.
12:59 p.m. ET, September 18, 2018
FEMA Director: The next 2 days are critical
FEMA Director Brock Long said that he's pleased so far with the Florence response but added that "we've got a long way to go" to recover.
"The next 48 hours are extremely critical," Long said. 
Long said there are a lot of people in shelters and a lot of displaced residents.
"It's going to take some time for the water to recede," he said. "Some rivers haven't crested yet."
FEMA is operating in North Carolina to help fix the transportation system and get roads back open, so crews can get in and get the power back on. Fixing the power will "solve 80% of the problems we see," Long said.
North Carolina Gov. Roy Cooper, who plans to meet with President Trump when he visits the state, said he and Long will travel to Wilmington today to assess the damage there.
12:28 p.m. ET, September 18, 2018
Florence's wrath on North Carolina, by the numbers
North Carolina Gov. Roy Cooper laid out some of the stark impact Florence has had on the Tar Heel state:
16 rivers are at major flood level.
26 people in North Carolina died due to the storm.
1,200 roads are closed.
343,000 customers remain without power.
2,200 people and 578 animals were rescued.
A quarter of the crops in the fields suffered damage.
10,000 people remain in shelters.
The Coast Guard released its own set of numbers showing its response to the storm:
The Coast Guard has rescued 426 people and 234 pets since Hurricane Florence began.
There are 26 shallow-water response boat teams deployed to North Carolina comprised of 116 people.
There are 191 Coast Guard members assigned to the North Carolina Incident Command Post in Goldsboro, North Carolina.
11:54 a.m. ET, September 18, 2018
Barrier island residents can check on their homes with these satellite images
If you evacuated from some of North Carolina's barrier islands, National Oceanic and Atmospheric Administration's satellite imagery can help you check in on your home.
NOAA released aerial photos, taken after Hurricane Florence made landfall, of some of the islands. You can zoom in and check out the damage, even if you're far away from home.
You can access the images here.