10:09 p.m. ET, May 4, 2018
This volcano is a major tourist attraction
The Kilauea volcano is the youngest and most active on the island of Hawaii, and has been erupting almost continuously since 1983, according to the US Geological Survey. It's in the Hawaii Volcanoes National Park, a major tourist attraction.
Aerial shots show the Puu Oo volcanic vent southeast of Kilauea's caldera churning smoke after the eruption.
"The summit crater hosts an active lava pond and a vigorous gas plume," the USGS says. "Kīlauea ranks among the world's most active volcanoes and may even top the list."
Kilauea lava flows have threatened communities numerous times. "From 1983, when the Puu Oo eruption began ... residential areas were threatened and homes were lost," said Janet Babb of the USGS Hawaiian Volcano Observatory.
"Any time lava poses a threat to residents, it's a big deal."
There are 770 structures and 1,700 people in the area under mandatory evacuation, said Cindy McMillan, a spokeswoman for Gov. David Ige.
9:58 p.m. ET, May 4, 2018
2 structures destroyed in Hawaii volcano eruption
Two structures, including one home, were destroyed in Leilani Estates, where cracks in Kilauea volcano's rift zone erupted Thursday and early Friday, said Talmadge Magno, Hawaii County civil defense administrator.
There has only been one medical issue related to the volcanic eruption, he said.
The island, he said, has been "pretty fortunate" because of the high levels of sulfur dioxide in the area.
9:39 p.m. ET, May 4, 2018
A fifth volcanic vent has opened in Leilani Estates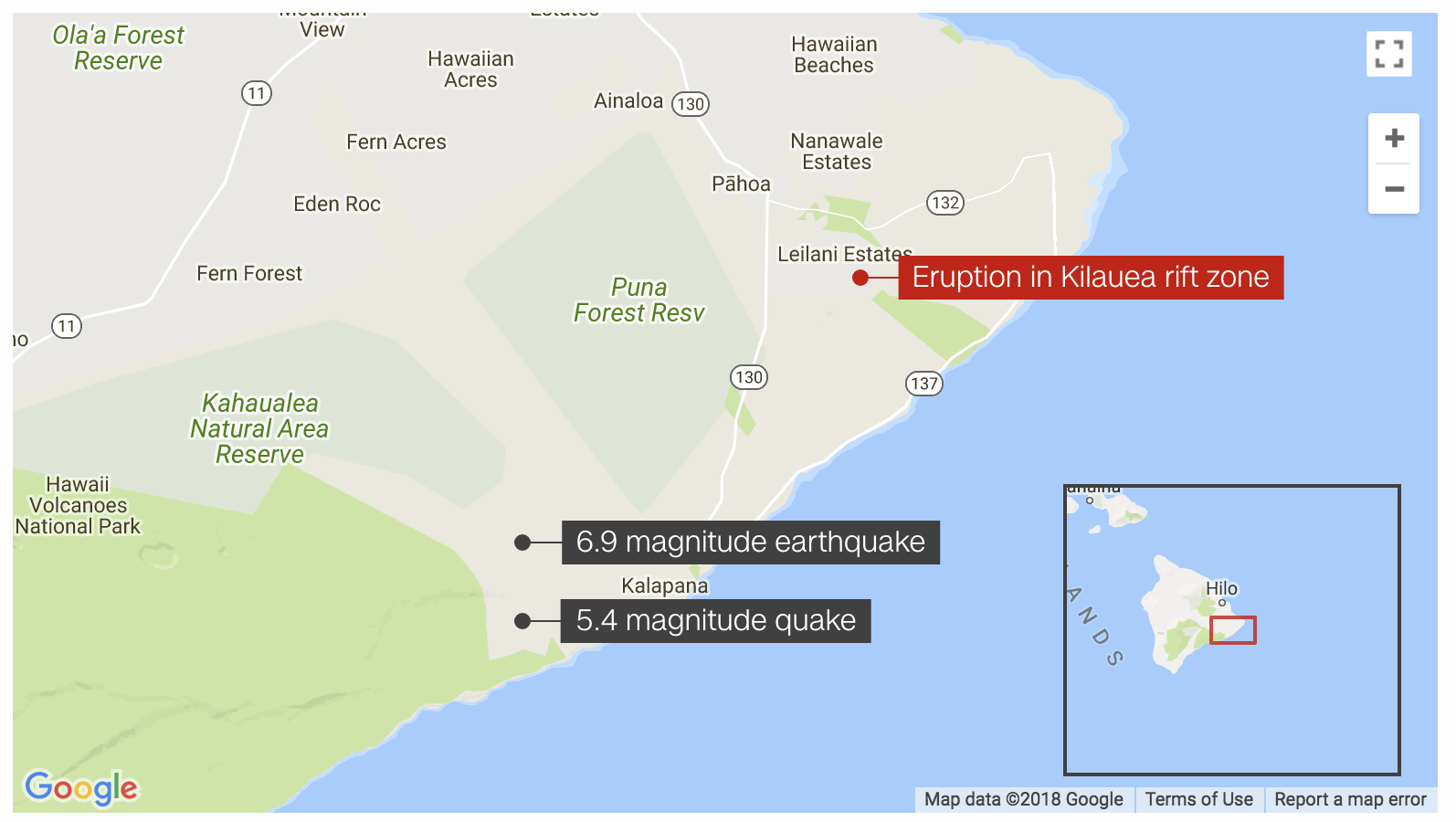 A fifth volcanic vent has opened in Leilani Estates, according to County of Hawaii Civil Defense Administrator Talmadge Magno.
"Activity continues," he said, "Nothing is slowing down."
All five fissures are active — steaming and bubbling — but there is not significant lava flow, Magno said.
9:48 p.m. ET, May 4, 2018
Swarm of earthquakes trigger landslides along Hawaii's coast
The swarm of earthquakes triggered four to five landslides along the Hamakua Coast on the Big Island, a Hawaii County Civil Defense Agency official said.
Crews were working to open state highways, where one landslide shut down two lanes.
"That's part of being on an active volcano, unfortunately," Civil Defense Administrator Talmadge Magno told reporters on Friday.
He said some buildings had minor damage, and movement was detected in coastal waters as a result of the quakes.
There have been no injuries related to the quakes, Magno said.
9:35 p.m. ET, May 4, 2018
Thousands without power after 6.9 quake
More than 14,000 utility customers lost power on Hawaii's Big Island after the 6.9 earthquake, said Rhea Lee-Moku, spokeswoman for Hawaii Electric Light. 
"It's kind of like being on some kind of carnival ride if you will. We are being shaken all the time," Lee-Moku said. 
The utility company said it restored power to about half of the customers who lost electricity after the quake.
"We've had some unofficial reports there have some damage to some buildings," she said. 
Lee-Moku said utility workers were kept out of areas with high levels of sulfur dioxide.
"When you are exposed to that level of SO2 in the Leilani Estates area, you need more protection than we have available to us," she said. 
8:29 p.m. ET, May 4, 2018
"Extremely high levels" of sulfur dioxide have been detected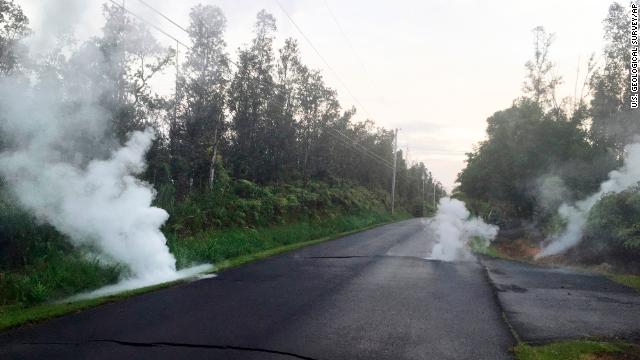 Destructive molten flows weren't the only concern.
The Hawaii County Fire Department reported "extremely high levels of dangerous sulfur dioxide gas" were detected in evacuation areas after the volcanic eruption.
Volcanic eruptions can release potentially dangerous sulfur dioxide, and exposure to high levels of it could be life-threatening, according to the federal Agency for Toxic Substances and Disease Registry.
Breathing large amounts of sulfur dioxide could result in burning of the nose and throat and breathing difficulties, the agency says.
Senior citizens, the young and people with respiratory issues have extra incentive to leave the evacuation zone, because they are especially vulnerable to the gas, the state's Emergency Management Agency said.
8:11 p.m. ET, May 4, 2018
6.9 quake is strongest to hit Hawaii since 1975
The magnitude 6.9 earthquake that rattled the Big Island today is the strongest to hit Hawaii since 1975, according to US Geological Survey records.
That year, a magnitude 7.1 quake hit in almost the exact same area as the one that occurred today, according to the USGS.
7:49 p.m. ET, May 4, 2018
Sea level fluctuations possible after 6.9 quake, but no tsunami expected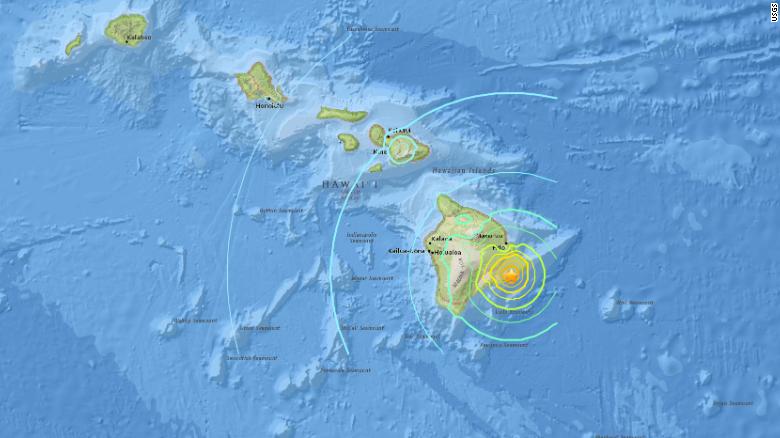 The National Weather Service Pacific Tsunami Center said "some areas may experience small sea level fluctuations," following the magnitude 6.9 earthquake in Hawaii.
However, no tsunami is expected, the center said.
7:42 p.m. ET, May 4, 2018
Magnitude 6.9 quake reported in Hawaii
The US Geological Survey is reporting a magnitude 6.9 quake in Hawaii in the last half hour. 
The quake occurred about 10 miles southwest of Leilani Estates on the Big Island.
There have been 119 earthquakes on Hawaii's big island in the last 24 hours, according to USGS seismology Jana Pursley.