Hurricane Dorian intensifies as it heads for US
2:47 a.m. ET, August 30, 2019
Dorian has strengthened to a Category 2 hurricane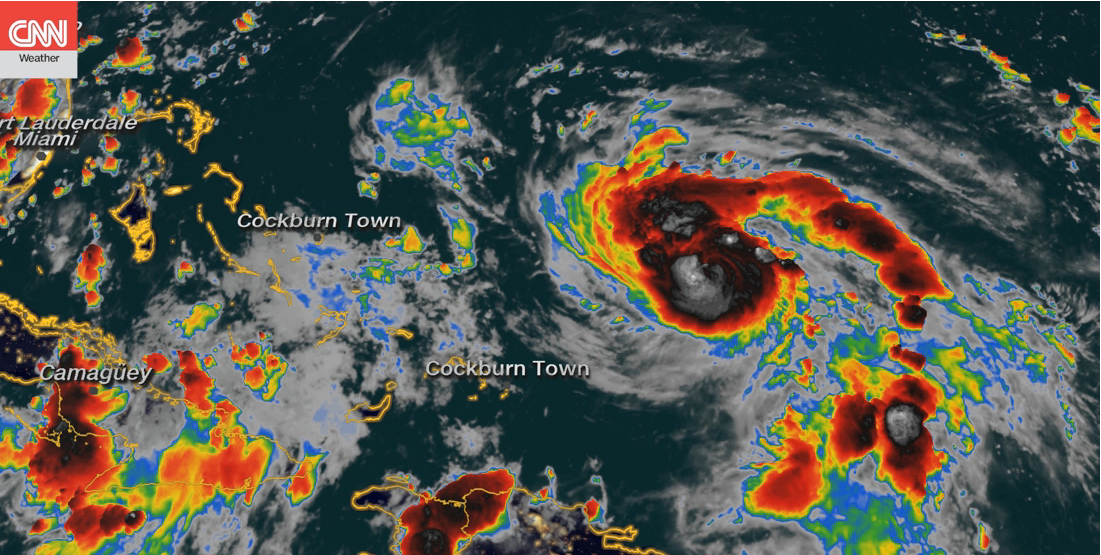 Hurricane Dorian is strengthening once again, with winds increasing up to 105 miles per hour, according to the National Hurricane Center. This makes Dorian a Category 2 on the Saffir-Simpson scale. 
"Dorian is expected to become a major hurricane on Friday and remain an extremely dangerous hurricane through the weekend," said the Center in its latest public advisory.
Hurricane Dorian is expected to make landfall in Florida as a category 4 storm on Monday. 
The advisory adds that there may be life-threatening flash floods, swells and rip current conditions.
There are currently no coastal watches or warnings currently in effect.
Read the full public advisory here.
2:49 a.m. ET, August 30, 2019
Home Depot sent more than 160 truckloads of supplies to stores
Hardware retailer Home Depot is working to get supplies in place before Dorian strikes.  
"As communities prepare for Hurricane Dorian, we've sent more than 160 truckloads of supplies to our stores," The Home Depot announced yesterday on Twitter.  
Residents in Florida, Georgia, and other southern states have been stockpiling supplies in the past two days as they prepare for the hurricane, which is expected to make landfall over Labor Day weekend.
1:21 a.m. ET, August 30, 2019
NASA prepares to protect its space flight equipment as Dorian approaches
Teams at NASA's Kennedy Space Center in Florida are working to protect the Artemis space flight hardware from Dorian. 
Artemis is the NASA project to put humans back on the moon's South Pole by 2024.
On Wednesday, NASA moved equipment like the Mobile Launcher indoors to protect the hardware from strong winds.
"We will continue to monitor the weather throughout the preparations and roll operations and should there be a significant change, our team will be poised to adjust. In its final phases of development, the mobile launcher stands nearly 400 feet tall and is needed to assemble, process and launch NASA's powerful Space Launch Rocket and Orion spacecraft on missions to the Moon and Mars," said Alison Knox, a NASA spokesperson.
According to Knox, the space center is scheduled to close at 6 pm ET on Saturday, but that could change if the storm slows. 
12:59 a.m. ET, August 30, 2019
Florida launched a website to monitor generators at nursing homes
Ahead of Hurricane Dorian, Florida has launched a website monitoring the generator status of nursing homes and long-term care facilities.
All Florida nursing homes and assisted living facilities are required to keep residents in a safe environment in an emergency -- and part of this includes regulating temperature. The facilities must have an emergency power plan to make sure air conditioners keep temperatures under 81 degrees.
"I think that sends a very important message that if you are entrusted of care with these vulnerable population, it's really your responsibility to have a plan in case for what is going to happen," said the state's governor DeSantis earlier on Thursday.
"You should have a plan in place to be able to protect the people that you are charged with looking after."
Stay updated with the map here.
12:33 a.m. ET, August 30, 2019
Florida governor requests a pre-landfall disaster declaration from Trump
Florida Governor Ron DeSantis sent a letter to the White House on Thursday, requesting a pre-landfall disaster declaration from President Trump ahead of Hurricane Dorian. 
"With Hurricane Dorian strengthening, I have sent a letter to President Donald Trump requesting that he declare a pre-landfall disaster for all of Florida's 67 counties. The trajectory of this storm remains uncertain, and this declaration will provide us with the necessary resources to ensure the state is fully prepared," said the Gov. DeSantis.
 "I am confident the President will grant my request and show his full support for Florida," he added.
According to the governor's press release, the declaration will provide important resources and assistance from the federal government, as well as free up funding sources for emergency protective measures.
11:14 p.m. ET, August 29, 2019
What Hurricane Dorian looks like from space
NASA has captured data from Hurricane Dorian, which is expected to hit Florida's coast this weekend. The space agency's Aqua satellite has an atmospheric infrared sounder, which is used to map the temperature, humidity, cloud amounts and heights in the Earth's atmosphere.
In the image below, taken on Thursday afternoon, the purple area signals cold clouds carried high into the atmosphere by thunderstorms -- also signaling heavy rainfall. Blue and green indicate warmer areas with shallower rain clouds, while the orange and red represent mostly cloud-free air.
10:57 p.m. ET, August 29, 2019
The Navy evacuated aircraft and ships in Florida
The US Navy has ordered evacuation for aircraft at the Naval Air Station Jacksonville and ships at the Naval Station Mayport.
Both the air station and port are located on Florida's East Coast, where the hurricane is expected to hit first. The aircraft and ships will begin evacuating on Friday to Navy bases in the southeast and mid-Atlantic.
10:56 p.m. ET, August 29, 2019
Here's how Florida is preparing for the storm 
Florida Governor Ron DeSantis said in a press release that the state is preparing for Hurricane Dorian with all available resources, with 2,500 Florida National Guard members activated and another 1,500 on standby.
The governor is also working with federal, state, and local emergency officials to prepare for the storm, which is forecasted to hit the state's east coast as a major hurricane -- possibly even a Category 4, the statement said.
Here's how the state is preparing:
Food and water: Florida has 819,000 gallons of water and 1.8 million meals ready for distribution. Another 200,000 gallons of water are on the way, bringing the total to more than 1 million gallons. The state has pre-deployed 860,000 bottles of water to preparing counties.
Schools: Schools will close on Tuesday in Martin and Volusia counties. Daytona State College, Valencia College, University of Central Florida, Florida Atlantic University, and Florida Polytechnic University will also close for varying periods.
Emergency response: 15 urban search and rescue teams are on standby. State agencies like the Florida Highway Patrol, Department of Highway Safety, and Florida Department of Law Enforcement have prepared emergency response resources.
Medical response: County health departments are pre-identifying and preparing resources, and the Department of Elder Affairs is working to meet needs of elderly and disabled Floridians.
9:36 p.m. ET, August 29, 2019
Democratic congressman says Trump is worried about Florida because it's 'not an island full of people of color'
Rep. Don Beyer of Virginia said Thursday that President Donald Trump's change in tone on Hurricane Dorian after it was announced that the storm will make landfall in Florida, skirting Puerto Rico, is because the state "is not an island full of people of color."
"Well, part of it is that Florida could be a swing state in 2020. And part of it is Florida is not an island full of people of color. We have seen him again and again pick on anywhere color is involved," Beyer, a Democratic House member told CNN's Wolf Blitzer on Thursday.