Hurricane Dorian intensifies as it heads for US
1:26 p.m. ET, August 30, 2019
Dorian could be the strongest hurricane to hit Florida's East Coast since Andrew
Every county in Florida is under a state of emergency as the state prepares for what may be the strongest hurricane to hit its east coast in nearly three decades.
Dorian — which is currently a Category 2 storm — is forecast to make landfall as a Category 4 storm on Monday, with sustained winds of around 130 mph. If that forecast holds, it will be the strongest hurricane to strike Florida's East Coast since Andrew in 1992, according to CNN Meteorologist Brandon Miller.
Hurricane Andrew — which formed on Aug. 16 1992, and lasted until Aug. 28 — was originally believed to be a Category 4 storm, but was reclassified in 2005 as a Category 5.
The direct death toll was 26 people — 23 in the United States and three in the Bahamas.
Its path included northwestern Bahamas, Florida and Louisiana, and it caused between $25 and $27 billion in damage.
1:03 p.m. ET, August 30, 2019
New York City is sending firefighters to Florida to help with the hurricane
At least 25 members of the New York City Fire Department's Incident Management Team will head to New York on Sunday to help with hurricane logistics, New York City mayor Bill de Blasio and Fire Commissioner Daniel A. Nigro announced today.
"New York City is ready to do whatever it takes to help those impacted by Hurricane Dorian," said de Blasio said in a statement. "We are actively monitoring the situation in Florida and the FDNY Incident Management team will be assisting and coordinating with local first responders to ensure they have the support they need in the coming days."
12:29 p.m. ET, August 30, 2019
Here's where Dorian is now — and where it's going next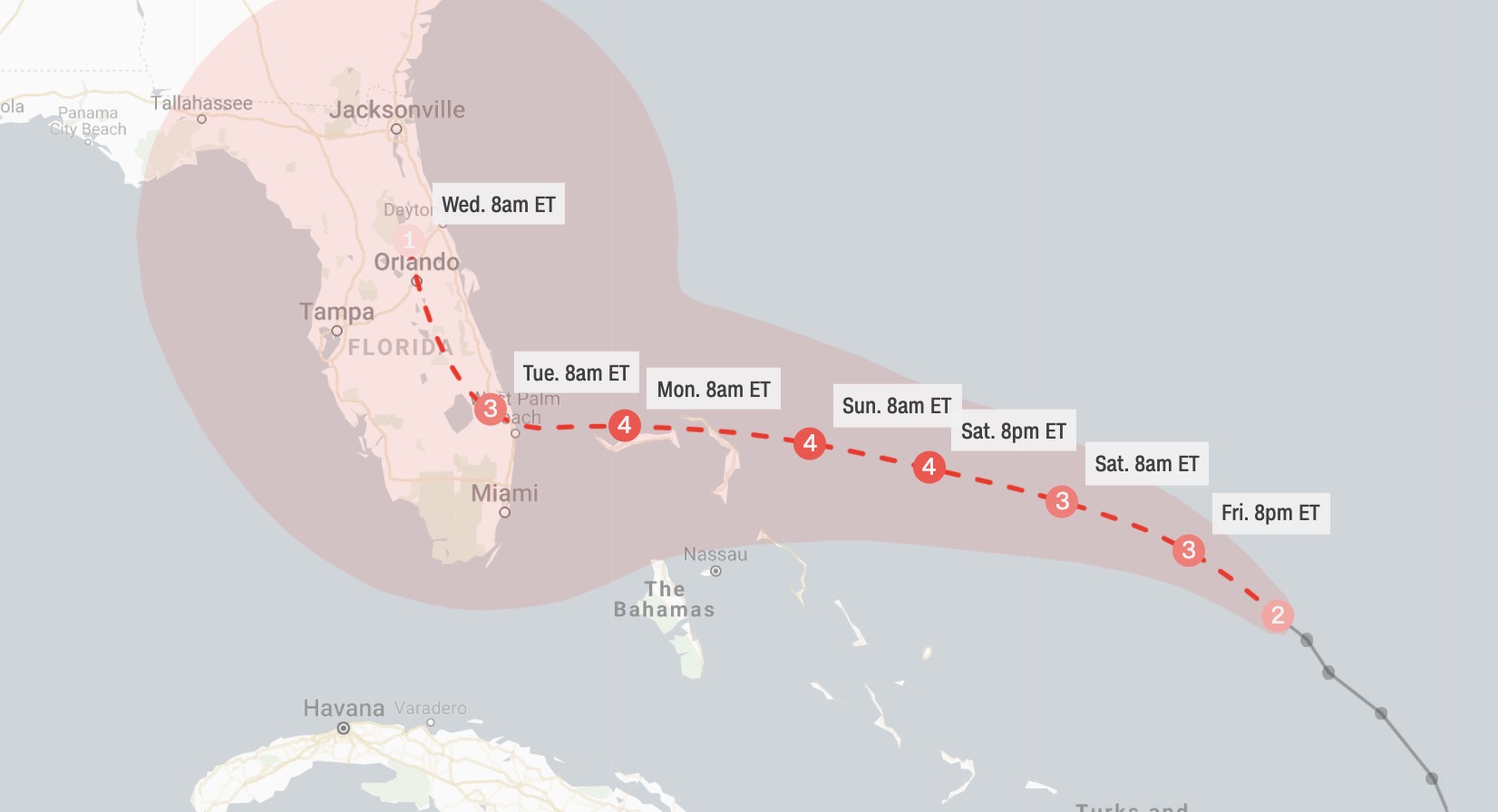 Dorian is currently spinning in the Atlantic Ocean with winds up to 110 mph. 
So far, the storm has swept across the British and US Virgin Islands and whipped Puerto Rico with rain. It's expected to get even stronger over the next few days — with winds reaching up to about 130 mph — though it will likely slow down before it hits.
If Dorian continues on its current forecast, it will smack Grand Bahama island on Sunday before it makes landfall in Florida on Monday.
Remember: We're still a few days out, so the storm could land anywhere from the Florida Keys to southeast Georgia. CNN meteorologist Judson Jones predicted on Thursday that it could be between the Space Coast and West Palm Beach.
You can track the path of the storm here.
12:19 p.m. ET, August 30, 2019
Kennedy Space Center will be closed Monday and Tuesday because of Dorian
Cape Canaveral's Kennedy Space Center Visitor Complex will be closed Sunday and Monday to prepare for Hurricane Dorian. 
On Saturday, the visitor center will be open during regular operating hours of 9 a.m. to 6 p.m. ET. Kennedy Space Center Bus Tours to the Apollo/Saturn V Center will be available until 2:30 p.m. Special Interest Tours will not be available. 
During this closure, visitors will not be permitted onto visitor complex grounds, the space center said in a news release.
Planning a trip? For the latest updates visit KennedySpaceCenter.com.
11:57 a.m. ET, August 30, 2019
President Trump approves emergency declaration for Florida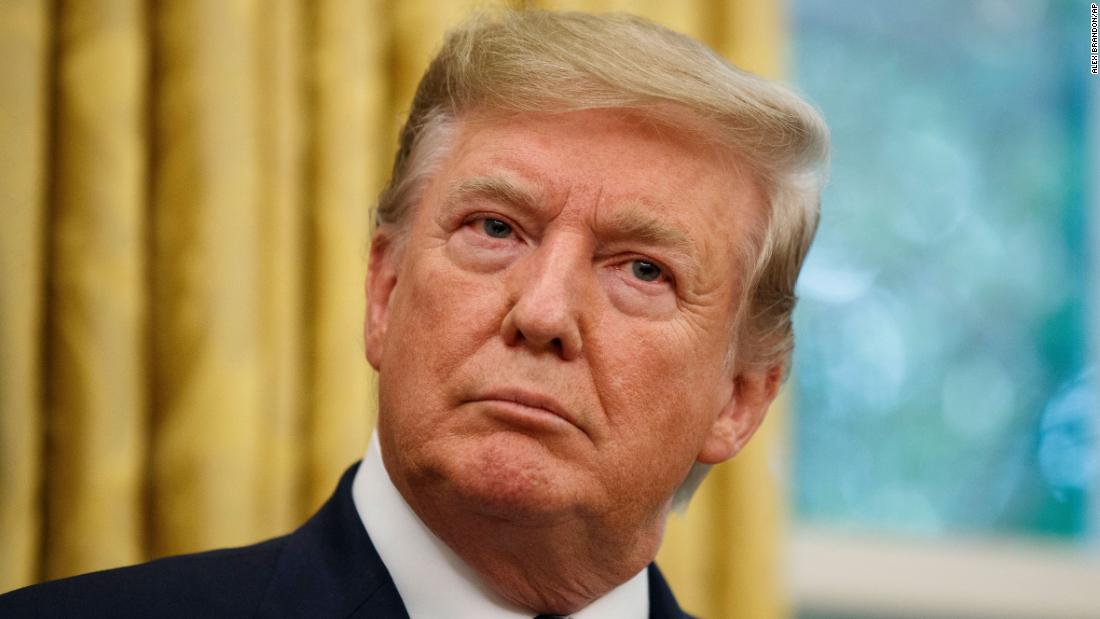 President Trump has approved a state of emergency declaration for the state of Florida ahead of Hurricane Dorian.
Trump's actions "authorizes the Department of Homeland Security, Federal Emergency Management Agency (FEMA), to coordinate all disaster relief efforts," the White House said in a statement.
Here's the full statement:
11:41 a.m. ET, August 30, 2019
Broward County will declare a local state of emergency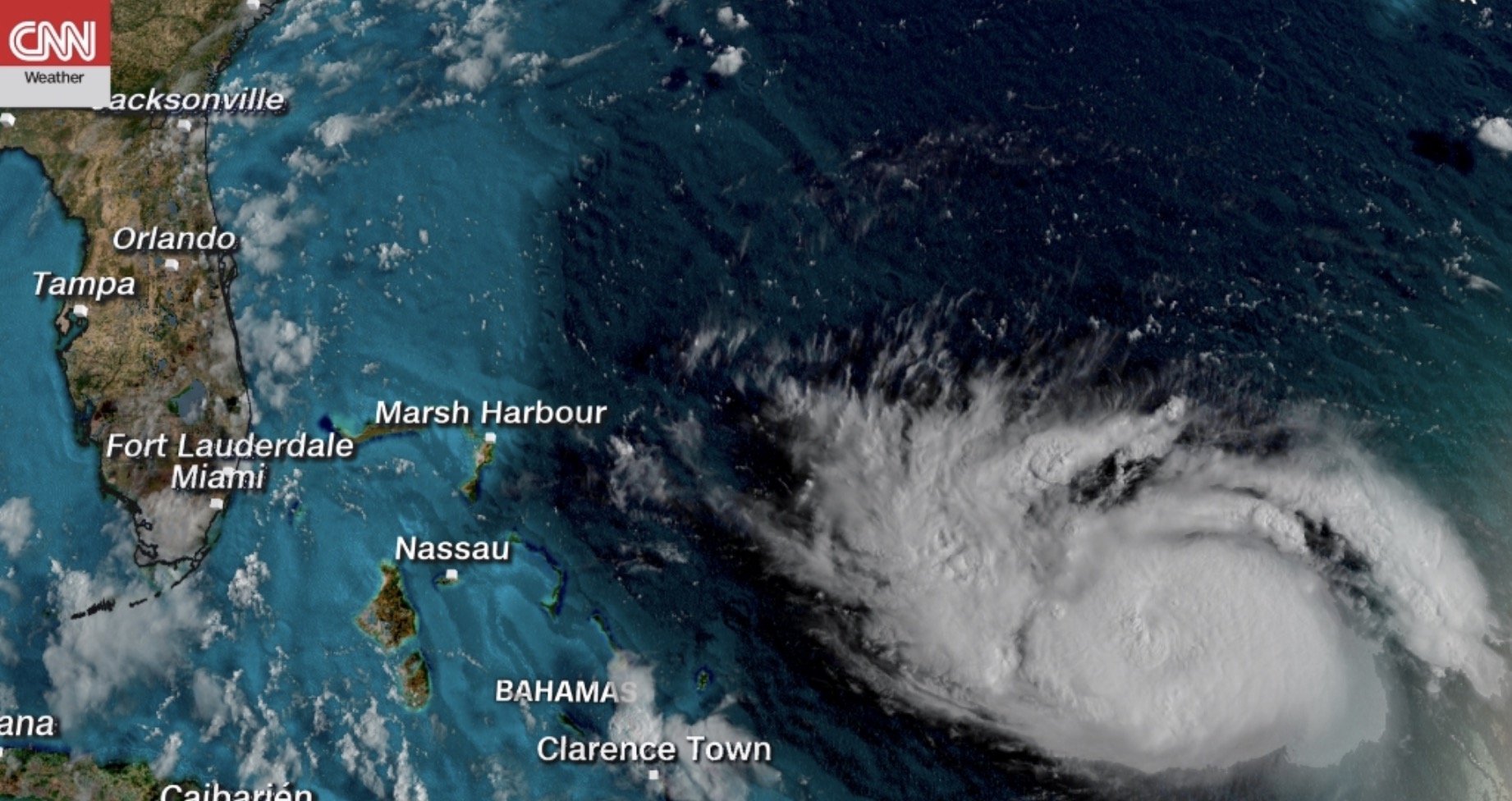 Broward County Mayor Mark Bogen said a local state of emergency in Broward County will be declared this afternoon. 
Declaring a local state of emergency, Bogen said, allows for local officials to call for an evacuation order and declare curfews, if needed.
Bogen said no evacuation orders have been announced at this time, and county officials continue to monitor closely Dorian's track.  
All school events in Broward County have been canceled Saturday through Monday, according to Broward County Public Schools Superintendent Robert Runcie. 
Runcie said the school district would continue to amend/ update any potential closures for next week. 
11:24 a.m. ET, August 30, 2019
When a Florida gas station ran out of fuel, some people left their cars there overnight
Marion Wilkinson Scott lives in Miami with his wife and two daughters. 
He posted on Twitter a picture of a car left over night at a gas station in West Kendall, with a letter on the dash: "My name is ____. I live close by. My car is out of gas. Please call me when more arrives! Tel: ____."
Scott told CNN he feels apprehensive over Hurricane Dorian approaching Florida. 
"We stocked up last week when it was a tropical storm and have reservations for a hurricane-proof hotel with generator in Bonita Springs," he said 
He said he's worried about his two young daughters.
"I have two little girls. I don't need for them to be in the heat once the electricity goes. We have shutters on our home. I'm glad we filled or tanks last week and have provisions. It is difficult to heed warnings when there is no gas at the station and no water in the market. Our tub will be filled."
"We are people of faith. We went to the church to pray," he added.
11:12 a.m. ET, August 30, 2019
How electric scooter companies in Miami are preparing for Dorian
In preparation for Hurricane Dorian, Lyft is storing all its scooters starting at noon today, per requirements from the City of Miami, according to Lyft spokesperson Kaityln Carl.
Each of the 244 scooters will be picked up by Lyft's operations team and will be secured in a warehouse. 
"The safety of our community is fundamental to Lyft," Carl said. "We will resume operations only once conditions improve and will continue to follow the guidance provided by the City of Miami."
Bird, another e-scooter company, provided CNN with the following statement:
"In anticipation of Hurricane Dorian we're working closely with city officials and local authorities and have a team closely dedicated to monitoring weather conditions. We are collecting and safely storing our scooters in the City of Miami."
10:55 a.m. ET, August 30, 2019
Dorian will be "an extremely dangerous major hurricane soon"
Hurricane Dorian is still a Category 2 storm with maximum sustained winds of 110 mph, according to the National Hurricane Center's 11 a.m. ET advisory.
To become a Category 3 storm, Dorian needs maximum sustained winds of at least 111 mph. Category 3 hurricanes and up are considered major storms.
Forecasters believe Dorian will be a Category 4 hurricane by the time it makes landfall in Florida.
"Dorian is expected to become an extremely dangerous major hurricane soon with additional strengthening likely as it heads for the northwestern Bahamas and the Florida Peninsula," the center said in the advisory.
Here's a look at the latest predicted track: