Hurricane Dorian intensifies as it heads for US
5:17 a.m. ET, August 31, 2019
11:51 p.m. ET, August 30, 2019
Hurricane Dorian's winds strengthen to 140 mph
From CNN's Brandon Miller
Hurricane Dorian continues to strengthen on Friday night, with maximum sustained winds of up to 140 mph, according to the National Hurricane Center.
Dorian is currently located 545 miles east of West Palm Beach and is moving west-northwest at 10 mph. 
The forecast calls for Dorian to reach the Florida coast near Melbourne on Tuesday, but does not bring the center of the storm over mainland Florida, instead it moves along the coast northward toward Jacksonville. 
The forecast calls for additional strengthening of up to 150 mph tomorrow. Category 5 winds are from 157 mph and higher. 
11:48 p.m. ET, August 30, 2019
Miami Beach offering 2 sandbagging sites starting Saturday
From CNN's Jamiel Lynch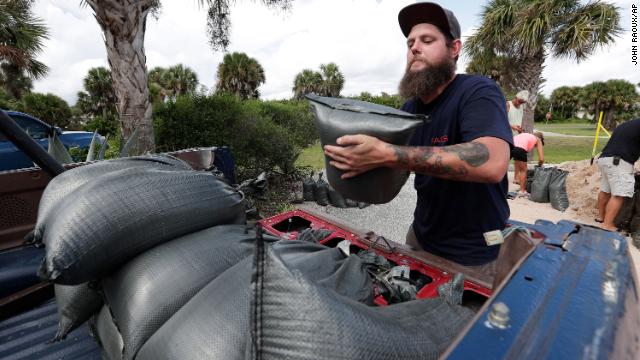 The city of Miami Beach will be opening two sandbag distribution sites for residents Saturday and Sunday.
The locations will be at South Beach (451 Dade Boulevard) and North Beach (80 Street and Collins Avenue parking lot).
Residents going to both locations are required to show proof of residency via government-issued ID or utility bill.
Both locations will be open from 8 a.m. to 5 p.m. on Saturday and Sunday until the weather worsens or the sand supply runs out.
10:30 p.m. ET, August 30, 2019
Orange County to open 12 evacuation centers Sunday
From CNN's Jamiel Lynch
10:22 p.m. ET, August 30, 2019
Florida governor releases update on Hurricane Dorian preparations
From CNN's Jamiel Lynch
Gov. Ron DeSantis released an update on hurricane preparation after Dorian was upgraded to a Category 4.
The Florida Department of Transportation will lift tolls to affected areas once a local evacuation is ordered.
There are almost 28,000 linemen, tree crews and support personnel staged around Florida to help quickly restore power.
More than 200 generators are being delivered for pre-staging throughout Florida.
Uber has committed to providing rides to shelters as shelters begin opening.
More than 30 school districts have announced closures for Tuesday, September 3. The Florida Department of Education will be posting up-to-date information regarding school closures at www.fldoe.org/hurricaneinfo.
Additionally, more than 30 colleges/universities — including Florida State University and Florida A&M University — have also announced closures to their satellite, regional or main campuses.
9:29 p.m. ET, August 30, 2019
New York Gov. Cuomo deploys team of 26 to Florida
From CNN's Julia Jones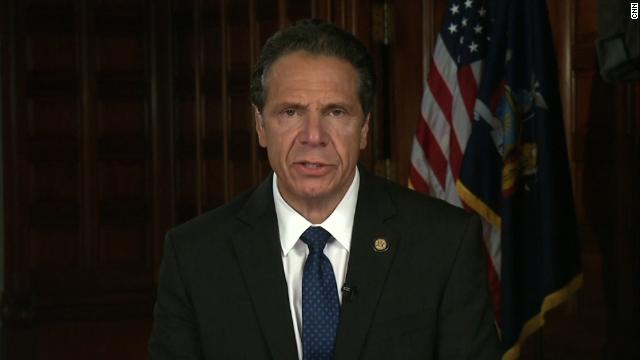 New York Gov. Andrew Cuomo released a statement Friday night about sending resources to Florida ahead of Hurricane Dorian:
"As Hurricane Dorian continues to gather strength on its path toward the US, we are preparing for every possible scenario and stand ready to assist Florida and any other community impacted by the storm.
"... We are deploying an Incident Management Team of 26 personnel to Florida, 25 of whom are state employees from a number of agencies.
"The team will depart to Tallahassee on Sunday morning and will be further deployed as needed. State police remain on standby with equipment and supplies secured and ready to be packed into trucks if they are requested.
"We will continue to monitor the situation closely and will do everything we can to help during these difficult times. To our friends and neighbors in Florida: stay safe."
9:26 p.m. ET, August 30, 2019
Martin County announces mandatory evacuations will begin Sunday
From CNN's Jamiel Lynch
Martin County officials announced mandatory evacuations will begin at 10 a.m. ET Sunday.
Evacuation shelters will open Sunday at 10 a.m., according to a county press release.
The evacuation applies to residents on barrier islands, Sewall's Point and manufactured/mobile homes as well as homes in low-lying areas.
"Residents are strongly urged to follow the evacuation order," the release said.
The county said additional evacuations may be announced as the situation changes.
9:12 p.m. ET, August 30, 2019
Mandatory evacuations to begin Sunday in Brevard County barrier islands
From CNN's Jamiel Lynch
Brevard County is issuing a mandatory evacuation beginning Sunday at 8 a.m. ET for those living on barrier islands, including Kennedy Space Center south to the beaches and Merritt Island. Residents in mobile homes and in low-lying, flood-prone areas also must evacuate.
Shelter details are still being finalized, and will be announced on Sunday, September 1. 
To determine whether an address is located in an evacuation zone, visit https://bit.ly/2wKvjq0 and enter an address in the search engine in the upper left hand corner.
9:08 p.m. ET, August 30, 2019
Dorian strengthens to a Category 4 hurricane
From CNN's Gene Norman