Hurricane Dorian's path and destruction
5:07 a.m. ET, September 7, 2019
Our live coverage of Hurricane Dorian has ended here, but recovery efforts around the Bahamas continue while the storm works its way up the East coast.
Here's where things stand now:
Where is Dorian now? The storm made landfall Friday as a Category 1 hurricane, bringing along with it powerful winds and heavy rains.
What's happening in the Bahamas? Entire communities, roads, bridges and beaches have been wiped away due to the exorbitant amount of time the storm spent lingering over the islands earlier this week.
What's next for Dorian? The storm is expected to move up through New England Friday night and Saturday morning. It should approach Nova Scotia late Saturday.
You can continue following the latest on Hurricane Dorian on Saturday here.
4:35 p.m. ET, September 6, 2019
Floodwaters are receding on North Carolina's Ocracoke Island
Floodwaters have receded to about two feet on North Carolina's Ocracoke Island, Donnie Shumate, public information officer for Hyde County, tells CNN.
For comparison, earlier today, residents reported the water was around seven feet above ground during the height of the storm.
Shumate said that residents have called this the worst flooding they've seen.
4:12 p.m. ET, September 6, 2019
This North Carolina energy company is flooding
Tideland EMC, an energy company in North Carolina, said flooding in the outer banks has affected its office, too.
The company tweeted video of the floodwaters in Ocracoke Friday afternoon.
3:36 p.m. ET, September 6, 2019
Hundreds of Bahamians wait to get off Marsh Harbour
Ted Curry was one of hundreds of Bahamians who spent Friday at either the Leonard M. Thompson International Airport or the Marsh Harbour ferry attempting to leave for Nassau.
"The island of Abaco has been through and survived many hurricanes in the past. It didn't take long for us to rebound, but this is a different from anything we've every experienced. This hurricane will set us back for years to come. But Abaconians are a resilient group of people. When we do come  back we will be bigger stronger and better than before," Curry told CNN over WhatsApp.
Curry, of Cedar Harbour in the Bahamas, captured videos showing both the devastation at the airport and the hundreds of people trying to leave. Watch more in the clips below:
3:10 p.m. ET, September 6, 2019
Bahamas government says it will help Dorian survivors regardless of immigration status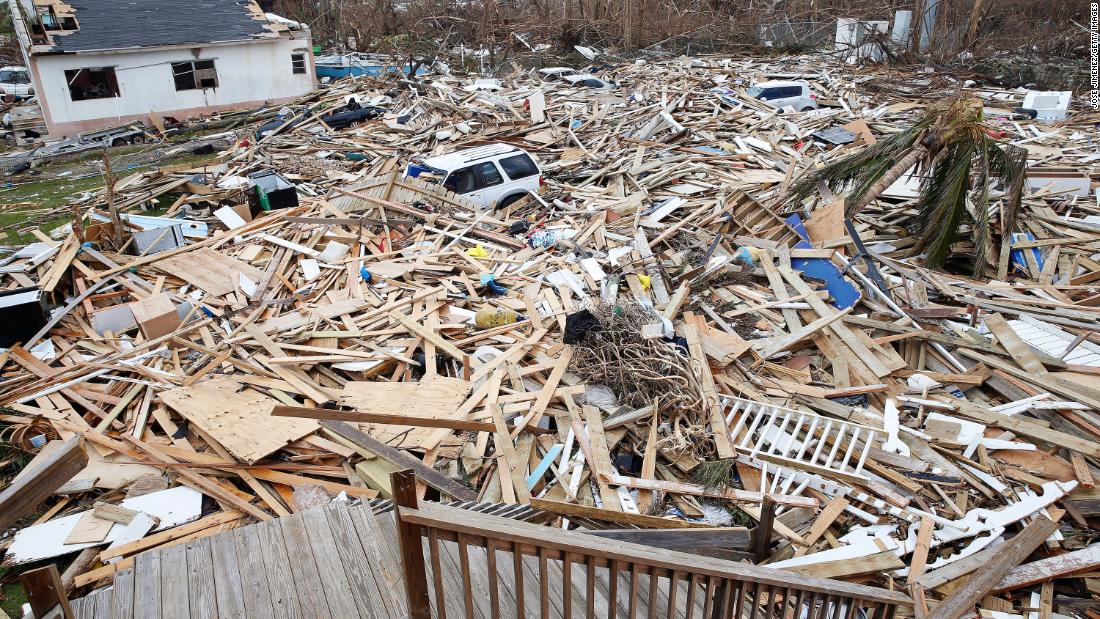 The Bahamian Ministry of Financial Services, Trade & Industry and Immigration said it will help anyone who needs assistance regardless of their immigration status.
"We are presently experiencing a humanitarian crisis," the ministry said in a statement.
The agency added that its "concentration is on assisting with humanitarian efforts to rescue and save lives regardless of place of origin, nationality or immigration status."
"While we are obligated to, and will continue to, secure our borders all domestic apprehension exercises in the affected areas are suspended," the statement said.
The Bahamian Immigration Department is asking "all in our community to assist as best as they can with the humanitarian efforts underway."
2:31 p.m. ET, September 6, 2019
This is what it's like on North Carolina's barrier islands now
It's high tide in Kill Devil Hills, North Carolina, part of the states barrier islands, and the ocean water is approaching the beaches' dunes. Video from the beach captured violent waves and whipping winds.
Kill Devil Hills is part of Dare County, which ordered mandatory evacuations for all residents ahead of the hurricane.
But not everyone headed those warning:
"This is a state where they've prepared for three hurricanes in the last three years. Some people felt comfortable to ride it out," CNN's Alexandra Field reported.
Watch more:
1:52 p.m. ET, September 6, 2019
Hundreds of people could be trapped on North Carolina islands
North Carolina Director of Emergency Management Mike Sprayberry said officials have received reports that hundreds of people may be trapped on the barrier islands in Dare and Hyde counties.
He says they do not have any official number of people who may be stuck.
Hyde County is now preparing to evacuate Ocracoke residents by air, according to a tweet from the county. 
1:44 p.m. ET, September 6, 2019
Get a bird's eye view of Dorian's destruction in the Bahamas
Striking satellite images show the Bahamas before and after Hurricane Dorian hit the islands.
Maxar Technologies captured the after images on Thursday, days after Dorian hit the Bahamas as a devastating Category 5 storm.  
Here's the side-by-side images of northwestern Marsh Harbour:
And here's Green Turtle Cay:
1:35 p.m. ET, September 6, 2019
Hyde County in North Carolina preparing to evacuate Ocracoke Island residents by air
North Carolina's Hyde County is preparing to evacuate Ocracoke residents by air, according to a tweet from the county. 
The county has asked any residents who want to evacuate to contact the Emergency Operations Center so they can get a head count and make arrangements, another tweet said. 
Residents who choose to evacuate will be flown to a shelter in Washington County. 
They have not yet determined what time they will start evacuating residents.