5 dead as Hurricane Dorian slams into the Bahamas
6:18 a.m. ET, September 2, 2019
Video captures devastation in Marsh Harbour
Scenes of devastation in the Marsh Harbour area of the Abaco Islands has been shared on Twitter by eyewitness Vernal Cooper, who found shelter at a government building when the eye of the storm hit.
"There's damages everywhere around my area," Cooper said, who posted the video on Monday night. "Cars and houses destroyed. This is what's left of Marsh Harbour. This needs to end."
He says his home was also affected by the category 5 hurricane.
"The roof was blown off, with wind and rain battering inside the house. It was the single most scariest [sic] thing I've ever experienced in my life."
Cooper added that many people in Abaco are struggling to contact their relatives because power outages have cut communication lines. "So many family members are worried."
6:17 a.m. ET, September 2, 2019
BREAKING: First reported death from Dorian as 8-year old boy drowns
The death of an eight-year-old boy, the first reported fatality caused from Hurricane Dorian, has been reported by local news outlets Eyewitness News and Bahamas Press.
The boy's grandmother, Ingrid McIntosh, told Eyewitness News in the Bahamas that her grandson died on Abaco Island.
McIntosh said her daughter told her that she found the body of her son, who she believed drowned in the rising waters. McIntosh added that her granddaughter is also missing.
"All I can say is that my daughter called from Abaco and said that her son -- my grandson -- is dead. That's it. I don't know what really happened. I think she said he drowned," McIntosh said.
CNN has contacted Bahamian authorities who have not yet confirmed these reports.
5:53 a.m. ET, September 2, 2019
13,000 homes severely damaged or destroyed by Dorian
Many people are without adequate shelter as Hurricane Dorian's category 5 winds and rains caused "extensive damage" to the islands of Abaco and Grand Bahama, according to initial assessments from authorities and Red Cross officials on the ground.
As many as 13,000 homes have been severely damaged or destroyed, according to a statement from the International Federation of Red Cross and Red Crescent Societies (IFRC) and extensive flooding has created an "urgent need" for clean water as wells become contaminated with saltwater.
"We don't yet have a complete picture of what has happened. But it is clear that Hurricane Dorian has had a catastrophic impact," Sune Bulow, Head of IFRC's Emergency Operation Center in Geneva, said Monday.
"We anticipate extensive shelter needs, alongside the need for short-term economic support, as well as for clean water and health assistance."
The IFRC said it has released 250,000 Swiss francs (US$252,000) "to bolster the first wave" of its response as it provides around 500 families with emergency shelter assistance.
"Hundreds of trained Red Cross volunteers, emergency response vehicles and more than 30 truck loads of relief supplies are being mobilized to help people living in the path of Hurricane Dorian," the statement added.
5:21 a.m. ET, September 2, 2019
Dorian to "pound" Grand Bahama, says latest update from National Hurricane Center
Hurricane Dorian will "continue to pound" Grand Bahama Island for the rest of today and tonight and will move "dangerously close" to Florida's east coast, the National Hurricane Center (NHC) warned in its latest update.
As of 5 a.m. ET the hurricane's center was about 40 miles east of Freeport Grand, Bahama Island, with maximum sustained winds of 165mph.
"Although gradual weakening is forecast, Dorian is expected to remain a powerful hurricane during the next couple of days," the NHC added.
Read the full update here.
4:49 a.m. ET, September 2, 2019
British Royal Navy ship to arrive in the Bahamas today
The British Royal Navy auxiliary ship, RFA Mounts Bay, is due to arrive in the Bahamas today, according to the British Ministry of Defence.
The ship was deployed to the region in June in anticipation of hurricane season and was redirected to the Bahamas when news of Hurricane Dorian broke, according to a Ministry of Defence spokesperson.
The ship carries aid, building materials, a helicopter, specialist transport equipment, and surveying equipment, said the spokesperson.
The ship will be on standby "ready" to help as soon as an official request is made by authorities.
4:33 a.m. ET, September 2, 2019
Dorian so loud it "sounds like a jet engine"
There's no sleep for residents in Grand Bahama Island as Hurricane Dorian rages on, at 4 a.m.
"We are being lashed here in Freeport in the island of Grand Bahama by Dorian's winds all night long in the dark because power is out here. It sounds like a jet engine, just screaming winds that pick up but never really go away," said CNN correspondent Patrick Oppmann.
"You just have to imagine, for people who are in their homes, no power, no information, no TV, maybe they're listening to radio -- it has to be terrifying."
He added that Dorian is an unprecedented storm in the Bahamas, with storm surges a major concern. The surge could exceed 20 feet and the highest point on Grand Bahama is 30 feet, Oppmann said.
"Much of this island by the end of today, by tomorrow will be underwater," he said.
Watch the segment here:
4:21 a.m. ET, September 2, 2019
Grand Bahama island is being "lashed incessantly" by Dorian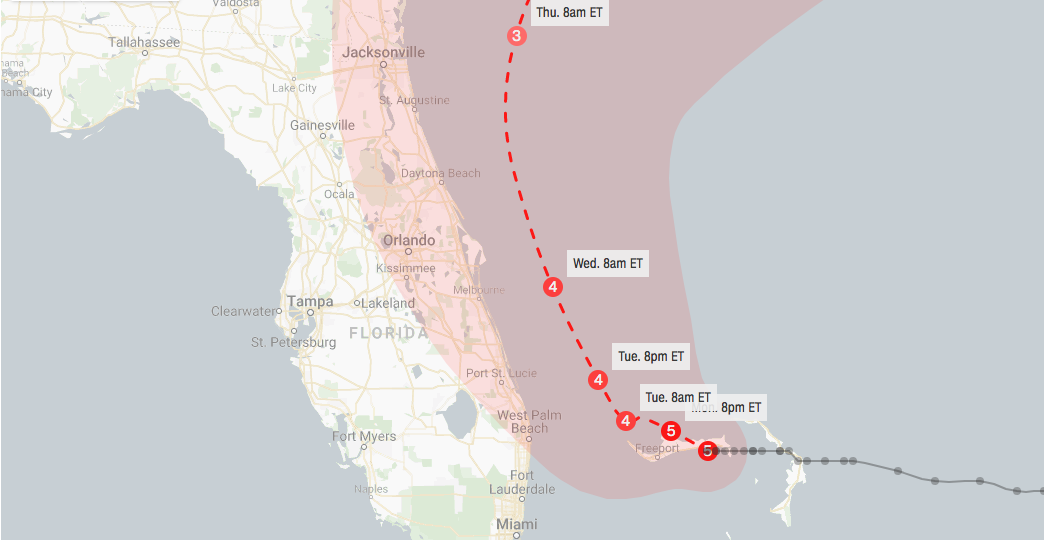 Hurricane Dorian came to a virtual halt over Grand Bahama island in the early hours of Monday morning, as the National Hurricane Center (NHC) warned of potential "extreme destruction."
Home to about 50,000 people, Grand Bahama is being "lashed incessantly with destructive hurricane-force winds," according to the NHC's latest update at 4 a.m. Monday.
The maximum sustained winds have slowed slightly to 165 miles per hour -- dropping 20 mph from its peak of 185 mph earlier Sunday evening. But the force of the hurricane is even more dangerous combined with how slow it is moving -- it is only traveling at 1 mph.
Instead of barrelling past, the hurricane and its destructive winds are hovering over the region for hours at a time. The NHC warned that the hurricane would continue to batter Grand Bahama for most of Monday. 
Read the NHC update here.
4:03 a.m. ET, September 2, 2019
Hotel owners volunteered their kitchens for relief and emergency food efforts
Chef Jose Andres and his nonprofit World Central Kitchen team are in the Bahamas to serve food to people in need.
Andrés told CNN his team arrived in the islands before Hurricane Dorian hit, so they could start serving meals as quickly as possible after the storm passes.
"Before everything, we already knew some hotel owners, that they wanted to be part of the relief, and they offered us to be using their hotels' kitchens. But now we have no communication and we need to wait in the morning to check the aftermath as soon as they can communicate with us to see that those hotels are still able to help us start cooking," said Andres.
World Central Kitchen served meals in Puerto Rico after Hurricane Maria hit in 2017, and the team went to South Carolina during Hurricane Florence last year. They even fed hungry furloughed workers during the government shutdown.
Hear what Jose Andres said about Dorian:
3:46 a.m. ET, September 2, 2019
How climate change is making hurricanes worse
Climate change is making natural disasters worse around the world, from extreme droughts to flash flooding. Hurricanes are no exception.
Here's how climate change makes hurricanes worse:
Heavy rain: Warming oceans create a warmer and more moist environment, meaning there is greater and more intense rainfall. That also increases the threat of flash flooding.
What it means: These warm oceans essentially fuel tropical storms to become bigger, stronger, and longer-lasting.
Storm surges: Rising sea levels also make higher, more dangerous storm surges. Ocean levels along the East Coast have risen by nearly a foot in the past century, thanks primarily to global ocean warming.
Visible effects: We're already seeing these effects -- Hurricanes Florence, Harvey, and Barry all reached high levels of destruction and record water-marks for flooding.