5 dead as Hurricane Dorian slams into the Bahamas
4:33 a.m. ET, September 2, 2019
Dorian so loud it "sounds like a jet engine"
There's no sleep for residents in Grand Bahama Island as Hurricane Dorian rages on, at 4 a.m.
"We are being lashed here in Freeport in the island of Grand Bahama by Dorian's winds all night long in the dark because power is out here. It sounds like a jet engine, just screaming winds that pick up but never really go away," said CNN correspondent Patrick Oppmann.
"You just have to imagine, for people who are in their homes, no power, no information, no TV, maybe they're listening to radio -- it has to be terrifying."
He added that Dorian is an unprecedented storm in the Bahamas, with storm surges a major concern. The surge could exceed 20 feet and the highest point on Grand Bahama is 30 feet, Oppmann said.
"Much of this island by the end of today, by tomorrow will be underwater," he said.
Watch the segment here:
4:21 a.m. ET, September 2, 2019
Grand Bahama island is being "lashed incessantly" by Dorian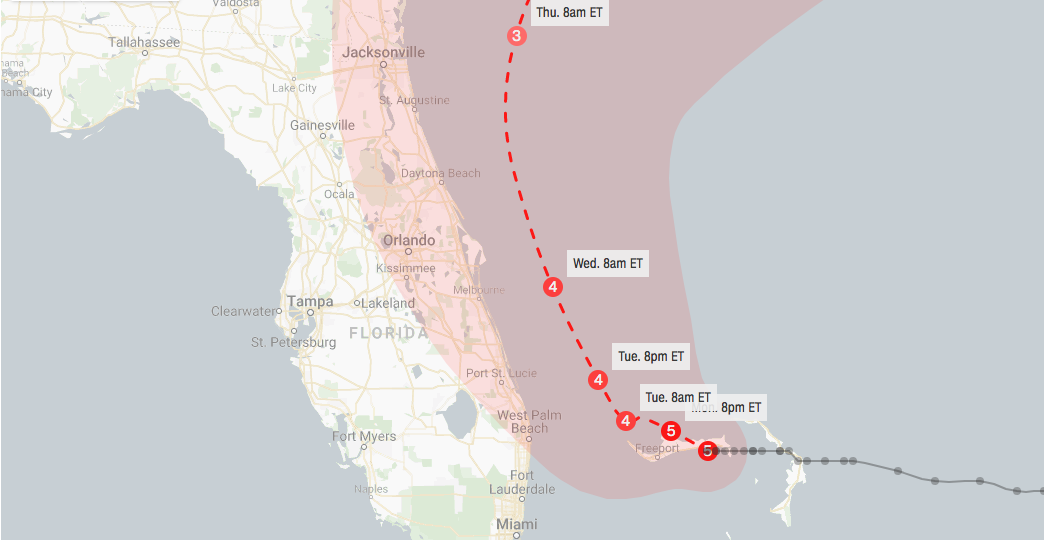 Hurricane Dorian came to a virtual halt over Grand Bahama island in the early hours of Monday morning, as the National Hurricane Center (NHC) warned of potential "extreme destruction."
Home to about 50,000 people, Grand Bahama is being "lashed incessantly with destructive hurricane-force winds," according to the NHC's latest update at 4 a.m. Monday.
The maximum sustained winds have slowed slightly to 165 miles per hour -- dropping 20 mph from its peak of 185 mph earlier Sunday evening. But the force of the hurricane is even more dangerous combined with how slow it is moving -- it is only traveling at 1 mph.
Instead of barrelling past, the hurricane and its destructive winds are hovering over the region for hours at a time. The NHC warned that the hurricane would continue to batter Grand Bahama for most of Monday. 
Read the NHC update here.
4:03 a.m. ET, September 2, 2019
Hotel owners volunteered their kitchens for relief and emergency food efforts
Chef Jose Andres and his nonprofit World Central Kitchen team are in the Bahamas to serve food to people in need.
Andrés told CNN his team arrived in the islands before Hurricane Dorian hit, so they could start serving meals as quickly as possible after the storm passes.
"Before everything, we already knew some hotel owners, that they wanted to be part of the relief, and they offered us to be using their hotels' kitchens. But now we have no communication and we need to wait in the morning to check the aftermath as soon as they can communicate with us to see that those hotels are still able to help us start cooking," said Andres.
World Central Kitchen served meals in Puerto Rico after Hurricane Maria hit in 2017, and the team went to South Carolina during Hurricane Florence last year. They even fed hungry furloughed workers during the government shutdown.
Hear what Jose Andres said about Dorian:
3:46 a.m. ET, September 2, 2019
How climate change is making hurricanes worse
Climate change is making natural disasters worse around the world, from extreme droughts to flash flooding. Hurricanes are no exception.
Here's how climate change makes hurricanes worse:
Heavy rain: Warming oceans create a warmer and more moist environment, meaning there is greater and more intense rainfall. That also increases the threat of flash flooding.
What it means: These warm oceans essentially fuel tropical storms to become bigger, stronger, and longer-lasting.
Storm surges: Rising sea levels also make higher, more dangerous storm surges. Ocean levels along the East Coast have risen by nearly a foot in the past century, thanks primarily to global ocean warming.
Visible effects: We're already seeing these effects -- Hurricanes Florence, Harvey, and Barry all reached high levels of destruction and record water-marks for flooding.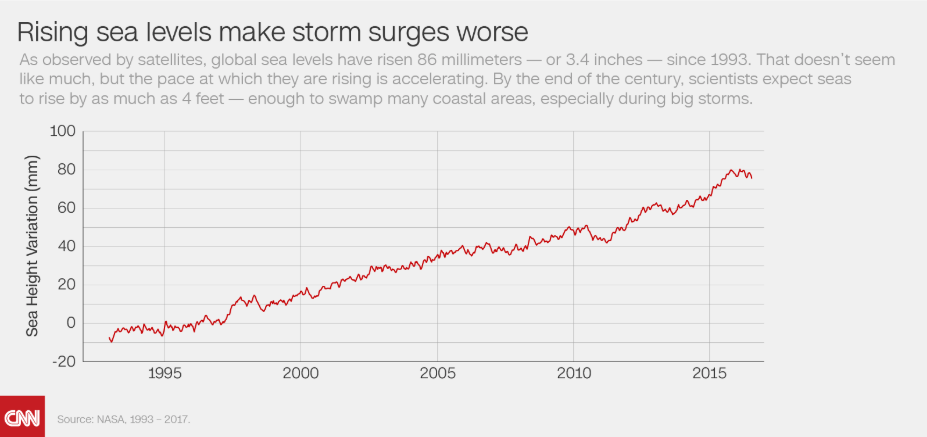 3:22 a.m. ET, September 2, 2019
Here's where Dorian is heading this week
Hurricane Dorian is currently slamming the Bahamas as a powerful Category 5 storm. The hurricane — which packs winds of 175 miles per hour — is slowly crawling northwestward.
Dorian's projected path may continue to shift, but here's the current forecast:
Monday: Dorian remains over the Bahamas before creeping toward Florida's east coast later that day. Hurricane conditions are likely to be experienced by anyone within 30 miles of the storm's center.
Tuesday: Landfall is still a distinct possibility in Florida as some forecast models see the storm shifting west. The storm is then expected to turn northward and move up the Florida coast.
Wednesday: The storm will continue to produce hurricane-force winds as it heads north, where it could continue to weaken. There will be an increasing risk of strong winds and dangerous storm surges along the coasts of Georgia, South Carolina and North Carolina. Flooding rainfall is expected to continue from southern Florida into Georgia.
Thursday: Dorian is expected to make its closest approach to the Carolina coast, with the distinct possibility that the storm will make landfall.
Friday: Dorian will near the Outer Banks, the band of islands off the coast of North Carolina.
3:33 a.m. ET, September 2, 2019
Powerful Dorian winds slow slightly to 170 mph over the Bahamas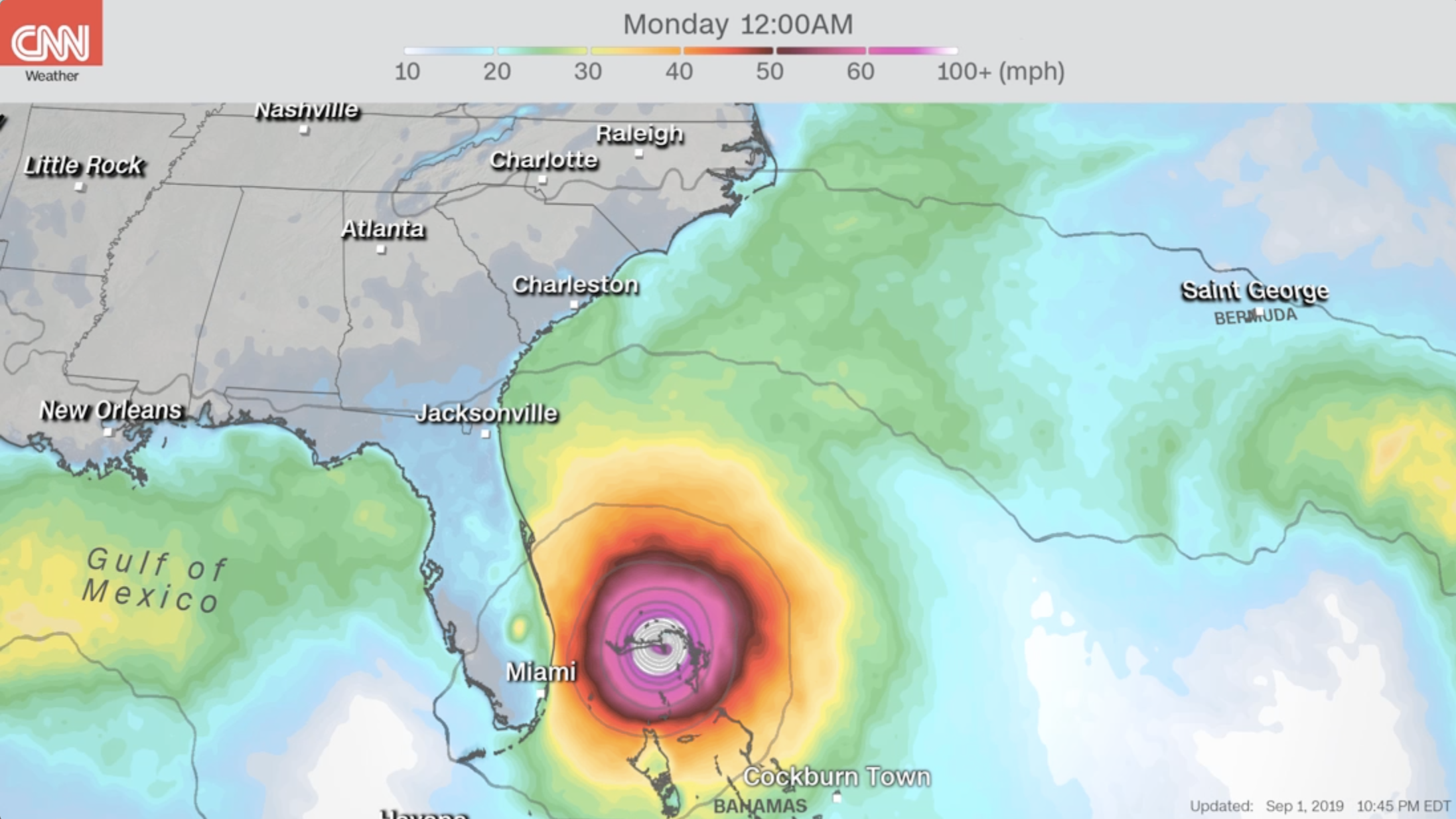 Dorian's maximum sustained winds have slowed slightly, from 185 miles per hour earlier Sunday evening to 170 mph, according to the National Hurricane Center (NHC).
The storm is still whipping the northern Bahamas, where residents have endured a night of howling winds and heavy rain. Dorian is moving very slowly west at 5 mph and is expected to move west to northwest on Monday, before gradually turning north.
This means it will likely continue to pound Grand Bahama Island through much of Monday and Monday night, and move closer to Florida's east coast from Monday night to Wednesday evening.
Storm surges and the rising tide will cause water to move inland and flood normally dry areas of the Abaco Islands, the NHC said. However, water levels should start slowly subsiding on the islands on Tuesday, it added.
Read the full advisory here.
2:57 a.m. ET, September 2, 2019
Dorian may have weakened in the past few hours, but it's still "formidable"
Hurricane Dorian has slowed from 185 miles per hour to 175 mph as it batters the Bahamas — but the storm is far from over.
"What happens when these storms get this strong, their eye can't sustain itself for that much longer so they go through replacement cycles and as that happens they weaken a little bit here. But that is not a weakening trend I don't think yet -- 175 (mph) is still a formidable Category 5 hurricane," said CNN meteorologist Ivan Cabrera.
Dorian is a historic storm — only Hurricane Allen in 1980 had stronger winds in the Atlantic, with maximum sustained winds of 190 mph.
Computer models now forecast several possible paths for the hurricane — some further west and some further east. This path will be key to the extent of any damage inflicted on Florida and other southern US states. The closer Dorian's winds get to the coast, the stronger the impact for coastal residents.
Watch the segment here:
2:32 a.m. ET, September 2, 2019
Bahamas residents sheltering in darkness as storm hits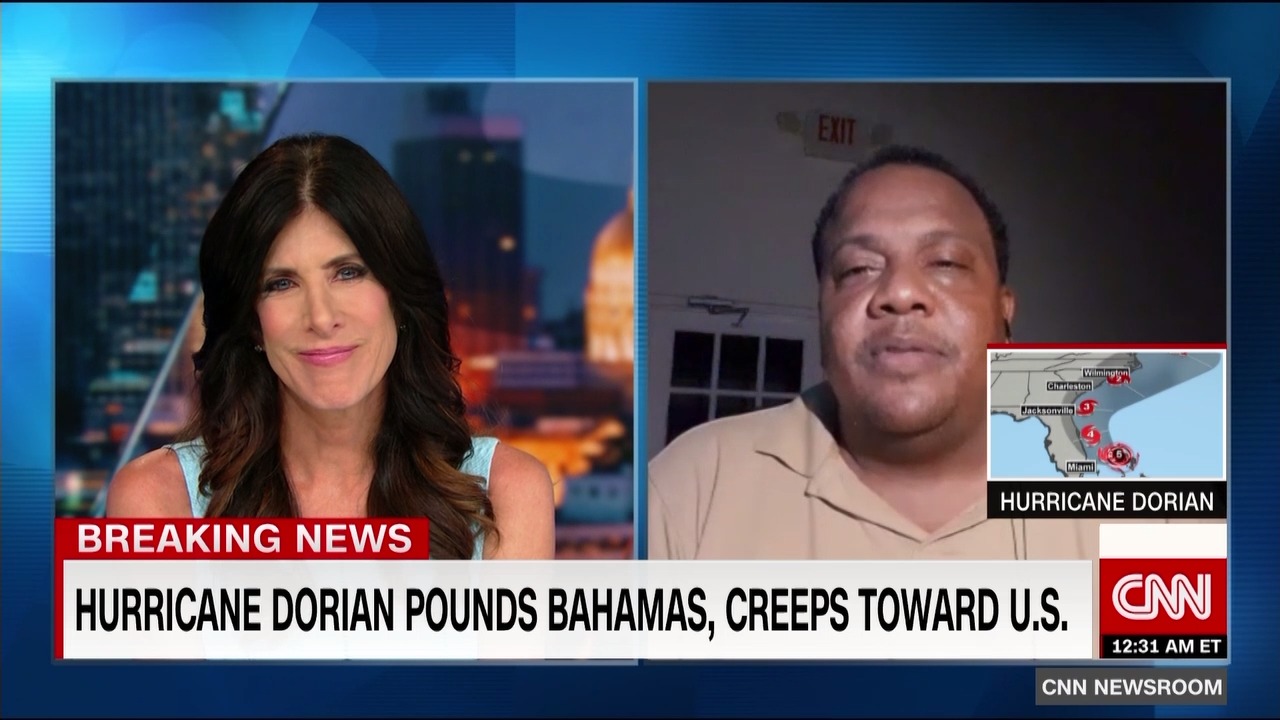 It's now 2:30 a.m. in the Bahamas and Hurricane Dorian has slowed to a crawl over the island chain, battering buildings with heavy rain and winds at 180 miles per hour.
Residents are bunkering down at home in the dark and in shelters where they sought refuge as the storm hit. Sunrise isn't for another four hours, at 6:53 a.m., when local authorities will be able to survey the full extent of the damage.
Kevin Tomlinson, a resident in Freeport, Grand Bahama, told CNN just after midnight that power had been cut to the shelter where he is staying with about 40 other residents who live by the coast. There were even some tourists who got caught in the hurricane -- he said one couple was visiting from Chicago.
Tomlinson said he and other locals are preparing for some difficult weeks ahead.
"In 2004 when we had Hurricane Francis, we went through the aftermath of 10 weeks of no power, no water and everything, and we know what that felt like, but we rebuilt and we're going to rebuild again. So anything happens like that, we just rebuild again," he said.
Watch Kevin speak here:
2:45 a.m. ET, September 2, 2019
Dorian could be the fourth Category 5 hurricane to hit the US in the last two years
Hurricane Dorian is slowly heading toward Florida's east coast, and could be the most recent of several Category 5 hurricanes to endanger parts of the US in the past few years. Here's a look back:
Hurricane Irma, one of the strongest Atlantic basin hurricanes ever recorded outside the Gulf of Mexico and the Caribbean Sea, affected at least nine US states in September 2017.
Hurricane Maria devastated the US territory of Puerto Rico that same month, leaving millions of Americans without power, water, or shelter. Two years later, the island is still struggling to recover.
Hurricane Michael barrelled into the Florida Panhandle in October 2018, with damage stretching to the Carolinas, where flash floods turned roads into rivers.
Dorian is still battering the Abaco and Grand Bahama Islands. The hurricane -- the strongest on the planet anywhere this year -- is forecast to lash the region overnight and through much of Monday. It's now expected to reach Florida's east coast late Monday into Tuesday night.