Florence pummels the Carolinas
11:53 a.m. ET, September 12, 2018
This South Carolina woman is hunkering down with her 7 rescue dogs
Christine Meinhold lives just outside of Myrtle Beach, South Carolina, with her seven rescue dogs. She has decided to stay put with all of them ahead of Hurricane Florence. 
"I really don't have the resources to evacuate with 7 dogs," she told CNN. "When I rescued these dogs, I took on a responsibility of loving and caring for them the rest of their lives."
Meinhold added: "I can't abandon them. My car has over 205,000 miles on it and won't make it far. I can't imagine breaking down somewhere and putting them in danger." 
She said she's boarding up her home as best as she can. She's "prepared for the worst and hoping for the best," she said.
Meinhold said that during Hurricane Matthew in 2016, she helped rescure animals from the floodwaters.
"I have two hurricane dogs from Matthew that I took in after they were pulled out of the water," she said. "One was so skinny, you can imagine my surprise when I got her home and she had six puppies. Didn't know she was pregnant, she was so skinny. I found rescue for all six puppies."
11:43 a.m. ET, September 12, 2018
There's a storm more powerful than Florence barreling down on Southeast Asia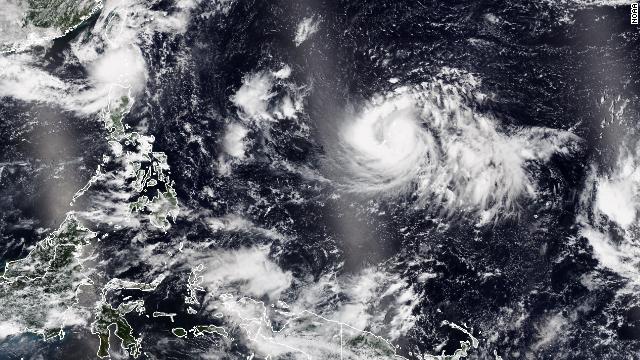 As the US East Coast braces for Hurricane Florence, an even stronger super typhoon is barreling down on Southeast Asia, with Hong Kong and Macau square in its path.
It is powerful: Super Typhoon Mangkhut, known as Super Typhoon Ompong in the Philippines, is currently equivalent to a Category 5 Atlantic hurricane, with winds of at least 252 kilometers per hour (157 mph). It's stronger than Florence, which is expected to cause massive flooding and devastation in the Carolinas.
It's getting stronger: Mangkhut has already swept past the US territory of Guam, in the western Pacific, where it caused flooding and power outages. The storm is expected to strengthen further in the next 24 to 48 hours, according to CNN Meteorologist Michael Guy, before it weakens slightly to a Category 4-equivalent storm as it approaches the the Philippines island of Luzon.
Even so, Guy said it will come "dangerously close to clipping the country," causing heavy rain and flooding in the island's north, where local authorities are preparing relief goods and security forces have been put on alert.
The Global Disaster Alert and Coordination System said in total up to 43.3 million people could be affected by the storm in the Philippines and southern China.
11:25 a.m. ET, September 12, 2018
These people are opening their homes to Florence evacuees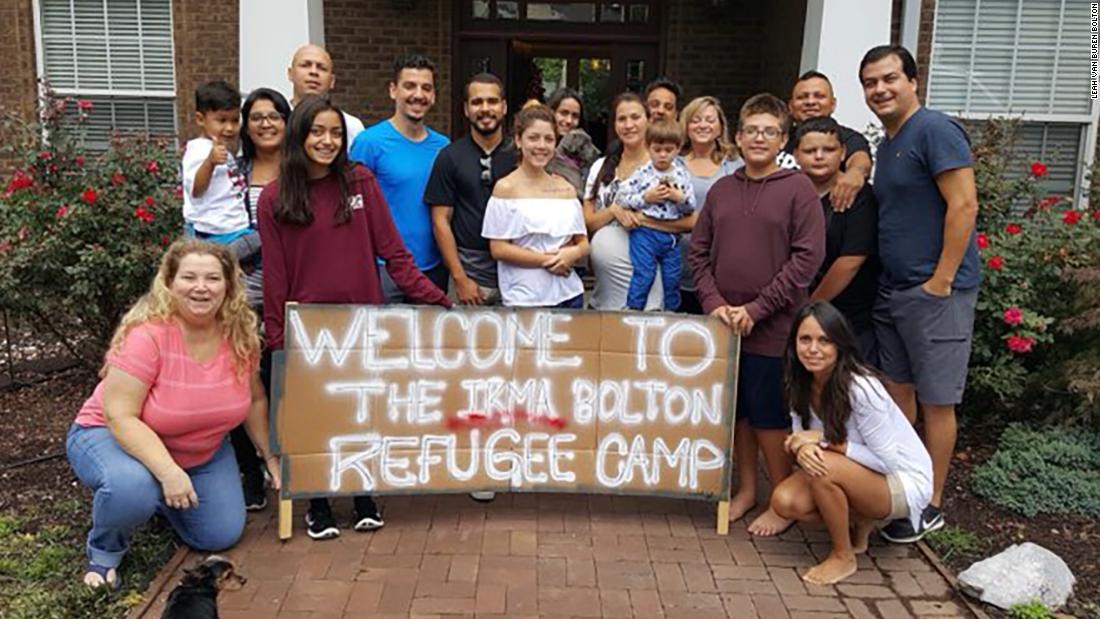 Leah Van Buren Bolton, Jim Gregory, Mary Jackson and Robert Riker have never met. But they have at least two things in common.
All four live in mountainous areas hundreds of miles inland from the East Coast. And all have just offered their homes to some of the more than 1 million people facing mandatory evacuation orders as Hurricane Florence takes aim at the coasts of Virginia, North Carolina and South Carolina.
In recent days, Facebook groups such as Hurricane Florence 2018 and Hurricane Florence Lodging For Evacuees have hosted dozens of posts from people and organizations offering shelter to those fleeing the Category 4 storm.
"We've fled our share of hurricanes. And we know the cost of staying in a hotel and having to eat out can quickly add up at a time when anxiety, fear and uncertainty is high," Riker told CNN. He and his family live in Waynesville, North Carolina -- in the western part of the state -- and are opening their house to a couple or small family.
"We just want to offer some relief to someone who has greater worries going on in their life than I do. We're all in this life together. And we only have each other to rely on," he added.
Read CNN's Gianluca Mezzofiore's story to see how these four are opening their homes and businesses to the refugees.
11:09 a.m. ET, September 12, 2018
Florence is so big, astronauts had to use an extra wide-angle lens to photograph it
European Space Agency astronaut Alexander Gerst just tweeted out a couple of photos of Hurricane Florence, which were taken from the International Space Station.
The storm is so huge, they had to use a wide-angle lens to fit it all into one shot, he said.
"Get prepared on the East Coast, this is a no-kidding nightmare coming for you," he said.
11:03 a.m. ET, September 12, 2018
Here's the latest forecast from the National Hurricane Center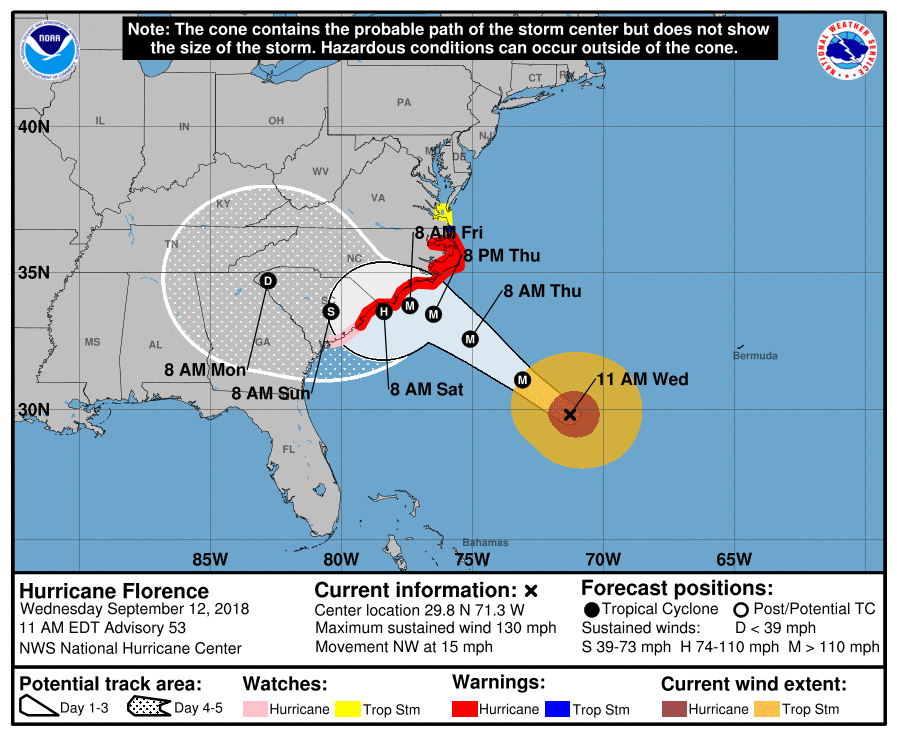 The National Hurricane Center just released its updated 11 a.m. ET forecast for Hurricane Florence.
The updated advisory is similar to the last one, which was released at 8 a.m. Parts of North and South Carolina remain under a hurricane watch, and tropical storm warnings extend into parts of Virginia.
The next forecast will drop at 2 p.m. ET. You can also track the hurricane with CNN's storm tracker.
10:50 a.m. ET, September 12, 2018
There's a lone surfer braving the waves off Carolina Beach
A CNN crew just spied a lone surfer braving the big waves off Carolina Beach Wednesday morning as Florence rumbles closer to the coast.
Note: Please don't do this.
10:45 a.m. ET, September 12, 2018
Florence will move slower than you walk, and other facts about this powerful storm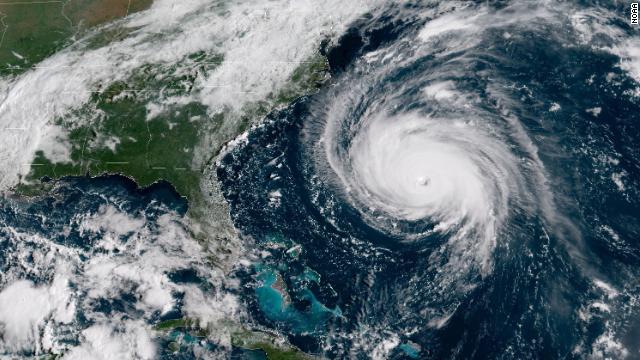 Hurricane Florence is a powerful Category 4 storm. Here's the latest statistics and facts that show this hurricane's strength and size:
From late Thursday night through early Sunday morning, Florence will only travel about 150 miles. That is literally slower than a walking pace. (2-3 mph on average).
Over 25 million people are inside the "forecast cone" from the National Hurricane Center, which extends from Virginia to Alabama as of Wednesday morning.
Isolated locations of coastal North Carolina could see up to 40 inches of rain — which is about how much Washington DC gets in an entire year.
The tropical storm-force winds stretch for over 315 miles, which would stretch from Washington, DC, to Charlotte, North Carolina.
The tropical storm-force wind field is larger than every state east of the Mississippi River, covering more than 73,000 square miles.