Florence pummels the Carolinas
8:07 a.m. ET, September 16, 2018
Our live coverage of Hurricane Florence, now a tropical depression, is concluding.
Despite its weakening, authorities have warned the danger is far from over -- flash and river flooding may get worse and hundreds of thousands remain without power.
Stick with CNN and see our latest report. Here's how to help those impacted by the storm.
8:00 a.m. ET, September 16, 2018
Florence is now a Tropical Depression
Florence has weakened to a Tropical Depression, according to the National Hurricane Center, but is still expected to produce heavy and excessive rainfall over much of the Carolinas.
This will be the last advisory issued by the National Hurricane Center on Florence.
4:52 a.m. ET, September 16, 2018
Hundreds of thousands still without power Sunday
More than 740,000 people remain without power on Sunday morning in North and South Carolina.
NC Emergency Management reports there are 681,446 customers in the dark there as of 4 a.m. The counties with the most customers without power are New Hanover, Brunswick, Carteret, Cumberland and Onslow.
SC Emergency Management reports 59,048 households are without power in their state as of 4 a.m. Total without power: 740,494.
11:19 p.m. ET, September 15, 2018
13,000 US soldiers assigned
The US Army is committing troops to help with Hurricane Florence recovery efforts, providing soldiers and engineers, as well as planes and amphibious vehicles.
More than 13,000 service members have been deployed to provide support in affected areas, from the US Army and the National Guard as well as teams from the U.S. Army Corps of Engineers.
The Army is also freeing up 4,500 cots, 200 medical beds and 18 water purification systems.
In a news release the US Army said it was also supplying:
Over 70 rotary wing aircraft plus another 200 additional aircraft available within 24-72 hours if necessary. 
Approximately 30 watercraft and 3,000 Army High Water Vehicles from Fort Stewart, Georgia; Fort Drum, New York; and Fort Campbell, Kentucky for ground search and rescue, commodities distribution, citizen transportation, and patient movement.
10:51 p.m. ET, September 15, 2018
Hurricane death toll rises to 13
Two more deaths in the aftermath of Hurricane Florence were recorded in Horry County, in South Carolina, late Sunday, taking the total toll from the storm to 13. The latest deaths involve a man and woman who died from carbon monoxide poisoning, according to the SC Department of Public Safety.
Here's how the numbers break down:
10 in North Carolina
A 41-year-old woman and her seven-month-old son died in Wilmington on Sept. 14 when a tree fell on their home.
A 68-year-old man in Lenoir County died when he was electrocuted while plugging in a generator on Sept. 14.
A 77-year-old man in Lenoir County fell and died due to a cardiac event while outside checking on dogs during the storm on the night of Sept. 13/14.
An 81-year-old man in Wayne County fell and struck his head while packing to evacuate on Sept. 14.
A husband and wife died in a house fire in Cumberland County on Sept. 14.  
Duplin County has had 3 fatalities due to flash flooding and swift water on roadways.
3 in South Carolina 
A 61-year-old woman lost her life when her car struck a tree that fell down during the aftermath of Hurricane -- she's been named as Mrs. Amber Dawn Lee from Union County.
Two fatalities occurred when a man and woman died in Horry County due to carbon monoxide poisoning, according to the SC Dept of Public Safety. 
8:04 p.m. ET, September 15, 2018
Update: Over 732,000 customers without power in the Carolinas
According to the North Carolina Department of Public Safety, there are  704,483 statewide power outages. Electric cooperatives of South Carolina report 28,328 outages.
That brings the total number of customers without power to 732,811 across both states.
8:31 p.m. ET, September 15, 2018
Lumber River in North Carolina now at 17.6 feet
Corey Walters, City of Lumberton deputy director of public works, tells CNN the Lumber River is currently at 17.6 feet. When the water reaches 26 feet, it is projected to overwhelm the barriers and flood the nearby communities. The area has already been put under a mandatory evacuation order.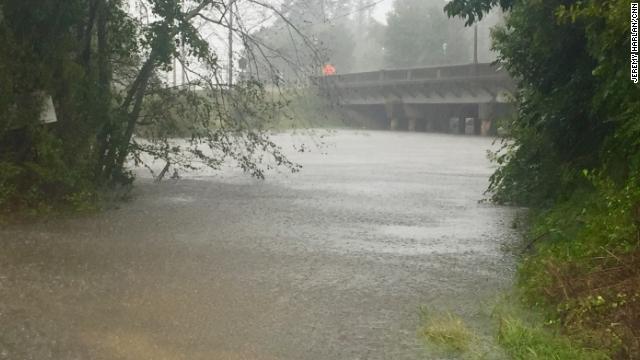 There is flooding "everywhere in the city... the rescues are non-stop," Walters said, adding that there have been "hundreds of rescues."
"This is our worst-case scenario," Walters said.
The deputy director said city has received 19 inches of rain since the start of Florence and it is projected to get over 25 inches total.