Hurricane Laura makes landfall in the US
8:38 a.m. ET, August 27, 2020
7:03 a.m. ET, August 27, 2020
It's just past 5 a.m. in Louisiana. Here's the latest on Hurricane Laura.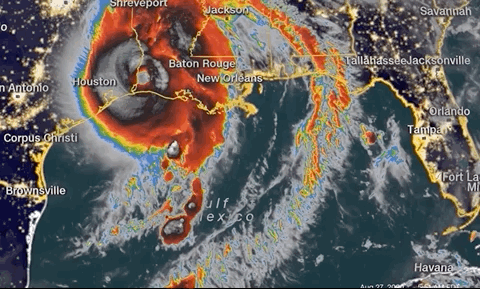 Powerful Hurricane Laura battered the Louisiana coastline Thursday morning after sweeping ashore as the region's strongest storm in over a century.
If you're just reading in now, here are the latest developments on the storm:
Downgraded: Hurricane Laura made landfall as a Category 4 storm, but it has since weakened to a Category 2. It still has winds of 110 mph.
More weakening expected: Further weakening will continue, and Laura will likely become a tropical storm later today as it tracks from Louisiana into Arkansas.
The storm surge threat: The storm surge for Laura could spread up to 30 miles inland in southwest Louisiana and Southeast Texas — reaching all the way to Interstate 10 potentially between Beaumont and Lake Charles. The National Hurricane Center warned the surge could be "unsurvivable" in some areas.
Not everyone heeded evacuation warnings: Cameron Parish, Louisiana, was put under a mandatory evacuation, but out of 6,500 residents, 150 have refused to leave, said Ashley Buller, assistant director of Emergency Operations for the parish.
6:10 a.m. ET, August 27, 2020
Laura is now a Category 2 hurricane with 110 mph winds
From CNN's Dave Hennen
As Hurricane Laura continues to move inland, the weakening trend has continued. Winds are now 110 mph, which makes Laura a strong Category 2 hurricane.
The center, known as the eye of the storm, is located about 45 miles north of Lake Charles.
Further weakening will continue, and Laura will likely become a tropical storm later today as it tracks from Louisiana into Arkansas.
6:08 a.m. ET, August 27, 2020
More than 394,000 customers are without power
From CNN's Joe Sutton
Power outages in Louisiana and Texas are climbing at a rapid pace this morning, after Hurricane Laura made landfall on the Gulf Coast.
There are now 394,763  customers without power in both states, according to PowerOutage.US. 
More than 317,000 of those customers are in Louisiana, while more than 77,000 are in Texas.
6:01 a.m. ET, August 27, 2020
Those who didn't evacuate before Hurricane Laura told to put their name in a plastic bag in a pocket
From CNN's Madeline Holcombe
Louisiana officials are warning those who didn't evacuate from mandatory zones before Hurricane Laura hit that rescue efforts won't start until the surge has passed.
"Those choosing to stay and face this very dangerous storm must understand that rescue efforts cannot and will not begin until after storm and surge has passed and it is safe to do so," the Vermilion Parish Sheriff's Office said in a statement Thursday.
"Please evacuate, and if you choose to stay and we can't get to you, write your name, address, social security number and next of kin and put it a Ziploc bag in your pocket. Praying that it does not come to this."
Read more here.
6:11 a.m. ET, August 27, 2020
Hospital in Lake Charles sustains damage, officials will assess damage this morning 
From CNN's Joe Sutton and Paul P. Murphy
Damage has been reported this morning at CHRISTUS St. Patrick Hospital in Lake Charles.  
"At this time, we know we have sustained damage to the facility, but are waiting until the morning to get a clear picture," hospital spokeswoman Heather Hidalgo tells CNN.
The top of the skybridge that goes from the hospital to the parking garage has lost its covering due to the powerful winds from Laura, Hidalgo said.  
"Everyone is doing well. No evacuations during the storm," she said.  
Damage is being reported across the Lake Charles area -- like at this condo complex.
Take a look:
Resident Tolor White, Jr, dozed off after working on a crossword puzzle, when he heard a loud noise a little before 1:15 a.m.
When he crawled out from under his makeshift barricade -- two mattresses -- he saw the roof had been taken off by the wind. As he was surveying the damage, the glass windows broke directly next to him.
5:33 a.m. ET, August 27, 2020
FEMA braces for Hurricane Laura amid coronavirus response
From CNN's Leyla Santiago and Priscilla Alvarez
Before Hurricane Laura made landfall, emergency management responders were already facing unprecedented demands as they juggled wildfires, hurricanes, and ongoing disaster and recovery efforts amid a nationwide pandemic.
The Federal Emergency Management Agency, which falls under the Department of Homeland Security, is among those assisting with the response on all fronts. It has taken the lead in operational coordination for the federal interagency response to the coronavirus pandemic. It's also responsible for the federal response for hurricane preparedness and recovery.
But the agency is facing a unique set of complexities in the face of a pandemic and a hurricane.
Unfortunately, I believe that the Federal Emergency Management Agency is trying to do the best they can, but they're being stretched to the maximum levels," said former FEMA Administrator Brock Long.
The bandwidth of the agency in the throes of hurricane season had previously been a point of concern for some government officials and disaster experts as FEMA worked to assist with the coronavirus response. While the agency is equipped to help with a range of disasters, Hurricane Laura is likely to present its own set of challenges.
From securing shelters and coordinating evacuations that allow for social distancing to ensuring an ample workforce for emergency response, the pandemic is presenting a unique set of complexities for emergency management.
5:01 a.m. ET, August 27, 2020
Hurricane Laura has weakened to a Category 3 storm
Laura has weakened to a Category 3 hurricane, with winds now at 120 mph, according to the latest advisory from the National Hurricane Center. 
The storm is expected to further weaken as it moves quickly inland over Louisiana, with hurricane force winds extending out 60 miles from the center.
The center, known as the eye of the hurricane, is currently 30 miles north of Lake Charles, Louisiana, and 50 miles northeast of Port Arthur, Texas.
Where it's heading next: The storm is expected to continue moving across southwestern Louisiana in the early hours of the morning, then continue northward across the state through Thursday afternoon. The storm's center is forecast to move over Arkansas later Thursday night, then reach the mid-Mississippi Valley on Friday and the mid-Atlantic states on Saturday.
4:57 a.m. ET, August 27, 2020
Hurricane Laura "is going to become the new benchmark," storm chaser predicts
Josh Morgerman, a hurricane chaser currently in Sulphur, Louisiana, told CNN that Hurricane Laura was going to "become the new benchmark storm for this region of the United States."
"The past biggies were Hurricane Audrey of 1957 which made landfall in almost the exact same place, killed hundreds of people in the town of Cameron," he said. Then in 2005, Hurricane Rita hit the same area and devastated the region again.
The region has learned how to better respond to earthquakes -- but "Hurricane Laura, because of its intensity, by far the strongest on record for this region, I think Laura's the new benchmark for this part of the United States," he said.
Sulphur lies just west of Lake Charles, where the eye of the hurricane is passing over.
"It's pitch black right now, there's no power or anything. All you hear is sounds, crashing and howling," said Morgerman. "I just can't imagine what this place is going to look like when the sun comes up."