Kevin Spacey appears in court
12:25 p.m. ET, January 7, 2019
Our live coverage has ended. Read more about Kevin Spacey's court appearance here
11:30 a.m. ET, January 7, 2019
A plea of not guilty was entered on Kevin Spacey's behalf today
From CNN's Aaron Cooper
Per the clerk's office, a plea of not guilty was entered on Kevin Spacey's behalf today.
Under Massachusetts law, this happens automatically, and the defendant does not have to state it. 
The next hearing is set for March 4, and Spacey does not have to appear in court.
11:25 a.m. ET, January 7, 2019
Spacey just left the courtroom and said nothing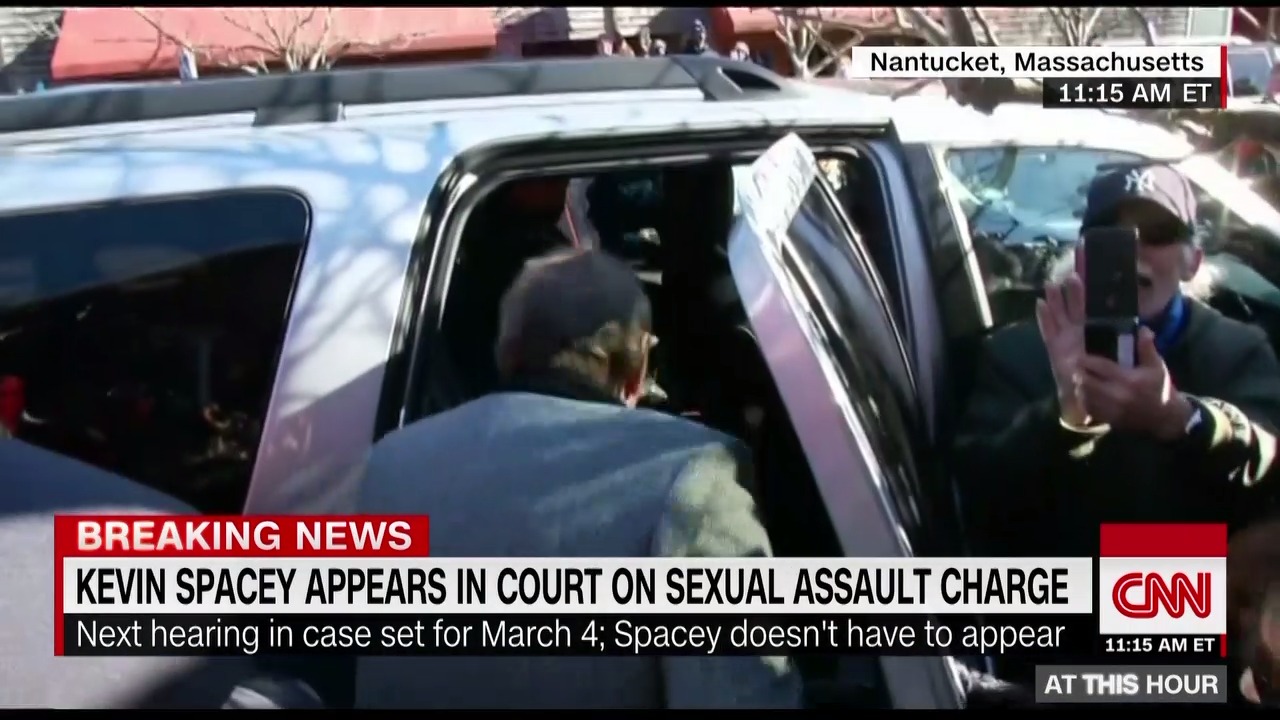 Kevin Spacey left the Nantucket courtroom following his appearance this morning. As he got into a car, reporters shouted questions at him.
"What are you feeling today Mr. Spacey?" one person asked.
Spacey did not answer any of the questions, and did not say anything else as he walked to his car.
Watch below:
11:30 a.m. ET, January 7, 2019
The next hearing is set for March, and Spacey doesn't have to be there
From CNN's Aaron Cooper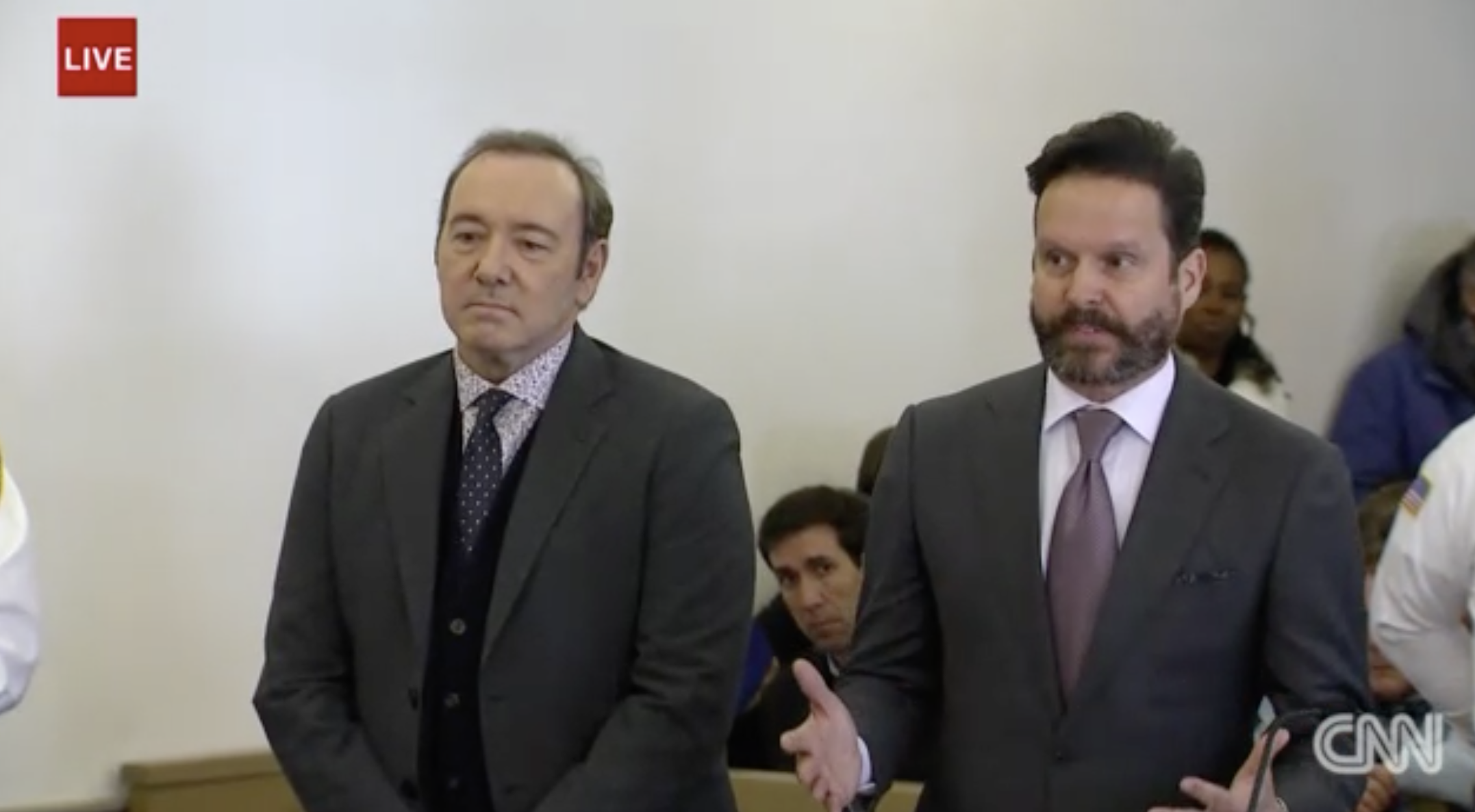 Kevin Spacey's arraignment just wrapped up in a Nantucket courtroom.
The judge gave the same warning to Spacey that he gave to many other accused this morning: If you are charged with another crime while this matter is open, you can be held for 90 days without bail.
The judge also ordered Spacey to have no contact with the accuser. 
Spacey held what looked like a glasses case in his hand and he played with it from time to time, tapping it with his hands.
What comes next: The next hearing will be on March 4 at 11 a.m E.T. The judge agreed to waive Spacey's right to appear, but he must be reachable by phone.
11:07 a.m. ET, January 7, 2019
Spacey quietly spoke with his lawyers inside the courtroom
From CNN's Aaron Cooper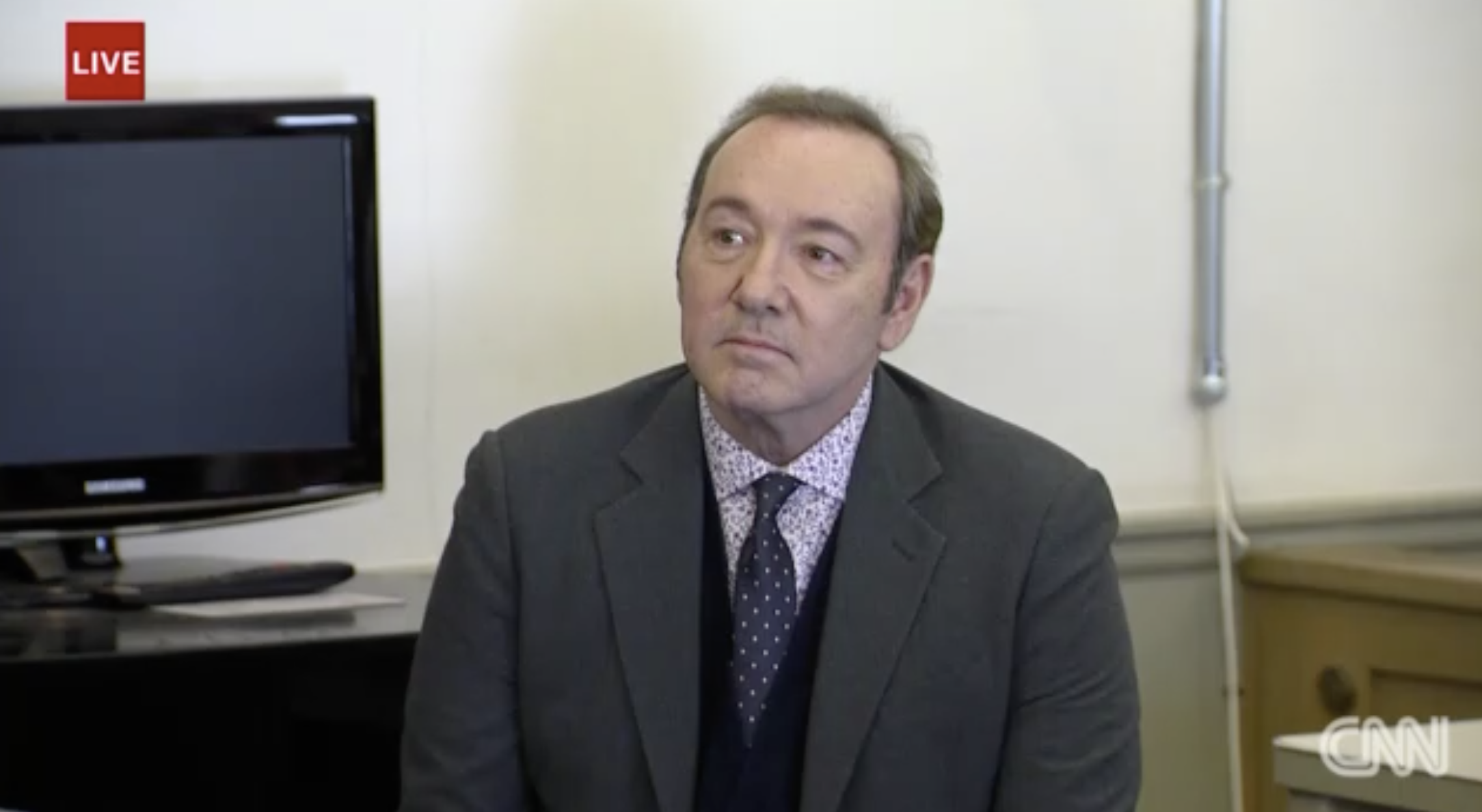 Kevin Spacey has two lawyers with him today: Alan Jackson and Juliane Balliro. 
The actor entered court quietly, then sat and talked with his lawyer. 
When called forward with his lawyers, he stood with his hands folded in front of him, looking at the judge. 
Spacey nodded slightly when he was ordered to have no contact with the victim.  
11:10 a.m. ET, January 7, 2019
Prosecutors ask Spacey stay away from his accuser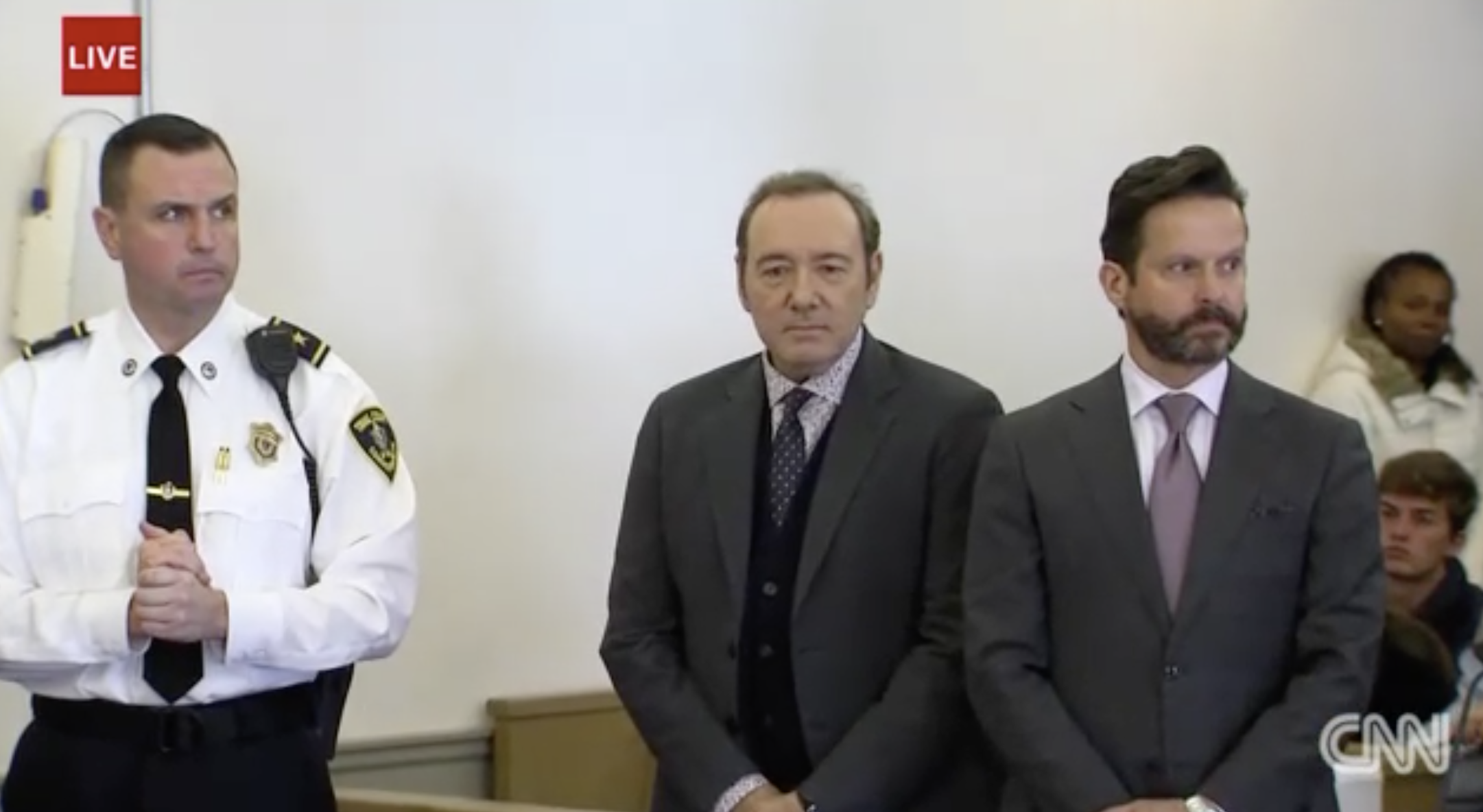 Prosecutors just asked for Kevin Spacey to stay away from the alleged victim named in the complaint.
"The commonwealth is requesting that Mr. Spacey be ordered to stay away and no contact with the named victim and his family," the lawyer said.
Judge Thomas Barrett appeared to grant the request.
"Certainly the court will impose those conditions," he said.
Watch below:
10:57 a.m. ET, January 7, 2019
NOW: Kevin Spacey has arrived at court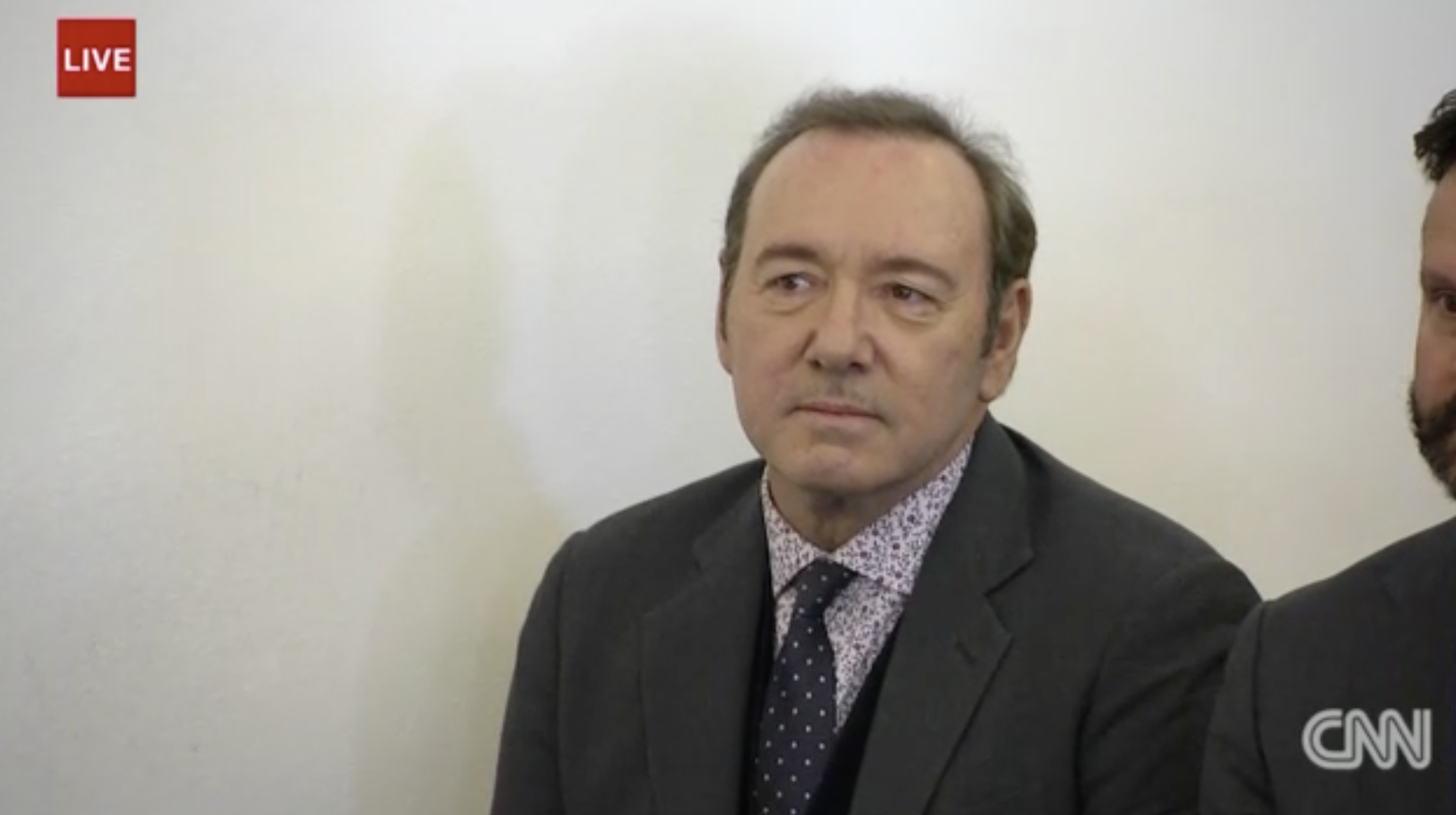 Actor Kevin Spacey has arrived at Nantucket District Court for his arraignment appearance, scheduled to begin at 11 a.m.
10:06 a.m. ET, January 7, 2019
Media "circus" descends on a wintry Nantucket
From CNN's Aaron Cooper at Nantucket District court
Kevin Spacey's 11a arraignment takes place in the downtown Nantucket courthouse, which is just a couple of blocks from the water and less than a 5-minute walk from the Club Car lounge where the alleged indecent assault occurred.
It's windy in Nantucket this morning, with temperatures in the 20s.
The court building is surrounded by some of the quaint homes, inns, shops and restaurants that this vacation island is known for. This is the off season, however, and many establishments are closed.
There are satellite trucks and media vehicles surrounding the front of the building. Several locals speaking with CNN producer Aaron Cooper called the media presence a "circus."
The courtroom is in the second story of a building with white walls and grey woodwork, and windows that look out at the front of the building. There are four rows of benches. All are filled.  
The first row is filled right now with people accused of other crimes. They are awaiting their hearings on crimes such as driving a vehicle without the proper registration.
There are dozens of other media and spectators here waiting for Spacey's hearing. The actor has not arrived yet.
Most in the gallery waited more than an hour outside before the building opened and they were allowed in. 
9:30 a.m. ET, January 7, 2019
Kevin Spacey expected to plead not guilty today
From CNN's Eric Levenson
Actor Kevin Spacey is expected to plead not guilty in a Nantucket court Monday to accusations that he allegedly groped an 18-year-old busboy at a bar on the island.
Spacey, the 59-year-old Hollywood actor, will be arraigned on a charge of indecent assault and battery, and he said in a court affidavit last week that he will plead not guilty to the charge.
Spacey be there in person: His attorneys had asked that he be allowed to waive his right to be physically present at Monday's arraignment, saying he lived out-of-state and believed his presence would "amplify the negative publicity already generated" in the case. However, Judge Thomas Barrett denied that request.