4:42 p.m. ET, January 26, 2020
Kobe Bryant's daughter Gianna was in helicopter that crashed
Kobe Bryant's daughter 13-year-old Gianna Maria Onore Bryant was also killed on the helicopter that crashed in Calabasas, California, today, according to a source with knowledge of the situation who corresponded with CNN.
4:32 p.m. ET, January 26, 2020
California governor mourns the death of Kobe Bryant
California Gov. Gavin Newsom and his partner, Jennifer, called the death of Kobe Bryant "tragic and untimely."
 "We mourn the tragic and untimely death of a California icon and basketball legend, Kobe Bryant. In his 20-year career with the Los Angeles Lakers, he made history with raw talent and unparalleled dedication that raised the bar and paved the way for a newer generation of players," the couple said in a statement. "Despite winning five NBA championships and two gold Olympic medals, and achieving countless accolades in the athletics world, he also helped improve the lives of youth and families through the Kobe Bryant and Vanessa Bryant Foundation, and was an outspoken advocate for combating homelessness through partnerships with organizations such as My Friend's Place and Step Up on Second."
They ended the statement by saying: "Our deepest condolences go to his wife."
4:21 p.m. ET, January 26, 2020
Kobe Bryant's NBA career, by the numbers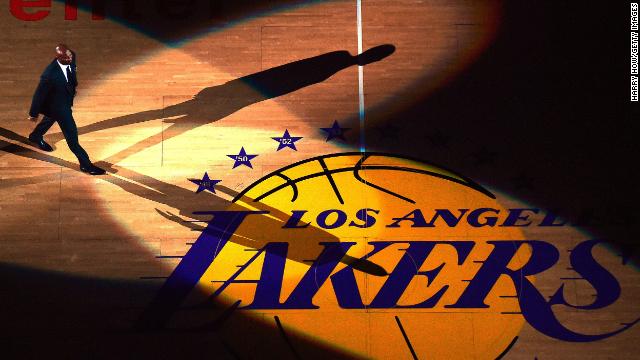 Kobe Bryant was a NBA fixture and legend who was a member of the Los Angeles Lakers for all 20 years of his career.
Here are some other facts about Bryant:
He entered the NBA straight out of high school.
In 1996, Bryant was the youngest player in NBA history at that time, at 18 years, 2 months and 11 days.
Bryant has two Olympic gold medals for men's basketball.
He has won five NBA championships.
4:37 p.m. ET, January 26, 2020
Here's what Kobe Bryant won an Oscar for in 2018
In 2011, Kobe Bryant became the first professional athlete who was not an actor to have his hand and footprints enshrined at Hollywood's historic Grauman's Chinese Theatre.
Crowds and attendees cheered during the ceremony for the beloved NBA superstar and Olympic athlete.
After being introduced by late-night host and master of ceremony Jimmy Kimmel, Bryant spoke about the honor being paid him which he said he never imagined in his "wildest dreams."
"I just feel extremely honored to be able to do this," Bryant said. "It's never something I ever actually thought about."
The court is where he became a legend, but Bryant -- who at the age of 41 was one of five people killed in a helicopter crash Sunday on a hillside in Calabasas, California -- also left his mark on Hollywood.
In 2018, he notched another first after he became the only athlete to ever win a basketball championship and an Academy Award.
Bryant, who retired from playing professional basketball in 2016, won an Oscar for best animated short for "Dear Basketball," which was based on a poem he wrote.
He worked with animator Glen Keane and Oscar-winning composer John Williams on the project, which was about him as a young boy dreaming about becoming a basketball player.
"It was pretty surreal to see myself animated," Bryant told The New York Times after the short was nominated. "I once dreamed of having a signature Nike shoe, but I never thought I'd be animated by Glen Keane -- that pretty much tops everything!"
Bryant also had a brief flirtation with a music career, including a planned 2000 debut rap album which was never released.
His single, "K.O.B.E." featured model and actress Tyra Banks.
On Sunday, rapper Drake was one of several celebrities paying tribute to Bryant.
"It can't be," Drake wrote in the caption of a photo, which contained the words "Farewell Mamba" which was Bryant's nickname.
Watch Bryant's acceptance speech from 2018 below:
4:02 p.m. ET, January 26, 2020
Tail number of crashed helicopter matched one owned by Bryant
The helicopter involved in the crash today that killed Kobe Bryant was a Sikorsky S-76, according to the Federal Aviation Administration.
The tail number matches a helicopter Bryant has owned for years. The chopper was adorned with his logo.
In 2010, GQ magazine wrote about how Bryant regularly took his own helicopter to work: 
"He takes a private helicopter from Orange County, where he lives... to every home game. It's a nice dash of glitz, a touch of showbiz... But Bryant says the helicopter is just another tool for maintaining his body. It's no different than his weights or his whirlpool tubs or his custom-made Nikes. Given his broken finger, his fragile knees, his sore back and achy feet, not to mention his chronic agita, Bryant can't sit in a car for two hours." The helicopter "Ensures that he gets to staples center feeling fresh, that his body is warm and loose and fluid as mercury when he steps onto the court." 
The following footage was taken from the crash site today:
3:53 p.m. ET, January 26, 2020
President Trump: "That is terrible news!"
President Trump called the death of Kobe Bryant "terrible news" today in a tweet.
3:52 p.m. ET, January 26, 2020
Los Angeles mayor on Bryant: "This is a moment that leaves us struggling to find words"
Los Angeles Mayor Eric Garcetti released a statement on Kobe Bryant's death:
"Kobe Bryant was a giant who inspired, amazed, and thrilled people everywhere with his incomparable skill on the court — and awed us with his intellect and humility as a father, husband, creative genius, and ambassador for the game he loved. He will live forever in the heart of Los Angeles, and will be remembered through the ages as one of our greatest heroes. This is a moment that leaves us struggling to find words that express the magnitude of shock and sorrow we are all feeling right now, and I am keeping Kobe's entire family in my prayers at this time of unimaginable grief," Garcetti said. 
3:50 p.m. ET, January 26, 2020
Israeli prime minister tweets condolences about Kobe Bryant
Israeli Prime Minister Benjamin Netanyahu tweeted his condolences Sunday following the death of Kobe Bryant:
"I was sad to hear of the tragedy in the United States, a sad day for all lovers of sport in the world. Kobe Bryant, one of the greatest in the history of basketball, died today in a helicopter crash in Calabasas in California. He is survived by his wife, four children, and millions of basketball fans around the world. He will not be forgotten. May he rest in peace," Netanyahu said.
4:13 p.m. ET, January 26, 2020
Celebrities react to Bryant's death
Celebrities also took to Twitter this afternoon to share their condolences over the passing of NBA legend Kobe Bryant.
"RIP Kobe Bryant," Skip Bayless tweeted. "I cannot believe I just typed those words."