Deadly shooting at Maryland newspaper
5:02 p.m. ET, June 29, 2018
4:11 p.m. ET, June 29, 2018
Former Capital Gazette reporter: "The paper meant a lot to me, it gave me a chance"
Binghui Huang, a former staff writer at the Capital Gazette, recalled on Friday how her former colleagues touched her life when she worked there.
"I didn't sleep much last night, she told CNN. "I don't think my friends did either and we have been sharing memories of each one of them and sometimes they're memories make us laugh, I guess those are the good moments that we have." 
Huang remembered how nervous she was about telling victim Rob Hiaasen, an editor for the paper, that she was moving on from the newspaper. "The paper meant a lot to me, it gave me a chance," she said.
"When I told him, I started to cry a little bit. I felt so bad about leaving," she said. "And he looked at me and he said you know what, I don't think I want to see you here in another year or two because he knew that I was ready to leave, and he wanted me to achieve in my career whatever I can."
She recalled Gerald Fischman's sharp eye for editing their "sometimes convoluted" stories.
"Gerald is kind of quiet, but he's so smart, he has such a sharp eye and at night his job was to clean up everyone's copy," she said. "We were a small paper, a lot of us were young. Stories were sometimes convoluted. He would try to make sense of it and crack jokes about how it made no sense. And coming from Gerald, this quiet, sweet dude was hilarious." 
2:45 p.m. ET, June 29, 2018
The shooting suspect was fired by employer in 2014 for "security suitability concerns"
Shooting suspect Jarrod Ramos was terminated for "security suitability concerns" in July 2014 by his previous employer, Enterprise Information Services, where he worked as a help desk specialist within the Bureau of Labor Statistics in Washington, DC, according to court documents.
Ramos filed a lawsuit against his former employer, saying it still owed him money. As part of the suit, he included a letter he wrote to the company. "No misconduct was ever cited to me and I received no explanation beyond 'suitability concern,'" according to the letter.
Ramos said he had a conversation with his supervisor who told him "something has come to light," but the supervisor did not explain what the issue was.
Enterprise Information Services filed a response to Ramos' complaint, saying the federal government demanded that Ramos be terminated "citing security suitability concerns resulting from an Investigation conducted by the Office of Inspector General." The company said it was "never informed of the exact nature of the investigation."
Also in the court file was an email from a Bureau of Labor Statistics employee who, at the time of Ramos' termination, informed her co-workers Ramos would not be allowed back on BLS premises "in order to mitigate potential security risk."
Ramos argued in court filings that Enterprise Information Services owed him $1,200 in unpaid wages plus interest and court costs. A judge granted him the $1,200 but denied his motion for additional damages.
Neither Enterprise Information Services nor the Bureau of Labor Statistics immediately responded to request for comment on the nature of Ramos' termination.
2:12 p.m. ET, June 29, 2018
An online fundraiser for the victims raised more than $128,000 in a day
A fundraiser for the victims of the Capital Gazette shooting in Maryland had already raised more than $128,000 by Friday afternoon on philanthropy-minded GoFundMe.com, and the donations keep pouring in.
"Please give what you can to help the Capital Gazette newsroom and their journalists," the fundraising page reads. "Our hearts break for our colleagues in Annapolis and we want to do whatever we possibly can to help them pay for medical bills, funeral costs, newsroom repairs, and any other unforeseen expenses that might arise as a result of this terrible shooting."
The fundraiser was started by Madi Alexander, a Washington, DC-based data journalist for Bloomberg Government. GoFundMe spokesman Bobby Whithorne confirmed the page's authenticity and told CNN in an email, "we guarantee the funds will only be transferred to help those impacted by the shooting in the Gazette newsroom."
2:06 p.m. ET, June 29, 2018
Here's the courtroom sketch from the suspect's bail hearing
A courtroom sketch artist captured the scene inside the Anne Arundel District Court in Maryland during suspected Capital Gazette shooter Jarrod Ramos' bail hearing.
Judge Thomas J. Pryal ordered Ramos to be held in detention without bond, and cited a likelihood that he was a danger to others and the community. 
Ramos stood silently through the 10-minute hearing. He appeared via videoconference from a nearby Anne Arundel County detention center.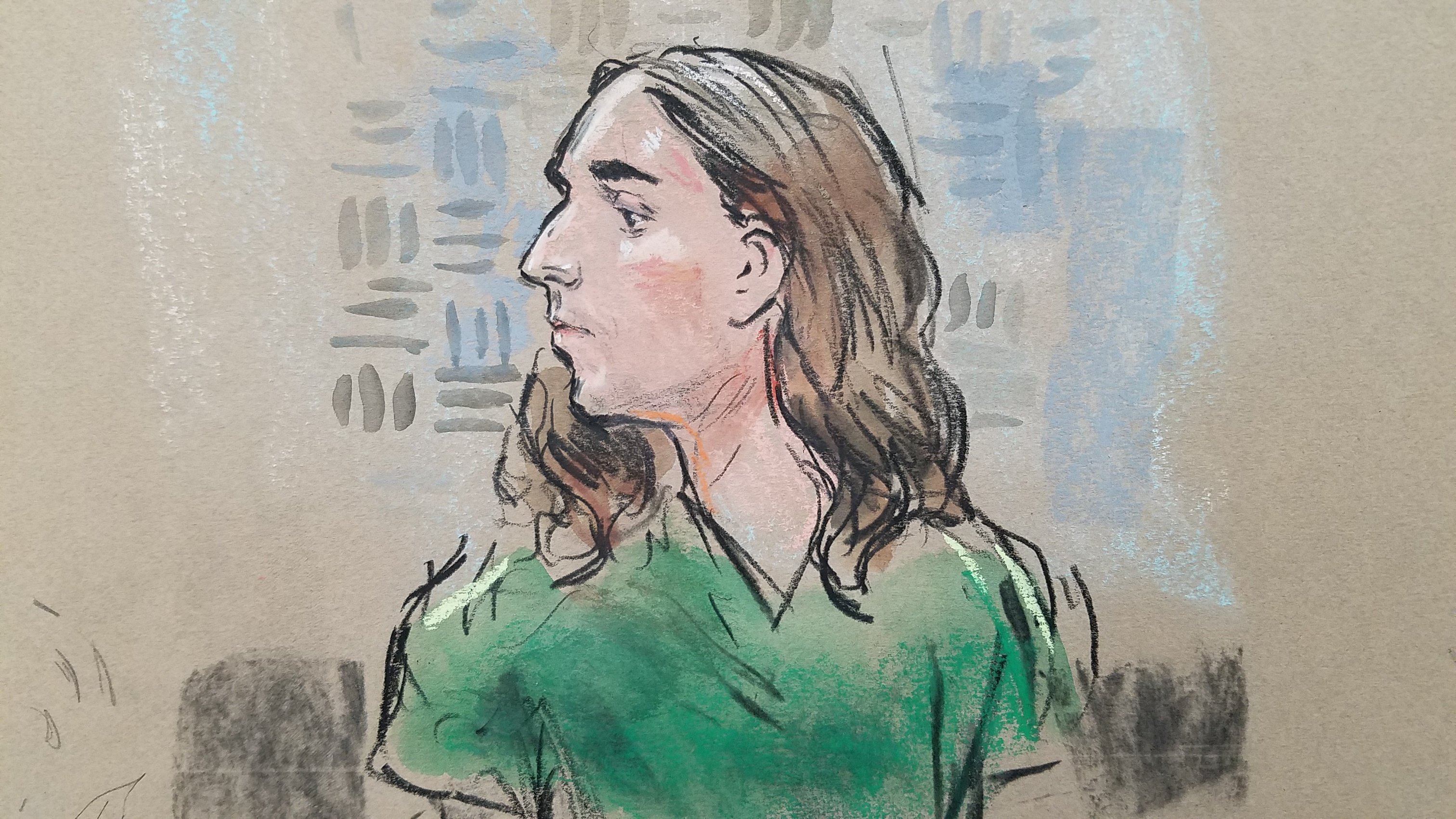 12:32 p.m. ET, June 29, 2018
Trump: Journalists "should be free from the fear of being violently attacked while doing their job"
President Trump, speaking at an event touting his tax cut plan, took a moment to address yesterday's shooting at the Capital Gazette in Annapolis, Maryland.
"This attack shocked the conscience of our nation and filled our hearts with grief. Journalists, like all Americans, should be free from the fear of being violently attacked while doing their job. To the families of the victims, there are no words to express our sorrow for your loss. Horrible, horrible event, horrible thing happened."
Trump said his administration would continue working to prevent violence, saying, "My government will not rest until we have done everything in our power to reduce violent crime and to protect innocent life."
Watch more:
12:12 p.m. ET, June 29, 2018
Suspected shooter barricaded a back door so people couldn't escape, prosecutor says
Wes Adams, a prosecutor for Anne Arundel County, said the suspected Capital Gazette shooter executed a "coordinated attack" on the newsroom, which included barricading a back entrance so people inside the building could not escape.
"We brought to the judge's attention the evidence that suggested a coordinated attack: The barricading of a back door and the use of a tactical approach in hunting down and shooting the innocent victims in this case," he told reporters at a press conference moments ago.
A judge ordered Ramos be held without bail.