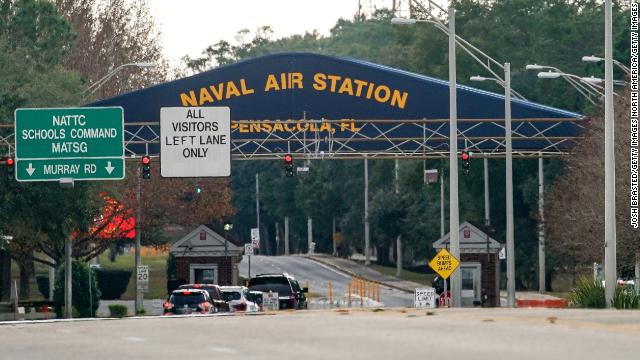 A gunman killed at least three people at the Naval Air Station Pensacola in Florida this morning.
Here's what we know about the shooting:
What happened: Authorities first received a call about an active shooter at naval base around 6:51 a.m., Escambia County Sheriff David Morgan told reporters. The shooting occurred in a classroom building, authorities said. The shooter used a handgun and was killed after two deputies exchanged gunfire with him.
The victims: Three people were killed in the shooting and at least eight others were injured and taken to a local hospital, authorities said. The deputies who confronted the shooter also suffered gunshot wounds — one in the arm and one in the knee. Both are expected to survive.
The suspect: The gunman, who was killed, has been identified as Saudi Arabian national Mohammed Alshamrani. He was a member of the Saudi Arabian military training at the station, five US defense officials and another person familiar with the investigation told CNN.
The FBI is investigating: Investigators are looking into whether the shooting was terror-related as a possible motive, but it's still early in the investigation. The investigation is global in scope, a law enforcement source told CNN, with agents posted in Riyadh tasked with liaising with the Saudi government to obtain background information about the shooter.
President Trump in contact with Saudi king: Trump said he spoke with the King of Saudi Arabia about the shooting. "The King said that the Saudi people are greatly angered by the barbaric actions of the shooter, and that this person in no way shape or form represents the feelings of the Saudi people who love the American people," Trump tweeted.