Mass shooting at Pittsburgh synagogue
4:13 p.m. ET, October 28, 2018
The live coverage of this story has ended for the day. Please refer to CNN.com for the latest news and coverage.
4:04 p.m. ET, October 28, 2018
Rosenthal brothers were inseparable and looked out for each other
Cecil and David Rosenthal, the brothers killed in the Pittsburgh shooting, were members of ACHIEVA, a center in Pittsburgh for the disabled, and were recipients of the center's residential and employment services.
"Cecil's laugh was infectious. David was so kind and had such a gentle spirit," said Chris Schopf, ACHIEVA's Vice President of Residential Support.
"Together, they looked out for one another. They were inseparable. Most of all, they were kind, good people with a strong faith and respect for everyone around." 
3:33 p.m. ET, October 28, 2018
Elderly couple killed in shooting were "loving and giving and kind"
Bernice and Sylvan Simon, the elderly married couple killed on Saturday, were "kind, generous and good-hearted individuals," their neighbor Jo Stepaniak said.
Bernice, 84, and Sylvan, 86, were from Wilkinsburg and had lived next door to Stepaniak for close to 40 years.
They were the "sweetest people you could imagine," Stepaniak said.
"They wanted to give back to people and be kind. They always tried to look on the good side and help out in the community, here and in the Jewish community. They were loving and giving and kind, gracious and dignified," she said.
"These are two people who should be memorialized," Stepaniak said. "I want to focus on them."
3:21 p.m. ET, October 28, 2018
Shooting victim was a joyous doctor with a fondness for bowties
Jerry Rabinowitz, a 66-year-old victim of the synagogue shooting, was a primary care physician in Pittsburgh for many years.
"He was a kind, joyful man. I always enjoyed sharing patients with him because he liked to teach and did it with a smile," said Dr. Adam Rothschild, who worked with Rabinowitz during his residency. "We were both active in our synagogues and we always had a lot to talk about."
Rabinowitz's nephew, Avishai Ostrin, posted a tribute to his uncle on Facebook and focused on his smile and his fondness for bowties.
"He always wore a bowtie. There is just something about guys who wear bowties. Something youthful, something fun. And that is a word that definitely embodied my Uncle Jerry – fun. You know how they say there are people who just lighten up a room? You know that cliché about people whose laugh is infectious? That was Uncle Jerry. It wasn't a cliché. It was just his personality.
"His laughter, with his chest heaving up and down, with a huge smile on his face – that was uncle Jerry. And that bowtie. That bowtie that you know made people smile, you know made his patients more at ease."
3:04 p.m. ET, October 28, 2018
Artist behind revamped Steelers logo: "I wanted it to be of resiliency and hope."
Tim Hindes sat down shortly after the shooting and began to doodle a revamped Pittsburgh Steelers logo, with the Star of David substituting for the team's yellow star-like design. It's paired with the phrase "Stronger than Hate."
The image has quickly become a symbol of solidarity and strength after the deadly attack.
Hindes said he was inspired by the shooting and by a friend being the victim of anti-Semitic comments a few days ago.
"Collectively, those events … drove me to make a message," Hindes told CNN. "I wanted it to be of resiliency and hope. It was private at first, but friends urged me to make the post public, as it resonated with them."
In a Facebook post, Hindes explained what the symbol meant to him.
"Before it was the logo of a globally popular football team, the three diamonds were the seal of a product which helped develop the foundation of many cities across the globe -- steel. Like Pittsburgh and its residents, steel is strong," he posted to Facebook.
"We were strong before this tragedy. A tragedy like this just makes us stronger. Just like you can't break steel, you can't break the resiliency of a Pittsburgher. We are stronger than hate."
Hindes said he doesn't want credit or accolades for the picture.
"Use it. Share it. This is an image for Pittsburgh and those who love Pittsburgh," he said.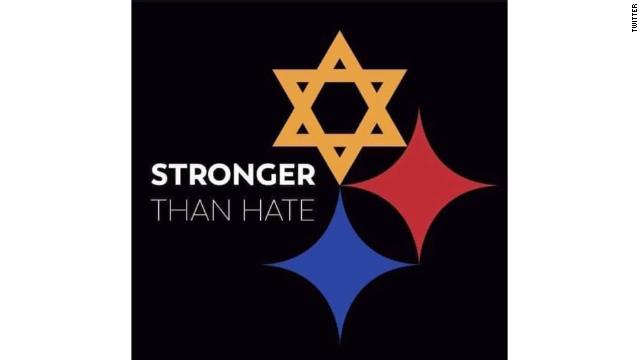 2:46 p.m. ET, October 28, 2018
Iranian immigrant created a GoFundMe campaign after the synagogue attack
Shay Khatiri woke up on his Jewish friend's couch to the devastating news. A mass shooting at a Pittsburgh synagogue had left 11 people dead and several others injured.
"She told me what happened and she was just broken," Khatiri told CNN. "Seeing how upset she was, I wanted to donate to the congregation."
But Khatiri, a 29-year-old Iranian immigrant and graduate student in Washington, DC, didn't have much to give.
"I thought to myself, I could donate $18 or $36 -- something like that. But that wouldn't make a huge impact," he said. "If I did something like this, maybe it could go viral and have a huge impact," he added.
By "this," he meant "start a GoFundMe campaign." So far, it's raised more than $300,000.
You can read more at the link below:
2:20 p.m. ET, October 28, 2018
Investigators finished their search of Bowers' car, continue to search for surveillance video
Investigators have finished their search of the shooting suspect's car, according to an FBI spokeswoman.
FBI Pittsburgh Special Agent in Charge Bob Jones had said at a news conference Sunday morning that authorities were planning to search the vehicle, and that they had already searched Robert Bowers' house in Baldwin Saturday. 
Investigators continue Sunday afternoon to search for surveillance video that could be helpful in piecing together the moments before and during the attack, the spokeswoman said.
On Sunday morning, Jones did not say that investigators had recovered any video.
"We're attempting to see if there were surveillance cameras in position where we could capture footage, but we'll look at the neighborhood and try to find everything we can," he said.
FBI evidence response teams from multiple field offices are continuing to work at the synagogue. Jones described it as a "large, complex crime scene" that could take up to a week to process.
The FBI would not discuss anything recovered from the search warrants executed at Bowers' home or vehicle.