Southwest flight suffers jet engine failure
10:03 p.m. ET, April 17, 2018
Our live coverage has ended. Go here or scroll down to read more on the deadly Southwest accident.
9:36 p.m. ET, April 17, 2018
Piece of damaged engine found 70 miles outside of Philadelphia, NTSB official says
A piece from the damaged Southwest jet was found in Bernville, Pennsylvania, 70 miles outside of Philadelphia, NTSB Chairman Robert Sumwalt said at a press conference tonight.
The engine cowling was discovered in an area near where the crew first observed issues with the aircraft, he said. Investigators performed a preliminary examination of the engine and found evidence of metal fatigue, where the blade separated from the engine, Sumwalt said.
A preliminary review of the aircraft's voice recorder indicated Southwest flight 1380 was initially "routine," he said. About 20 minutes after takeoff, multiple warnings and alerts went off in the cockpit, Sumwalt said.
The crew deployed their oxygen masks and reported a fire in the No. 1 engine, he said. They later determined there was no fire.
"They were operating single engine and they were initiating an emergency descent," Sumwalt said.
The crew requested emergency personnel assistance and an extended final approach "because they were concerned with potential aircraft controllability issues," he said.
Sumwalt said specialists will be examining the aircraft, engine and maintenance records.
8:52 p.m. ET, April 17, 2018
Photo shows damaged Southwest jet
The National Transportation Safety Board has released this photo of the damaged Southwest aircraft.
The photo shows NTSB investigators inspecting the plane's engine.
7:52 p.m. ET, April 17, 2018
Victim in deadly Southwest accident identified
CNN affiliate KOAT is reporting Jennifer Riordan, 43, of Albuquerque, New Mexico, was identified as the victim in today's Southwest Airlines jet accident.
CNN is working to independently confirm. 
8:54 p.m. ET, April 17, 2018
Two passengers pulled in woman hanging out of broken jetliner window, witnesses says
From CNN's Julia Jones
Passengers aboard a Dallas-bound Southwest Airlines flight Tuesday struggled to pull a woman back into the plane after she was sucked into a hole left by a shattered window, witnesses said. The woman died, officials said.
The woman was sitting on the left side of the plane when something in the engine apparently broke and smacked into the window. She hung out the hole for many minutes, said Amy Serafini and Hollie MacKey, who were in the seats behind the victim.
Many passengers kept trying to pull the woman back into the plane for a long time, until two men were able to get the woman back in her seat, they said.
A nurse answered a call for help and also tried to do CPR.
7:31 p.m. ET, April 17, 2018
Boeing: "Our thoughts are with all of the passengers and crew"
Boeing just issued a statement about today's accident involving Southwest Airlines flight 1380 in Philadelphia.
The company said:
Boeing extends its deepest condolences to the family of the passenger who passed away as a result of today's incident on SWA Flight 1380. Our thoughts are with all of the passengers and crew who were on board the flight and with the entire Southwest Airlines family. A Boeing technical team is providing assistance at the request and under the direction of the U.S. National Transportation Safety Board as the agency conducts its investigation.
 The Boeing 737-700 suffered damage to one of its engines, officials said.
6:44 p.m. ET, April 17, 2018
This is Southwest Airlines' first fatality due to an in-flight accident
Southwest Airlines CEO Gary Kelly, speaking at a press conference tonight, said this is the first fatality the airline has had due to an in-flight accident.
Kelly said the plane's captain has been with the airline since 1994, and said the crew performed "magnificently."
Kelly also said he has reached out the family of the deceased passenger, but has not yet been able to make contact with them.
6:30 p.m. ET, April 17, 2018
Southwest Airlines CEO: "This is a sad day"
Gary Kelly, CEO and chairman of Southwest Airlines, said the airline is sending a go-team to Philadelphia to assist with response efforts.
"This is a sad day and our hearts go out to the family and the loved ones of the deceased customer," he said.
Kelly said he was not aware of any issues with the jet and engine involved in the accident. He said the plane was last inspected on April 15.
"We don't know the cause of this incident," Kelly said.
5:32 p.m. ET, April 17, 2018
Engine model had an "outstanding safety and reliability record," company says
From CNNMoney's Danielle Wiener-Bronner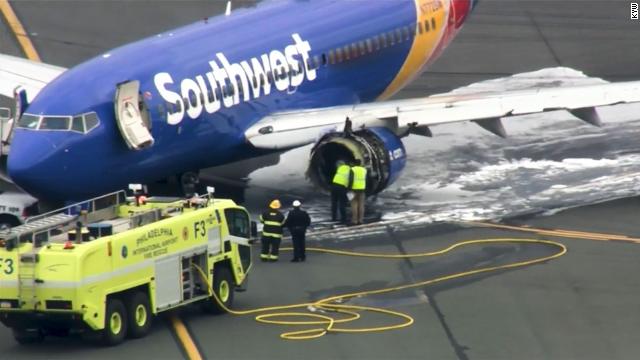 The engine that blew on Southwest Flight 1380 was made by CFM International, a joint venture of GE and the French company Safran Aircraft Engines.
In a statement on Tuesday, CFM said that it has sent a team of technical representatives to the site of the emergency landing to help the National Transportation Safety Board investigate. The company said it couldn't share any information or details about the accident.
GE and Safran "will make every resource necessary available to ensure support," CFM said.
CFM said that the engine was a model CFM56-7B. That model has "compiled an outstanding safety and reliability record since entering revenues service in 1997 while powering more than 6,700 aircraft worldwide," the company said. "The engine has accumulated more than 350 million flight hours as one of the most reliable and popular jet engine in airline history."