More than a dozen tornadoes touch down in a day
2:40 p.m. ET, May 21, 2019
Our live coverage has ended. Go here for the latest weather from this region.
2:20 p.m. ET, May 21, 2019
Oklahoma City water rescuers take a quick break after saving 10 people from floodwaters 
CNN's Ed Lavandera, on the ground in Oklahoma, shares this photo showing members of the Oklahoma City Swift Water rescue team taking a quick break after rescuing 10 people from floodwaters in El Reno, Oklahoma.
11:16 a.m. ET, May 21, 2019
First responders just saved a woman who was clinging to a tree near Oklahoma City
First responders near Edmond, Oklahoma, just rescued a woman who was precariously clinging to a tree in rushing waters.
One rescuer waded out with a rope and attached it to the woman, while two others pulled her out of the water and helped her into a truck.
She appears to be safe now.
See photos of the dramatic rescue:
10:24 a.m. ET, May 21, 2019
Water rescues are underway in El Reno, Oklahoma
Aerial video from CNN affiliate KOCO is showing swift water rescue teams out and about in El Reno, Oklahoma.
10:24 a.m. ET, May 21, 2019
Flooding shuts down roads in Tulsa
Flooding is closing streets across Tulsa as the city is inundated with rainwater. To make sure that drivers don't try and risk it, officials have barricaded the roadways.
9:32 a.m. ET, May 21, 2019
This Oklahoma city is seeing major flooding this morning
From CNN's Ed Lavandera and Jason Morris 
El Reno, Oklahoma, is dealing with major flooding, according to Andrew Skidmore, the emergency management director of Canadian County.
El Reno is located 28 miles west of Oklahoma City. 
Skidmore told CNN that people have evacuated from their homes, and a shelter has been se up. Flooding is widespread across country roads and major highways, and interstate I-40 is flooded throughout Canadian County, according to Skidmore.
8:51 a.m. ET, May 21, 2019
19 tornadoes touched down in 4 states last night
From CNN's Christina Maxouris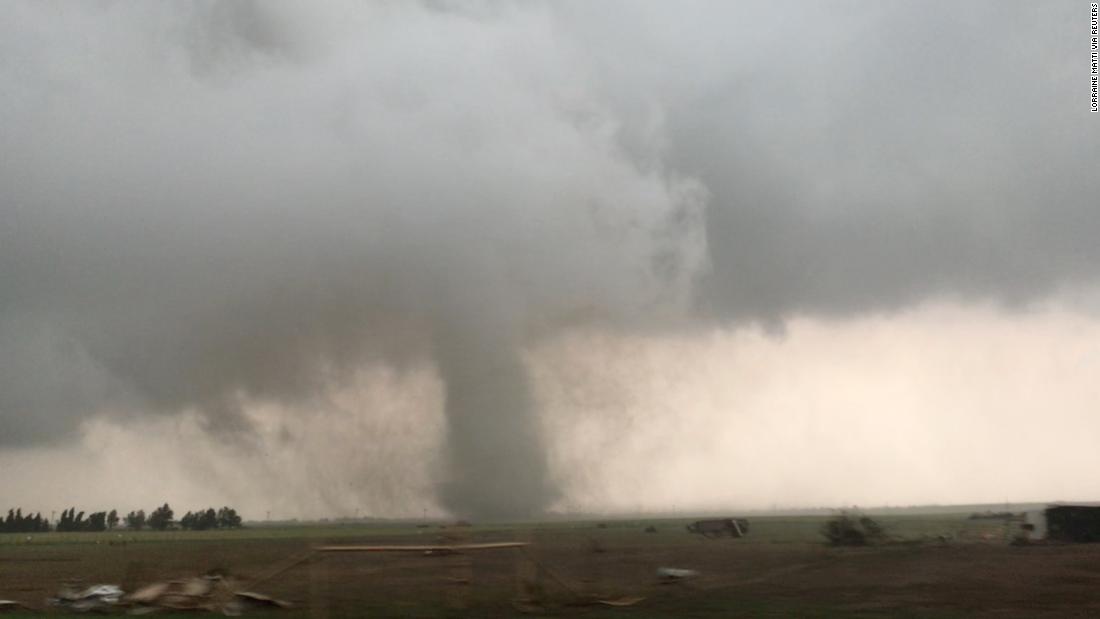 Severe thunderstorms will drench and flood parts of Oklahoma Tuesday, following on the heels of a series of tornadoes that touched down in that state and others.
At least 19 tornadoes swept through central Oklahoma, Texas, Missouri and Arkansas Monday, carrying warnings of "considerable" damage to homes, businesses and vehicles with the possibility of "complete destruction."
Oklahoma, Missouri and Arkansas were still under a tornado watch early Tuesday, with the National Weather Service warning of "flying debris" which could be dangerous to those caught without shelter.
9:15 p.m. ET, May 20, 2019
The damage so far in Oklahoma
From CNN's Devon Sayers and Jamiel Lynch
The Oklahoma Department of Emergency Management issued a weather update Monday at 7:30 p.m. Central Time with the following highlights:
Greer County: 3 homes damaged, 1 apartment complex with roof damage, damage to fairgrounds and airport. Numerous power lines down
Garvin County: 100 sandbags requested for possible river flooding
Logan County: Power polls down, tree damage, damage to a barn
Noble County: Roof damage to homes, power lines down, barns damaged
2,085 power outages statewide
Numerous highways closed due to high water or storm debris.
Additional flooding is expected through the evening and overnight. Drivers are reminded not to drive around barricades or into flooded roadways.
9:25 p.m. ET, May 20, 2019
Urgent warnings issued throughout Texas
Tornado warnings carrying urgent instructions are in effect in the following parts of Texas:
Central Dickens County
Western King County
Southwestern Glasscock
Southeastern Midland County
From the National Weather Service:
You are in a life-threatening situation. Flying debris may be deadly to those caught without shelter. Mobile homes will be destroyed. Considerable damage to homes, businesses, and vehicles is likely and complete destruction is possible.