4:41 a.m. ET, July 13, 2019
Here's what we know about Tropical Storm Barry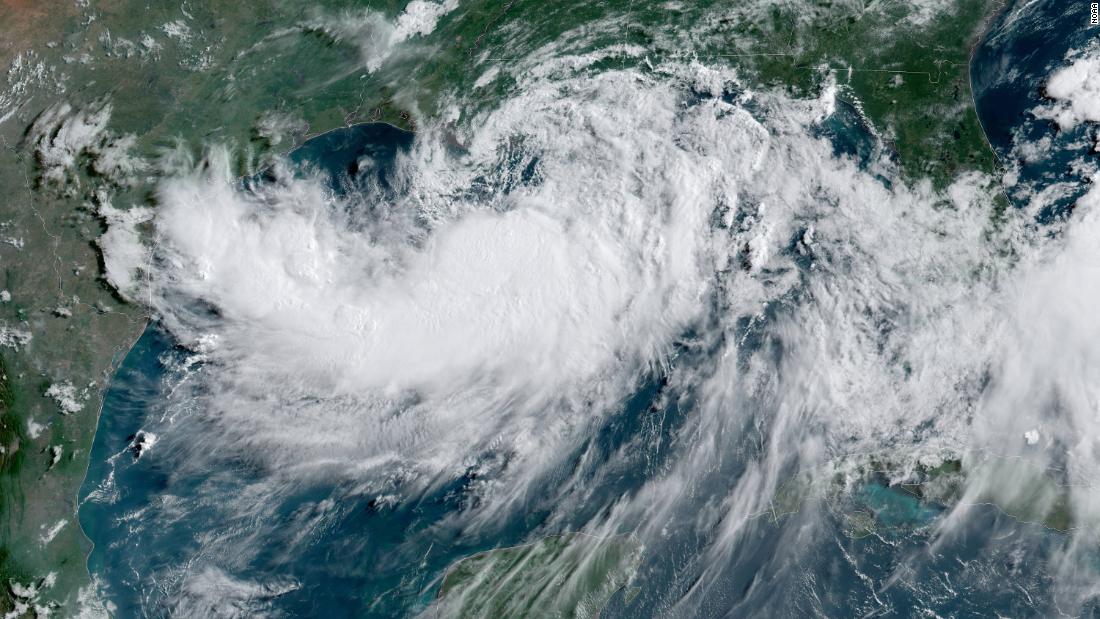 Tropical Storm Barry is just off the Gulf Coast and gaining power.
We're wrapping up our live coverage, but here's what you need to know about the storm:
How strong is the storm? Barry was churning Friday in the Gulf of Mexico, with maximum sustained winds of 65 mph, according to the National Hurricane Center's advisory at 5 p.m. ET. Barry is expected to grow into a hurricane by the time it makes landfall, the hurricane center said. It will likely be a Category 1 storm.
When and where will it make landfall? After the wind and rain picks up Friday and evening across south Louisiana, landfall is expected between late Saturday morning and midday, somewhere along the state's central coast. The worst conditions for south Louisiana and New Orleans will kick in Saturday and last into Sunday. Barry will then move inland to the Lower Mississippi Valley, when it should begin to weaken, the hurricane center said.
What are the risks? While wind is a huge threat in tropical systems, the dangers here are posed by heavy rainfall, storm surge and flooding, authorities have emphasized.
You can follow the latest updates on Saturday here.
7:55 p.m. ET, July 12, 2019
Water washes over Louisiana highway
A new photo shows water washing over a highway in Golden Meadow, Louisiana, after it was closed off to traffic.
The highway was closed earlier today ahead of Tropical Storm Barry, according to Lafourche Parish spokesperson Caroline Eschette.
The photo shows Lafourche Parish Sheriff's deputies standing in front of the washed out road.
7:39 p.m. ET, July 12, 2019
Southwest Airlines cancels Saturday flights from New Orleans airport
Southwest Airlines has canceled all flights from New Orleans airport Saturday.
They plan to resume service on Sunday, the Louis Armstrong New Orleans International Airport tweeted. 
7:35 p.m. ET, July 12, 2019
New Orleans mayor: "The best option is for our people to shelter in place"
New Orleans Mayor LaToya Cantrell said Friday it's "absolutely" the best option for residents to shelter in place as Tropical Storm Barry continues to strengthen.
"The best option is for our people to shelter in place so that we protect their lives," Cantrell told CNN. 
In making the decision whether to call for an evacuation, Cantrell said, "Time was not on our side." 
New Orleans issued a voluntary evacuation notice Friday afternoon for anyone living outside the city's levee system — a shift from earlier in the day, when no voluntary evacuation warning had been issued.
Cantrell tweeted that the flood protection authority planned to close the Highway 90 floodgate at 6 p.m. local time (7 p.m. ET).
"Due to the closure and anticipated high water on the roadways, public safety personnel will be unable to respond to calls for service," she tweeted.
Watch for more:
6:58 p.m. ET, July 12, 2019
HHS declares public health emergency in Louisiana
The Department of Health and Human Services has declared a public health emergency in Louisiana in preparation for the impact from Tropical Storm Barry. 
HHS has also staged around 100 public health officials along with supplies in the region.
"We are fully prepared to support communities that need our help due to the storm," Health and Human Services Secretary Alex Azar said in a statement Friday. "We are working closely with state health and emergency management officials to anticipate the communities' healthcare needs and be ready to meet them."
6:00 p.m. ET, July 12, 2019
Regional Transit Authority will suspend services in New Orleans tonight
The Regional Transit Authority in New Orleans will suspend services tonight ahead of the storm.
Services will be suspended starting 8 p.m. local time (9 p.m. ET) as part of an order to shelter in place, which will also start at the same time, the RTA tweeted.
5:35 p.m. ET, July 12, 2019
Louisiana senator: We are "as ready as we can be" for Barry
Louisiana Sen. John Kennedy on Friday said that while Tropical Storm Barry will be a "serious storm," the people in his home state are "as ready as we can be" to handle the extreme weather coming.
The Republican lawmaker said Louisiana's emergency procedures are underway and "federal resources are here."
"That doesn't mean that this is going to be a cake walk, or this is the big rock candy mountain here," Kennedy said.
He said his biggest concern is the heavy rain.
"Water is our concern. No. 1, you get 10 to 20 inches of rain — you're gonna flood even if you're on Pikes Peak. We also were concerned about the levees overtopping," the senator said.
Kennedy continued: "I've been through a lot of these. Every storm is different, but they have two things in common: they make you realize that the power of nature can humble the power of human beings anytime it wants to and the other thing I always learn is if you are not scared, you're either a fool or a liar."
Kennedy was Louisiana's state treasurer when Hurricane Katrina hit, the senator said. He said the state is "infinitely better prepared" to endure Barry than it was to take on Katrina.
"[Katrina] was a dumpster fire at all levels — federal, state and local," Kennedy said. "We had nowhere to go but up."
Watch for more: