Hurricane Dorian nears Puerto Rico
8:07 a.m. ET, August 29, 2019
6:34 a.m. ET, August 29, 2019
Miami urges residents to be prepared and preps for worst
Miami's mayor has said that the city is going through a pre-storm checklist and making sure its pump stations are in good working order.
Speaking to CNN early on Thursday morning, Mayor Francis X. Suarez urged residents to be prepared while the city works through its pre-storm checklist of preparations to make sure their pump stations are working.
After Hurricane Irma flooded parts of the city in 2017, the city installed two pumps that pumped 50,000 gallons of water a minute in vulnerable areas such as Brikell and Mary Brickell, Suarez said.
"Once the storm passes, we urge our residents to call our 311 system so we can go into recovery mode immediately," she said.
5:45 a.m. ET, August 29, 2019
Here's where the hurricane stands
In its latest public advisory, the National Hurricane Center said there are no coastal watches or warnings in effect, but residents in northwestern and central Bahamas should monitor the storm, which may head their way on Saturday. Heavy rainfall there could create flash floods.
The hurricane is moving northwest, which is expected to continue into the weekend.
Wind speeds are still at 85 miles per hour, consistent with the last report at 11 p.m. ET -- but the Center warned that the hurricane is expected to strengthen over the next few days, and become a major hurricane on Friday.
Read the full report here.
5:34 a.m. ET, August 29, 2019
Coast Guard warns of gale force winds in Florida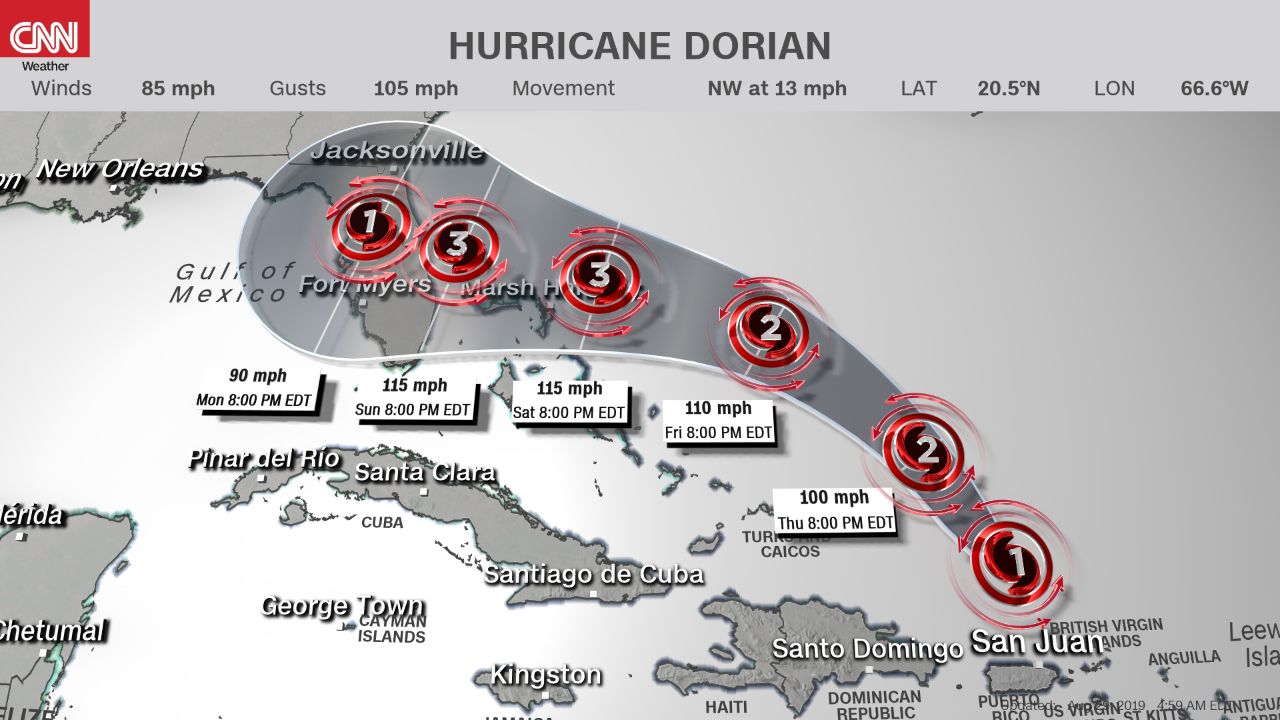 Earlier on Wednesday, the Coast Guard Captain of the Port (COTP) set port condition Whiskey for Port Canaveral in Florida -- a classification level that's declared when there are expected gale force winds within 72 hours.
What this means: All ocean-going commercial vessels and ocean-going barges greater than 500 gross tons should make plans for departing the port, and vessels that want to stay in port must receive permission from COTP. Vessels heading for Port Canaveral should seek an alternative destination if they can't depart 24 hours before the winds reach land.
The next level of port condition is Yankee, which is raised when sustained gale force winds are expected within 24 hours. At that point, vessel movement will be restricted, and all movements must be approved by the captain of the port.
The Coast Guard is also warning the public to:
Stay off the water. During strong storms, help could be delayed if accidents happen.
Secure belongings. If boats, life rings, life jackets, and other vessels aren't properly secured, they can break free during the storm.
Stay clear of beaches. Wave heights and currents typically increase before a storm makes landfall.
Be prepared. Area residents should develop a family plan, have a disaster supply kit and a place to go, secure their home, and have a plan for pets.
Stay informed. The public should monitor the progress and strength of the storm through local television, radio, and the internet.
Don't rely on social media. Social media should not be used to report life-threatening distress.
4:48 a.m. ET, August 29, 2019
Florida prepares for Hurricane Dorian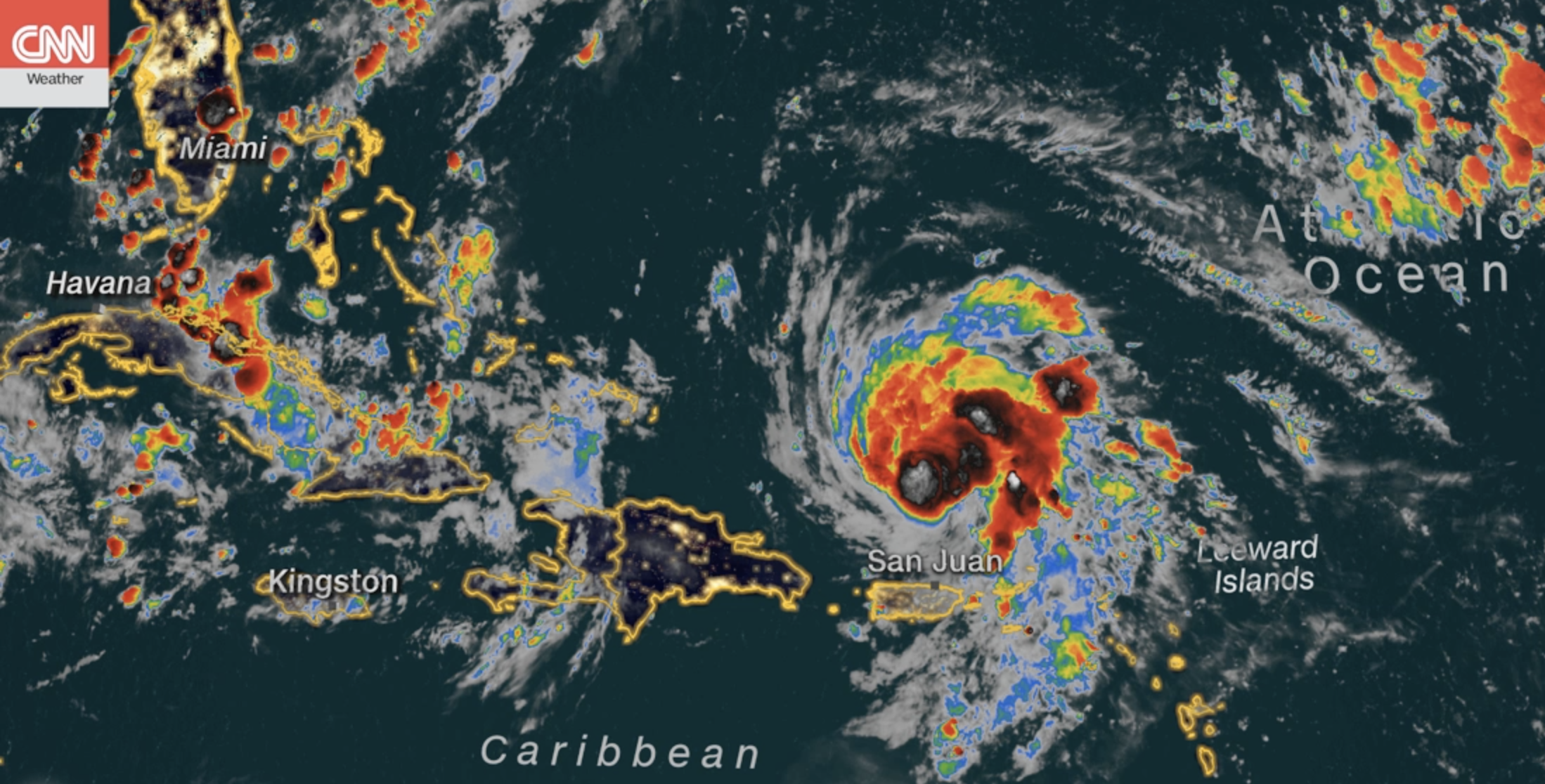 Florida is getting ready for Hurricane Dorian, which is expected to make landfall during Labor Day Weekend.
Local energy provider Florida Power said it was monitoring the hurricane and making preparations in case their service area was affected. Yesterday, there were almost 25,000 power outages on St. Croix, one of the US Virgin Islands.
Meanwhile, the University of Central Florida says it will monitor the hurricane and decide whether class and operations will continue or be canceled on Thursday.
Other Southern states are also getting ready -- Georgia Power supplies energy to 2,553,123 customers in the state, and it said it is also monitoring the storm's path.
4:28 a.m. ET, August 29, 2019
Puerto Rico will (mostly) return to normal tomorrow
From CNN's Omar Jimenez and Andrea Diaz
The worst seems to have passed in Puerto Rico, and things will mostly go back to normal tomorrow, officials say.
Airports will be in regular operation on Thursday, according to Anthony O. Maceira Zayas, the Port Authority Executive Director.
Zayas also tweeted that as soon as the US Coast Guard reopens the Port of San Juan, they will begin to receive cargo ships and passengers scheduled for this week.
Mayor Carmen Yulín Cruz says schools are back in session in San Juan and employees in that municipality will go back to their normal working schedule on Thursday. 
"Thankful to the community for all the help through this event; and we continue to encourage everyone to maintain informed during this hurricane season," Yulin Cruz said in her statement.
2:22 a.m. ET, August 29, 2019
Trump approves declaration of emergency for the Virgin Islands
US President Donald Trump has federally approved the Virgin Islands' emergency declaration.
This means the Department of Homeland Security and the Federal Emergency Management Agency are now authorized to deploy the equipment and resources they feel are necessary.
"Emergency protective measures, limited to direct federal assistance, will be provided at 75 percent federal funding," the White House said in a press release.
2:22 a.m. ET, August 29, 2019
National Hurricane Center: Coastal warnings and watches lifted
The National Hurricane Center and Central Pacific Hurricane Center have updated their public advisory for Hurricane Dorian as the storm moves away from Puerto Rico and the Virgin Islands.
There are no coastal watches or warnings in effect. Earlier warnings have been lifted for Vieques, Culebra, the US and British Virgin Islands, and Puerto Rico.
However, the Center warned that there will be heavy rainfall in the Bahamas, which could cause "life-threatening" flash floods.
Read the entire advisory here.
12:52 a.m. ET, August 29, 2019
Dorian has intensified rapidly in the last 24 hours
From CNN's Brandon Miller
Hurricane Dorian intensified rapidly today, according to CNN meteorologists.
Wind speeds measured 50 miles per hour at 11pm ET on Tuesday. Now, it's reached 85 mph -- and an increase of 35 mph in 24 hours meets the official criteria for Rapid Intensification (RI).
Meteorologists warn that the storm will likely continue intensifying and experience more rounds of intensification -- Dorian is expected to become a Category 3 by the time it hits Florida this weekend.
It's currently a Category 1 storm. If wind speeds reach 96 mph, it will be classified as Category 2.